Bucks Rookie Giannis Antetokounmpo's Hands Are as Big as His Head
Milwaukee Bucks rookie Giannis Antetokounmpo has huge hands. Just see how they look in comparison to his face:
Hands are not supposed to be like that. pic.twitter.com/ZAv773xExR

— C.R.E.A.M. Olajuwon (@Marco_Romo) October 15, 2013
Here's a nice measurement, via Bucksketball.com: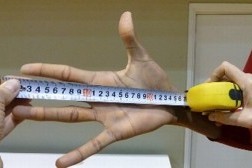 Those hands will certainly help him on the court.