Panthers WR Steve Smith Takes Shots at Rams CB Janoris Jenkins
October 20, 2013

Carolina Panthers wide receiver Steve Smith has had a very productive NFL career, amassing 800 receptions for 11,745 yards and 66 touchdowns, all with the same team. 
The 13-year vet had some choice words for St. Louis Rams cornerback Janoris Jenkins.
The feud was turned up a notch when Smith caught a 19-yard pass and made his way into the end zone against the Rams on Sunday. Jenkins was one of the players who failed to stop Smith.
Once he was in the end zone, Smith decided to celebrate by channeling Deion Sanders and mixing in a little of his own style: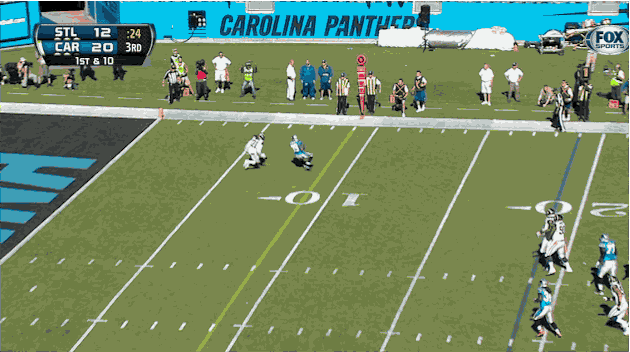 Jonathan Jones of the Charlotte Observer provided some of the receiver's quotes. 
"I'll let Janoris Jenkins go over it on film on Monday," Smith said. "Yes, I directly pointed to him. Well he thinks he's Deion (Sanders). He's not...When you embarrass people you rub it in their face."
Here's a clip of his postgame comments (Warning: NSFW language):
When asked what Jenkins said to escalate it, Smith didn't hold back:
When you try to take it personal like that, I don't have any great humbling things to say. So he can take his (butt) back to St. Louis and watch the (expletive) film because I don't play them games. And if I see him in the streets I'm going to punch him in his (expletive) mouth.
Jenkins was apparently talking about Smith's wife, among other things. 
Jenkins is in his second year in the NFL, and Smith didn't take kindly to the youngster getting personal on the field. The Panthers beat the Rams 30-15, but Smith didn't forget what was said on the field.
It will be interesting to see what kind of response, if any, Jenkins will have.