BCS Rankings 2013: Live Top 25 Results, Reaction to Week 9 Standings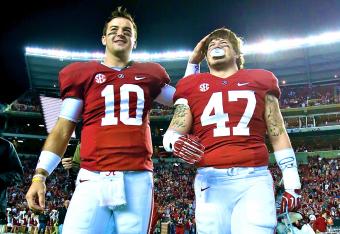 The first 2013 BCS rankings are out and it's the Alabama Crimson Tide at No. 1 in Week 9 as expected. The two-time defending BCS champions are followed by a surprise at No. 2 in Florida State, which edged out Oregon at No. 3 despite the Ducks coming in second in all the major human polls.
Ohio State at No. 4 and Missouri at No. 5 round out the Top Five, with Stanford coming in at No. 6 as the top one-loss team.
ESPN's show was short and sweet, so just scroll down for whatever you might have missed, as well as our own expert analysis and a few Twitter highlights on the beginning of the end of the BCS standings.
Also, keep scrolling for full breakdowns of the contenders still left in all the BCS automatic qualifying conferences, as well as the non-AQ BCS hopefuls.
Thanks to those who tuned in and interacted in our Sunday night virtual BCS release party.
Everyone needs to calm the F down. The top two teams in the first BCS have met only twice in 15 years.

— Dennis Dodd (@dennisdoddcbs) October 21, 2013
One more tweet for the road: Everyone simmer down, there's plenty of time left for these BCS rankings to be busted wide open.
Mizzou was picked to finish No. 6 in the SEC East at Media Days. In the first BCS, the Tigers are No. 5 ... in the nation.

— Paul Finebaum (@finebaum) October 21, 2013
Missouri's rise has been nothing short of meteoric, as ESPN's Paul Finebaum outlined.
My BCS standings analysis: FSU makes big impression, but unlikely to stay at No. 2 http://t.co/T0IlhB9QA5

— Dan Wolken (@DanWolken) October 21, 2013
As USA Today's Dan Wolken pointed out, Florida State isn't likely to remain at No. 2 for too long.
Oregon will take on No. 12 UCLA this week then No. 6 Stanford and No. 25 Oregon State before the season is over.
Curious who would end up higher ranked if unbeaten in BCS? #OhioState or a Big12 champ?

— Bruce Feldman (@BFeldmanCBS) October 21, 2013
CBS' Bruce Feldman poses an interesting question: Would an undefeated Big 12 champion pass Ohio State.
If Texas Tech or Baylor runs the table, they would have wins over three teams currently ranked in the BCS with the possibility of a fourth if Texas continues its resurgence.
Ohio State would have just one win over a team currently ranked in the BCS standings, though that number could be as high as three. Wisconsin could enter the rankings if it continues to play well, while OSU's Big Ten title opponent will also likely be ranked.
In order to play for BCS title Ohio State needs five of these six teams to lose Bama, Mizzou, Oregon, Florida State, Miami, & Baylor.

— Clay Travis (@ClayTravisBGID) October 21, 2013
Fox Sports' Clay Travis presents the grim reality for Ohio State.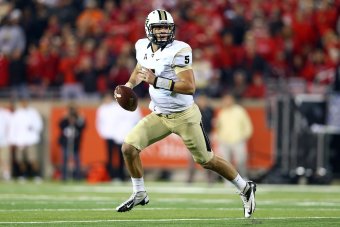 Andy Lyons/Getty Images
21-25 Breakdown
UCF has the best chance of the bottom five teams to earn a BCS berth, though Michigan, Nebraska and Oregon State are all very much still alive.
Of the final five teams, South Carolina is the only team that is essentially out of contention for a BCS bid. USC's only hope is to beat Missouri this week and hope that the Tigers pick up another loss before the end of the year.
Michigan and Nebraska can both still win out and win the Big Ten, while Oregon State can do the same in the Pac-12.
For full conference race breakdowns, scroll down.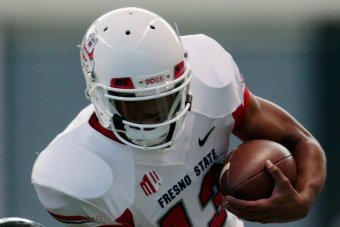 William Mancebo/Getty Images
16-20 Breakdown
Texas A&M saw its BCS hopes fly out the window when Auburn defensive lineman Dee Ford sacked Johnny Manziel to complete the Tigers' upset this weekend. Now, the Aggies can really only hope to rack up some wins to earn a respectable bowl bid.
Fresno State comes in as a big winner ranked one spot ahead of Northern Illinois. It doesn't seem like much, but that's all it will take for the Bulldogs to edge the Huskies for the Non-AQ at-large bid if both run the table as expected.
Oklahoma State is sitting in the same position as its rival Oklahoma. The Cowboys still control their own destiny in the Big 12 and can win the league by winning out. However, they just haven't looked BCS worthy so far this year.
Louisville will need a lot of help to make the BCS. With UCF now in control in the AAC, the Cardinals will need the Knights to lose twice to relinquish their BCS berth.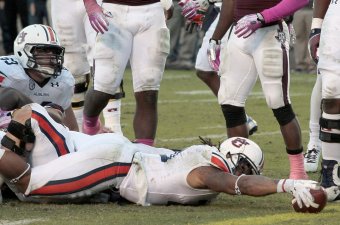 Thomas B. Shea/Getty Images
11-15 Breakdown
It isn't too often that an SEC team is considered to be disrespected in any rankings, but Auburn could definitely carry that title after taking down No. 16 Texas A&M.
The Tigers have just one loss to No. 13 LSU and can win the SEC West by winning out and taking down Alabama at home to close the season.
LSU, meanwhile, is the top two-loss team with losses to Ole Miss and Georgia. The Tigers are pretty much out of the SEC title conversation but could earn an at-large berth with a strong finish. They'll also need to pass up two of the three SEC teams in front of them, but at No. 13, that is more than possible.
UCLA can still win the Pac-12 and earn a BCS berth and that road will start this week when it takes on Oregon. The Bruins' national title hopes were crushed when they fell to Stanford this week. They should match up better (in terms of playing style, at least) with the Ducks than the Cardinal.
Virginia Tech is in the same situation and will need to beat Miami to win the ACC Coastal division and earn a chance to win a BCS berth against Florida State in the ACC title game, if all pans out as expected.
Oklahoma still has its shot at the Big 12 title but will have dates with Baylor and Texas Tech going forward.
Cooper Neill/Getty Images
6-10 Breakdown
Stanford comes in as the top one-loss team at No. 6, while Clemson is the second team with a blemish on its record at No. 9.
Miami, Baylor and Texas Tech all have outside shots at the BCS title and are undefeated, but none are really being taken seriously as national championship contenders just yet.
BU and TTU both have explosive offenses, but the Big 12 just isn't strong enough to warrant a national title berth.
As for the Hurricanes, they control their own destiny but will have to go through No. 2 Florida State, likely twice to earn a BCS title berth. The Canes are sitting pretty without a loss but haven't been consistent enough to earn a serious nod for national title consideration.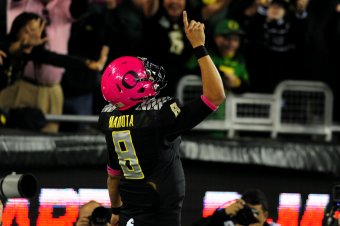 Steve Dykes/Getty Images
Top Five Breakdown
There's no surprise at the top with Alabama at No. 1 but it's surprising to see Florida State ahead of Oregon.
This isn't as big of a deal as it seems, as UO still has plenty of big games remaining on its slate, including No. 6 Stanford, No. 12 UCLA and No. 25 Oregon State.
The Noles will play No. 7 Miami and possibly No. 14 Virginia Tech or Miami again in the ACC title.
Ohio State will need some help to make the BCS title game with No. 22 Michigan the only ranked team left on its schedule. OSU needs to rack up some "style points," which it hasn't done so far this season.
Closing out the Top Five is Missouri, which has a great chance at playing Alabama for the SEC title. If Mizzou is undefeated if and when the two meet in Atlanta, a national title berth could be on the line.
Week 9 BCS Standings
Here's one more look at the standings in order.
Alabama
Florida State
Oregon
Ohio State
Missouri
Stanford
Miami (Fla.)
Baylor
Clemson
Texas Tech
Auburn
UCLA
LSU
Virginia Tech
Oklahoma
Texas A&M
Fresno State
Northern Ilinois
Oklahoma State
Louisville
South Carolina
Michigan
UCF
Nebraska
Oregon State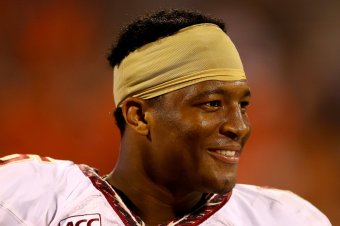 Streeter Lecka/Getty Images
There we have it!
Alabama at No. 1 as expected but Florida State pulls off the upset as Sam Chi projected, edging Oregon for No. 2.
OFFICIAL WEEK 9 BCS STANDINGS
25. Oregon St
24. Nebraska
23. UCF
22. Michigan

21. South Carolina
20. Louisville
19. Oklahoma State
18. Northern Illinois
17. Fresno State
16. Texas A&M
15. Oklahoma
14. Virginia Tech
13. LSU
12. UCLA
11. Auburn
10. Texas Tech
9. Clemson
8. Baylor
7. Miami (FL)
6. Stanford
5. Missouri
4. Ohio State
3. Oregon
2. Florida State
1. Alabama
Jesse Palmer, that guy loves Jameis Winston.
And so does Kirk Herbstreit.
By the way, if you aren't already, tune in to ESPN now so you know what I'm talking about.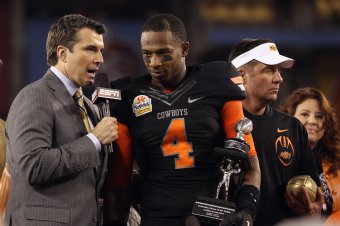 Christian Petersen/Getty Images
Ok, here we go.
Wave "hi" to Rece Davis and watch ESPN's recycled BCS "one is the loneliest number" intro that has been the same for the last five years, just with different highlight clips.
National Title Hopefuls
There are a lot of them.
Alabama, Oregon, Florida State, Ohio State, Baylor, Missouri, Texas Tech and Miami are all undefeated and would have a legitimate claim to a national title berth if they win out.
Let's say Alabama, Oregon, FSU, OSU and Baylor all win out. Who deserves the national title berth? I'll go with Alabama and Oregon. Let me know what you think below.
Perhaps a better question: Wouldn't it be nice if the playoff started this year?
@apsims TTU vs Baylor game will be played in Dallas at Jerry World. Game is usually 70% Ttu fans. Makes baylors road a lil tougher

— jim burns (@redraiderjimb) October 21, 2013
Thanks to Jim Burns who just sent a tweet to me about the Nov. 16 contest between Baylor and Texas Tech.
As he pointed out, that game will take place in Dallas at Cowboys Stadium (or AT&T Stadium if you prefer), which could tip the scales in favor of TTU.
The Red Raiders have been playing extremely well this season under first-year head coach Kliff Kingsbury. If there's a darkhorse national title contender that no one is talking about, it's TTU, which is still undefeated.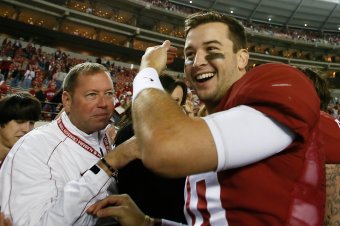 Kevin C. Cox/Getty Images
Automatic Bids: SEC
Favorite: Alabama
The Others: Missouri, Auburn
Only one thing has gone to plan in the SEC this season, which is Alabama being seated at the top of the league.
Aside from that, the only two teams with realistic shots at the league title are Missouri and Auburn, which is about as probable as the Kansas City Chiefs starting 7-0.
Oh, wait.
Anyway, thanks to a lot of injuries and an insanely improbable Week 8, the only teams that control their own destiny int eh SEC are Alabama, Missouri and Auburn.
Mizzou is essentially a lock for the SEC East title at 3-0 in league play. Every other East team has at least two conference losses. The Tigers can pretty much shut the door this week when they host South Carolina. After that, they will take on Tennessee, Kentucky and Texas A&M, but with a win over USC, they could lose twice in the final three games and still win the division.
Alabama is the heavy favorite in the SEC West, but if Auburn wins out, the division race will be decided at the Iron Bowl in Auburn on Nov. 30. Alabama still must go through Tennessee, LSU and Mississippi State to make it there, however. Auburn will have to take down Arkansas, Tennessee and Georgia to make the epic rivalry clash for the East happen.
Dates to watch: Oct. 26 (South Carolina at Missouri), Nov. 9 (LSU at Alabama), Nov. 16 (Georgia at Auburn), Nov. 30 (Alabama at Auburn and Texas A&M at Missouri), Dec. 7 (SEC title game).
Steve Dykes/Getty Images
Automatic Bids: Pac-12
Favorite: Oregon
The Others: Oregon State, Stanford, UCLA, Arizona State
Pac-12 South
The Pac-12 South: the race that no team seems to want to win.
UCLA and Arizona State are in control in Pac-12 South, each with just one loss in league play. UCLA will have to take on Oregon this week, but even if the Bruins lose, they can still salvage the division title by beating the Sun Devils.
ASU and UCLA will meet Nov. 23 in Los Angeles, likely as the de-facto Pac-12 South title eliminator.
Pac-12 North
The Pac-12 North and the entire Pac-12 Conference is Oregon's to lose. The Ducks are on the (very) short list of national title favorites and are expected to win out.
The still have three key contests in the regular season alone, however. UO will host UCLA this week, travel to Stanford for a Thursday-night tilt on Nov. 7 and will finish the regular season with a Friday night date with rival Oregon State on Nov. 29.
That is no easy slate, but the way the Ducks are playing, the just might make it look like a cakewalk.
Oregon State will have to go through Stanford this week and Oregon on Nov. 29, but the Beavers have also looked incredible offensively of late.
Stanford, meanwhile is far from out of the Pac-12 title race. In fact, if the Cardinal beat Oregon at home Nov. 7, they'll be right back in control.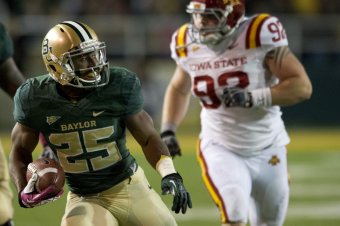 Cooper Neill/Getty Images
Automatic Bids: Big 12
Favorite: Baylor
The Others: Texas, Texas Tech, Oklahoma, Oklahoma State
Baylor has been far and away the Big 12's best team this year and has destroyed every one of its opponents outside of a slow day against Kansas State. Even then, the risk factor wasn't too high for the undefeated Bears in a 35-25 win.
The way they are playing, the Big 12 title is the Bears' to lose. They'll still have to fight off their four biggest competitors down the stretch to finish the job.
BU has a Thursday night date at home against Oklahoma on Nov. 7, followed by a Nov. 16 tilt in Dallas with Texas Tech. The following week, the Bears will head on the road to take on Oklahoma State.
The Big 12 race may come down to a battle on Dec. 7 in Waco between Texas and Baylor.
However, with Baylor scoring at a clip of nearly 65 points per game, no team in the Big 12 looks capable of keeping up.
Jamie Sabau/Getty Images
Automatic Bids: Big Ten
Favorite: Ohio State
The Others: Nebraska, Wisconsin, Michigan, Michigan State
Legends Division
The Big Ten Legends Division is a mess.
There is still so much undecided, it's tough to even decipher.
Michigan State and Nebraska share the drivers seat as the only two teams the the Legends still undefeated in conference play. Michigan is right behind at 2-1 in league play.
MSU will host Michigan on Nov. 2 and take on Nebraska on the road Nov. 16. The Spartans are incredible on defense and have shown offensively, though that is still their one glaring weakness.
Nebraska has a lot of work left to do with Northwestern (Nov. 2), Michigan (Nov. 9), Michigan State (Nov. 16) and a few other tough tests all remaining on their slate. The Huskers are guided by one of the B1G's best running backs, Ameer Abdullah.
Michigan has the smallest margin for error and is the only of the three Legends contenders with Ohio State still remaining on its schedule on Nov. 30.
Leaders Division
The Leaders is Ohio State's to lose. The Buckeyes have an easy road with really only one tough test left in the regular season against Michigan. They'll also host Penn State this week.
Wisconsin is sitting right behind OSU hoping that the Legends cannibalize themselves. UW is still arguably the second best team in the Big Ten and will have a manageable road from here on out.
If the Badgers end up at 0-2, there's a good chance they could snag a BCS at-large bid, especially given their large fan base.
When all the Legends chaos is over, the last team left standing (relatively speaking, anyway) will take on Ohio State on Nov. 7 in Indianapolis.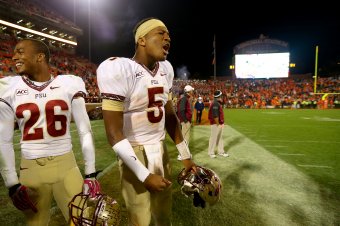 Streeter Lecka/Getty Images
Automatic Bids: The ACC
Favorite: Florida State
The Others: Miami, Virginia Tech
Atlantic Division
Contrary to popular belief, the Atlantic Coast Conference wasn't won when Florida State beat eviscerated Clemson last night. But the Atlantic was all but won.
While the Seminoles are undoubtedly the team to beat, they still have plenty of work left to do to make the BCS and especially the national title game.
Two major competitors remain for FSU for the ACC crown: Miami (Fla.) and Virginia Tech. The 'Noles will take on NC State next week before hosting their bitter rival Hurricanes on Nov. 2.
As well as Miami is playing, that game could carry BCS title implications and will certainly go a long way toward deciding the ACC's BCS bid. If FSU makes it past The U, it will have another rivalry test with Florida at the end of the regular season.
However, even if the 'Noles lose to Miami, they shouldn't have any problem at least winning the ACC Atlantic.
Coastal Division
As previously mentioned, the Coastal is down to a two-team race between Miami and Virginia Tech. The Canes will host the Hokies on Nov. 9, one week after they take on Florida State.
That Nov. 9 tilt between VT and The U will decide Coastal division. From there, either the Hokies or the Canes will head to Charlotte, N.C. to possibly play spoiler against an FSU team that will have its sights set on a national title berth.
In short, there are three dates to watch for the ACC in regards to the BCS: Nov. 2 (Miami-FSU), Nov. 9 (Miami-VT) and Dec. 7 (ACC title game).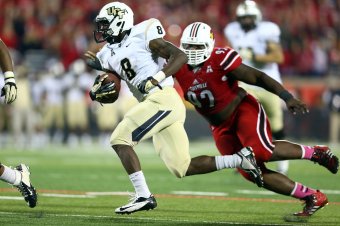 Andy Lyons/Getty Images
Louisville vs. UCF
In our BCS projections, Central Florida is nowhere to be found, while Louisville comes in at No. 19.
Fortunately, this battle will likely be out of the hands of the computers. UCF controls its own destiny to win the American Athletic Conference title.
The Knights essentially just need to win out to take the AAC's bid and depending on how the rest of the league's contenders do, they can probably afford a loss as well and still take the tiebreaker over the Cardinals.
There's no downplaying UCF's win over Louisville this past week: It was gargantuan.
@apsims The shortened version of the @FSAthletics Bulldogs is "'Dogs"; "Dawgs" refers to Georgia.

— Andrew A. Ojeda (@AndrewOjeda) October 20, 2013
A special thanks to Andrew Ojeda, who reached out to me on Twitter to point out my mistake in calling Fresno State the "Dawgs" rather than the "Dogs."
As I told him, I've apparently been writing about Georgia too much.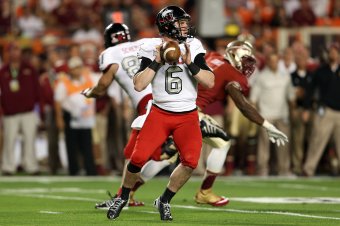 Streeter Lecka/Getty Images
Fresno State vs. Northern Illinois Debate
As reader JR Preciado pointed out, the debate between Fresno State and Northern Illinois as the potential Non-AQ at-large team could cause some controversy this season.

I'm with JR, who sees Fresno as the better team.
The pollsters agree too, as the Bulldogs are rated higher than the Huskies in both polls.
JR pointed out a big selling point for Fresno, which is its only common opponent with NIU: Idaho. Fresno annihilated Idaho, 61-14, while NIU struggled to a 45-35 win.
Even if Fresno comes in behind Northern Illinois to start, its standing in the polls and quality wins should send it higher eventually. The Bulldogs will face tougher competition in the MWC than the Huskies will in the MAC.
Plus, Fresno will likely be able to add a second win over traditional BCS buster Boise State in the MWC title game.
How about that Jordan Lynch, though?
This article is
What is the duplicate article?
Why is this article offensive?
Where is this article plagiarized from?
Why is this article poorly edited?