The New York Jets notched a key divisional home win over their AFC East rival, the New England Patriots, with a score of 30-27 in overtime of Week 7.
UPDATE: Sunday, Oct. 27, at 10:45 a.m. ET
From ESPN's Adam Schefter on last week's controversial game-altering penalty during the Jets' field goal attempt:
NFL sent videotape to all 32 HCs this week, warning it will work with officials to call more push penalties like the one from NYJ-NE game.

— Adam Schefter (@AdamSchefter) October 27, 2013
Umpire Tony Michalek, who called penalty on Pats, did not call it on Jets, even though NFL admitted in HC video that both were violations.

— Adam Schefter (@AdamSchefter) October 27, 2013
---End of update---
---Original Text---
It was a see-saw sort of affair in which momentum changed hands more than once at MetLife Stadium and served as an appropriate allegory to Jets rookie quarterback Geno Smith's season.
Overall, it looks like Smith's playmaking ability will make him the QB of the future. There were evident growing pains along the way in this game, but there was also some proof that he is ready to lead the team to the upper echelon of the NFL.
Geno Smith: 4th time leading Jets on game-winning drive in 2013

— ESPN Stats & Info (@ESPNStatsInfo) October 20, 2013
When Smith was playing well, it seemed the home team was a force to be reckoned with. However, some of the mistakes he made cost the Jets in a big way.
The 2013 second-round pick came out firing on the first drive, converting all four conversions on third down, as Jason McIntyre pointed out:
Geno 4-for-4 on third on that TD drive. What a start. #jets

— Jason McIntyre (@jasonrmcintyre) October 20, 2013
Jeremy Kerley capped off the 12-play, 80-yard drive with a 12-yard touchdown reception to give the Jets an early 7-0 lead.
As might be expected, Smith's counterpart, the legendary Tom Brady, had a response. Brady hit returning superstar Rob Gronkowski for a 30-yard gain to get into a goal-to-go situation. Brandon Bolden punched it in from one yard out to knot the game at seven apiece.
Then there was the bad Geno Smith, who tried to throw a shallow crossing route to the outside, but Logan Ryan jumped the pattern and took it 79 yards to the house, putting the Jets in a 14-7 hole.
(1 of 2) Note on CB Logan Ryan to follow up on his pick-6. In draft, Pats had him as 4th best DB in terms of ball disruption (INTs/PBUs).

— Mike Reiss (@MikeReiss) October 20, 2013
(2 of 2) Other prospects ahead of Logan Ryan: First-rounders Dee Milliner and D.J. Hayden and third-rounder Tyrann Mathieu.

— Mike Reiss (@MikeReiss) October 20, 2013
Stevan Ridley added a 17-yard touchdown run for the Patriots after Nick Folk's field goal, saddling New York with a 21-10 deficit at the half.
That was in spite of a huge advantage in time of possession and moving the ball well. It highlighted the glaring problem of the Jets' season, as they entered Week 7 with a turnover margin of minus-11, while the Pats' was plus-five.
Jets trail by 11 points at halftime despite holding a 2:1 time of possession advantage over Patriots and 219 total yards. #nyj

— Manish Mehta (@MMehtaNYDN) October 20, 2013
However, head coach and defensive guru Rex Ryan made some adjustments on the fly, and it helped Antonio Allen respond with a pick-six of his own on Brady.
This observation from ESPN Stats & Info preceded a particular piece of history that would repeat itself:
1st pick-6 for Tom Brady since 2011 Week 3 at Bills (that is the Patriots last divisional loss)

— ESPN Stats & Info (@ESPNStatsInfo) October 20, 2013
New England's first possession of the second half could have put the game out of reach, but Brady instead let the Jets right back into it. Allen's play ignited a spark in the Jets' defensive unit, which got after Brady to the tune of four sacks on the day:
Jets defense has a pick-six and forced three consecutive 3-and-outs in four Patriots drives in 3rd quarter. #nyj

— Manish Mehta (@MMehtaNYDN) October 20, 2013
Are the Jets (4-3) legitimate challengers to the Patriots (5-2) in the AFC East?
New York's defense and Smith fed off each other in a symbiotic way, as he led an outstanding drive, hurting the Patriots defense with his feet multiple times.
Smith ran it in from eight yards out to put the Jets on top with 4:42 left in the third quarter, 24-21.
The teams traded field goals, but neither offense could muster much in the final nine minutes.
That is, until Brady led a game-tying field-goal drive, hitting Gronkowski for 22 yards and Julian Edelman for 19, setting up Stephen Gostkowski for his second kick of the quarter.
The Jets threw incompletions on second and third down of the previous possession—a regrettable strategy in retrospect.
Can't help but think Jets will regret throwing twice on 2nd and 3rd downs rather than letting the clock run. Patriots need just three.

— Ian Rapoport (@RapSheet) October 20, 2013
Just when it seemed as though the Patriots grabbed the game by the horns after winning the overtime coin toss, Ryan and Co. responded, forcing New England to punt.
From there, physicality defined the winning drive. David Nelson shielded off a defender for a key catch to jump-start things, and Chris Ivory ran hard and pushed the ball into Patriots territory by bouncing a run to the outside.
A critical 3rd-and-5 saw Ivory stuffed for a loss on a draw play, as offensive coordinator Marty Mornhinweg decided not to let Smith put the ball in the air.
When Folk missed a 56-yard field goal, rookie Chris Jones—who had two sacks in the game—was called for a 15-yard unsportsmanlike conduct penalty for pushing a teammate upfield in an effort to block the kick.
That is correct call in NE/NYJ game. New rule this year can't push a teammate into the offensive formation on a field goal or try attempt.

— Mike Pereira (@MikePereira) October 20, 2013
ESPN's Rich Cimini provided a perfect parallel to Tampa Bay Buccaneers linebacker Lavonte David, who shoved Smith late out of bounds and put the Jets in position for a winning field goal in Week 1:
Chris Jones = Lavonte David. #jets

— Rich Cimini (@RichCimini) October 20, 2013
Patriots head coach Bill Belichick was not happy with the call after the game, as the Boston Herald's Jeff Howe noted on Twitter:
Belichick disagrees with the penalty for pushing. Said there wasn't a push in the second level that would require a flag.

— Jeff Howe (@jeffphowe) October 20, 2013
Albert Breer of NFL.com is reporting that the Jets tipped off the officials to watch for the push along the line before the game:
I'm told Jets coaches did alert officials to several things to watch for w/Pats' special teams, inc potential FG push, before Sunday's game.

— Albert Breer (@AlbertBreer) October 21, 2013
The alignment the Patriots ran against the Jets was different, but officials were told to look for a push from New England's FG block team.

— Albert Breer (@AlbertBreer) October 21, 2013
It was a bizarre way to pick up a first down, but the Jets were no doubt thrilled to benefit from it. Folk banged it through the uprights from 42 yards away to clinch it with 5:07 left in the extra period.
Here is a look at some player grades for the key performers from Sunday's fantastic game.
Grades
Geno Smith, QB, New York Jets: A-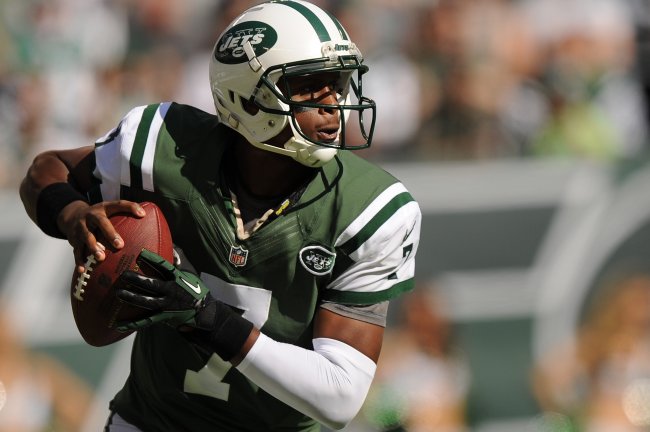 Maddie Meyer/Getty Images
A lot was being asked of Smith to attack a Patriots defense that had been third in the league in yielding an average of 16.2 points per contest.
Instead of dwelling on his pick-six relatively early on and letting his prior three-interception performance in Foxboro get to him, Smith showed the poise of a franchise quarterback in leading his team to victory.
and since the pats fans are still mad: brady was CLEARLY outplayed by geno smith. who, btw, ain't throwing to swann and stallworth, either.

— Bomani Jones (@bomani_jones) October 20, 2013
The numbers weren't pretty, but it didn't matter. New England has been winning ugly all year, and the Jets beat the AFC East's preeminent organization at its own game.
Tom Brady, QB, New England Patriots: C-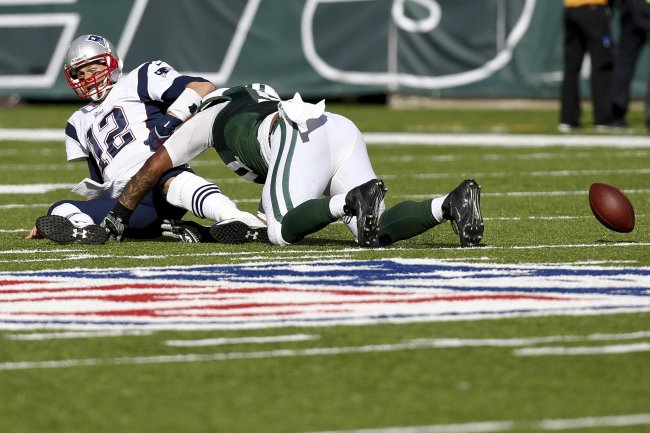 Jeff Zelevansky/Getty Images
To be fair, the future Hall of Famer is being asked to do a lot. His typical bend-but-don't-break defense wasn't there to support him very well, either.
The fact remains that Brady was the one who made the critical mistake, with his interception coming out of the halftime break. It was a tall task even with Gronkowski back, but Brady was not at his best.
New York's defensive front got in Brady's face, and it afflicted him to the point of being a shell of his usual terrific self. Brady wound up 22-of-46 for 228 yards and the aforementioned interception. He had zero touchdowns on the day.
Antonio Allen, CB, New York Jets: A
Not only was Allen the catalyst for changing the Jets' mindset to start the second half, but he was also charged with guarding Gronkowski a lot of the time—and fared well often.
Antonio Allen has had a great coverage game for Jets. Done well against Gronkowski. #NEvsNYJ

— NFL: AroundTheLeague (@NFL_ATL) October 20, 2013
Allen knocked down three passes in addition to the defensive touchdown and made nine total tackles, tying for the lead with linebacker DeMario Davis.
It is a testament to Ryan's schemes and several players taking on larger roles. On Sunday, it was Allen who stood out in particular. These Jets can still play elite-level defense even without Darrelle Revis in the secondary.
Rob Gronkowski, TE, New England Patriots: A+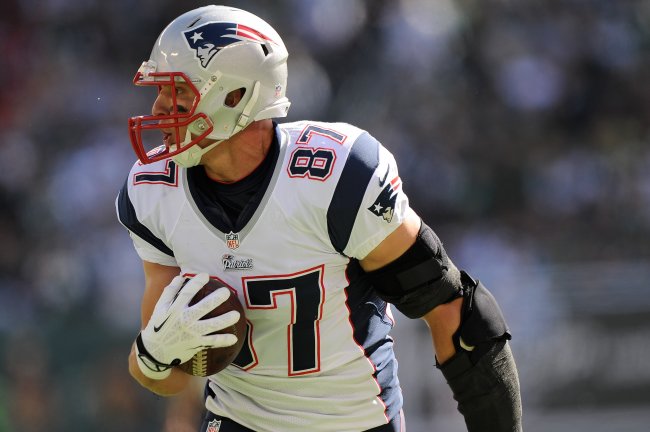 Maddie Meyer/Getty Images
Let's give Gronk props since it was his first action of the 2013 season. He did lead the Patriots with eight receptions for 114 yards, but was quiet for much of the second half.
That is, until Brady hit him for a huge gain on the team's final drive and got New England to midfield, having the Jets' crowd holding its collective breath.
Gronkowski played 47 of 74 snaps, including penalties, in regulation.

— Jeff Howe (@jeffphowe) October 20, 2013
The rally fell short, and New York's game plan stymied and confused Brady and Co. But it had to be a relief that Gronkowski was able to be effective in spurts even without playing nearly the full game.
What's Next?
The Patriots host the Miami Dolphins in Week 8, while the Jets look to carry momentum on the road against the Cincinnati Bengals.