The Florida State Seminoles have become the most popular college football team over the last 24 hours. After a 51-14 win over Clemson, the Seminoles shot up the recent AP Poll and are now getting national attention as being a team that can compete for the crystal football.
Nobody could have predicted it. Welcome to another wacky college football season!
But just how good is Florida State? Yes, a blowout win against Clemson on the road is eye-popping, but just how impressive was it? Good enough to be considered the top team in the country?
Two AP voters think so...
Joe Giglio
Affiliation: The News & Observer, Raleigh, N.C.
Twitter: Twitter.com/jwgiglio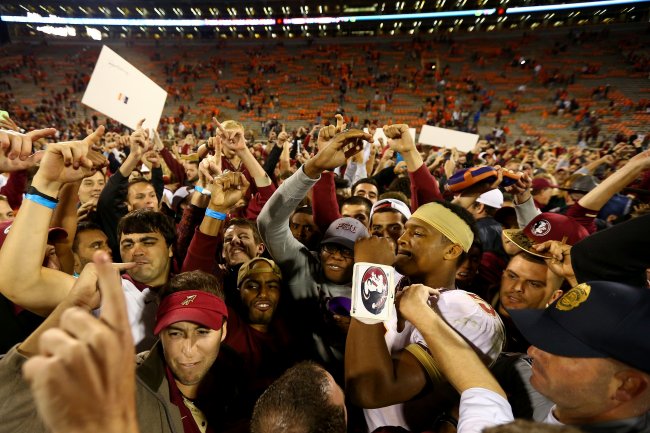 Streeter Lecka/Getty Images
Giglio covers North Carolina sports. Quick, somebody scream out ACC bias! Ahhh, he's simply supporting the top team from the conference that is closest to his heart. This simply isn't fair. I call for a redo! He shouldn't be allowed to commit such a crime!
Calm down, folks.
Giglio took the time to explain his vote in a brief column he wrote on Sunday, and he was thoroughly impressed with Florida State's win over Clemson:
Clemson was 6-0 before Saturday's destruction at the hands of redshirt freshman quarterback Jameis Winston, who threw for 444 yards and three touchdowns. And it wasn't just FSU's offense; the Seminoles defense stopped Clemson and quarterback Tajh Boyd cold in his tracks.
He also made sure not to include results from past years which, of course, hurt Alabama.
Alabama (7-0) has won three of the past four national titles, but we're not supposed to vote on last year or the past five years. Alabama's best win this season was at Texas A&M, by seven points. Texas A&M lost at home to Auburn on Saturday. That's not Alabama's fault, but it does affect how you judge its best win.
Alabama's schedule has included just about every weak opponent except for your local high school. Texas A&M's recent loss doesn't help the Crimson Tide in any way. However, does another team's performance truly play that big of a role on another team? Giglio obviously believes so.
Josh Kendall
Affiliation: The State, Columbia S.C.
Twitter: Twitter.com/JoshatTheState
Who is the top team in the country?
Well, it's tough to blame bias in this situation. Kendall covers South Carolina and the SEC, so most would naturally assume he favors Alabama. Nope. Although it should be mentioned that Kendall does have Florida ranked No. 18. Uh, really?
OK, back to Florida State and Alabama. Kendall has turned his back on the Tide and has fallen in love with Jameis Winston and the rest of the gang. There are many who can claim that notion.
However, if you can't fathom Florida State being No. 1, it's good to know Kendall is considering giving up his voting duties:
@AshokC2011 yes and I have no idea. Thinking of resigning effective immediately

— Josh Kendall (@JoshatTheState) October 20, 2013
If you believe that, I have million dollars buried in your backyard. I'll be over there tomorrow to come pick it up.