LeBron James Should Not Experiment in NFL Until After Basketball Career Ends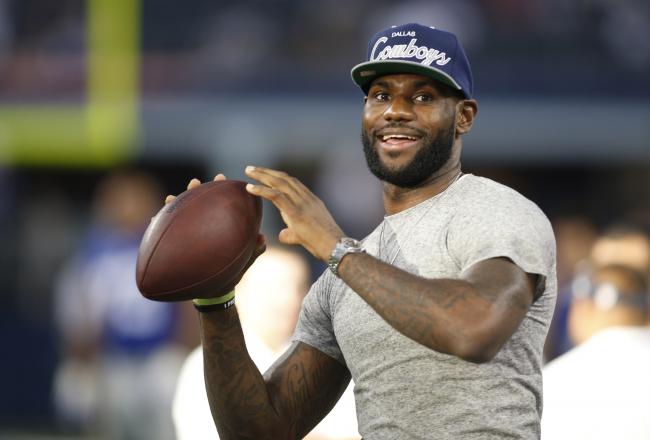 Tim Heitman-USA TODAY Sports
NFL fans can dream of the possibility of LeBron James stepping foot on the gridiron for their favorite team, but it is something that should not happen anytime soon.
During a question-and-answer session with fans on Twitter, the four-time NBA MVP responded to a fan with this comment:
"@TylerC_2: @KingJames would you ever consider playing in one pro football game? In any league?"(I wanna play one NFL game before it's over)

— LeBron James (@KingJames) October 19, 2013
Obviously, this is not something that will happen immediately, but it certainly got fans thinking. The 6'8", 250-pound force would make a nearly unstoppable tight end.
Not only would opposing players be unable to stop James from grabbing a jump ball in the end zone due to his elite athleticism, it is also hard to imagine anyone tackling him in the middle of the field. If he trained with a team for an offseason, he could legitimately be one of the best players in football.
However, he is also the best player in basketball, and that seems to be working out just fine for him. He does not need to risk injury just to accomplish a childhood dream.
Michael Jordan took a season off to (unsuccessfully) play baseball before returning to the court for three more championships and two more MVP awards. However, the risk of going to baseball is relatively low.
Should LeBron James play one NFL game?
He angered many Chicago Bulls and basketball fans when he bailed on them, but there was no question he could return at any time and be successful. While there are injuries in baseball, few of them would affect his long-term ability to play basketball.
On the other hand, one play in football could take James out for a season and put his NBA career in jeopardy.
Randall Cobb of the Green Bay Packers will miss a good portion of his year thanks to this hit by Matt Elam of the Baltimore Ravens:
This was not a cheap shot, but instead a legal play within the rules of the NFL and didn't result in a fine of any sort. You can be certain that James' height would put him at any even greater risk to these types of plays as he would be unable to protect himself down low.
You also cannot rule out a lesser-known player trying to make a name for himself by laying a big hit on the King.
With this in mind, it would be an irresponsible decision for the basketball star to play at all in the NFL. This includes exhibition games before the NBA season begins.
While any team that puts James in a football uniform would sell plenty of tickets and merchandise, this should not happen until the player officially retires from the league that made him a star.
Although it might be too late at this point to take advantage of his athleticism, it is the only sensible option for one of the top athletes in the world.
Follow Rob Goldberg on Twitter for the latest breaking news and analysis.
This article is
What is the duplicate article?
Why is this article offensive?
Where is this article plagiarized from?
Why is this article poorly edited?