What If John Brodie and the 49ers Beat the Cowboys in the Early 1970s?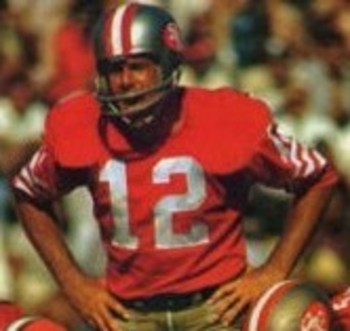 In 1970, quarterback John Brodie was the NFL's Most Valuable Player and led a highly potent San Francisco 49ers' offense that featured explosive wide receiver Gene Washington who piled up 1,100 yards on 53 receptions.
NFL Coach of the Year Dick Nolan guided San Francisco to a 10-3-1 regular season record and the NFC West crown in 1970.
The 49ers got by the Minnesota Vikings 17-10 in the divisional round to win the franchise's first playoff game and advanced to face the 10-4 Dallas Cowboys in the NFC Championship on January 3, 1971 at Kezar Stadium.
"John Brodie was a great quarterback at Stanford, he was the man with the golden arm," Dave Newhouse of The Oakland Tribune said in Pure Gold: The Complete History of the San Francisco 49ers. "He just didn't have what Joe Montana had and what Steve Young had, a defense."
Even though Cowboy quarterback Craig Morton completed 7 out of 22 passes for 101 yards, running back Duane Thomas rushed for 143 yards and Dallas converted two third quarter interceptions into 14 points.
After a 3-3 tie at the half, linebacker Lee Roy Jordan's interception led to a 13-yard touchdown run by Thomas.
Dallas would capitalize again when a Mel Renfro interception translated into a Walt Garrison 5-yard touchdown reception.
The 49ers would cut the lead to 7 points with a 26-yard touchdown from Brodie to Dick Witcher, but they were shut out the rest of the game.
In their 11th year of existence, the Dallas Cowboys would win their first NFC Championship with a 17-10 victory over the San Francisco 49ers. It was also the last 49er home game at Kezar Stadium.
Following a 9-5 regular season in 1971, San Francisco would claim the NFC West title again. After dispatching the Washington Redskins 24-20 in the divisional playoffs, the 49ers would face the Cowboys again in the NFC Championship, this time in Dallas.
But San Francisco's high octane offense would run out of steam on the worst possible day.
But once again, Roger Staubach and the Dallas Cowboys would come away victorious with a 14-3 victory over the 49ers, winning their second consecutive NFC Championship and on to their first Super Bowl victory.
After another NFC West title in 1972, the San Francisco 49ers would fall again to the Dallas Cowboys in the playoffs with a 30-28 loss in the divisional playoffs.
Brodie would retire a year later in 1973 after a love-hate relationship with the San Francisco fans.
"People loved him, loved him," Bill Walsh said on Pure Gold. "And hated him because whenever the team would do poorly, it would be John to catch hell from the fans."
"While Brodie was doing very well," Glenn Dickey of the San Francisco Chronicle added on Pure Gold. "But when the offense has to score so much it puts so much pressure on the quarterback as every interception, every missed play is magnified."
The rest of the 1970s would not be kind for the City by the Bay. Over the next five years, the 49ers would go through five head coaches, nine quarterbacks, and one winning record.
Brodie's offenses were capable of scoring from anywhere on the field and won many shootouts against the rest of the NFL but if they had more talent on the defensive side of the ball, this team could have won their first Super Bowl in the early 1970s before Brodie retired.
Now the question is, what if those early-70s teams had the players to complement future Hall of Fame defenders in outside linebacker Dave Wilcox and cornerback Jimmy Johnson?
Easy, they would have beaten the Dallas Cowboys and went on to defeat the Baltimore Colts in Super Bowl V and the Miami Dolphins in Super Bowl VI because San Francisco's offense was a cut above the rest of the NFL during those times.
The San Francisco 49ers should have been 7-0 in the Super Bowl if their successful 70s squads had a championship defense to go along with their loaded offense.
If the 1970 San Francisco 49ers could borrow players from the franchise's All-Time team to win their first Super Bowl championship, who would be sent in this hypothetical time machine?

The following slides are a compilation of the defensive playmakers necessary to get these San Francisco 49ers over the hump as a Super Bowl championship team.
1970 San Francisco 49ers
OFFENSIVE STARTERS
QB - John Brodie (NFL MVP)
RB - Doug Cunningham
FB - Ken Willard
WR - Gene A. Washington (Pro Bowl)
WR - Dick Witcher
TE - Bob Windsor
LT - Len Rohde (Pro Bowl)
LG - Randy Beisler
C - Forrest Blue
RG -Woody Peoples
RT - Cas Banaszek
DEFENSIVE STARTERS
LDE - Tommy Hart
LDT - Charlie Krueger
RDT - Roland Lakes
RDE - Bill Belk
LLB - Dave Wilcox (Pro Bowl)
MLB - Frank Nunley
RLB - Skip Vanderbundt
CB - Jimmy Johnson (Pro Bowl)
CB - Bruce Taylor
SS - Mel Phillips
FS - Rosey Taylor
SPECIAL TEAMS STARTERS
K - Bruce Gossett
P - Steve Spurrier
PR - Bruce Taylor
KR - Bill Tucker
Right Defensive Tackle: Leo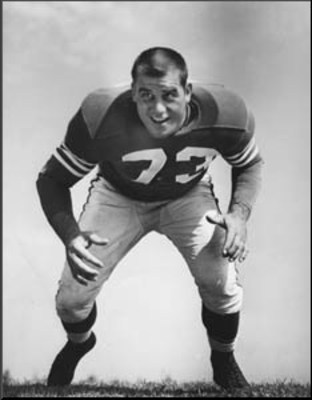 We're going back in time for this one.
The first person to be sent should be Hall of Fame defensive tackle Leo "The Lion" Nomellini to complement All-Star Charlie Krueger and solidify the middle of the San Francisco defensive line.
"The Lion" played for the 49ers from 1950-1963 and was the franchise's first draft pick as a member of the NFL.
Left Defensive End: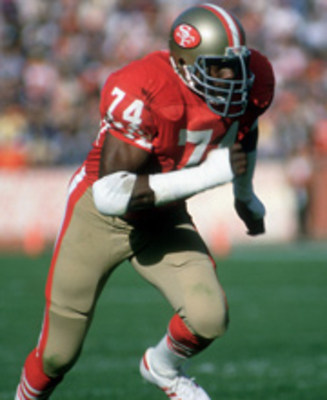 Fred Dean from the 1981 49er squad would be a suitable replacement for Tommy Hart.
Dean was acquired mid-season in the 1981 season by the 49ers and eventually helped San Francisco win two Super Bowls in the 1991 and 1984 seasons.
His first game in San Francisco was in a key contest against the Dallas Cowboys where he constantly applied pressure on Danny White, recording 3 sacks in a 45-14 rout by the upstart 49ers.
Right Defensive End: Dwaine Board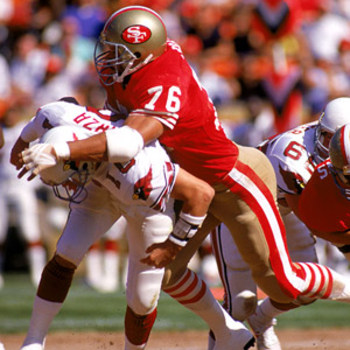 Replacing Bill Belk is Dwaine Board who racked up 10 sacks in San Francisco storied 1984 season.
He was a member of the San Francisco 49ers' Super Bowl XVI and Super Bowl XIX teams and in 10 NFL seasons, Board collected 45 sacks and 9 fumble recoveries.
Outside Linebacker: Charles Haley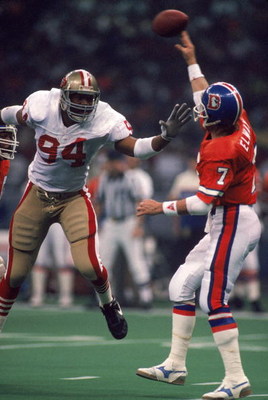 Left outside linebacker Dave Wilcox is an obvious standout at his position, but Skip Vanderbundt lacked the necessary talent to stop a rookie running back in the NFC Championship.
Vanderbundt would be substituted with linebacker/defensive end Charles Haley because of his athleticism.
A versatile defensive player, Haley started out as an outside linebacker, eventually moving on to pass-rusher and then defensive end.
Haley had the reputation of being a volatile and unpredictable but incredibly talented and hardworking player and is the only one in NFL history to have been on five Super Bowl championship teams.
Middle Linebacker: Patrick Willis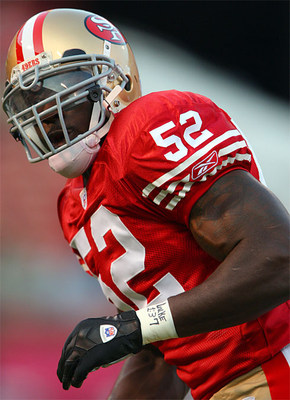 Frank Nunley couldn't get the job done against the Dallas Cowboys offense so in his place, Patrick Willis is the choice to start at middle linebacker.
During Willis' senior season at Ole Miss, he was awarded the 2006 Butkus Award.
In his rookie season in San Francisco, Willis led the NFL in tackles, earned All-Pro and Pro Bowl honors and was named the 2007 NFL Defensive Rookie of the Year.
Also in major consideration was Hardy Brown.
Free Safety: Ronnie Lott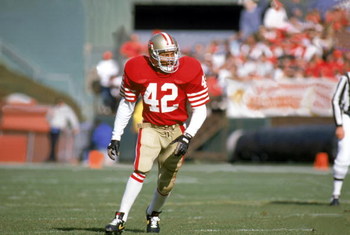 The 1970 San Francisco 49ers had two solid corners in Hall of Famer Jimmy Johnson and 1970 NFL Defensive Rookie of the Year Bruce Taylor, but they needed better depth in the defensive secondary to stop Cowboys Craig Morton and Roger Staubach.
Hall of Fame cornerback/free safety Ronnie Lott is the obvious choice.
Known for his crushing hits on opposing players. Lott was a Pro Bowler at both cornerback and safety.
Ronnie Lott is considered to be one of the greatest defensive backs in NFL history
Strong Safety: Tim McDonald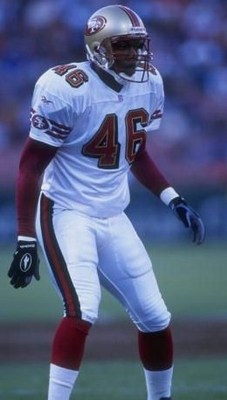 Tim McDonald is the perfect complement for 2-time Pro Bowler free safety Rosey Taylor and the steady strong safety Mel Phillips.
McDonald signed as a free agent with the San Francisco 49ers on April 7, 1993 where he helped them win Super Bowl XXIX,
He retired after the 1999 season being voted to the Pro Bowl six times in his career.
Defensive Line Depth: Bryant Young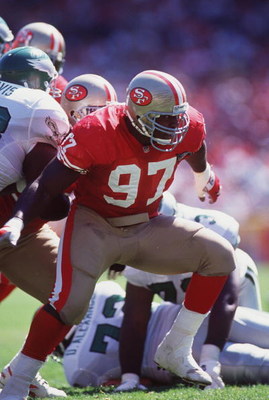 A starter as a rookie in 1994, Bryant Young helped a revamped 49ers defense to a Super Bowl XXIX victory over the San Diego Chargers.
He retired after the 2007 season with 89.5 career sacks.
Outside Linebacker Depth: Dan Bunz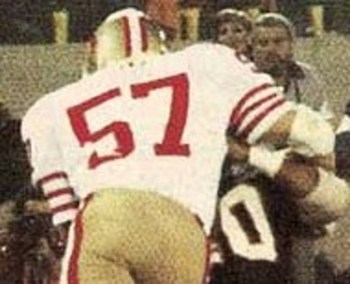 As a linebacker for the 49ers, Dan Bunz was a solid tackler, a smart football player and experienced losing seasons before San Francisco turned it around in 1981 with an NFL-best record of 13-3. The previous year, the upstart 49ers had gone 6-10.
The former 1978 first round pick would made a pivotal tackle at the end of the third quarter in Super Bowl XVI that would come to define his career.
On a critical 3rd-and-goal from the one yard line, quarterback Kenny Anderson threw a swing pass to Charles Alexander in the right flat, but out of nowhere, Bunz came in aggressively, grabbed him around the waist, used his momentum then hurled him backwards before he could break the plane of the goal line.
Middle Linebacker Depth: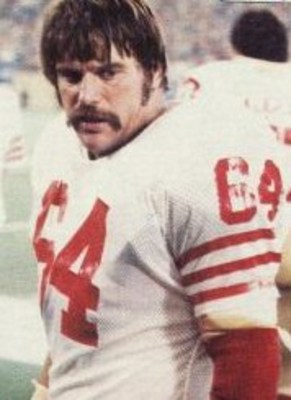 Jack "Hacksaw" Reynoldswas a first-round draft pick by the Los Angeles Rams in the 1970 NFL Draft and played 11 years before moving on to the San Francisco 49ers in 1981.
He played with the 49ers three more years and won Super Bowl XVI and Super Bowl XIX with San Francisco.
Reynolds earned his nickname in 1969 by cutting a 1953 Chevrolet Bel Air in half with a hacksaw after his previously unbeaten University of Tennessee team returned home from a 38-0 road loss to Ole Miss.
Cornerback Depth: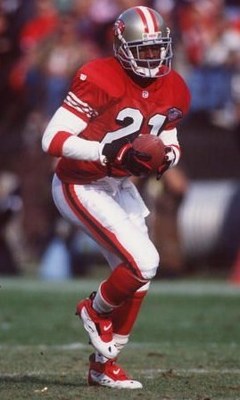 "Prime Time's" one year as a San Francisco 49er was memorable.
After five seasons with the Atlanta Falcons, he signed with the 49ers in 1994 and had one of his best seasons as a professional football player, recording six interceptions and returning them for 303 yards and three touchdowns.
Sanders was also named the 1994 NFL Defensive Player of the Year.
Safety Depth: Merton Hanks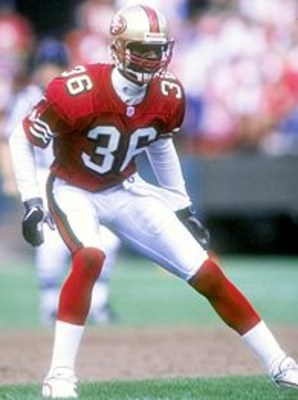 Merton Hanks was a 5-time All-Pro selection and became well-known for his clutch interceptions and returns.
He also became known for the "Funky Chicken" dance after coming up with a turnover.
The dance was also known as "The Duck," "The Elmo" Dance, "The Waddle," "The Rag Doll," and "The Rubberneck."
Keep Reading

San Francisco 49ers: Like this team?