Ranking the 10 Best College Basketball Point Guards of the 2000s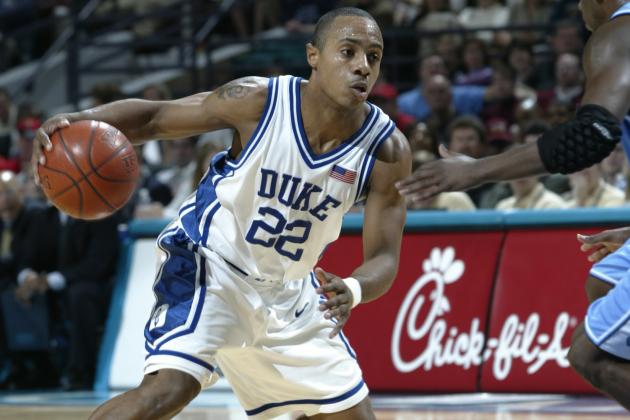 Craig Jones/Getty Images

The 2000s have had a crazy amount of elite-level point guards.
Some have been floor leaders who excel at playmaking.
Others have been heavy-duty scorers who still could set up their teammates.
Individual accomplishments are important and team achievements are a plus.
Here are the 10 best college basketball point guards of the 2000s.
Player information provided by Sports-Reference.com
Begin Slideshow

»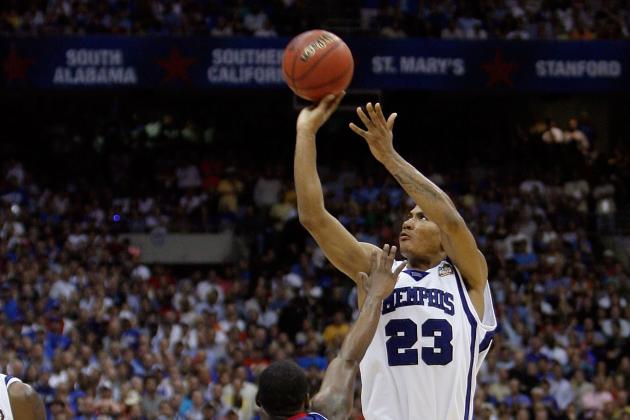 Streeter Lecka/Getty Images

There's been so much point guard talent in the 2000s that this list does not come close to containing all of the excellent floor leaders.
Here is a collection of some of those who were closely considered for this list:
D.J. Augustin (Texas)
Steve Blake (Maryland)
D.J. Cooper (Ohio)
Jason Gardner (Arizona)
Acie Law (Texas A&M)
Ty Lawson (North Carolina)
Kendall Marshall (North Carolina)
Derrick Rose (Memphis)
Marcus Smart (Oklahoma State)
Jordan Taylor (Wisconsin)
Michigan's Trey Burke turned Michigan from a developing Big Ten team into a national championship contender.
Burke's two years in Ann Arbor helped re-establish the Wolverines in the top tier of the conference.
Burke averaged 14.8 points, 3.5 rebounds and 4.6 assists per game as a freshman, and 18.6 points, 3.2 rebounds and 6.7 assists per game as a sophomore.
During his sophomore season, Burke led one of the youngest team's in the country through March Madness and to the national title game against Louisville.
He won the 2013 Bob Cousy Award (top point guard in the nation), the Big Ten Player of the Year and just about every national player of the year award.
Maryland's Greivis Vasquez may be the least known point guard on this list.
His on-court performance over four years should be enough to gain him a little respect.
Over his 136 collegiate games, Vasquez averaged 16 points, 4.8 rebounds and 5.7 assists per game.
He was a dynamic back court scorer and an exceptional distributor.
Vasquez's senior year was so good that he was chosen as the Bob Cousy Award (the nation's top point guard) winner over such stars as Jon Scheyer (Duke), Evan Turner (Ohio State) and John Wall (Kentucky).
He also was the 2010 ACC Player of the Year and a consensus Second Team All-American.
North Carolina's Raymond Felton may have been built more like an ACC running back than a point guard, but he sure knew how to control what happened on the Tar Heels' hardwood.
There was no easing in to his role as UNC's floor general. Felton's freshman season was amazing, averaging 12.9 points, 4.1 rebounds and 6.7 assists per game.
His sophomore was just as impressive, and his junior season was the icing on the cake.
His production stayed steady, but he added a honed shooting touch from beyond the arc (44 percent).
Felton was the Tar Heels' overpowering trigger man, overwhelming opponents all the way to the 2005 NCAA championship.
For his superior floor leadership, Felton was selected as the 2005 Bob Cousy Award for best point guard in the nation.
Illinois' Deron Williams was the dynamic catalyst of an unprecedented three-year period of Fighting Illini excellence (88-16).
Williams was a solid scorer, averaging 14 points per game as a sophomore and 12.5 points per game as a junior.
But, where he excelled was in spearheading U of I's balanced attack.
He led the Big Ten in assists in both his sophomore (6.2 assists per game) and junior (6.8 assists per game) seasons.
Williams' team leadership was instrumental in Bruce Weber's bunch going 37-2 and playing in the 2005 National Championship game.
He was a two-time First Team All-Big Ten (2004, 2005) selection and was named a 2005 consensus First Team All-American.
Though he only spent two years running the point at the University of Texas, T.J. Ford made a huge impact during those 66 games.
Ford's first year of collegiate ball was outstanding. He was the first freshman to lead the nation in assists (8.27 per game). He was the Big 12 Freshman of the Year, and he helped lead the Longhorns to the 2002 Sweet 16.
Ford's sophomore season was even better. He was third in the nation in assists (7.7 per game). He led UT to their first Final Four since 1947 and he made a clean sweep of the major national player of the year awards.
Wescott Eberts of BurntOrangeNation.com's gives Ford credit for being the catalyst to the program's run of hoops success that began with his arrival on campus:
Before TJ Ford, it wasn't cool for the top players in the state -- or anywhere else in the country -- to come play basketball at Texas. Austin was a recruiting wasteland. A basketball wasteland. Ford changed all of that.

Without Ford, there would be no LaMarcus Aldridge, no DJ Augustin, no Kevin Durant, no Myck Kabongo. All off the success on the recruiting trail is directly attributable Ford and, therefore, essentially all the success achieved by the program over the last decade.
Even though Kentucky's John Wall only has a single collegiate season on his resume, he still packed a ton of point guard accomplishments into those 37 games.
In his one and only season in Lexington, Wall averaged 16.6 points, 4.3 rebounds and 6.5 assists per game.
But, his impact on this 2009-10 Wildcat team went far beyond numbers.
Wall was a consummate floor leader, directing traffic and delivering scoring opportunities on top of being UK's leading scorer.
His excellence was obvious to college coaches, media and fans beyond those who make up the Big Blue Nation.
Wall was named the SEC Player of the Year, SEC Tournament MVP, a consensus First Team All-American and the 2010 Adolph Rupp Trophy winner.
Not bad for a 19-year-old, right?
Wake Forest's Chris Paul was always in attack mode.
When he was running the Demon Deacons' offense, he pushed the pace and fearlessly drove the ball into the teeth of WFU's opponents' defense. Paul averaged 15 points and 6.3 assists per game over his two years in Winston-Salem.
When he was on defense, Paul relentlessly pressured the ball, demolishing opposing point guards' flow or rhythm. He led the ACC in steals in both his freshman and sophomore seasons.
During his freshman season, Paul was named the ACC Rookie of the Year, as well as the national freshman of the year by College Insider, The Sporting News and Basketball Times.
In his second and final season at Wake, Paul pulled out all of the stops.
Even as hard as Paul played, he still always played under control. He led the conference in assist-to-turnover ratio (2.4).
For his exceptional sophomore performance, he was a 2005 First-Team All-ACC selection and a consensus First Team All-American.
Every guard on this list had a huge impact on their team's success.
To say that Connecticut's Kemba Walker was a crucial part of the Huskies winning the 2011 NCAA championship is an understatement.
Without Walker, UConn may not have even been selected for March Madness.
His career was one of progressive greatness.
As a freshman, Walker averaged a praiseworthy 8.9 points, 2.9 assists and 1.1 steals per game as the Huskies went 31-5 and advanced to the Final Four.
As a sophomore, he bumped those numbers up to 14.6 points, 5.1 assists and 2.1 steals per game as UConn struggled through an uneven 18-16 season.
But, in his final collegiate season, Walker averaged 23.5 points, 5.4 rebounds and 4.5 assists as he led Jim Calhoun's crew to winning it all, beating Butler for the 2011 NCAA championship.
In 2011, he was a 2011 consensus first team All-American and was the Final Four Most Outstanding Player award winner.
Walker was also the 2011 Bob Cousy Award (for the nation's top point guard) winner.
Saint Joseph's Jameer Nelson was one of the most versatile point guards of the 2000s.
When he was featured on the cover of Sports Illustrated in 2004, the caption said it all: "The Little Man from the Little School That's Beating Everyone."
Playing four years for the Hawks, Nelson was a prolific scorer (2094 points; 16.8 career average), a clever distributor (5.7 assists per game) and a surprising rebounder (4.6 rebounds per game).
He was named the 2001 National Freshman of the Year by no less than five publications.
He is SJU's all-time leader in points, assists and steals.
As a senior, Nelson led the Hawks to an undefeated 27-0 in the 2004 regular season. He was selected as the Bob Cousy Award (top point guard in the country) winner and scooped up nearly every national player of the year award.
No point guard from the 2000s has been more dynamic, more effective or more successful than Jay Williams.
He is the best college point guard of the 2000s.
Williams was a dominant back court beast from day one at Duke, who was both a relentless penetrator and sharp-shooting marksman.
In his first season, he was selected as the 2000 Sporting News National Freshman of the Year and ACC Rookie of the Year.
As a sophomore, Williams was named the 2001 NABC National Player of the Year and a first team All-American on his way to leading the Blue Devils to the 2001 National Championship.
When he returned to Durham for his junior year, Williams made a clean sweep of the national player of the year awards and was again selected as a first team All-American.
He had impressive career averages of 19.3 points, 3.7 rebounds and 6 assists per game.
Williams led the ACC in 3-point field goals and scoring in both his sophomore and junior seasons.
Better floor leaders may come along in the future. Until that day happens, Jason Williams will be number one!