No. 5 Florida State's trip to No. 3 Clemson was billed as one of the greatest games in ACC history.
It wasn't.
It ended up being a 51-14 blowout victory at Memorial Stadium for the Seminoles that saw them emerge as the team to beat in the conference and a legitimate national championship contender.
As Bruce Feldman of CBS Sports points out, the win furthers a trend of Florida State dominance thus far this season:
#FSU has faced two ranked opponents this season so far. #Noles have outscored them, 104-7.

— Bruce Feldman (@BFeldmanCBS) October 20, 2013
The first half started about as well as Florida State could have hoped. It may have been Seminoles quarterback Jameis Winston's first start under the bright lights of a prime time game on a Saturday night against a ranked opponent, but he showed the confidence and poise of a senior leader from the outset.
Winston had this to say after the game, via SportsCenter's Twitter feed:
"We ain't leaving without a victory. ... We're Florida State. If we're going to do it, we'll do it big." - FSU QB Jameis Winston. #FSUvsCLEM

— SportsCenter (@SportsCenter) October 20, 2013
Shortly after Clemson turned the ball over on its first offensive play, Winston completed his first pass of the game to Kelvin Benjamin for a 22-yard touchdown to put the 'Noles up 7-0.
All about the Benjamins. Jameis Winston hits Kelvin Benjamin w/ a TD four plays in, 7-0 #Noles. #FSUvsCLEM: http://t.co/EEwwjtTk35

— ESPN CollegeFootball (@ESPNCFB) October 20, 2013
The highly anticipated quarterback battle between Tajh Boyd and Winston turned out to be a one-sided affair in the first half. Boyd was unable to do anything with the ball to answer Winston's first touchdown toss and the Seminoles responded with a field goal on the following drive to go up 10-0.
Not to be outshined by the offense, LaMarcus Joyner and the Seminoles defense was equally impressive. They flew all over the field to hold the Tigers to just seven points in the first half while adding a touchdown of their own on this Mario Edwards fumble return for touchdown to go up 17-0 in the first half.
Down 17-0, the Clemson offense would finally fight back as Boyd found Sammy Watkins for a three-yard touchdown to bring the Tigers to within 10.
That bit of momentum was short-lived though. Joyner once again came up with a big play as he picked off Boyd deep in Florida State territory to ensure that Clemson wouldn't go into the locker room on a positive note.
The second half would prove to be more of the same as Winston connected with Rashad Greene for a touchdown with 13:33 left in the third quarter. The rout was on.
Winston added a four-yard touchdown run in the third frame to conclude the scoring portion of his evening. Devonta Freeman would add the Seminoles final touchdown in the final frame as Clemson simply had no answer for Florida State's efficient offense.
A 20-yard field goal from Roberto Aguayo would extend the lead to 51-7, setting a new mark for points given up by the Tigers defense at home, per Corey Clark of the Tallahassee Democrat.
And with that FG, the 2013 FSU Seminoles become the first team in history to hang 50 on Clemson in Death Valley.

— Corey Clark/TDO.com (@Corey_Clark) October 20, 2013
Clemson would apply some window dressing to the loss with a two-yard touchdown run from Cole Stoudt to get to the 51-14 final.
Player Grades
Jameis Winston, QB, Florida State: A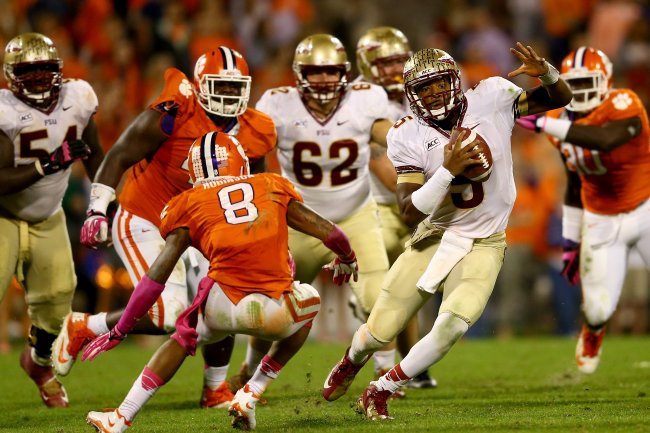 Streeter Lecka/Getty Images
What else grade could you give Winston for this performance?
Winston truly looked like the best freshman quarterback since, well, Johnny Manziel and could very well become the next freshman to win the Heisman. This was a huge spot for him to either shine in the spotlight or wilt under the pressure and he certainly did the former.
He finished the game 444 yards on 22-of-34 passing with three touchdowns and one interception. He even added a rushing touchdown for good measure.
Tajh Boyd, QB, Clemson: D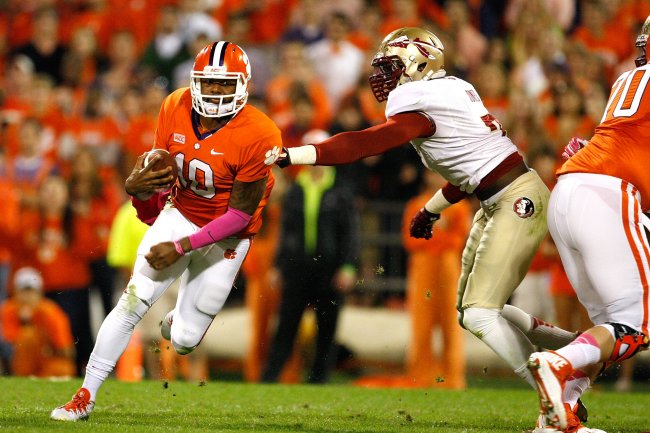 Tyler Smith/Getty Images
There have been some really great moments for Tajh Boyd as the Clemson Tigers quarterback. This was not one of them.
Boyd looked nothing like the quarterback that outdueled Aaron Murray at the beginning of the season and couldn't hold a candle to the immense production of his Florida State counterpart. He ended the game with a disappointing two interception performance on 17-of-37 passing.
Rashad Greene, WR, Florida State: A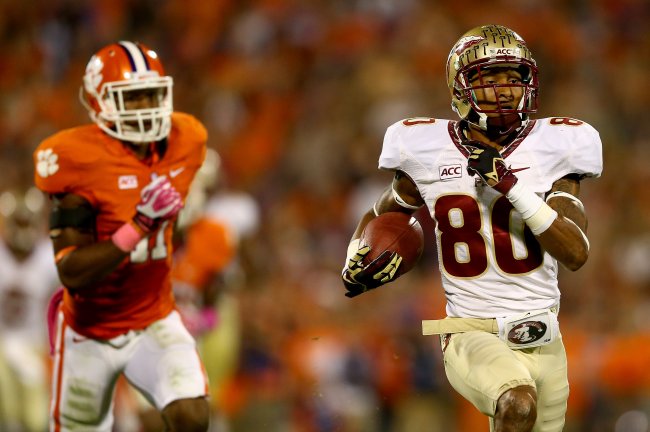 Streeter Lecka/Getty Images
The primary story to come out of this win will be Jameis Winston. But he should probably be writing Rashad Greene a lengthy thank you note for all the attention. Greene was prolific throughout the night.
Greene's ability to take the ball in stride and turn medium gains into even bigger ones was a huge reason for Winston's unbelievable numbers on the night.
Sammy Watkins, WR, Clemson: B
There's a lot of blame that can go around for Clemson's near no-show against the 'Noles. Sammy Watkins shouldn't be on the receiving end of it, though. The speedy junior led the Tigers in receiving, caught their lone touchdown of the first half and was the only Tiger who appeared to have a pulse offensively.
Lamarcus Joyner, S, Florida State: A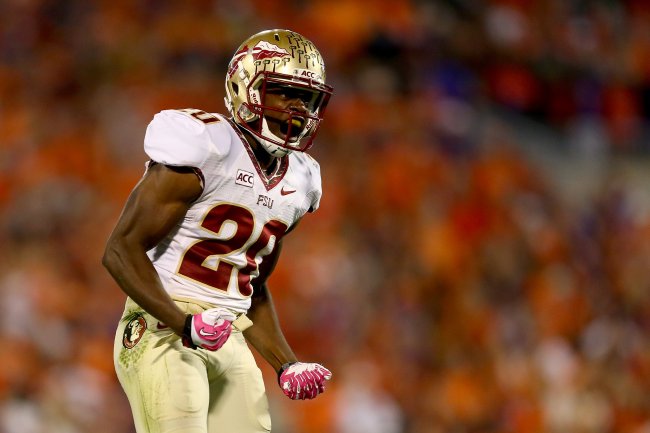 Streeter Lecka/Getty Images
Really, the entire defense deserves and A for this effort. The Clemson offense averaged 40.8 points per game heading into this contest and the 'Noles defense made them look like they belong in the Sun Belt.
However, if you had to single out one player from the unit it was Joyner. His play-making ability was evident throughout the game. His sack led to the defensive touchdown from Mario Edwards and his interception was a huge turning point in the first half.
What's Next
Florida State will look to keep things rolling when it heads back to Tallahassee to host the 3-3 NC State Wolfpack. A win there could set up a battle of unbeaten ACC squads when No. 10 Miami comes to Doak Campbell Stadium.
Clemson will look to pick up the pieces when it hits the road against 5-2 Maryland on Oct. 26.