Chargers vs. Jaguars: Live Score, Highlights and Analysis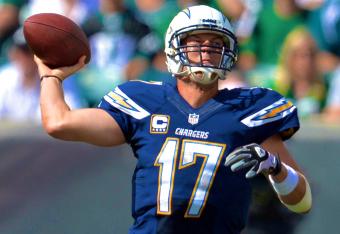 The San Diego Chargers have defeated the Jacksonville Jaguars by a final score of 24-6.
And with that, I'll let you guys go. Thanks for joining me this week!
I'm so used to losing the walk to the car isn't painful anymore.

— Mandy H. (@mandy6488) October 20, 2013
I'll stick around for a few minutes to see if there are any interesting postgame tweets.
The #Jaguars have not scored a touchdown at Everbank Field since December 23, 2012. That's 301 days...

— Michael Kelly (@MichaelLKelly) October 20, 2013
It's over. San Diego defeats Jacksonville 24-6. Very disappointing performance by Jacksonville in all aspects of the game.
Jacksonville will go at least ten weeks without a touchdown at EverBank Field. Next game here is Week 11 vs. Arizona.

— Jaguars Blog (@JaguarsBlog) October 20, 2013
24-6 Chargers, 1:35 4th Quarter
Turnover on downs as Henne is sacked on fourth down. Cecil Shorts dropped an easy touchdown on third down. Doesn't get much more "2013 Jaguars" than that series.
The garbage-time All-Stars have a mission:
At 2 minute warning, Jags 7 yards away from first home touchdown of the year.

— Vito Stellino (@vitostellino) October 20, 2013
24-6 Chargers, 2:33 4th Quarter
The garbage-time All-Stars are driving as Jacksonville moves into San Diego territory.
24-6 Chargers, 3:30 4th Quarter
Wow, fantastic catch by Shorts. He's got eight catches for 81 yards on 12 targets while playing with a severely injured clavicle.
24-6 Chargers, 4:20 4th Quarter
The Chargers are now 7-for-11 on third downs, but the last three have been in "run out the clock" mode.
24-6 Chargers, 6:15 4th Quarter
Henne throws it a mile over Blackmon's head and Marcus Gilchrist picks it off. Horrendous overthrow. Chargers' ball.
24-6 Chargers, 7:06 4th Quarter
Personal foul penalty on San Diego, but it's already fourth down. San Diego is in "run out the clock" mode. They've had to punt on two consecutive drives.
24-6 Chargers, 8:55 4th Quarter
Forsett stretches for the first-down marker and can't pick it up. Jacksonville goes for it on fourth down, and Henne throws it directly into the arms of a leaping Thomas Keiser. It's San Diego's ball again.
Hahaha
Everbank Field has such a home field advantage even the Jaguars can't win there

— YOLOball™ (@med11n) October 20, 2013
Chargers have four scoring drives. All have been at least 10 plays and gone for at least 79 yards. Three have lasted more than 6 minutes.

— Michael DiRocco (@ESPNdirocco) October 20, 2013
This officiating crew is like: "Did you see it? No? Okay, call it a fumble."

— Christopher Hansen (@ChrisHansenNFL) October 20, 2013
23-6 Chargers, 14:10 4th Quarter
Ryan Mathews plows into the end zone on the very next play, and this one looks like it's over. 141 yards rushing now for San Diego.
17-6 Chargers, 14:13 4th Quarter
Of course this one is reviewed correctly and reversed, so it's the Chargers' ball inside the Jacksonville 5-yard line. San Diego is charged a timeout for throwing the challenge flag on a play with an automatic booth review.
17-6 Chargers, 14:13 4th Quarter
Another crazy play. Royal reverses field on a wide-receiver screen and takes it inside the 5. As he's tackled, the ball flies out and the Jaguars recover in the end zone for a touchback. It looks like Royal's rear end is clearly down before the ball comes out, and we'll have a review.
17-6 Chargers, 1:12 3rd Quarter
Woodhead runs for the first down and another third-down conversion. San Diego is now 7-for-8 on third down.
Chargers WR Keenan Allen is back on the sideline. He is wearing his helmet.

— Michael Gehlken (@UTgehlken) October 20, 2013
17-6 Chargers, 3:53 3rd Quarter
Gus takes the easy points. I don't like the call. You need to get touchdowns when you get inside your opponent's 10-yard line, and the Jaguars' offense hasn't exactly been marching up and down the field. Plus the defense isn't stopping the Chargers at all.
This article is
What is the duplicate article?
Why is this article offensive?
Where is this article plagiarized from?
Why is this article poorly edited?