USC vs. Notre Dame: Live Score, Analysis and Results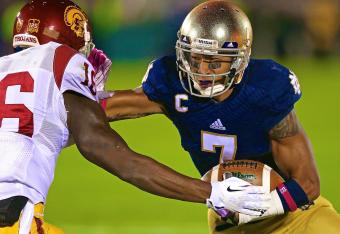 Notre Dame 14, USC 10—FINAL

The Fighting Irish of Notre Dame have earned their first victory against USC at Notre Dame Stadium since 2001.
The victory moves the Irish to 5-2, while USC falls to 4-3 in interim head coach Ed Orgeron's second game in that post.
Keep it here at Bleacher Report for post-game updates and analysis.
As promised, here are the 10 things we learned about the Irish's win against USC.
Thanks again for following along tonight. We'll regroup next Saturday at 5 p.m EDT when the Irish travel to Colorado Springs, Colo., to take on the Air Force Academy Falcons.
Enjoy the rest of your evening, folks.
Make sure to check back soon for the 10 things we learned in the Irish's win against USC.
Former walk-on linebacker Joe Schmidt with, perhaps, a game-sealing play there.
Having followed Notre Dame football for 20 years, I know that it would be the most Notre Dame thing ever for the Irish defense to break down for the first time and allow a touchdown here.
For anyone who's interested, No. 5 Florida State leads No. 3 Clemson, 34-7, at Death Valley. I didn't see that coming.
That Stephon Tuitt sack may have sealed this game. If you're asking me, it was the nail in the coffin, barring a devastating turnover.
And somehow that seems likely to happen.
I never thought I'd say going for it on 4th-and-20 is a smart decision, but here it is. It's a wild set of circumstances.
NBC confirms what was the consensus belief.
Tommy Rees is out for the remainder of the game

— Notre Dame on NBC (@NDonNBC) October 20, 2013
"Crazy Train" playing at Notre Dame Stadium. The Irish HAVE to win now.
USC is certainly in business here after that turnover. Trojans have excellent field position.
Wow, that's ugly.
Andre Heidari is 2-for-7 from 30 yards and out this year. #NotreDame still leads 14-10 with 9:25 to go.

— Dan Murphy (@BGI_DanMurphy) October 20, 2013
Tommy Rees was seen reentering the field wearing street clothes. That's a sign he won't be playing for the remainder of the game. And that means Notre Dame won't be scoring again, at least offensively.
Notre Dame 14, USC 10
USC kicker Andre Heidari misses another field goal wide right. With the way the Irish defense is playing, missing scoring opportunities will be huge for USC the rest of the way.
If this game continues at this pace, I will not be at all surprised to see Notre Dame win by the current score of 14-10.
Andrew Hendrix's threat as a rusher will be neutralized until he can prove to the USC defense that he can pass the ball, plain and simple.
As NBC's Mike Mayock is discussing, USC is going to stack the box for the remainder of the game until Hendrix can complete a pass. It's ugly, people.
I'm really perplexed by USC's decision to go for it on 4th-and-5 within field-goal range there. And because of the holding penalty on Aundrey Walker, the Trojans are now out of field-goal range.
Interim head coach Ed Orgeron maybe showing some coaching rust there?
Well, there's not much in the way of breaking news here, but this is what NBC's Alex Flanagan is reporting regarding Tommy Rees.
Alex: Tommy Rees in ND locker room being evaluated after being hurt on a sack

— Notre Dame on NBC (@NDonNBC) October 20, 2013
My thoughts exactly.
Four drives into this game I thought we were headed for a shootout in the 40s. Now I'm not sure we'll see another point. #NotreDame #USC

— Matt Fortuna (@Matt_Fortuna) October 20, 2013
Well, folks, it appears as if Notre Dame will be relying upon its defense to win this one. Andrew Hendrix certainly isn't the answer at quarterback, further displaying Rees' value to the Irish offense.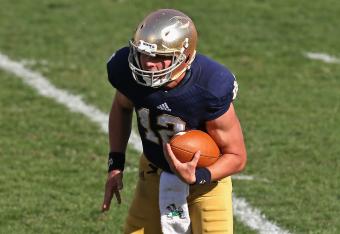 Fans who have been clamoring for Andrew Hendrix to take over at Notre Dame are now seeing what that is like: not pretty.
This has all the makings of Rees having suffered a concussion.
#NotreDame QB Tommy Rees headed to the locker room.

— Brian Hamilton (@ChiTribHamilton) October 20, 2013
If Rees is concussed, he won't be playing again tonight.
#NotreDame QB Tommy Rees on feet on sideline, looks like med staff trying to determine if he has concussion

— Tony Krausz (@JGKrausz) October 20, 2013
Is anyone else bothered by the facial expressions and just the overall demeanor of tonight's lead referee? I know I am.
Now, if Rees is out for an extended period of time, the Irish offense is likely to stall with Andrew Hendrix in at quarterback.
The senior struggles reading defenses and is a poor passer. While he's a more athletic option than Rees, he doesn't have the mental grasp of the game that Rees does. That's what makes Rees a viable quarterback, and what makes Hendrix below average.
This article is
What is the duplicate article?
Why is this article offensive?
Where is this article plagiarized from?
Why is this article poorly edited?

Notre Dame Football: Like this team?