UFC 166: Live Blog for Cain Velasquez vs. Junior Dos Santos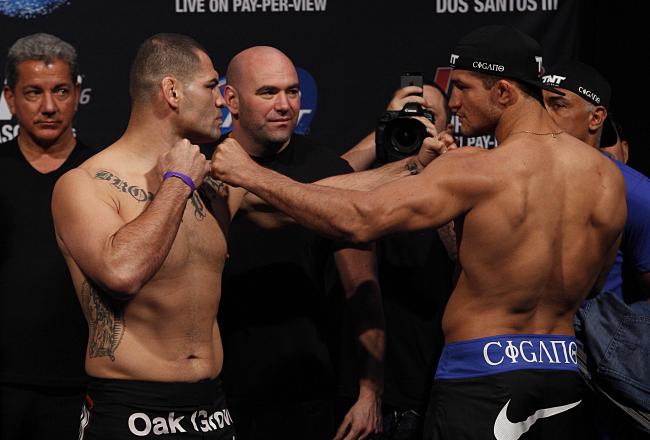 Andrew Richardson-USA TODAY Spor
UFC 166's main event is the trilogy fight between Cain Velasquez and Junior dos Santos.
Dos Santos won the first fight with a swift KO, and Velasquez took the title back with a five-round beating. What will happen this time? The UFC Heavyweight Championship is on the line, and Bleacher Report will be here for live coverage of each round.
Velasquez ties Franklin and Belfort for 3rd place in UFC history with 9 KO/TKO victories. Ahead of them: Silva (11), Liddell (10). #UFC166

— Michael Carroll (@MJCflipdascript) October 20, 2013
Official Result: Cain Velasquez defeats Junior dos Santos by TKO at 3:09 of the fifth round.
Damn Cain so good that fights get stopped after people try & fail to submit him. Like "ok, that was a good try but that's enough…" #UFC166

— Marcelino Evil (@KCBanditMMA) October 20, 2013
Round 5
JDS still throwing, but Velasquez takes him down. Velasquez grinding on him constantly. JDS is back up, but Velasquez is attached to him. Two big lefts connect from the champion. JDS turtles up, and Herb Dean FINALLY stops this fight.
Honestly, I'm not sure JDS will ever contend for the title again after this fight. The two beatings that Velasquez has put on him are the type of beatings fighters have a hard time coming back from. If he returns to that top form again it would be a big achievement.
Round 4
Big right from Velasquez. Good grief. Herb Dean could realistically stop this fight at any point on fighter safety. More shots. What a combination. No response from JDS. He's out of this fight. He's just taking unnecessary punishment. More punishment. JDS throws a hook that hits Casper the Friendly Ghost, but not Velasquez. JDS lands an uppercut as Velasquez comes in to pressure against the fence. He's still a glorified punching bag at this point. Halting the fight to check the cut on JDS. JDS' face is a bloody mess now. Elbow from JDS, but he got hit as well. JDS wiping the blood now. If JDS connects on a miracle shot and wins it should go down in history as one of the biggest knockouts ever. That's how badly he's getting buried.
Bleacher Report scores the round 10-9 Velasquez.
Dos Santos got knocked out, woke up and possibly tapped, this round is insane. Dos Santos is one of the toughest humans I've ever seen. Wow.

— Jordan Breen (@jordanbreen) October 20, 2013
Round 3
Velasquez closes the distance. He is mugging JDS. The crowd is growing restless of this, but it's not boring. Velasquez is constantly peppering JDS with shots. The Brazilian is content on countering, but that allows Velasquez to move forward. That is not a recipe for success. JDS throws a kick, Velasquez tries to take him down but JDS stays upright. Crowd voices displeasure again. Velasquez drops JDS! Velasquez trying to pounce. Velasquez trying a front choke. Velasquez back to picking his shots. JDS is a mess. Velasquez misses a head kick. JDS is wilted and broken. He'll need to land a miracle shot. Velasquez keeps landing. Domination. JDS is moving very slowly.
Bleacher Report scores the round 10-8 Velasquez.
Cain Velasquez has passed Cheick Kongo for total strikes landed in UFC heavyweight history. He passed Kongo's 1,025 mark. #UFC166

— Michael Carroll (@MJCflipdascript) October 20, 2013
Cain Velasquez literally broke the Octagon bulling Junior dos Santos around, trying to repair the cage door. Serious road grading business.

— Jordan Breen (@jordanbreen) October 20, 2013
Round 2
JDS throws a quick jab, but Velasquez continues to move forward. He's back going for a takedown. Smothering JDS. JDs showing head movement, but he stays against the fence and Velasquez is right back to pressuring him against the fence. Double jab from Velasquez allows him to move right back in. JDS gets space, and then Velasquez takes it away. JDS briefly trips Velasquez down, but Velasquez responds with punches as soon as he hit his feet. Velasquez is always doing something. Knees, short punches, inside elbows. JDS is now going for huge telegraphed haymakers. That is not going to work. The cage is also broke.
Bleacher Report scores the round 10-9 Velasquez.
It's always amazing to watch Cain. No heavyweight has ever kept up the sustained pace Velasquez does.

— Jonathan Snowden (@mmaencyclopedia) October 20, 2013
Round 1
They immediately exchange, and Velasquez got tagged. Velasquez takes JDS down. Big uppercut from JDS! Velasquez now throwing nice punches, and he goes in for a clinch. Good knee from JDS. Velasquez presses JDS against the fence once more. JDS catches a leg kick and misses with a straight left. Velasquez locks his hands, but he wasn't able to complete the takedown. Velasquez drags him to the mat. Velasquez working in short elbows. JDS gives up his back to try and stand, but Velasquez is all over him. JDS is up. Velasquez seeking another takedown. Velasquez grazes JDS with a big uppercut. Constant work from Velasquez.
Bleacher Report scores the round 10-9 Velasquez.
Junior dos Santos and Cain Velasquez just met in the center of the cage during Cigano's introduction. That was intense.
Junior Dos Santos out to "Gonna Fly Now" (Theme from Rocky). Cain Velasquez to "Los Mandados" by Vicente Fernandez #UFC #UFC166

— Damon Martin (@DamonMartin) October 20, 2013
Here we go!!!! Last fight in one of the sickest night of fights EVER!!!!

— Dana White (@danawhite) October 20, 2013
The main event is just moments away. Get hyped!
This article is
What is the duplicate article?
Why is this article offensive?
Where is this article plagiarized from?
Why is this article poorly edited?