Florida State vs. Clemson: Live Score and Highlights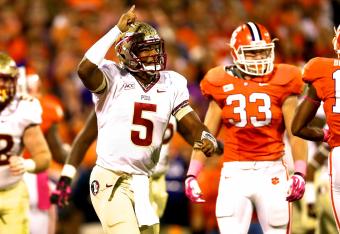 Florida State 51, Clemson 14: FINAL
The fifth-ranked Florida State Seminoles defeated No. 3 Clemson 51-14 on Saturday. Freshman quarterback Jameis Winston completed 22 of 34 passes for 445 yards and three touchdowns in the Seminoles' win.
It was a dominant defensive performance by the 'Noles as they forced four turnovers on the night and held Clemson to just 341 total yards.
Continue to stay with us here at Bleacher Report for detailed postgame analysis. You can find the complete box score for tonight's game at NCAA.com.
Here are 10 things we learned about the Seminoles in their win over Clemson on Saturday night: http://bleacherreport.com/articles/1817669-florida-state-vs-clemson-10-things-we-learned-in-seminoles-win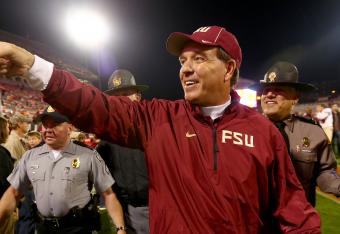 Adjustments Florida State Must Make
It is really hard to pick out weaknesses against the Seminoles after such a dominating performance.
Their defense was outstanding at all levels. They forced turnovers, put pressure on the quarterback and stopped the running game.
Moving forward, though, this team must put this game behind them. Yes, it was an impressive win, but it is only one game. They have six remaining. Fisher's toughest job will be not letting this team get too comfortable with success and lose to a team they should defeat.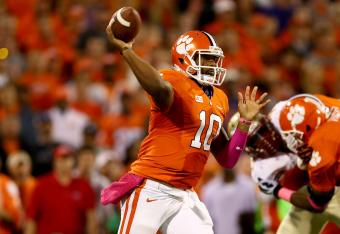 Adjustments Clemson Must Make
The Tigers aren't a terrible team. It was just a bad night against a really good team. They still have a chance at an ACC title, but will need help.
While Tajh Boyd struggled, I wouldn't be too concerned. He has proven over time how good he is. Don't expect that to change.
Two areas Clemson needs to shore up are the offensive line and the entire defense. FSU whipped Clemson up front, on both sides of the ball, for the entire game.
Fortunately for Clemson, they don't face a defense as talented as FSU's the rest of the season.
Final Thoughts: Florida State
Jameis Winston looks like the best player in the country and the Seminoles look like one of the three best teams in the country.
They were strong on defense, harassing Boyd all night and holding star receiver Sammy Watkins in check. The Tigers never developed a running game allowing FSU's defense to put consistent pressure on Boyd.
The 'Noles still have six games left. Miami and Florida are the two biggest obstacles, but don't rule out next week's opponent, N.C. State. The Wolf Pack have won two of the past three meetings between the schools and Jimbo Fisher needs to caution his team against a letdown next week.
Final Thoughts: Clemson
The Tigers were overmatched from the start of this game. A turnover on their first play from scrimmage was too much to overcome for Clemson.
The most surprising aspect of this game was the play of senior quarterback Tajh Boyd. Boyd completed 18 of 38 passes for just 164 yards and two interceptions. He was under constant duress, but even when he had time in the pocket, he was never comfortable.
It's just one loss for the Tigers. Yes, it was very disappointing, but Dabo Swinney must get his team to regroup and finish the season strong. They have five games remaining, three of which are in conference play. It is way too soon to say this season is over for the Tigers.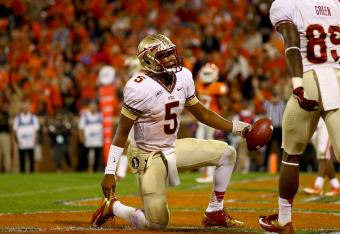 Player of the Game: Jameis Winston
FSU had several heroes on the night, but the freshman quarterback was clearly the best player on the field.
Winston completed 22 of 34 passes for 445 yards and three touchdowns. He also had a rushing touchdown.
Winston stood tall in the pocket all night and proved to everyone the moment was not too big for him. With Winston under center, the Seminoles are clearly national-title contenders.
It's over, folks.
Continue to stay with us here for postgame analysis.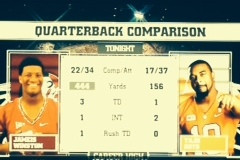 Which QB is the senior?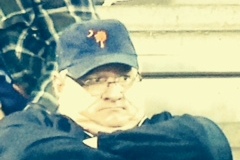 The story of the night for Clemson and their fans.
Touchdown, Tigers
Backup quarterback, Cole Stoudt, scores from two yards out to make it 51-14.
FSU's defense still out there playing hard. New defensive coordinator Jeremy Pruitt is a rising star in the coaching business.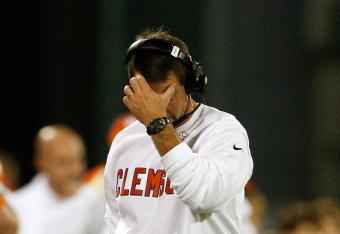 Dabo Swinney with his best coaching move of the night: Removing his star quarterback late in a blowout loss.
Dear Dabo,
Please take Tajh Boyd out of the game. He is a terrific player and you should preserve his health for the rest of the season.
Sincerely,
Logic
Field goal, Seminoles
A goal-line stand for the Tigers!
FSU is now up 51-7.
Clemson scoreboard urging crowd to "GET LOUD." Seriously.

— David Teel (@DavidTeelatDP) October 20, 2013
Root, root, root for the home team.
Unbelievable.
From his own one-yard line, Nick O'Leary catches a pass and races 94 yards all the way to the Clemson five-yard line.
Is it too early to take a knee? This game seemingly started 11 hours ago.
You have to think we've seen the last of Winston tonight. Why put him back in at this point?
Also, it may be wise of Swinney to sit Boyd the rest of the night, too. There is a still a lot of football to be played this year. Why risk getting Boyd injured in a game where he can't make a difference at this point?
48-7. Ties for the most points Clemson's ever allowed in this stadium.

— Aaron Brenner (@Aaron_Brenner) October 20, 2013
And Death Valley has a pretty good history, too.
Touchdown, Seminoles
Devonta Freeman gets in on the fun. He's quietly having a good night with 81 yards rushing and a touchdown.
And now they're REALLY heading to the exits. Winston is so f'n good, man. Ridiculous.

— Corey Clark/TDO.com (@Corey_Clark) October 20, 2013
What he said.
Another dumb, inexcusable penalty by Clemson. That's 10 and counting for the Tigers tonight. They have more penalties than points. Ouch.
#FSU has faced two ranked opponents this season so far. #Noles have outscored them, 104-7.

— Bruce Feldman (@BFeldmanCBS) October 20, 2013
It's time for everyone to start taking the Seminoles seriously. They are here to stay.
WOW! Martavis Bryant sighting.
Touchdown, Seminoles. Florida State 41, Clemson 7
Winston with a rushing touchdown to cap another impressive drive. Points off turnovers have been the deciding factor in tonight's game.
And FSU just happens to be much more talented than Clemson.
This article is
What is the duplicate article?
Why is this article offensive?
Where is this article plagiarized from?
Why is this article poorly edited?