Chicago Bears vs. Washington Redskins: Live Score and Analysis for Washington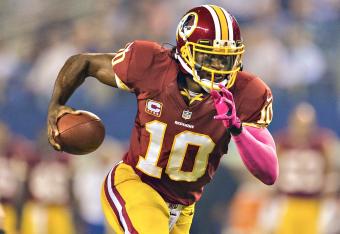 Chicago Bears 41 - 45 Washington Redskins
The Washington Redskins and Chicago Bears produced an instant classic in Week 7 of the 2013 NFL season.
Turnovers and big plays on special teams, including an 81-yard scoring return by Chicago return ace Devin Hester, defined a wild first half.
But the pace did not let up in the second half. Then it was the turn of the respective offenses to slug it out.
The Bears recovered from the loss of quarterback Jay Cutler, thanks to running back Matt Forte's three rushing scores. But they were answered by a trio of touchdowns from Redskins runner Roy Helu Jr., including the game winner with under a minute left.
All screen shots courtesy of Fox Sports and NFL.com Gamepass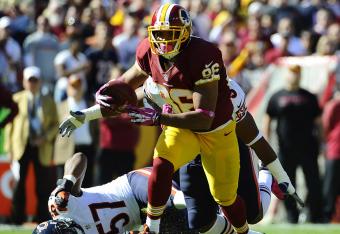 Reed deserves to be the story of the game. His nine-catch 134-yard performance should announce him as a player ready to dominate on a regular basis.
The Redskins are fortunate to have another dynamic young playmaker to add to Griffin, Morris and Helu Jr.
Thanks for sticking with this blog throughout the game.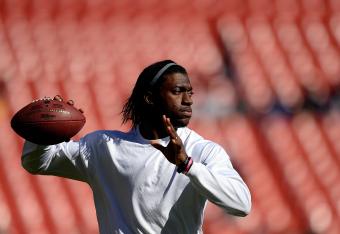 A dual-threat from Griffin also makes a major difference to the success of this scheme. He produced 84 of those 209 rushing yards and kept the Bears guessing all game.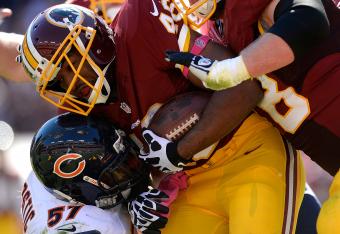 I've been calling for the Redskins to lean more on the run all season and now feel vindicated. Washington amassed 209 yards on the ground and three rushing touchdowns.
That is how this offense is supposed to function and the resulting 38 points are no coincidence.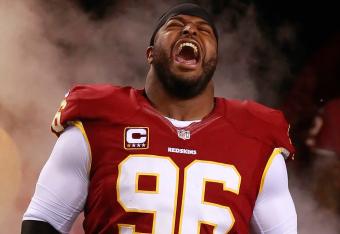 Redskins win! The defense ends the game with Kerrigan and Cofield combining for a sack that runs the clock out on the Bears.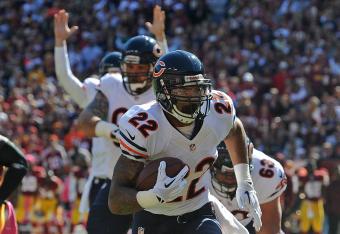 Forte makes a pair of nice catches on the first play of what will be a frantic drive.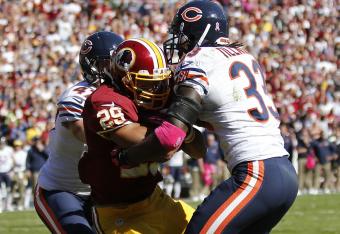 Touchdown! Helu socres for the third time. He made another quick and decisive cut, taking the ball over from a single-back look.
45-41 Redskins.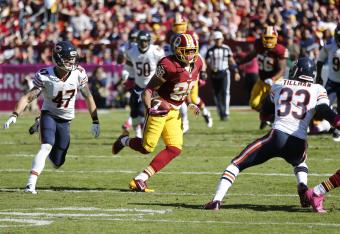 It's Reed again. What a performance by the rookie, as he makes the biggest play of the day.
He outwitted safety coverage to break inside and convert on third down. Redskins at the three.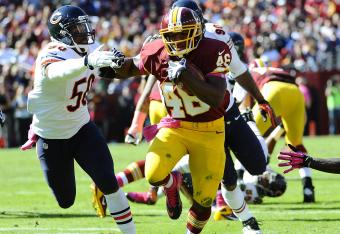 The ground game needs to take over now at the Chicago 13-yard line with just over a minute left.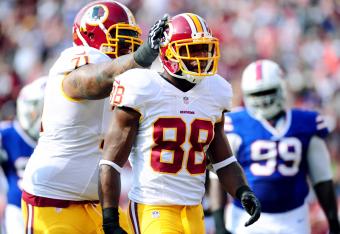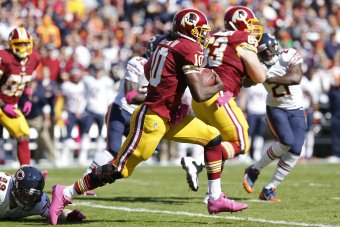 Geoff Burke-USA TODAY Sports
There's a snapshot of the enigma that is Pierre Garcon. He has dropped some easy ones today, but shows up big on third down to snatch a ball from tight coverage and convert.
It was also a nice play from Griffin, throwing as he was being chased to the sideline by a heavy pass rush. That is real clutch stuff.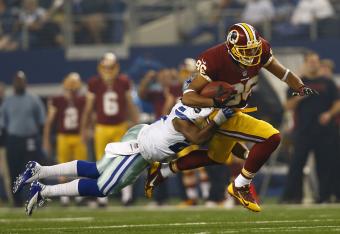 With that reception, Jordan Reed just surpassed the 100-yard mark for the first time in his career. Reed: 8 catches, 124 yards, TD.

— Grant Paulsen (@granthpaulsen) October 20, 2013
Jordan Reed is just destroying the Bears. He makes another quick initial move off the line to beat coverage and gain 26 yards.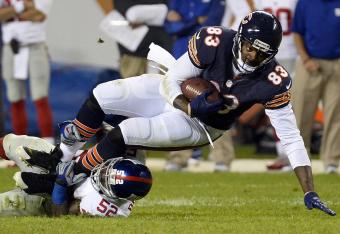 Touchdown! Chicago takes the lead. McCown executes a play fake and finds tight end Martellus Bennett for the score. McCown just had too much time to throw on that drive and received a helping hand from the calamitous secondary.
41-38 Bears.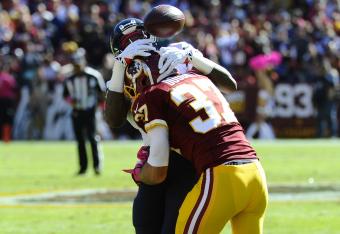 Brandon Meriweather with a very late hit. Foolish, foolish play.

— Mike Jones (@MikeJonesWaPo) October 20, 2013
If Meriweather can't learn not to lead with his head, then he shouldn't be playing. Another terrible, helmet-first late hit gives the Bears another chance.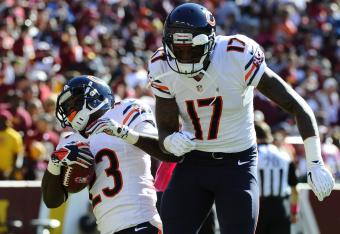 David Amerson missed a tackle at the 25. 16-yards later Alshon Jeffrey was tackled.

— Grant Paulsen (@granthpaulsen) October 20, 2013
McCown is given enough time to make a second-straight major pass play. He fires one to Jeffery, who is gifted extra yards after the catch thanks to a pitiful tackle from Amerson.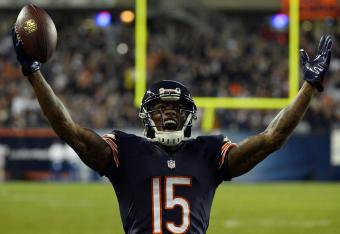 A bad time for the biggest catch of the day for Marshall. #RedskinsTalk http://t.co/jLATql4mO5

— Rich Tandler (@Rich_TandlerCSN) October 20, 2013
Marshall finally escapes Hall. The risk of the blitz was exposed here, as Hall was left in single coverage on one of the game's premier receivers.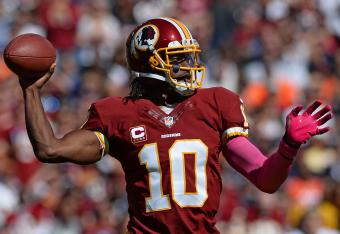 The Redksins waste their chance after a late and high throw from Griffin. His delivery has been wildly inconsistent today.
It's back on the defense.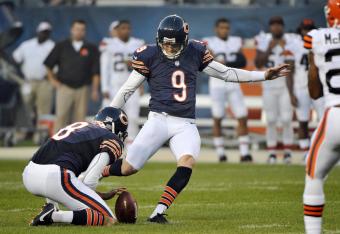 A dubious penalty works in the Redskins favor. The Bears waste a recovered onside kick after being flagged offside.
Nice to know the Redskins aren't the only ones who suffer special teams blunders.
Great chance to put the game away now.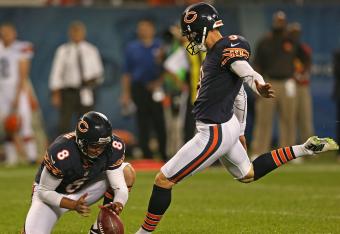 Field goal for Chicago. Gould makes amends for his earlier miss by booming a 49-yarder to make the score 38-34 Washington.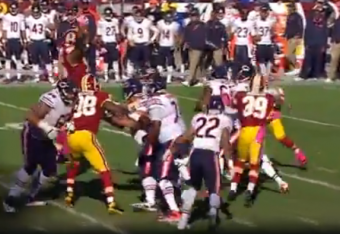 Another crafty blitz design from Haslett pays dividends. This time Amerson comes off the corner to hit McCown, forcing an incompletion.
This overload pressures have consistently stymied Chicago's protection schemes and forced Forte to have to stay in and block.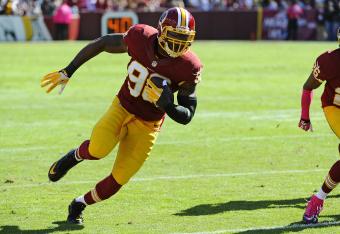 Orakpo with great pressure on McCown. He thumped him as he threw and his heave for Marshall fell incomplete.
McCown has been too comfortable in the pocket since he entered the game. The defense needs more of that from Orakpo and company.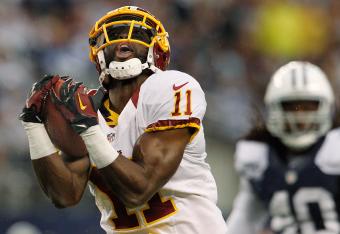 Replay showed Tillman slow up when he thought Conte had the play covered. Conte fell and Tillman was lost. Poor.

— Rich Campbell (@Rich_Campbell) October 20, 2013
Touchdown! Finally Washington's offense resembles the 2012 version, as consistent zone runs set up a big play off play-action.
Griffin heaves a 45-yard strike to Aldrick Robinson. There was a clash in coverage involving Tillman and safety Chris Conte, but this is the formula with which the Redskins win games.
38-31 Washington.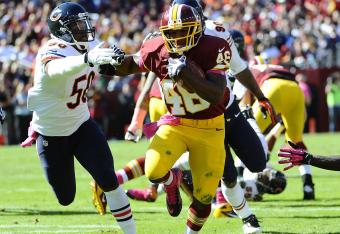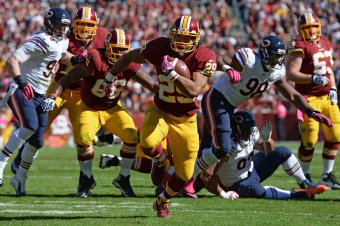 Patrick Smith/Getty Images
Morris is starting to really punish this injury-riddled Bears defense. His smash-mouth style is also being smartly complemented by Helu's nifty speed.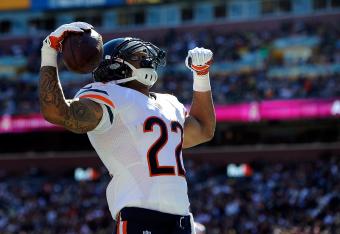 Touchdown! Forte scores again, as the Redskins defensive front is bullied back into the end zone by the Bears O-line.
Meriweather's boneheaded penalty was certainly the catalyst on that drive. The Redskins are again succeeding at beating themselves.
31-31.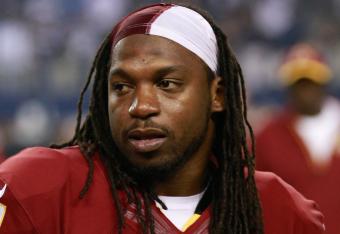 #Bears RT @BradBiggs: Brandon Meriweather, a repeat offender, sports fans.

— Rich Campbell (@Rich_Campbell) October 20, 2013
Somebody please explain the helmet-to-helmet rule to Brandon Meriweather. The reckless safety again costs his team 15 yards, after needlessly decking Jeffery.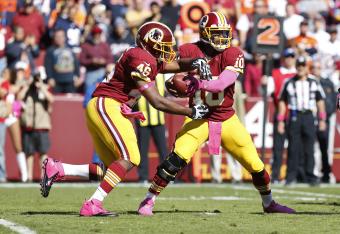 The Redskins offense operates much better with tempo. They seem to always revitalize themselves in hurry-up. Nice decision to break it out.

— Grant Paulsen (@granthpaulsen) October 20, 2013
A quick note on that last scoring drive. Using the no-huddle worked wonders.
Any time the Redskins quicken the pace it suits the instinctive playing style of Griffin.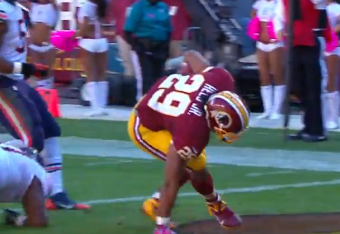 Roy Helu with three straight runs, the last of which is a touchdown run. His second of the game. First multi-touchdown game of his career.

— Mike Jones (@MikeJonesWaPo) October 20, 2013
Touchdown! Helu scored again after some nice cutback running. 31-24 Redskins, who wisely leaned on the run for most of that drive.
This article is
What is the duplicate article?
Why is this article offensive?
Where is this article plagiarized from?
Why is this article poorly edited?