Iowa vs. Ohio State: Live Score and Highlights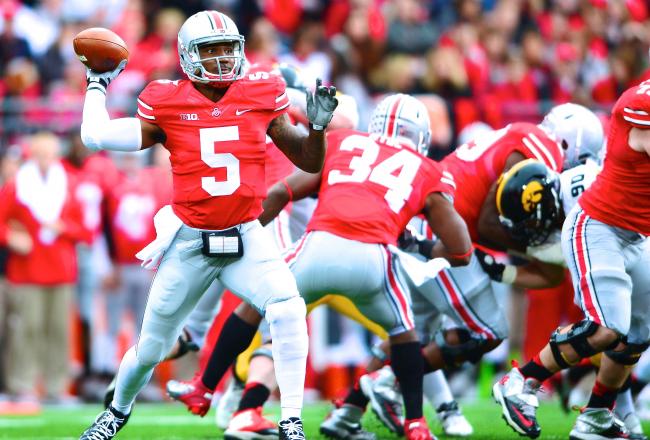 Ohio State 34, Iowa 24 — Final
Iowa gave No. 4 Ohio State a scare, but in the end, Urban Meyer and the Buckeyes pulled out another victory and kept their national title hopes alive.
Braxton Miller lifted the Buckeyes (7-0), completing 22 of 27 passes for 222 yards and two touchdowns. He also ran for 102 yards on 18 carries, helping the Buckeyes improve the nation's longest winning streak to 19.
The Hawkeyes (4-3) were boosted by an outstanding effort from Jake Rudock, who completed 19 of 34 passes for 246 yards and three touchdowns. It was the defense that couldn't hold up, as the Hawkeyes gave up 495 yards of offense to the Buckeyes.
We watched the game and provided live analysis as the action unfolded.
Braxton Miller officially ended Ohio State's quarterback controversy, and nine other things we learned from the Buckeyes' 10-point victory over Iowa.
Despite losing, this was the most fun Kirk Ferentz had since he watched Lifetime programming with Morgan Freeman, who definitely slept through three straight movies on a rainy Sunday afternoon, per sources that I totally didn't just make up.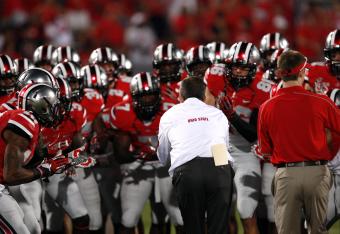 The Buckeyes are now 7-0 on the season and still very much alive in the national title race.
Iowa's offense got off to an outstanding start, pushing Ohio State's defensive front around on its way to 222 yards and 17 points.
The Buckeyes adjusted, though, limiting the Hawkeyes to just 153 yards, 85 of which came on a busted coverage that allowed Jake Duzey to run untouched into the end zone.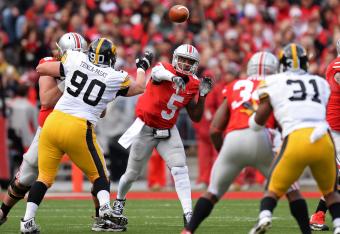 Braxton Miller is officially back.
The Buckeyes' star quarterback showed why he's playing in front of Kenny Guiton, completing 81 percent of his passes while showing the burst in the running game that makes him one of the most dangerous playmakers in the country.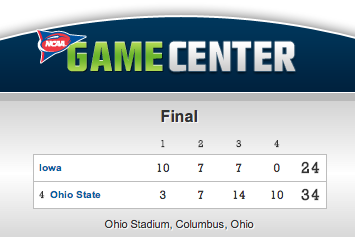 Quarter-by-quarter scoring breakdown, courtesy of NCAA.com.
Final Stats
Braxton Miller: 22-of-27, 222 YDS, 2 TD, 18 CAR, 102 YDS
Jake Rudock: 19-of-34, 246 YDS, 3 TD, 1 INT
Ohio State Offense: 495 YDS (222 passing, 273 rushing)
Iowa Offense: 375 YDS (246 passing, 129 rushing)
Stats per NCAA.com.
Ohio State 34, Iowa 24 - Final
The Buckeyes outscore the Hawkeyes 24-7 in the second half to secure the 10-point victory.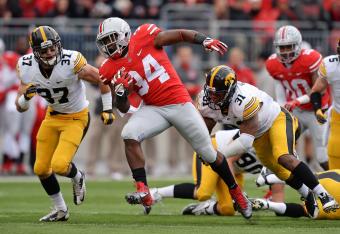 Ohio State's Braxton Miller and Carlos Hyde are bleeding the clock in the run game. This one is all but over.
Wow, on second review, that interception was very bad. Someone needs to make a feelings flowchart to help Iowa fans work through how bad that decision was. There needs to be a lot of sad faces.
Huge play!
Jake Rudock throws a costly interception to Tyvis Powell, the first turnover of the day for either team, and Ohio State will take over with less than five minutes to go.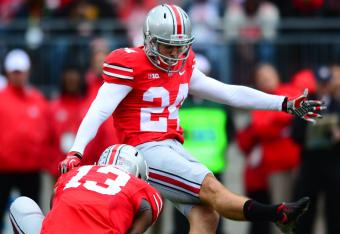 Ohio State 34, Iowa 24
Drew Basil knocks in a 25-yard field goal to make it a two-score game. Iowa absolutely needs points on this drive.
The Buckeyes are back in Iowa's red zone. The Ohio State offense has turned into the worst killer from the scariest horror movie this half.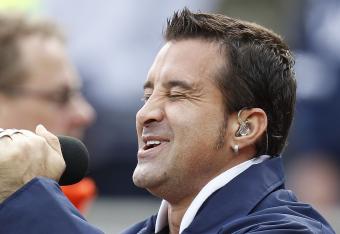 If I coached football, I wouldn't punish my players for their in-game mistakes by making them run stadium steps or whatever. I'd do really evil things, like replace all the music on their iPods with nothing but Creed and Nickelback songs.
"Oh, you dropped a sure pick-six at a pivotal point in the game? Enjoy listening to Scott Stapp until your ears bleed."
Anyway, Ohio State cornerback Doran Grant just dropped a sure pick-six at a pivotal point in the game.
This will be named the "HYDE YOU'RE GOING THE WRONG WAY OH WAIT I SEE WHAT YOU'RE DOING WHOA TOUCHDOWN!" gif.
I like how in the new Domino's commercial, they're basically like, "We're terrible at taking your order over the phone, so don't call us. Place your order on the Internet."
Amazing advertising.
Ohio State 31, Iowa 24
Carlos Hyde just busted off the weirdest 19-yard touchdown run I have ever seen to give the Buckeyes a seven-point lead.
Braxton Miller just ran about 100 yards to pick up about 10. Amazing scrambling ability shown by Ohio State's quarterback.
Want to see Ohio State's defense get torched by a 6'4", 245-pound tight end? If you do, thank the Internet!
Stats Through 3 Quarters
Braxton Miller: 19-of-22, 210 YDS, 2 TD, 12 CAR, 67 YDS
Jake Rudock: 15-of-25, 206 YDS, 3 TD
Ohio State Offense: 382 YDS (210 passing, 172 rushing)
Iowa Offense: 331 YDS (206 passing, 125 rushing)
Stats per NCAA.com.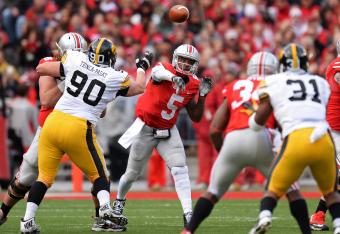 Wow! Another huge play!
Braxton Miller threw a bad interception, but that was because the cornerback in coverage was holding the receiver. The penalty negates the turnover.
Ohio State 24, Iowa 24
Wow! As soon I type that, Jake Rudock finds Jake Duzey for a huge 85-yard bomb to tie the game. How many times do you see a tight end blow past a defense like Ohio State's?
It feels like Iowa will need points on this drive. The Buckeyes are taking control, and if they don't put something on the board, things could get out of hand.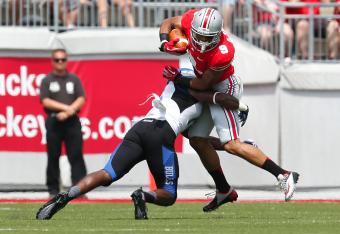 Ohio State 24, Iowa 17
And as soon as I type that, Braxton Miller hits Devin Smith on a quick screen pass and he runs it in from 14-yards out.
The Buckeyes have swung the momentum in their favor in a big way this quarter. Iowa could use a big stop here in the red zone.
This article is
What is the duplicate article?
Why is this article offensive?
Where is this article plagiarized from?
Why is this article poorly edited?