Auburn vs. Texas A&M: Live Score and Highlights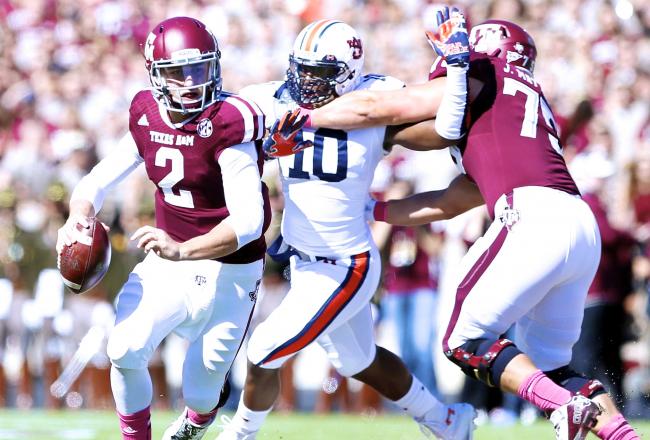 Auburn 45, Texas A&M 41—Final
The newly ranked No. 24 Auburn Tigers defeated the No. 7 Texas A&M Aggies on Saturday in a high-scoring SEC matchup.
Led by quarterback Nick Marshall and running back Tre Mason, the Tigers outscored an A&M offensive juggernaut headed by 2012 Heisman Trophy winner Johnny Manziel.
Bleacher Report provided live scoring updates and in-game analysis, so feel free to browse what we discussed throughout the contest. And please feel free leave your thoughts in the comments section below.
That'll do it for the live coverage, but check back later for what we learned about the Aggies.
Thanks for sticking around, and happy football watching!
Auburn
Nick Marshall: 11-of-23, 236 YDS, 2 TD; 20 CAR, 100 YDS, 1 TD
Tre Mason: 27 CAR, 178 YDS, 1 TD
Corey Grant: 5 CAR, 45 YDS
Cameron Artis-Payne: 5 CAR, 28 YDS, 1 TD
Sammie Coates: 5 REC, 104 YDS, 1 TD
Quan Bray: 3 REC, 28 YDS, 1 TD
Jay Prosch: 1 REC, 56 YDS
Ricardo Louis: 1 REC, 21 YDS; 2 CAR, 30 YDS
Texas A&M
Johnny Manziel: 28-of-38, 454 YDS, 4 TD, 2 INT; 18 CAR, 48 YDS, 1 TD
Trey Williams: 9 CAR, 45 YDS
Ben Malena: 7 CAR, 23 YDS
Mike Evans: 11 REC, 287 YDS, 4 TD
Travis Labhart: 7 REC, 79 YDS
Malcome Kennedy: 5 REC, 33 YDS
Stats via NCAA.com.
How much fun was this game?
Both offenses traded blows, and the Auburn defense came up huge when it mattered the most. Dee Ford sacked Johnny Manziel on fourth down, not allowing the Aggies' dynamic quarterback to even throw a pass.
Auburn improves to 6-1 (3-1 SEC) and will play a nonconference game against Florida Atlantic next week.
Texas A&M drops to 5-2 (2-2 SEC) and will host Vanderbilt next Saturday afternoon, and the Aggies will be carefully monitoring the status of Manziel's throwing arm during the week.
Auburn 45, Texas A&M 41—Final
The Tigers' first-ever trip to Kyle Field results in a win.
Auburn holds off a final Texas A&M drive, and an injury-ridden Johnny Manziel comes up just short, though the sophomore quarterback gave a valiant-beyond-words effort.
Tre Mason ran for 178 yards and scored the game-winning touchdown for the Tigers, while quarterback Nick Marshall threw for 236 yards, ran for 100 more and tallied three scores.
Manziel threw for 454 yards and all four of his touchdowns went to Mike Evans, and the stud receiver finished the day with 11 catches for 287 yards.
That's it. A sack by Dee Ford.

— Brandon Marcello (@bmarcello) October 19, 2013
It's over, folks.
Oh, wow, did Auburn get away with a horse-collar tackle?
Seems that way. Texas A&M faces a 4th-and-13 at the 20-yard line with 18 seconds remaining and no timeouts.
How is it legal for A&M to have four Mike Evans on the field at one time?

— Adam Kramer (@KegsnEggs) October 19, 2013
I'm running out of adjectives to describe Mike Evans.
He leads the Aggies with 11 receptions for a career-high 287 yards and school-record four touchdowns.
According to the CBS broadcast, this is Manziel's fifth career game with more than 500 yards of total offense.
No other SEC player—ever—has more than one.
Tre Mason's touchdown to put Auburn on top.
Auburn 45, Texas A&M 41
Great final possession for the Tigers capped off by Tre Mason extending the ball into the end zone for a five-yard touchdown.
Last chance for Manziel and the Aggies upcoming.
CBS Sports' Gary Danielson is so proud of himself for calling the wheel route.
Tre Mason is running inspired right now. Another third-down conversion, and another time dragging A&M defenders down the field.
Mason has 23 carries for 153 yards today.
It's one of those 'it's really loud' moments down here on Kyle Field.

— Brent Zwerneman (@BrentZwerneman) October 19, 2013
I can only imagine how loud it actually is at Kyle Field.
Auburn and Texas A&M have combined for 1,122 yards of offense with 5:05 remaining.

— Brandon Marcello (@bmarcello) October 19, 2013
There's a joke about an old pound-the-rock coach rolling over in his grave to be made here.
Manziel's rushing touchdown to put the Aggies in the lead.
Texas A&M 41, Auburn 38
Somewhat surprisingly, Manziel used his arm to move the Aggies down the field. For the touchdown, he executes a read-option to perfection and scores from one yard out.
He continues to circle his arm between plays and on the sideline, but A&M takes back the lead.
Um, if that wasn't targeting on R. Thereize, I'm not sure what is.

— Barrett Sallee (@BarrettSallee) October 19, 2013
Robenson Therezie...THAT was a big-boy hit...and possibly targeting.
Man. Mike Evans is not playing around w/ you fools. And he does not love DBs or care about their feelings.

— Michael Felder (@InTheBleachers) October 19, 2013
Evans now has eight receptions for 244 yards and four touchdowns.
What does Johnny Football do after some sort of an arm injury?
Throw a beautiful back-shoulder pass to Mike Evans, routinely. Manziel definitely looks like his shoulder is hurting, but he has converted three straight passes.
Auburn 38, Texas A&M 34
On a simple 3rd-and-1, Tre Mason picks up 53 yards, setting up a Cameron Artis-Payne three-yard touchdown two plays later.
Clutch drive by the Tigers offense to take the lead.
Oh, the faking injury debate commences, and Gus Malzahn is heated.
It did look like Darian Claiborne was holding his back and had already been trying to get off the field, but the Aggies bench—smartly—told him to go down.
hope auburn gets a touchdown

— WarEagleSportsRadio (@WarEagleRadio) October 19, 2013
I'm sure this sentiment is shared by Auburn fans everywhere.
Auburn capitalizes on a Joeckel-led series and denies a third-down conversion with perfect timing.
Manziel is on the sideline, threw a few passes and is holding his helmet. He appears as if he will return on the next offensive series.
Regardless, the Tigers have an enormous opportunity to take the lead.
And now, Matthew Football.

— Justin Ferguson (@JFergusonAU) October 19, 2013
Backup quarterback Matt Joeckel will replace Manziel.
Joeckel started the Aggies' first game of the season, but he will face a tough test being thrown into a game during the fourth quarter with a three-point lead.
This article is
What is the duplicate article?
Why is this article offensive?
Where is this article plagiarized from?
Why is this article poorly edited?