Indiana vs. Michigan: Live Score and Highlights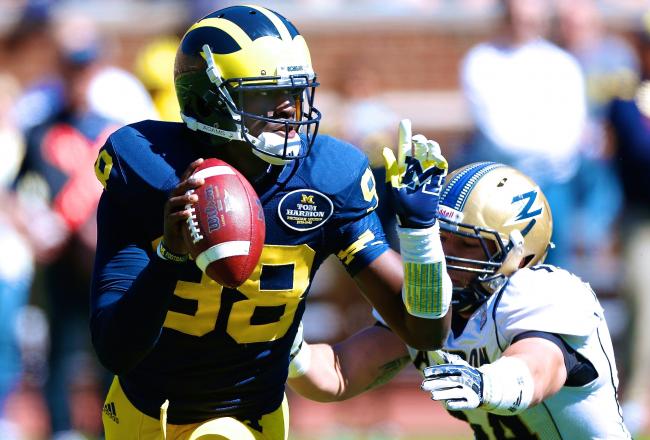 Michigan 63, Indiana 47 (Final)
Devin Gardner had 584 yards of total offense in Team 134's over-the-top shootout with Indiana at The Big House.
Throwing for 503 yards and two touchdowns, Gardner, a redshirt junior, rushed for 81 yards and three scores.
Receiver Jeremy Gallon set a Big Ten record with 369 yards. He finished with 14 catches and scored two touchdowns,
But he didn't set out to put on a show with Gardner. Things just fell into place for them.
"The way we practice, man, it really didn't matter..." Gallon said during a post-game interview with the Big Ten Network. "We wanted to play at a level that we know how to. I think that's what we did tonight."
Indiana's Tre Roberson threw for 288 yards and three touchdowns. Kofi Hughes had six catches for 138 yards.
Be sure to check out the 10 things we learned from today's win.
Follow Bleacher Report's Michigan Wolverines football writer Adam Biggers on Twitter @AdamBiggers81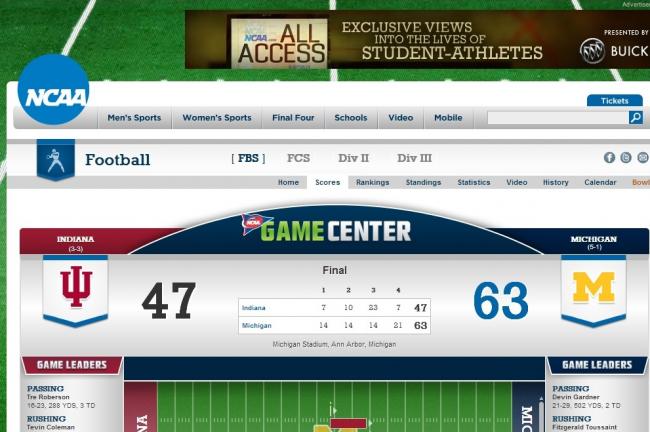 Michigan's offensive display was nothing short of impressive.
Don't discount Tre Roberson, though. If not for him, Indiana wouldn't have stayed in the game. He threw for 288 yards and three touchdowns.
Jeremy Gallon, obviously, was the player of the game. But Devin Gardner, who threw for 503 yards, deserves consideration, too.
Michigan 63, Indiana 47 (Final)
Records: Michigan 6-1 (2-1), Indiana (3-4, 1-2)
Defense wasn't the theme of Michigan's 63-47 victory Saturday over Indiana.
If the score doesn't give it away, perhaps Devin Gardner and Jeremy Gallon's statistics will.
Gallon, a senior, didn't only break a school record once held by Roy Roundtree (246 yards), but he broke the Big Ten record by carving up Indiana's secondary for an astonishing 369 yards (14 catches, two touchdowns).
Gardner's 503-yard output broke John Navarre's previous record of 389 yards. The redshirt junior threw for a pair of touchdowns but also rushed for 81 yards and three scores.
Fitz Toussaint also did his part to contribute to the more than 1,300 total yards of offense at The Big House. He rushed for a season-high 151 yards and scored four touchdowns.
Providing a boost for the Hoosiers was quarterback Tre Roberson, who rushed for a 15-yard touchdown late in the game to pull his team within a field goal's reach, down 49-47. He threw for 288 yards and three touchdowns.
Kofi Hughes strong-armed his way to a 67-yard touchdown in the third quarter and led the Hoosiers with six catches for 138 yards.
Michigan's Thomas Gordon had two interceptions.
Michigan 63, Indiana 47 (Late 4th Quarter)
Jeremy Gallon has the Big Ten record for most receiving yards in a game with 369.
Fitz Toussaint scored his fourth rushing touchdown with a 25-yard trot to The Promised Land. He has 32 carries for 151 yards.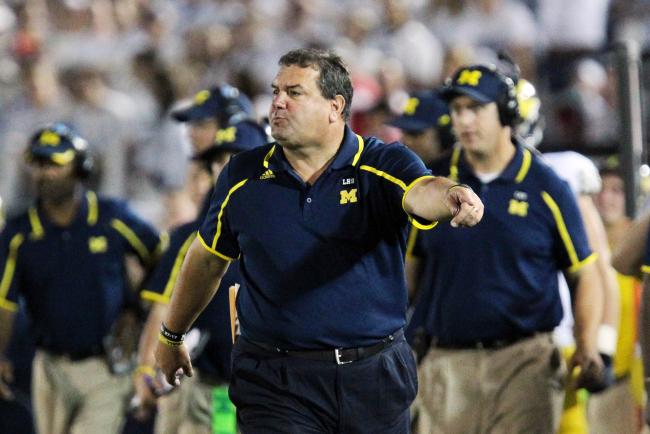 With 2:38 to play, Indiana needs a stop. And then it needs to get back the ball and score.
But if Michigan is smart, the Hoosiers won't get much of a clock to work with.
Michigan has rushed for 206 yards today.
That's well above its normal average of about, oh, nothing per game. That's something to build upon for the running backs. Or Devin Gardner, because he's the guy with the most yards.
Still want to see more from Green. I feel like he was on the edge of breaking loose. Then Gardner had to happen because Michigan got sloppy.
A pass deflected by Jordan Lewis ended up in the hands of Thomas Gordon, who now has two interceptions today. Dare I say that was the closer for Michigan?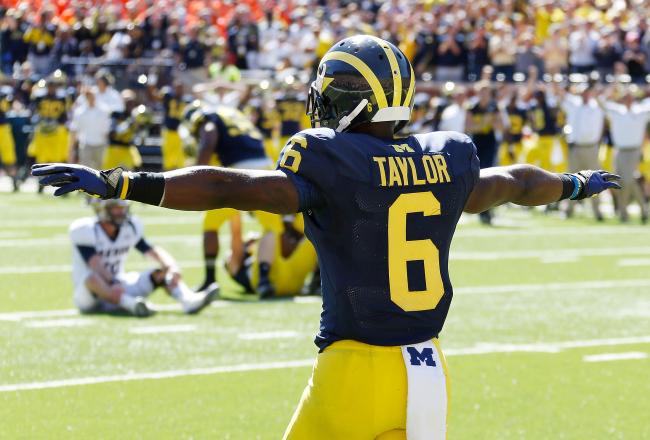 Make that two huge hits for Raymon Taylor today.
Cody Latimer was on the end of that last one.
The key for Michigan is to keep Indiana from getting the ball back. Nine-point lead. Hoosiers can only get eight at once.
Devin Gardner has over 400 yards passing and Jeremy gallon has 369 yards receiving and michigan is somehow only up 2

— Chids (@Chids23) October 19, 2013
The score has changed, but this fan makes a good point. Had to include it in today's blog.
Yes, Jeremy Gallon's pink gloves are probably destined for the College Football Hall of Fame

— Mark Snyder (@Mark__Snyder) October 19, 2013
Michigan 56, Indiana 47 (Late 4th Quarter)
Devin Gardner's five-yard touchdown run has The Big House erupting in joy. He has three on the day and two passing.
Now onto Jeremy Gallon, because Mark Snyder of the Detroit Free Press may be onto something...
An ill-advised heave from Nate Sudfeld results in an interception for Thomas Gordon, who made his first pick of the year.
Michigan is now sitting at 1st-and-goal from the 5-yard line.
Note: Tre Roberson left the game due to a hurt hand, per the Big Ten Network.
Talk about bad luck for Michigan.
Devin Funchess made an incredible catch and followed it with a leap for good measure. Then, a play later, Michigan loses the ball on the snap.
The Hoosiers are on their 2-yard line. This could be the game-deciding drive.
At last check, Michigan had 628 yards of total offense.
And without Denard Robinson. Think about that one.
Michigan 49, Indiana 47 (Mid 4th Quarter)
Tre Roberson and the Hoosiers won't quit.
The quarterback's 15-yard rushing touchdown was just what his team needed.
Michigan 49, Indiana 40 (Early 4th Quarter)
Devin Gardner's feet are scoring points. The quarterback has two rushing scores on the day and eight on the season.
Buckle in for a wild ride. Fifty points aren't going to be enough to win this one. It reminds me of Michigan vs. Illinois 2010.
#Michigan WR Jeremy Gallon has @bigtenconf single-game record with 343 yards receiving and still has a quarter to go

— Larry Lage (@LarryLage) October 19, 2013
Do I hear 500 yards?
Anyone? Anyone?
Apparently my joke about Gardner being on pace for 404 yards earlier today wasn't so far-fetched....
343 yards for Jeremy Gallon, a Michigan record. 422 passing for Devin Gardner. End of THREE. And this is still a game, 42-40.

— Chris Balas (@Balas_Wolverine) October 19, 2013
From Chris Balas of TheWolverine.com.
Another catch, another record.
Devin Gardner is the program leader with 422 yards.
Jeremy Gallon's 343 yards are tops.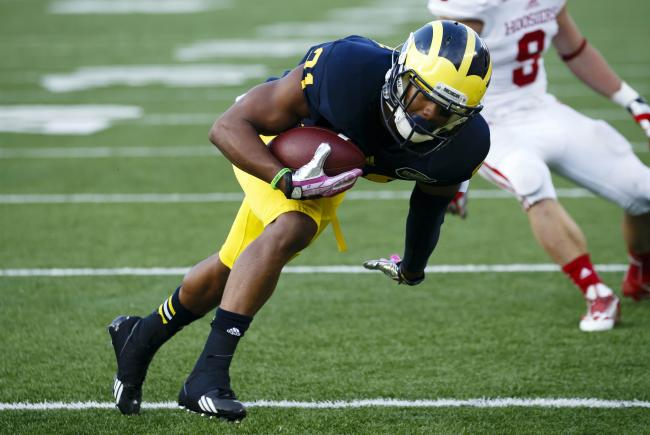 Devin Gardner has reached the 300-yard plateau. Well, he's exceeded it, actually. With 369 yards, Gardner's game has been all about finding Gallon, who has nearly 300 of his own.
Michigan 42, Indiana 40 (Late 3rd Quarter)
Two words: Kofi. Hughes.
Add in a few more words, such as "67-yard touchdown," and you have the makings of a crazy game.
The Hoosiers aren't backing down to the Wolverines, who cling to a 42-40 lead after a failed two-point conversion.
Michigan 42, Indiana 34 (Late 3rd Quarter)
Mixing it up is proving to be the best plan of action for Michigan.
First, Gardner goes deep to Gallon, which has completely thrown off Indiana. Gallon is having a career day. Second, Fitz Toussaint gets his 25th rushing touchdown with his latest two-yard touchdown.
Finally, a throw to Devin Funchess, who makes a 10-yardish grab to move the chains.
Michigan 35, Indiana 34 (Late 3rd Quarter)
Nick Stoner's 42-yard catch didn't go to complete waste. Mitch Ewald saved the drive with a 23-yard field goal. Nonetheless, the Hoosiers probably would have liked a touchdown. No signs of giving up from them, so Michigan must follow with a score if it wants to keep this one from getting crazy.
Are we going to see Allen Robinson Part 2 tonight?
Indiana's wide receivers are catching everything.
This article is
What is the duplicate article?
Why is this article offensive?
Where is this article plagiarized from?
Why is this article poorly edited?

Michigan Wolverines Football: Like this team?