Kell Brook vs. Vyacheslav Senchenko: Preview, Prediction for Welterweight Bout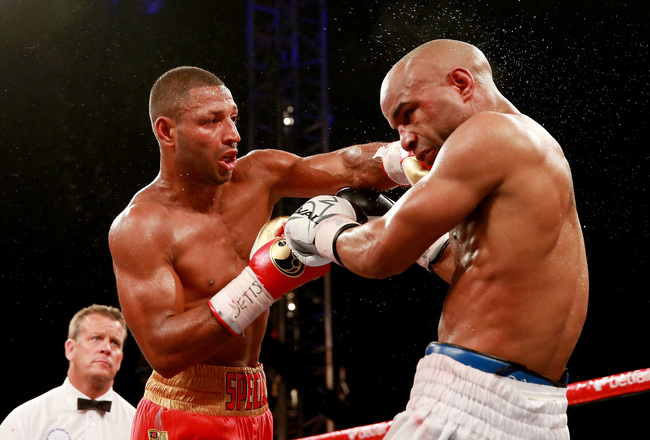 Kell Brook was extremely impressive in stopping Carson Jones.
Scott Heavey/Getty Images
Kell Brook vs. Vyacheslav Senchenko will take place on Saturday night at the Motorpoint Arena in Sheffield, England. The winner will be in line to become the mandatory contender for the IBF Welterweight Championship.
Brook was scheduled to face Devon Alexander for that title earlier this year, but various injuries to both parties forced the postponement and ultimate cancellation of the bout. The Brit instead rebounded nicely with an impressive stoppage of Carson Jones in July.
Senchenko is a former welterweight champion who held his title for more than three years before losing it to Paulie Malignaggi last year. The Ukrainian played spoiler last November by stopping British legend Ricky Hatton in the first fight of his attempted comeback.
Both men have a lot on the line, and they'll need to fight like it on Saturday night. This is your complete preview and prediction for Brook vs. Senchenko.
Tale of the Tape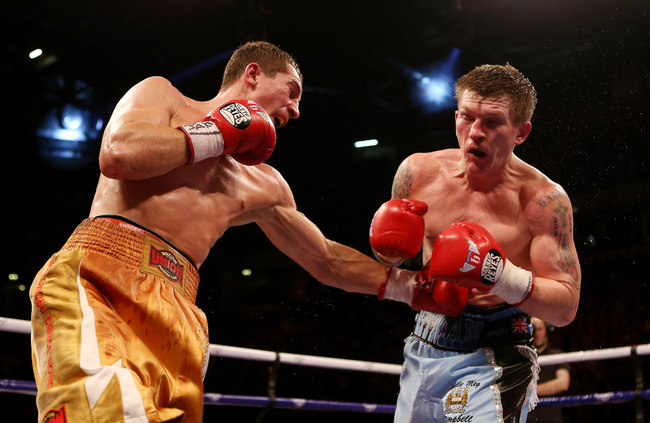 Senchenko derailed Hatton's comeback attempt.
Scott Heavey/Getty Images
Senchenko will enter the ring with slight edges in height and reach. He likes to box and fights tall, and his physical advantages will aid him against Brook. He's a technically solid fighter with excellent conditioning.
Brook will be coming back down to welterweight for this contest after rematching Carson Jones at junior middleweight in July. Coming into that fight, the Brit had well-documented struggles with his weight and conditioning. He seemed to put them at rest by dispatching Jones easily, but for a fighter who constantly seems to struggle to make the 147-pound limit, it remains a concern.
Record:

Kell Brook

30-0, 20 KO

Vyacheslav Senchenko

34-1, 23 KO

Height:

5'9"

5'10"

Reach:

69"

70"

Weight:

151 (last fight)

147.5 (last fight)

Stance:

Orthodox

Orthodox

Hometown:

Sheffield, Yorkshire, United Kingdom

Kremenchug, Ukraine

Rounds:

143

217
*Profiles via BoxRec.
Main Storylines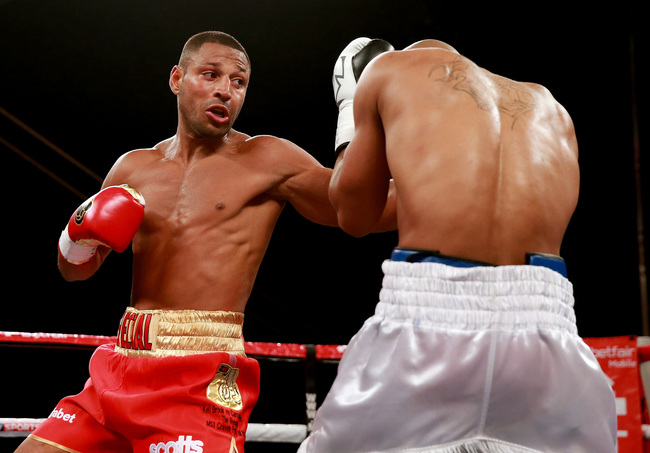 Brook promised a big fight, and this doesn't exactly qualify.
Scott Heavey/Getty Images
Kell Brook
Brook has had a rough 2012 campaign in and out of the boxing ring. His scheduled IBF Welterweight Championship challenge against champion Devon Alexander was postponed multiple times and ultimately cancelled. Instead, he ended up with a much less significant rematch with Carson Jones in July.
After that victory, his promoter Eddie Hearn promised a big name for his next bout, and you can't really say he delivered with this fight. It's a good fight against a solid opponent, but it can't be what Brook was looking for at this stage. Once again, he will need to take care of business on Saturday to secure that elusive championship fight.
Vyacheslav Senchenko
He is cashing in on the biggest victory of his career, a ninth-round knockout of a comebacking Ricky Hatton last November. While that victory was his most notable, the Ukrainian has been a world-class level fighter for some time.
He's a former welterweight champion—who held his title for three years—and a dangerous and durable opponent. The Ukrainian is at the stage of his career where he's not likely to get many more big opportunities, and a win could lead to another title shot. He's not coming to be an opponent; he's coming to win the fight.
Strengths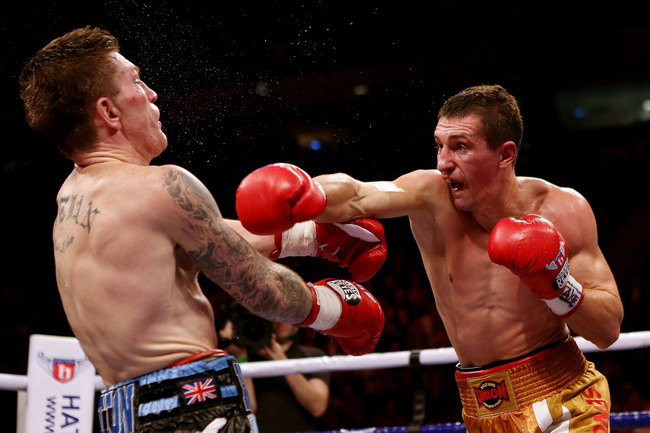 Senchenko is an excellent boxer who sticks to his game plan.
Scott Heavey/Getty Images
Kell Brook
Brook is a slick boxer who relies on his footwork and movement to frustrate his opponent. He's precise with his punches, and he usually pinpoints a punch in the exact spot he intended to land it. His punching power is solid—if unspectacular—but he lands with such accuracy that the force is multiplied.
"Special K" prefers to keep the fight in the center of the ring, where he can use movement and speed to set up opportunities for counters. That's where he's the most comfortable and the most effective.
Vyacheslav Senchenko
He has a height and reach advantage in this fight, and he usually makes good use of them by fighting as a tall fighter. That means he doesn't crouch down—thereby negating his height advantage—and he uses a piston-like jab to keep the fight at a comfortable distance.
He relies on a good sense of timing to shoot straight punches up the middle, and he's technically sound. Senchenko fights smart and usually sticks to the game plan.
Weaknesses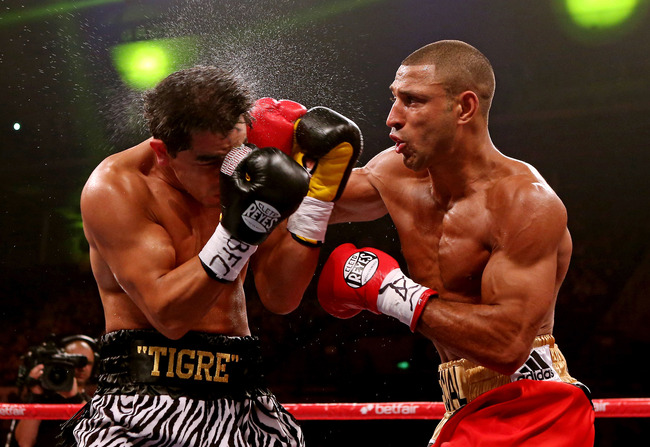 Brook has struggled with weight and conditioning issues in the past.
Scott Heavey/Getty Images
Kell Brook
He will be returning to the welterweight division after jumping up—some would say not optionally—to face Carson Jones at junior middleweight in July. The bout was originally negotiated to be fought at a 150-pound catchweight, but Brook's team had to request a higher weight after Kell struggled to meet the contract limit.
No such issues have publicly surfaced this time around, but you always have to wonder when a fighter has such struggles with making weight. It can affect conditioning, which he has also had issues with in the past. Sometimes, a fighter just can't make a weight anymore and has to move up.
Vyacheslav Senchenko
He loses the footwork and speed battle in this fight by a significant margin. He's a tall fighter, and that sometimes makes him look stiff in the ring. He doesn't have anything close to the hand or foot speed of Brook, and that could be a huge X-factor in the outcome.
He's susceptible to fighters who are able to move in and out quickly and can land their shots and get out of Dodge. That's exactly what Paulie Malignaggi did to lift his WBA Welterweight Championship in April 2012, and it's what Brook will look to do on Saturday night.
Kell Brook Will Win If...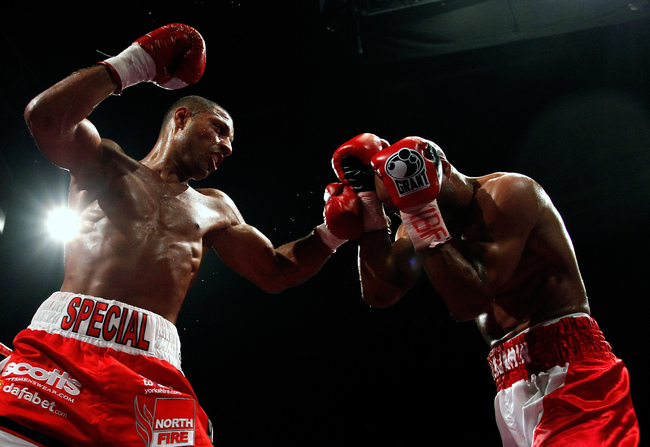 Brook wins if he's able to dart in and out on Senchenko.
Paul Thomas/Getty Images
Brook needs to fight a smart fight that will emphasize the advantages he'll take into the ring.
He's much faster with both his hands and feet than Senchenko, and that seems to be the blueprint for beating him. Paulie Malignaggi—who represents the lone defeat on the Ukrainian's record—was able to box from the outside, dart in to land his shots and get out in time to avoid taking return fire.
That seems to be Brook's best chance of winning, and it represents a style and strategy that he's already comfortable with. He doesn't want to languish on the inside—Senchenko has underrated power—because there's no reason to give the slower fighter unnecessary scoring chances.
If Brook boxes well and uses his hand speed and footwork, he will win the fight.
Vyacheslav Senchenko Will Win If...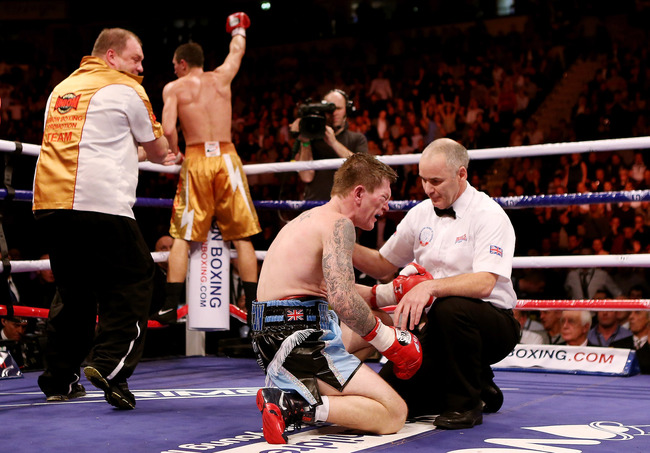 Senchenko has underrated power.
Scott Heavey/Getty Images
To win, Senchenko will need to make Brook engage more and keep the fight at closer quarters. If he allows Brook to stay on the outside where he can take advantage of his substantial edge in speed, then he's in real trouble.
In his fight with Ricky Hatton, Senchenko faced an opponent who loved to slug it out, and he made him pay. But Hatton was never known for his finesse, and his biggest mistake was standing right in front of the Ukrainian.
Senchenko will have a hard time catching Brook on the outside, so his only chance of victory is to force the fight, be aggressive and goad his opponent into exchanges. He should walk him down behind a stiff jab and try to cut off the ring to land scoring punches.
By putting pressure on Brook, he can serve two purposes. One, he'll have a better opportunity to land his power shots; and two, he can test his opponent's sometimes suspect conditioning.
And the Winner Will Be...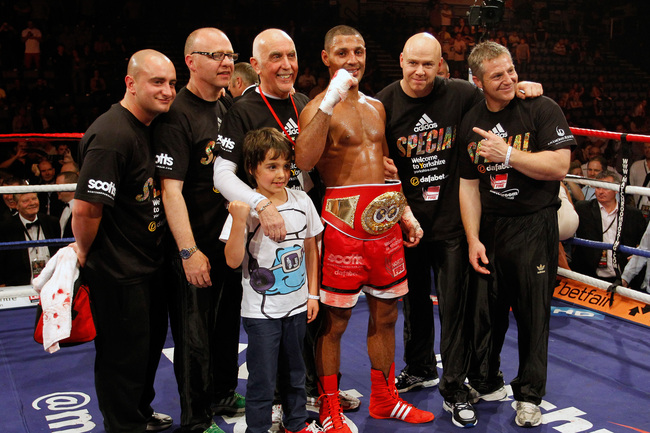 Kell Brook will win a close but clear decision.
Paul Thomas/Getty Images
Brook is just too young, fresh and fast for Senchenko.
Last year, Malignaggi was able to box from the outside against Senchenko with great success. He jumped in to land punches and was quick enough to get out before he took any return fire. The Ukrainian is technically sound, but he doesn't have fast hands and struggles with quicker fighters.
And that's a huge advantage for Brook.
Brook will win this fight, but it will be competitive, at least early. There will be some rounds where he doesn't stick to the game plan and use his feet to create distance, angles and opportunities to counter.
In those rounds, Senchenko will walk him down and land the heavier shots. But he won't do it often enough to win the fight.
Look for Brook to take a close but clear unanimous-decision victory on Saturday night for another step toward an elusive title shot.
Brook UD 12 Senchenko (116-112)
Keep Reading