Florida vs. Missouri: Live Score and Highlights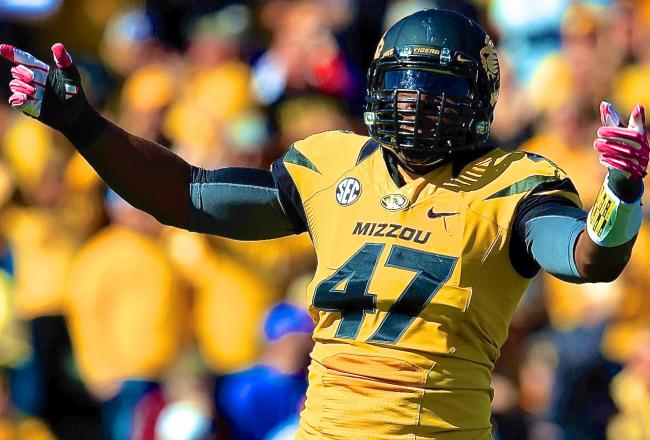 Florida 17, Missouri 36: Final
Missouri was able to run all over the Florida defense, and Tyler Murphy was repeatedly knocked around in the backfield as the Tigers emerged victorious and took control of the SEC East.
For the full box score, check out NCAA.com.
Thank you to everyone that followed along here today. Enjoy the rest of today's football slate!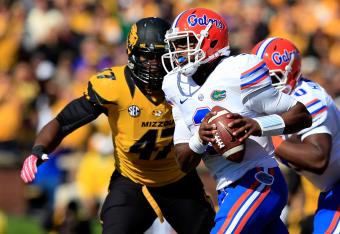 Final thoughts on Florida: Horrendous. The offense is regressing by the week, and the defense let Missouri do whatever it wanted. The injuries are no excuse. There were plenty of missed tackles, failed blocks and head-scratching play calls. With Georgia, South Carolina and Florida State still looming on the schedule, the Gators appear to be headed down the same path as 2011.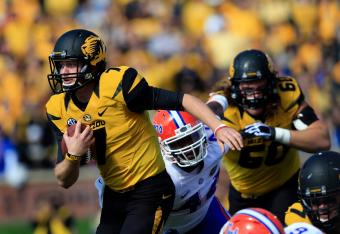 Final thoughts for Missouri: Look out, SEC. The Tigers are no longer the sleeper team. They have control of the division, and they appear to have one of the peskiest defensive lines in the conference. Michael Sam proved why he is considered a top-tier talent, and Maty Mauk proved that he can lead the team to victories. Overall, an excellent performance.
For the Gators, this game was a disaster. The offensive line was atrocious, and the play-calling left much to be desired. Whether the injuries and other adversity are finally getting to the team and messing up its psyche or Florida is simply not at the level of other teams in terms of talent and execution, the season is quickly becoming a lost cause.
Maty Mauk gets another nod after his first start. Although he made a few mistakes and got away with them, he made a number of clutch throws throughout the game and set the tempo for the Tigers offense.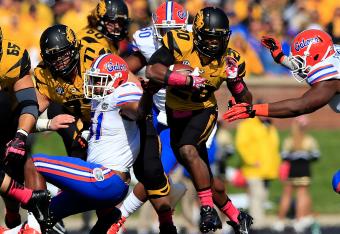 Player of the game goes to Henry Josey: 18 carries for 136 yards and a touchdown.
And that's all she wrote from Missouri.
Final: Missouri 36, Florida 17
Tigers now control their own destiny.
If Vanderbilt can hang on and beat Georgia, the Tigers will have an easy run to the SEC title game. Who would have thought?
Michael Sam is a beast. No other way of saying it. Three sacks today, incredible.
Honestly, it's hard to tell if Florida's offensive line is really that bad or if Missouri is this dominant. After Florida's performance against LSU, however, I am leaning toward the first option.
Mauk's run to the end zone:
TOUCHDOWN. Maty Mauk scrambles easily down the left side for a 17-yard touchdown. This one is basically over. Will try to find a GIF shortly.
Missouri 36, Florida 17
Murphy is left defenseless again and fumbles. Tigers seven yards away from icing this one.
Missouri 29, Florida 17
Baggett again. To make matters worse for Gator fans, Dante Fowler just limped off the field. The last thing Florida needs now is another injury.
The Tigers are running it right up the gut and driving toward pay dirt. Any points here will make it a two-touchdown game. These next few seconds are huge.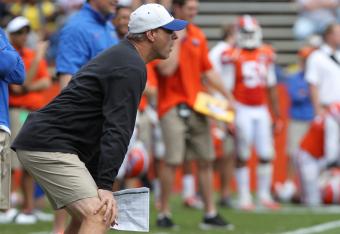 Some of these play calls by Pease are mind-boggling. A screen pass on first down? Two of them were blown up about one full quarter ago.
Missouri 26, Florida 17
Baggett could very well be a candidate for MVP of the game. He has been clutch all day.
There is a Missouri fan in a unicorn mask. Weird, but awesome.
Yeah, Josey is fine. He just ran 50 yards to the Florida 25-yard line.
Taylor's touchdown:
TOUCHDOWN. Kelvin Taylor pounds his way into the end zone from 20 yards out.
Missouri 23, Florida 17
Tigers RB Henry Josey down on field and being attended to by trainers, now walking off on his own.

— Scott Carter (@GatorZoneScott) October 19, 2013
Henry Josey left the field on that last drive and was attended to on the sideline. However, Cara Capuano reported that he is fine.
Tiger screen pass is just short of a first down. If the Gators cannot capitalize on this possession, they are seemingly finished.
Missouri is faster and wants this game more. Two screen plays were just blown up in the backfield, forcing Townsend to punt.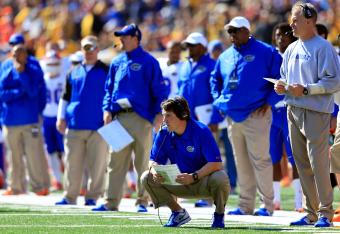 This Gator team is the exact opposite of last season's. In 2012, Florida would wear down an opposing team and grind out a victory. Now, there is no sense of urgency, and opposing offenses have taken advantage.
This article is
What is the duplicate article?
Why is this article offensive?
Where is this article plagiarized from?
Why is this article poorly edited?