Georgia vs. Vanderbilt: Live Score and Highlights
Vanderbilt 31, Georgia 27—FINAL
The Vanderbilt Commodores defeated the Georgia Bulldogs 31-27 to get their first conference win of the season.
After being down by 13 at halftime, the Commodores scored 17 unanswered points in the fourth quarter. This is the first time in 22 years that Vanderbilt has defeated the Bulldogs in Nashville. The Commodores improve to 4-3 (1-3), while the Bulldogs drop to 4-3 (2-2).
Here's 10 things we learned from the Bulldogs loss to Vanderbilt.
Folks, I want to thank you for following along. I hope you enjoyed my blog on the game. Be sure to check back here in about an hour for my 10 things we learned from the Bulldogs loss vs. Vanderbilt.
This is a crippling loss for the Bulldogs. They wanted to bounce back after the tough loss to Missouri, but penalties and turnovers did them in. Fortunately, they have a bye week before they face Florida on November 2.
Odds are Vandy won't win the SEC East, but this win against Georgia is huge for the program. This shows how much work and effort head coach James Franklin puts in with his guys, and they responded by not giving up.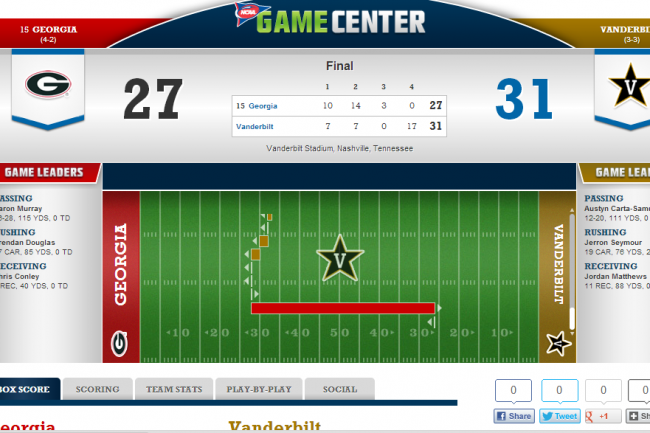 Here's a look at the boxscore, via NCAA.com.
That will do it. Vanderbilt defeats Georgia and gets a much-needed conference win. Very gutsy win for the Commodores, as they score 17 unanswered points in the fourth quarter.
I think Bulldog fans can't be too happy right now.
Georgia set to lose at Vanderbilt for the first time in 22 years, longer than all but a few Georgia players have been alive.

— Seth Emerson (@SethEmerson) October 19, 2013
Brendan Douglas fumbles the reception, and Vanderbilt recovers. It looks like the Commodores will win this game after being down by 13 at halftime.
Vandy is on a roll right now.
For those keeping score at home, this is 17 unanswered points by Vanderbilt. #UGAvsVANDY

— Georgia Bulldogs (@UGAAthletics) October 19, 2013
Vanderbilt 30, Georgia 27
After a botched punt snap by Georgia, Vanderbilt capitalizes with a Jerron Seymour touchdown run. Now the Bulldogs have to score a touchdown with just under three minutes left in the game.
Georgia 27, Vanderbilt 24
Casey Spear kicks a 42-yard field goal to cut the Bulldogs lead to three. The Georgia defense was big on the series, Ramik Wilson got a sack on second down, and Damian Swann came up with a huge pass breakup in the end zone on third down.
Vanderbilt is back near the red zone after Patton Robinette throws a deep pass to Johnathan Krause. Damian Swann was on the coverage for the Bulldogs.
Bulldogs can't increase the lead as they go three and out. Aaron Murray is having a hard time throwing the ball because of the nice coverage by the back seven of Vanderbilt.
Here's a look at the Patton Robinette touchdown run.
Georgia 27, Vanderbilt 21
Patton Robinette scores to cut the Georgia lead to six. Nice drive by Vanderbilt, but a turnover by Damian Swann and a controversial personal-foul penalty made it possible.
Wilson stays in the game, but the personal-foul penalty stands. Vandy is now is position to score seven points.
It looked as if the Bulldogs stopped Vanderbilt on fourth down. But Ramik Wilson was called for targeting. Play is under review.
And they are up by two scores.
#UGA playing this game without its top 2 running backs, its top 2 safeties, its top 3 wide receivers & its best defensive lineman (in sacks)

— Radi Nabulsi (@RadiNabulsi) October 19, 2013
It's a definite momentum shifter.
So that was the door Vandy was looking for. Could've trading punts with them rest of day. Instead, D.Swann fumbles on fair catch. VU ball.

— AJC UGA (@ajcuga) October 19, 2013
Damian Swann muffs the punt return, and Vanderbilt recovers. The special-teams issues for UGA are back in rare form today.
Here's a look a the Corey Moore interception.
Maybe the PA announcer is a UGA fan.
Georgia gets interception and Vanderbilt stadium PA guy plays, "Celebration." Huh?

— Jeff Schultz (@JeffSchultzAJC) October 19, 2013
Just when it looked liked Vanderbilt was in position, Robinette's pass is picked off by Corey Moore. Bulldogs now have two picks in this game. They only had one interception through their first six games.
Okay. This is getting really strange.
Not sure now if there will be SEC statement on Ray Drew ejection. Vandy official says it's in SEC's hands, don't know if it'll say anything.

— Seth Emerson (@SethEmerson) October 19, 2013
This article is
What is the duplicate article?
Why is this article offensive?
Where is this article plagiarized from?
Why is this article poorly edited?