20 Stunning Free-Kick Goals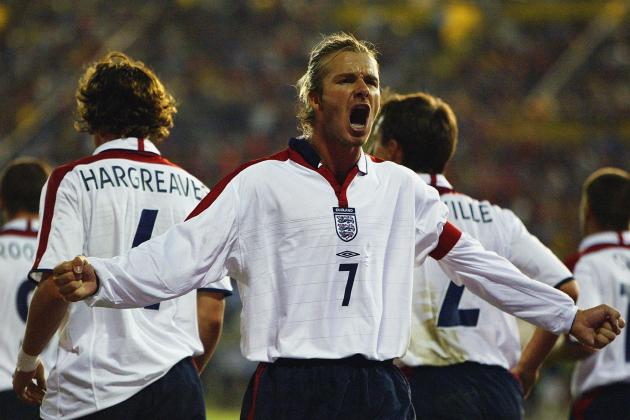 Jamie McDonald/Getty Images

A stunning goal can make you do a number of things.
Scream, drop open your jaw in disbelief, shake your head—all are completely normal reactions to watching a stunning goal take place in front of you.
Be prepared, then, for that to happen here.
We've put together the 20 greatest free-kick goals in one highlights reel for you; they're not ranked, but that shouldn't at all take away from their beauty and wonder.
Read on for a free-kick masterclass from some of the world's best.
Begin Slideshow

»
Let's start with this classic.
We've all tried this one at some point in our lives and have no doubt failed at some point as well—such is the incredible timing, power and skill involved in this goal.
A Roberto Carlos special.
Had David Seaman stayed on his line, this one could very well have been saved. But seeing as he didn't, Ronaldinho walked away with one of the most stunning World Cup goals seen in recent years.
This commentator gets the description completely correct: golazo!
Known perhaps for his ego, incredible bicycle-kicks and outspoken nature, former Barcelona striker Zlatan Ibrahimovic is also pretty deadly from a free-kick situation.
Real Zaragoza found that out the hard way.
And just in case there was any doubt, he repeated the process at PSG.
Picking just one free-kick from arguably the greatest free-kick taker of all time seems like blasphemy. So we've included two. Here's the first one, from 37 metres out...
And here's No. 2 from near enough to the sideline.
"Would you bet against this not going in?"
No. No, I would not.
An inch-perfect free-kick from one of the most creative players in Premier League history. Matt Le Tissier makes it look so easy and makes the goalie look very silly indeed!
A dream free-kick and a dream angle to watch the goal unfold!
What's more amazing about this free kick: the raw power that Jimmy Floyd Hasselbaink put into the shot, or the fact that he did it off just a three-step run-up?
Either way, it's a very impressive goal indeed.
Lionel Messi can seemingly do everything on a football pitch.
Including curling free-kick goals away from the goalkeeper.
After nearly taking out a team-mate en route to the goal, it's worth noting just how much this free-kick from Alvaro Recoba curled before nestling in the back of the net.
Bellissimo, indeed.
I laughed at "Holy smokes!".
I stopped laughing at 0:55 and just stared in amazement.
Well, why wouldn't you have a go from 45 metres out?
Especially when you can score like this!
Not only a stunner finish, but this goal from Katlego Mphela helped keep South Africa from elimination in regular time against Spain at the Confederations Cup.
Unfortunately, they would go on to lose in extra time, though.
This free-kick starts going to the top left corner but finishes in the bottom right.
No commentary required here.
Known more for scoring a stunning free-kick against Manchester United, Shunsuke Nakamura also rattled home this free-kick for Celtic. It wasn't that much of a big deal.
It only won them the league.
If there was a crowd, it would have gone wild for this goal.
The only thing worse for AS Roma than having a defender sent off was watching Sinisa Mihajlovic rattle home this stunning free-kick straight afterward.
As the old saying goes: anything Ronaldinho can do, Sagar Thapa can do better.
After starting on a classic, it's only fair that we finish on a classic. And what a classic free-kick this was from England's David Beckham to qualify for the World Cup!
If there was a roof at Old Trafford, it would have been raised.
No doubts about it.
Hit me up on Twitter for more sports goodness: Follow @dantalintyre