Every NFL Team's Biggest Key to Victory in Week 9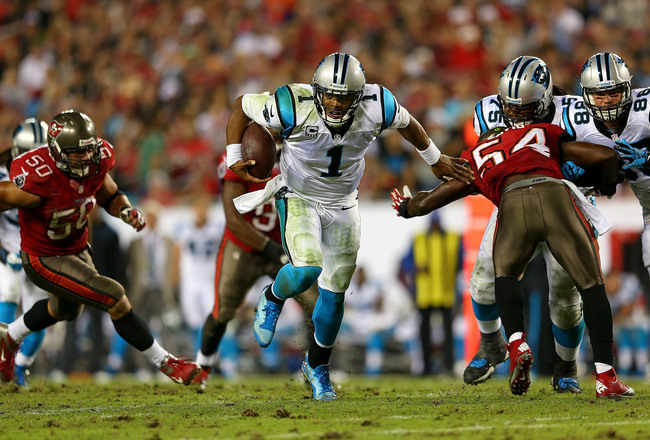 Quarterback Cam Newton and the Carolina Panthers look for a fourth straight win this week following a 1-3 start.
Mike Ehrmann/Getty Images
While this week's slate in the NFL includes only one matchup between two teams with winning records, it doesn't mean that the schedule is lacking in drama.
There's one head coach facing a former longtime employer, a meeting between brothers and a clash between two of the league's most success franchises.
Well, so much for reunions. What will it take for each team to win in Week 9? The answers are enclosed.
As usual, there's a look back to Thursday night and how the Miami Dolphins stunned the Cincinnati Bengals.
We will also take a gander at the seasons for a half-dozen teams not playing this week, a list that includes the red-hot San Francisco 49ers as well as the winless Jacksonville Jaguars.
Miami Dolphins 22, Cincinnati Bengals 20 (OT)
It looks like the drought is over in the state of Florida, and it had nothing to do with rainfall.
Thanks to Miami Dolphins defensive end Cameron Wake's sack of Cincinnati Bengals Andy Dalton in the end zone, Joe Philbin's team snapped a four-game losing streak and stunned the AFC North leaders, 22-20, in overtime.
It marked just the third time in NFL history that an overtime game ended with a safety and the first since the Chicago Bears stunned the Tennessee Titans, 19-17, in 2004 at Nashville.
The victory also ended a 24-game losing streak by three Florida teams in the NFL. Of course, the Tampa Bay Buccaneers remain winless (0-7) and the 0-8 Jacksonville Jaguars have lost 13 straight games dating back to last season.
Marvin Lewis' team fell behind 17-3 in the third quarter after Dalton was intercepted by Dolphins cornerback Brent Grimes, who returned the pick 94 yards for a score. But thanks to rookie running back Giovani Bernard, Cincinnati's deficit was short lived. And when Mike Nugent launched a 54-yard field goal with 1:24 to play, the Bengals appeared to have escaped with a win.
But Miami would send the game into overtime when Caleb Sturgis connected on a 44-yard field goal with 11 seconds remaining. Wake's heroics would follow, and Philbin and company find themselves back at .500.
For the Bengals, the loss may have come with an even bigger price if early indications are correct regarding star defensive tackle Geno Atkins, who was injured and may have torn his right ACL, according to NFL.com's Michael Silver.


Arizona Cardinals (4-4), Denver Broncos (7-1), Detroit Lions (5-3): Bye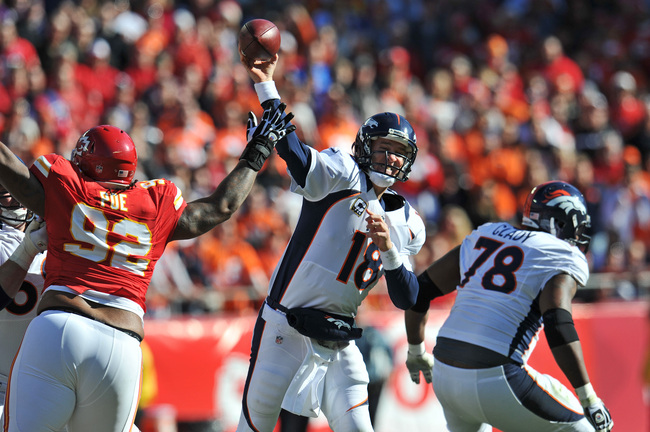 Peter Aiken/Getty Images
Arizona Cardinals (4-4)
What a difference a year makes, even though one year later, there is no difference. Confused?
Last season, the Arizona Cardinals were 4-4 at the midway point of the season as well. But the team was in the midst of what would become a nine-game losing streak and a 1-11 finish after a 4-0 start.
This season, head coach Bruce Arians has his team hanging around the playoff picture, and the defense can take a lot of credit for that.
Offensively, things are better with veteran quarterback Carson Palmer, although turnovers continue to be an issue for the well-traveled pro. Last week ,the Cardinals ran for 201 yards in a 27-13 win over the Atlanta Falcons. Rookie running back Andre Ellington contributed 154 of those yards. But the ground game remains unreliable.
What has been steady has been the Arizona defense. And that can be enough to keep Arians' team in the thick of things for now.
Denver Broncos (7-1)
The numbers are almost unthinkable. Of course, with quarterback Peyton Manning at the controls, nothing should ever be that much of a surprise.
Still, to score an unprecedented 343 points in the first eight games of the season remains mind-boggling. Last season, 11 teams failed to reach that mark in 16 outings.
Despite their prolific offense, the Denver Broncos find themselves one game out of first place in the AFC West behind the perfect Kansas City Chiefs.
Speaking of perfection, Manning has looked that way at times. His 29 touchdown passes are 10 more than any other quarterback in the league. The Broncos have scored at least 33 points in every game this season.
The defense is a different story, although the return of outside linebacker Von Miller no doubt helps.
John Fox's team has quite the interesting stretch ahead. A pair of showdowns with the Chiefs is ahead in Weeks 11 and 13. And those meetings sandwich a clash with Tom Brady and the New England Patriots.
Detroit Lions (5-3)
It's been a promising start to the 2013 season for the Detroit Lions.
Some new faces as well as some old ones have catapulted the team to five wins in eight games, wiping out last season's disappointing 4-12 finish.
Quarterback Matthew Stafford and wide receiver Calvin Johnson are still the headliners on offense, although additions such as veteran running back Reggie Bush and rookie tight end Joseph Fauria have come up big as well.
The Lions have been a little up and down on the defensive side of the ball, but defensive tackle Ndamukong Suh is enjoying a solid season. In addition, free-agent safety Glover Quin has been a terrific pickup. The Lions have already picked off 10 passes this season, which is one short of their 2012 total.
With the Chicago Bears minus quarterback Jay Cutler for a spell, the Lions may be the one team that can pose a challenge to the hot Green Bay Packers. Detroit fell at Lambeau Field earlier this season, but there's a big Thanksgiving Day clash between the clubs at Ford Field in a few weeks.
Fun times indeed.
Jacksonville Jaguars (0-8), N.Y. Giants (2-6), San Francisco 49ers (6-2): Bye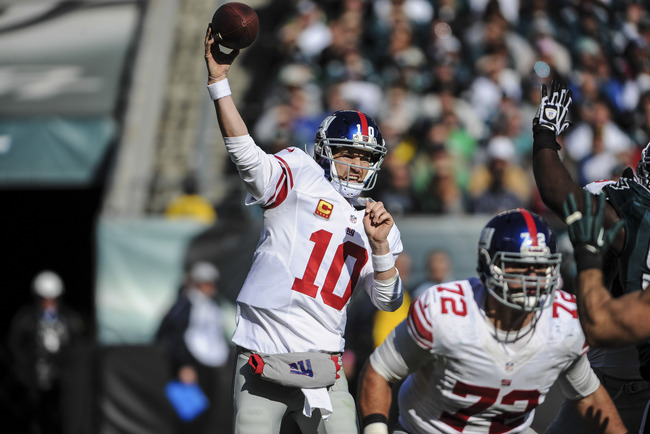 John Geliebter-USA TODAY Sports
Jacksonville Jaguars (0-8)
If you can't say something good about someone or something. then don't say anything at all. I tried that on my editor, and he said…uh, never mind.
What can be said about the winless Jacksonville Jaguars, who have lost 13 straight games dating back to last season? This team has played hard despite its shortcomings in terms of talent.
How short? Gus Bradley's team has been outscored a combined 264-88 in eight losses. The team ranks dead last in total yards per game, and only four clubs in the NFL have allowed more yards per contest. Jacksonville's ground game is second worst in the league and the absolute worst when it comes to stopping the run.
And Bradley's squad has lost all eight games by at least 10 points. That's because the Jaguars have failed to score more than 20 points in any game in 2013.
Sadly, there is no relief in sight.
New York Giants (2-6)
In this streaky 2013 version of the NFL, the New York Giants have decided to get back in the division title race.
After opening the season with six straight losses—worst start since the franchise made the Meadowlands its home in 1976—Tom Coughlin's club has rebounded with wins over the Minnesota Vikings and Philadelphia Eagles.
In those victories, the New York special teams unit was responsible for allowing the opposition's only points in those games.
After totaling just six sacks in their first seven games, the Giants got to Philadelphia Eagles' quarterbacks four times last Sunday.
Still, the Giants have coughed up the ball a league-high 25 times and have yet to play a game this season without committing a least one turnover. But quarterback Eli Manning stopped throwing interceptions in the last two weeks, after being picked off 15 times during the 0-6 start.
As for winning the muddled NFC East, Coughlin's team is just two games behind the up-and-down Dallas Cowboys for the top spot. Stay tuned.
San Francisco 49ers (6-2)
After losing two straight games in September, the San Francisco 49ers have not tasted defeat since. Winners of five straight, the defending NFC champions are beginning to hit their stride. Jim Harbaugh's club has scored at least 31 points in each of those contests and has outscored the opposition a combined 174-61 in those victories.
The Niners lead the NFL in rushing yards per game thanks mainly to veteran running back Frank Gore. Quarterback Colin Kaepernick has thrown nine touchdown passes, with seven to tight end Vernon Davis. The QB has also chipped in 294 yards rushing and three scores.
The defense is starting to round into form following a shaky start. Having perennial Pro Bowl inside linebacker Patrick Willis back is a big plus. And guess who's apparently on the way back as well? That's right: Aldon Smith.
Having the Seattle Seahawks in the division is both a curse and a boon. Trying to catch up with Pete Carroll's 7-1 team makes the 49ers that much hungrier.
Atlanta Falcons (2-5) at Carolina Panthers (4-3)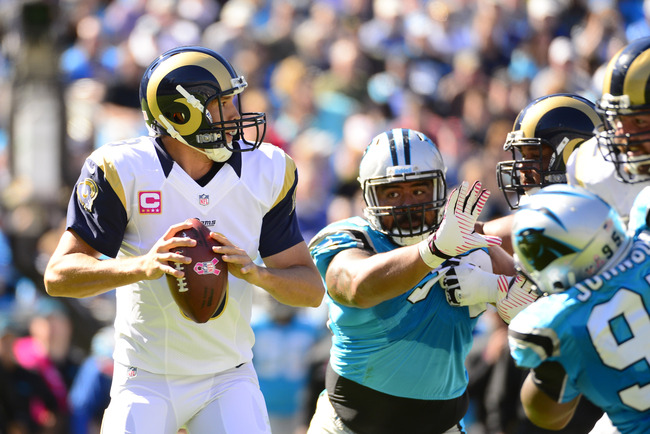 Bob Donnan-USA TODAY Sports
Atlanta Falcons
It could be all over, except for the criticism of the Atlanta Falcons, if they fall short to the Carolina Panthers on Sunday.
That might be a bold statement, given that Mike Smith's team has eight games left to play. But the fact that the defending NFC South champions are chasing both the New Orleans Saints and Carolina Panthers makes this contest even more important.
Not only is the Falcons ground attack dead last in the NFL these days, Atlanta has rushed for just 146 yards in its last four games. Those are mind-boggling numbers.
Veteran running back Steven Jackson made his return last Sunday after missing four games. Coach Smith needs a return to Pro Bowl form from the former St. Louis Rams star.
That will be easier said than done considering only the New York Jets are allowing fewer yards per game on the ground in 2013.
Carolina Panthers
For the third straight year, the Carolina Panthers stumbled out of the gate. But over the last three weeks, Ron Rivera's team has managed to gather itself. And this talented club could have some very good things ahead.
The Panthers have won three straight games following a 1-3 start and scored 30 or more points in each of those contests. And their defensive prowess continues to impress. Rivera's club is giving up 13.7 points per contest and has allowed only eight touchdowns in seven contests.
Now they host a reeling Falcons' team that allowed 201 yards rushing last Sunday in a loss to the Arizona Cardinals. Carolina ranks eighth in the NFL in rushing offense this season. In last year's two meetings with Atlanta, Rivera's club rolled up 199 and 195 yards rushing, respectively.
Why is this significant? The Falcons' inability to control the football makes them extremely vulnerable to the Panthers doing that very thing to them. And considering Atlanta's season-long struggles to hold off the opposition as the game wears on (181 of the team's 184 points allowed have come in the final three quarters), it's safe to say that Carolina hopes to build a lead that Mike Smith's team simply doesn't have enough time to overcome.
And when you consider that the Panthers have allowed only a total of 23 points in the first half and have yet to surrender a touchdown in the game's first 30 minutes, you have to like the team's chances.
Kansas City Chiefs (8-0) at Buffalo Bills (3-5)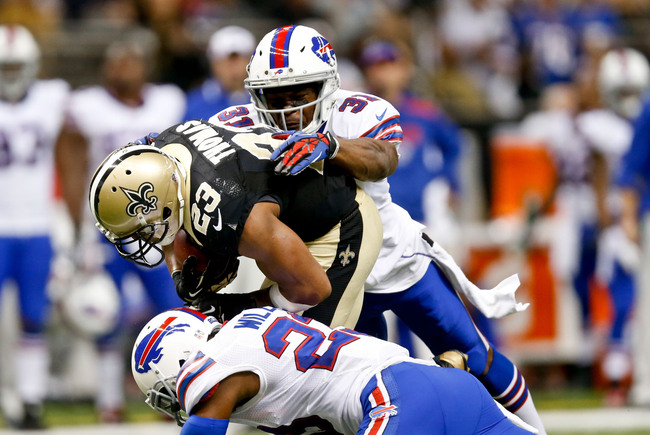 Derick E. Hingle-USA TODAY Sport
Kansas City Chiefs
It is almost too simplistic.
The Kansas City Chiefs possess one of the best defensive units in the league and have held each of their first eight opponents to 17 points or less.
Last week, Andy Reid's team took advantage of a Cleveland Browns team led by veteran quarterback Jason Campbell, who was making his first start of the season. Although he played well, the Chiefs managed to keep Cleveland's offense in check.
This week, Kansas City may be facing another quarterback who hasn't logged a lot of playing time in 2013. If Thaddeus Lewis is unable to go for the Buffalo Bills, we may see rookie Jeff Tuel or veteran Matt Flynn, according to Mark Gaughan of The Buffalo News.
The Chiefs have totaled a league-high 36 sacks in eight games. The Bills have allowed 28 in the same number of outings.
Enough said.
Buffalo Bills
Cornerback Aaron Williams has turned in a nice season for the Buffalo Bills in his third year in the NFL. The former second-round pick has totaled 46 stops, six passes defensed and three interceptions. He makes up a secondary that has seen its share of action this season to date.
The Bills have already allowed 20 touchdown passes in eight games and two or more in seven of eight contests. Over the last three games, opposing quarterbacks have thrown for 11 scores.
In some instances, the team has answered. Buffalo has responded with a dozen interceptions, tied for the second most in the league.
Kansas City Chiefs quarterback Alex Smith isn't the eye-popping-numbers type. But if the Bills can't pressure him, he will be adding to those aforementioned numbers in regard to the Buffalo defense.
Minnesota Vikings (1-6) at Dallas Cowboys (4-4)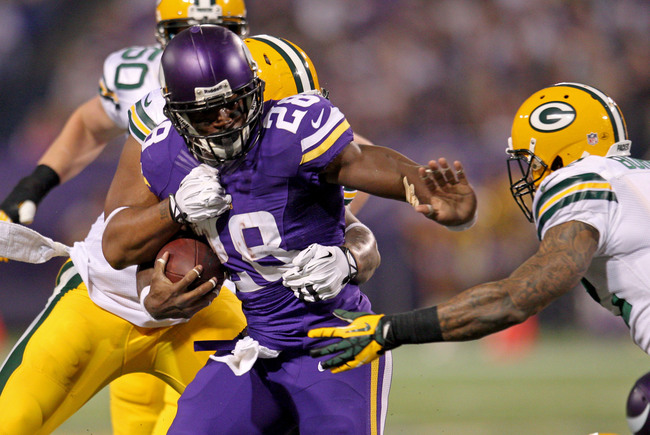 Brace Hemmelgarn-USA TODAY Sport
Minnesota Vikings
And the winner of this week's game of passing roulette in the Twin Cities is?
According to StarTribune.com staff writers Mark Craig and Chip Scoggins, Christian Ponder will make his fifth start of the season for the Minnesota Vikings.
And for head coach Leslie Frazier's sake, he has to hope that the third-year quarterback can take advantage of the league's worst pass defense. Ponder has thrown two touchdown passes and committed seven turnovers this season to date, but perhaps he can exploit the Dallas Cowboys on that side of the ball and put Jason Garrett's team in catch-up mode.
If that indeed proves to be the case, look for overdue running back Adrian Peterson to play a little rushin' roulette.


Dallas Cowboys
The health of Dallas Cowboys running back DeMarco Murray has been an issue all three years he's been in the league.
The health of the Cowboys in general has been an issue for a lot longer.
For the third time this season, Jason Garrett's team squandered a double-digit lead, which proved costly. And it doesn't help that the team is giving up the most total yards and most passing yards per game in the NFL this season.
But back to the running game, which averages fewer than just over 20 attempts per game. Be it Murray, rookie Joseph Randle or second-year pro Lance Dunbar, the Cowboys have to give quarterback Tony Romo some help.
This season, Dallas ranks 27th in the league in rushing and a year ago, they were next-to-last in the NFL in the same category. And you wonder why Garrett's club has struggled to close games given the imbalance on offense.
It's hard to believe that the Minnesota Vikings have enough defensively these days to slow down Tony Romo and company. Only two teams in the league have given up more total yards per game this season. And that aforementioned Dallas running attack could get very healthy against a defensive unit that is allowing 113.7 yards per contest on the ground.
Keeping the struggling Minnesota defense both off-balance and on the field is a very real possibility for the inconsistent Cowboys.
New Orleans Saints (6-1) at New York Jets (4-4)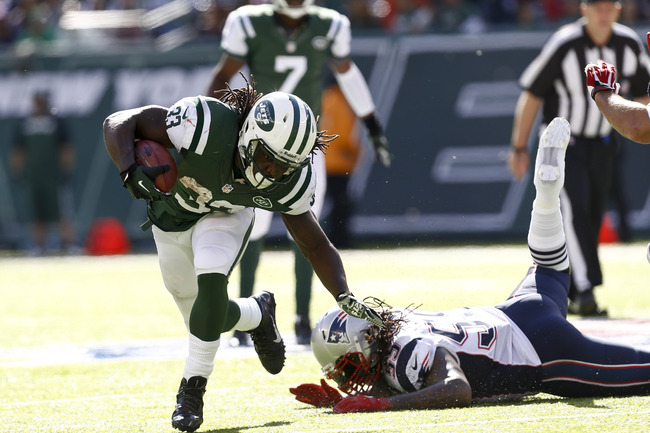 Jeff Zelevansky/Getty Images
New Orleans Saints
There seems to be a lot more in common between the New Orleans Saints and New York Jets besides the word "new."
As we know, this game will feature a reunion between the Ryan brothers (Saints defensive coordinator Rob and Jets head coach Rex) as well as the chess match between Rob Ryan and Jets offensive coordinator Marty Mornhinweg. Ryan spent the previous two seasons with the Dallas Cowboys, while Mornhinweg was with the Philadelphia Eagles.
More importantly, it's a clash between quarterback Drew Brees and a New York defense that did give up five touchdown passes last week but has also totaled 25 sacks to date. And while Brees has been sacked only 18 times in seven outings, he's been dropped four times in three games this season.
If the New Orleans offensive line isn't up to snuff, he will find himself on the ground faster than you can say Muhammad Wilkerson.
New York Jets
We have already mentioned the numerous connections between the Saints and Jets. But there's also one more that's somewhat hard to ignore.
In April, Rex Ryan's team acquired running back Chris Ivory from New Orleans for a draft choice in April. To date, the talented runner has totaled 230 yards on 74 carries, with 104 of those yards and nearly half of those attempts (34) coming in the team's Week 7 overtime win over the New England Patriots.
Although the Saints' new-look defense has made huge strides this season (and how could they not after the disaster that was 2013), Sean Payton's defense ranks only 20th in the league against the run.
Don't be surprised if Ivory gets plenty of opportunities to renew acquaintances with his former teammates on Sunday.
San Diego Chargers (4-3) at Washington Redskins (2-5)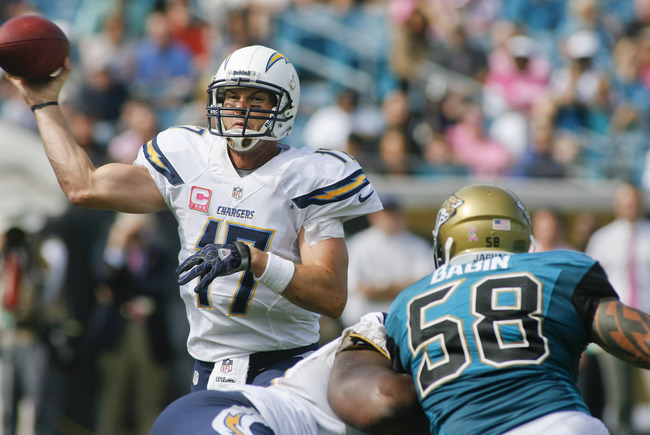 Phil Sears-USA TODAY Sports
San Diego Chargers
The San Diego Chargers have looked like a different football team in the last two outings. Although quarterback Philip Rivers is having a solid season, you can't downplay what running back Ryan Mathews and the defense have done in those games.
The former first-rounder has hit the century mark on the ground two straight weeks. And John Pagano's defensive unit did not give up a touchdown and surrendered only five field goals in the recent wins over the Indianapolis Colts and Jacksonville Jaguars.
You can bet head coach Mike McCoy will be taking aim at a Washington Redskins defense that is ranked 30th against the run.
As legendary Mean Machine quarterback Paul Crew once stated, "It worked once. It'll work again."
Washington Redskins
The formula for success for the Washington Redskins in 2012 was pretty simple.
Run the football and hang onto it as well.
Well, almost halfway through the season, Mike Shanahan's club only has half of that going for it so far.
While Washington's ground attack is still sixth in the NFL in yards gained per game, the Redskins have committed 15 turnovers in seven outings.
A year ago, Shanahan and (Kyle) Shanahan and company parlayed the No. 1 running game and a league-low 14 turnovers into the franchise's first NFC East title since 1999.
Therefore, a struggling defensive unit must step up in a big way. But even with cornerback DeAngelo Hall scoring three touchdowns this season on returns, it hasn't made much of a difference in terms of wins and losses.
Still, a good start for these Redskins would be a game in which they did not give up the football, something they have yet to do in 2013.
Tennessee Titans (3-4) at St. Louis Rams (3-5)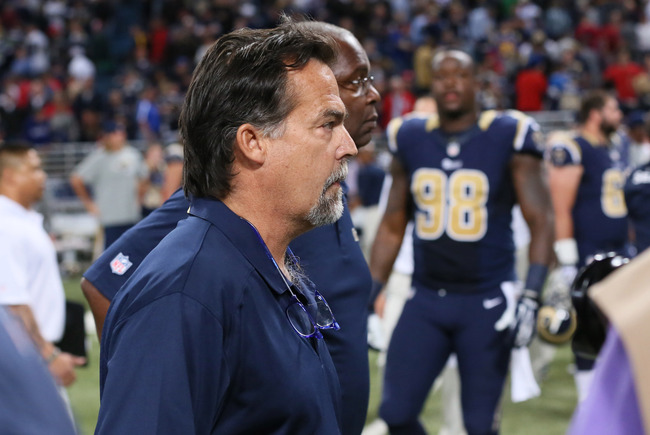 Nelson Chenault-USA TODAY Sports
Tennessee Titans
Remember the Titans…when they opened the season with a 1-3 record?
Mike Munchak's team was on vacation last week. Unfortunately, winning for the Tennessee Titans took a holiday about a month ago.
After the Titans lost three straight games following their strong start, quarterback Jake Locker is back and figures to be even healthier than when he took the field against the San Francisco 49ers two weeks ago. The 31-17 loss saw Locker throw an interception, which is the only turnover he has committed in five starts in 2013.
This week against the St. Louis Rams and that potent pass rush, Locker may be relying more on his legs than his arm. Combine that with running back Chris Johnson and company, and Munchak's team should be able to take advantage of a defensive unit allowing 116.1 yards per game on the ground.
St. Louis Rams
It will probably be somewhat odd to see Jeff Fisher facing the Tennessee Titans this Sunday.
Back in 1994 when the franchise was the Houston Oilers, the longtime NFL head coach took over during midseason and held onto the job until 2010. Over those years, those Oilers became the Tennessee Oilers and eventually the Tennessee Titans.
But there won't be much time for nostalgia for the current St. Louis Rams head coach as he looks to get his team back on track following two straight losses. The team has scored only one touchdown in the last two games, and the Rams are still looking for their first trip to the end zone via the ground.
But that could be getting ready to change. Rookie Zac Stacy ran for 134 yards in Monday night's loss to the Seattle Seahawks. He leads the team with 348 yards rushing and is the only Rams running back to score a touchdown (via a pass) in 2013.
And considering the Titans can't remember how to stop the run this season (24th in the NFL), we'll see soon enough if Stacy has it going on this weekend.
Philadelphia Eagles (3-5) at Oakland Raiders (3-4)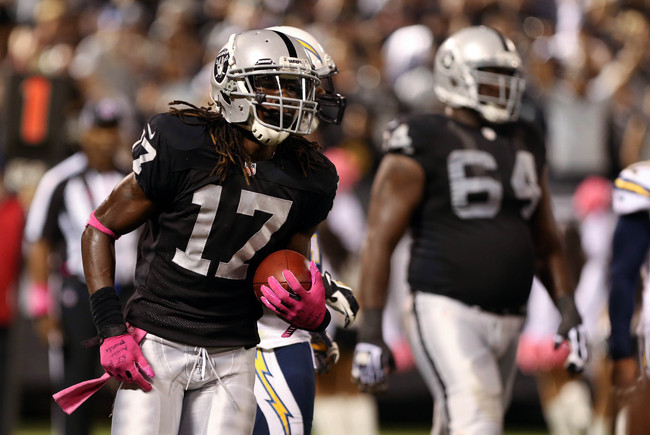 Kelley L Cox-USA TODAY Sports
Philadelphia Eagles
How do you figure out the Philadelphia Eagles?
After scoring 30 or more points in four of their first six games this season, the Birds have laid an egg the last two weeks, with their offense failing to reach the end zone.
And after allowing at least 20 points in their first six outings, the team has held the Dallas Cowboys and New York Giants to 17 and 15 points, respectively, but lost both times.
With veteran Michael Vick hobbled again, it's back to quarterback Nick Foles. But it will be interesting to see what version of the backup signal-caller we get in Oakland on Sunday.
In relief this season against the New York Giants in Week 5 and in his first start of 2013 at Tampa one Sunday later, he was Don Strock. Two weeks later against the Dallas Cowboys, he was Don Knotts.
Of course, if the Eagles can't protect him against a Raiders defense that comes from everywhere (13 different players have at least one sack), we may be seeing a lot of Foles on the ground.
Oakland Raiders
Staying healthy has always been a problem for Oakland Raiders running back Darren McFadden.
The former fourth overall pick in the 2008 NFL draft has missed a game this season already, which means he will once again not play the entire season.
Even more disturbing to a degree is the fact that while McFadden leads the team with four touchdowns, quarterback Terrelle Pryor leads the Raiders with 391 yards rushing. McFadden is 51 yards behind (340) the QB for second on the team.
Facing a Philadelphia Eagles defense that is frankly like a box of chocolates, now would be a good time for one of McFadden's breakout games.
In other words…run, Darren, run.
Tampa Bay Buccaneers (0-7) at Seattle Seahawks (7-1)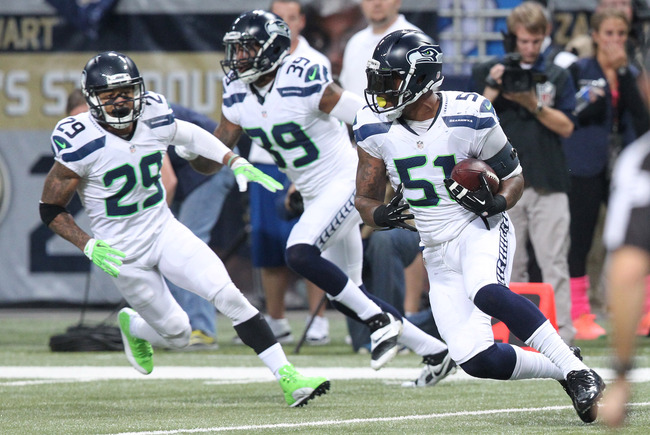 Nelson Chenault-USA TODAY Sports
Tampa Bay Buccaneers
It's been a disappointing season for the Tampa Bay Buccaneers, who seem determined to finish last in the NFC South for the third straight year.
Only one of their fellow Florida brethren, the Jacksonville Jaguars, have totaled fewer yards per game on offense. And that unit has scored only nine touchdowns in seven games this season.
And while the Tampa defense has performed much better in 2013, Greg Schiano's club has allowed exactly 31 points in three consecutive games.
Here's something else to ponder: The Bucs' always-struggling pass rush has totaled 17 sacks to date, a somewhat respectable number.
Five of those sacks have come from blitzing linebacker Lavonte David. He will do his best to corral Seattle Seahawks quarterback Russell Wilson, who has been under siege all season.
Of course, if David can't get his hands on the second-year signal-caller, look out.
Seattle Seahawks
The way the Seattle Seahawks offense performed on Monday night in St. Louis, Pete Carroll might be better off calling a lot of three-and-outs and letting his defense do all the work.
Quarterback Russell Wilson was sacked seven times, and the offense totaled 135 yards on 40 plays—80 of them were on Wilson's touchdown pass to wideout Golden Tate.
But in all seriousness, Carroll's team keeps on finding ways to win despite not clicking on all cylinders. This is the first Seahawks club ever to win seven of its first eight games.
Let's go back to the defense for a second, which is a unit that Tampa Bay Buccaneers rookie quarterback Mike Glennon will have to deal with on Sunday afternoon. Seattle defenders have allowed only 10 touchdowns this season, while the team has forced a league-high 21 turnovers.
And the Seahawks have already picked off 13 passes in 2013, which is not bad considering the team has allowed only six scores through the air.
So does anyone really want to be like Mike on Sunday?
Baltimore Ravens (3-4) at Cleveland Browns (3-5)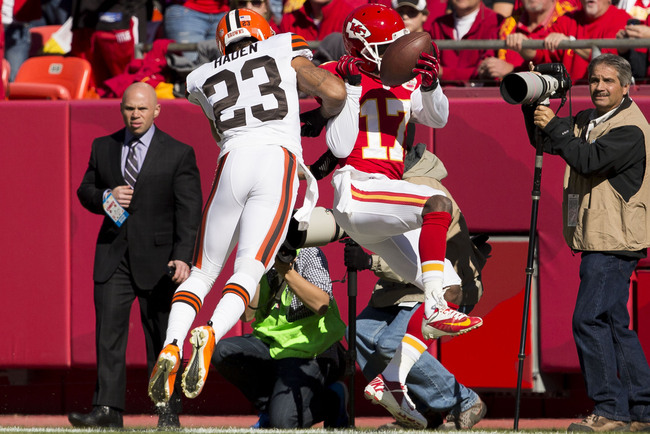 David Welker/Getty Images
Baltimore Ravens
Death, taxes and the Cleveland Browns?
You can't beat the first two, but the Baltimore Ravens have made a habit of whipping up on the third.
Head coach John Harbaugh took over in Baltimore in 2008 and has yet to lose a game to the Browns in 11 tries. Earlier this season, his Ravens were shut out in the first half at home by Cleveland before his team rallied for a 14-6 victory.
Last Sunday, the Browns started their third different quarterback this season in Jason Campbell. And although the veteran performed well, Rob Chudzinski's team scored 17 points or less for the sixth time in as many games this season.
That plays into the hands of the Ravens if history is any indication. In each of their last nine meetings with Baltimore, the Browns have been limited to 17 or fewer points.
So how does that happen in this rematch?
The Ravens have totaled at 25 sacks in seven games this season and at least three sacks in six of those outings. The Browns have given up 28 sacks in eight games, including five in the Week 2 loss at Baltimore.
And if Cleveland's offensive line can't protect Campbell any better than they did Brandon Weeden back in September, it's going to be the usual long day for Cleveland.
Cleveland Browns
Just because you don't have any interceptions doesn't mean you're having a bad year at cornerback.
Former first-rounder Joe Haden has yet to pick off an opposing quarterback in 2013, but the Cleveland Browns standout defender has enjoyed a solid season.
Considering Baltimore Ravens quarterback Joe Flacco has thrown his share of interceptions in 2013, Haden could prove to be no ordinary Joe this Sunday to come.
In any case, you figure to see Haden following Ravens speedster Torrey Smith all day. The talented cornerback has totaled 29 tackles this season (26 solo) and is second on the team with nine passes defensed.
It could be a frantic crowd in Cleveland this week as the Browns may get a chance to step on the collective throats of the 3-4 defending Super Bowl champions.
Pittsburgh Steelers (2-5) at New England Patriots (6-2)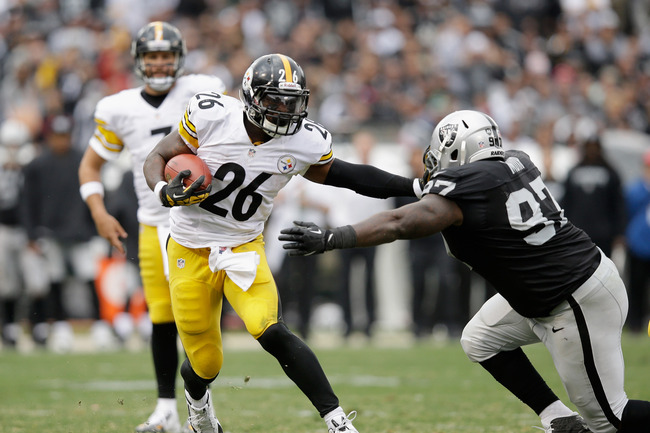 Ezra Shaw/Getty Images
Pittsburgh Steelers
If not now, when?
It is safe to say that Pittsburgh Steelers head coach Mike Tomlin had to be disappointed in last Sunday's 21-18 loss to the Oakland Raiders when you consider that all three facets of his team failed at various times.
Quarterback Ben Roethlisberger was sacked five times and threw two interceptions, the defense gave up an NFL-record 93-yard touchdown run to a quarterback, and the kicking game would have made the New York City Rockettes cringe.
Also worth wincing about these days is the Pittsburgh running game, ranked 30th in the league. But this weekend in Foxborough, Tomlin is hoping that rookie LeVeon Bell takes his toll on a New England defense that has allowed the second-most rushing yards per game in the NFL this season.
New England Patriots
It's been a somewhat un-Brady like season for New England Patriots quarterback Tom Brady.
That is if you're counting touchdown passes, interceptions and completion percentage. All of those are important, and the case can be made that the veteran signal-caller has yet to play his best football in 2013.
There are numerous factors in play, but the bottom line is that Brady has connected on just 55.7 percent of his throws this season for 1,824 yards, nine scores and six interceptions in eight games. To put it in a different context, he's thrown 20 fewer touchdown passes than Denver Broncos quarterback Peyton Manning in 2013.
Add in the fact that Brady has been sacked 23 times as well, and it's been a rough start…statistically that is.
The real bottom line is that the Patriots are 6-2. And speaking of that number, it is Brady's lifetime record as a starter against the Pittsburgh Steelers. That includes a pair of AFC Championship Game wins. In those eight outings, he has thrown 16 touchdown passes and just three interceptions.
Brady might not be putting up numbers we're used to seeing in recent seasons. Then again, these are exactly your recent Steelers.
Indianapolis Colts (5-2) at Houston Texans (2-5)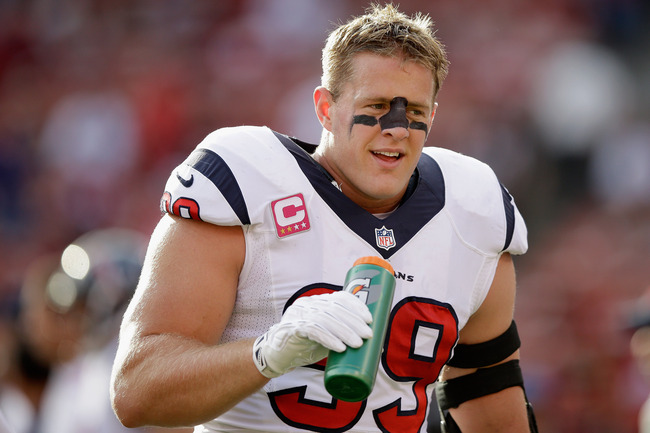 Ezra Shaw/Getty Images
Indianapolis Colts
When last we saw the Indianapolis Colts two weeks ago, they were putting the finishing touches on a 39-33 victory over the Denver Broncos, handing quarterback Peyton Manning and company their first and only loss of the season to date.
Chuck Pagano's team has stumbled only twice all season, and quarterback Andrew Luck is one reason why. The second-year pro has thrown for 10 scores, run for three others and committed only four turnovers.
The Indianapolis ground game is another reason. The Colts rank ninth in the NFL in rushing, averaging 129.3 yards per contest. The team's stable of backs has gotten the job done to date.
And given the fact that only four teams in the NFL are giving up more rushing yards per game than the Houston Texans defense, the plan of attack looks simple enough.
Houston Texans
Talk about a must-win game.
If the Houston Texans, losers of five in a row after a 2-0 start, have any designs on winning a third straight AFC South title, this would be the week to get their act back in gear.
It's not impossible, even with quarterback Case Keenum making only his second NFL start. And while Wade Phillips' defensive unit has given up the fewest yards per game in the league, the defense may have to do its share when it comes to the offensive side of the ball.
The Texans' 10th-ranked running game isn't quite itself with running back Arian Foster and Ben Tate nursing injuries. And Gary Kubiak's team has scored 16 points or less in its last three games.
So now would be the time for defensive end J.J. Watt to pluck a pass out of the sky and take it the distance. Or outside linebacker Whitney Mercilus to get the hat trick by sacking, stripping and returning a fumble by Andrew Luck for a touchdown.
Houston's defense has not scored a touchdown since linebacker Brian Cushing made that diving interception off San Diego Chargers quarterback Philip Rivers in Week 1.
Like we said, now would be a good time.
Chicago Bears (4-3) at Green Bay Packers (5-2)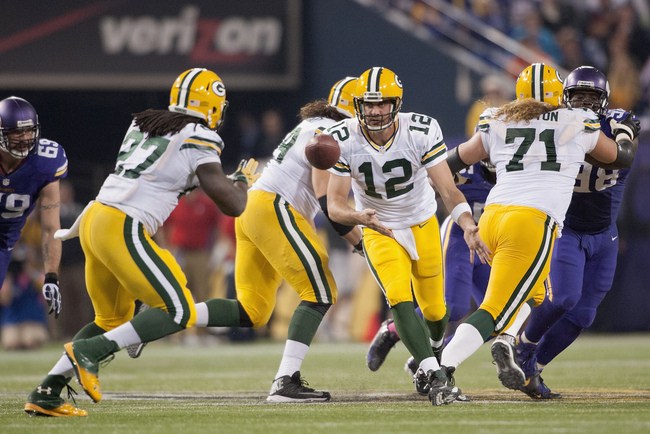 Hannah Foslien/Getty Images
Chicago Bears
Quarterback Jay Cutler's first season with the Chicago Bears was in 2009, when the strong-armed signal-caller started all 16 games.
Unfortunately for the Bears, he's been unable to answer the bell for an entire season since. And head coach Marc Trestman and company could use his help this week in cooling off the Green Bay Packers.
Despite the fact that Cutler has had his problems facing Dom Capers' defense, Chicago needs all the points it can get these days. Twice in the last four games, Trestman's team has allowed 40 or more points. And the Bears are a 1-3 football team since opening the season 3-0.
If Chicago is to end its overall six-game losing streak to the Packers, the team's 25th-ranked rushing defense needs to put the clamps on red-hot rookie runner Eddie Lacy.
Green Bay Packers
Let's talk about sacks, baby!
Even with Pro Bowl outside linebacker Clay Matthews sidelined these days, the Green Bay Packers have found a way to get to opposing quarterbacks.
In seven games this season, Dom Capers' defenders have totaled 23 sacks, and 12 players have at least one sack in the process.
Leading the way is second-year defensive end Mike Daniels with four sacks, just ahead of Matthews and fellow linebacker A.J. Hawk with three apiece.
This week, the Packers will see quarterback Josh McCown in place of injured starter Jay Cutler. And it's worth noting that the Bears have given up just three sacks in their four wins this season compared to eight sacks in three losses.
And as we all know, it's hard (although it's been done) to throw a touchdown pass while lying on the ground.
Keep Reading