Midseason Hot Seat Watch for NFL Players and Coaches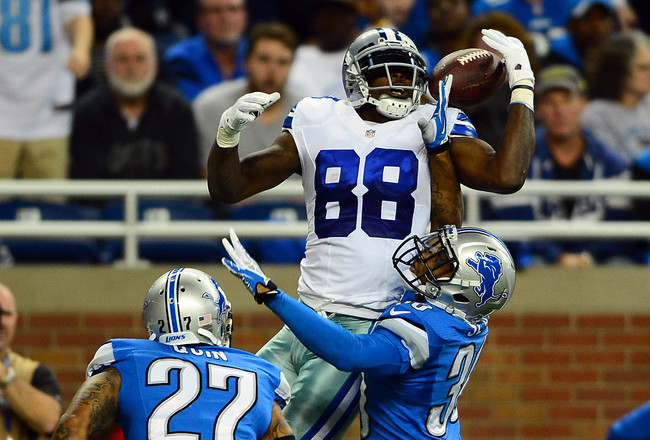 Talented wide receiver Dez Bryant isn't on the hot seat, but a member of the Dallas Cowboys made the list.

Exactly half of the 32 teams in the NFL have played eight games this season.
Seems as good a time as any to take another look at what players and coaches may be feeling the heat these days.
This week, there are two players and six coaches that have disappointed to date, and frankly, stood out a little more than some other possible candidates.
And yes, there are some repeat names from last week's list. Unfortunately for those men, things didn't cool off any for them, and in some cases, it went from bad to worse.
But it is remarkable what a win or two can do.
Head Coach Mike Smith, Atlanta Falcons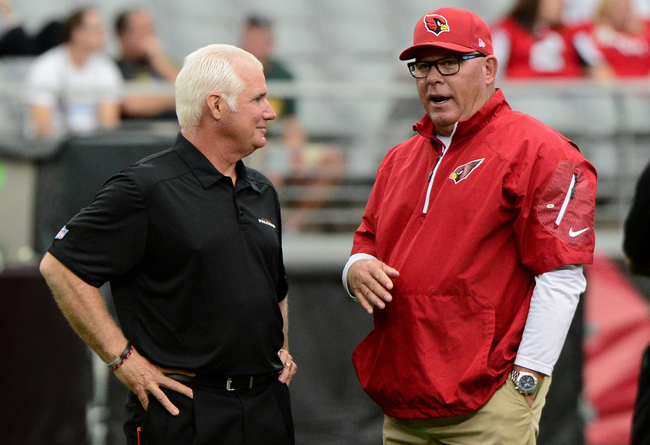 How soon you can forget.
Pictured here, left to right, would be Mike Smith and Bruce Arians. Both have been named NFL Coach of the Year in recent seasons, Smith for the Atlanta Falcons in 2008 and Arians, now the head coach of the Arizona Cardinals, as an assistant with the Indianapolis Colts last season.
With the Cardinals at 4-4 coming off a 5-11 season, Arians may be in the running for those honors once again in 2013.
In all likelihood, Smith will not.
After finishing tied for the best record in the NFL with a 13-3 mark in 2012, the Falcons have stumbled badly out of the gates. A 27-13 loss to the Cardinals on Sunday dropped Atlanta to 2-5 this season, four full games behind the first-place New Orleans Saints in the NFC South.
Is Smith in danger of losing his job following the season? Not likely. But you can bet there's a little squirming going on these days with the Falcons.
Despite a team-record five straight winning seasons and four playoff appearances in five years, Atlanta has one playoff victory over that span to show for their efforts. And as you know, we can be an impatient society.
Defensive Coordinator Mel Tucker, Chicago Bears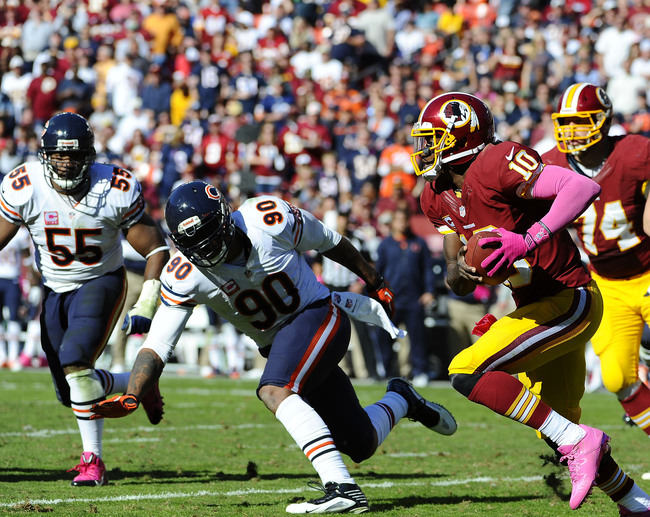 On Monday night at Lambeau Field, we will all find out just how much progress the Chicago Bears defensive unit has made over the last two weeks.
Yes, it will be the supreme test for defensive coordinator Mel Tucker as his unit prepares for the first meeting of the season with Green Bay Packers quarterback Aaron Rodgers.
It's been a rough season for this version of the "Monsters of the Midway," who haven't looked so scary to date.
Chicago has already given up 206 points and 19 offensive touchdowns this season in only seven games. A year ago during a 10-6 campaign, the Bears allowed only 277 points, and the defensive unit gave up just 25 touchdowns.
Including a win in the 2010 NFC title game at Soldier Field, Rodgers owns a 9-2 record vs. the Bears, throwing for 2,730 yards and more than twice as many touchdown passes (19) as interceptions (eight). The Packers have won six straight in the series, as well.
The fall from grace for this Bears defense can be attributed to any number of factors. But the bottom line is that Tucker is the man in charge these days and unless things turn around on defense, it will only get hotter for the assistant coach. And his unit may really need to take matters into their own hands with quarterback Jay Cutler on the shelf.
Defensive Coordinator Monte Kiffin, Dallas Cowboys
Ever see a quarterback give up 623 yards of total offense?
Of course you have not. But we did see a team allow that much yardage on Sunday in the Motor City. The Detroit Lions raced their way up and down the field, turned over the ball four times and still managed to rally from a 10-point deficit to nip the Dallas Cowboys, 31-30.
However, let's get back to that chunk of real estate and more. For the third time in five games, Jason Garrett's club squandered a double-digit lead. And for the third time over that span, defensive coordinator Monte Kiffin's unit allowed at least 500 yards of total offense.
The veteran coach was brought in to fix what both Wade Phillips and Rob Ryan weren't able to do in recent seasons. Eight weeks into 2013, no team in the league has given up more total yards per game than the Cowboys.
And while injuries could be blamed for some of the struggles, it doesn't explain the entire performance (or lack of it) this season.
So while Cowboys quarterback Tony Romo has taken his share of criticism this season, it's hard to pin Sunday's setback on the talented signal-caller. But we're sure some have tried.
Head Coach Gary Kubiak, Houston Texans
It may be put-up or shut-up time for Houston Texans head coach Gary Kubiak.
To be a little blunter, it could be pack-up time, as well.
Losers of five straight games following a 2-0 start, the Texans can make a lot of wrongs right this Sunday night when the first-place Indianapolis Colts come to town. Chuck Pagano's team stands at 5-2 and owns a three-game lead over the two-time defending AFC South champions.
For the second straight game, Kubiak has opted to go with young quarterback Case Keenum, who played well in the team's 17-16 loss to the Kansas City Chiefs two weeks ago. The difference this time around is that much-maligned veteran Matt Schaub, he of the four interceptions returned for touchdowns this season, is healthy enough to go.
But we are looking big picture here. Suppose Kubiak and company turn things around—easier said than done—and somehow salvage a winning season or even a playoff appearance. What does the future hold for the Texans head coach should his team fail to advance deep into the playoffs this season?
There is a lot to think about, indeed.
WR Mike Wallace, Miami Dolphins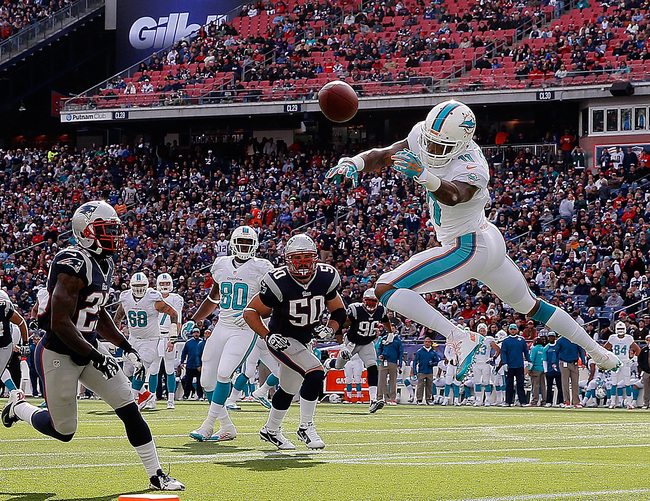 Admittedly, it's hard to catch a lot of passes when your quarterback is sitting on his backside.
Then again, it's also hard to catch a lot of passes when you're dropping your share of them.
In seven games this season, Miami Dolphins wide receiver Mike Wallace has been targeted 63 times and caught only 30 passes. And seven of those 33 misses have been drops by Wallace, tied for the third-most in the league this season.
Perhaps the high-priced wideout, who signed with Miami this offseason after four seasons with the Pittsburgh Steelers, could use a little more Pro Football Focus (subscription required). All puns aside, it's been a disappointing showing for the speedster that figured to make a bigger impact in 2013.
On Sunday versus the New England Patriots, Wallace was target 10 times and caught only three passes for 41 yards in the Dolphins 27-17 loss.
While there's plenty of blame to go around for four straight losses after a 3-0 start, it's been a pretty disappointing showing to date for Wallace in 2013.
Head Coach Leslie Frazier, Minnesota Vikings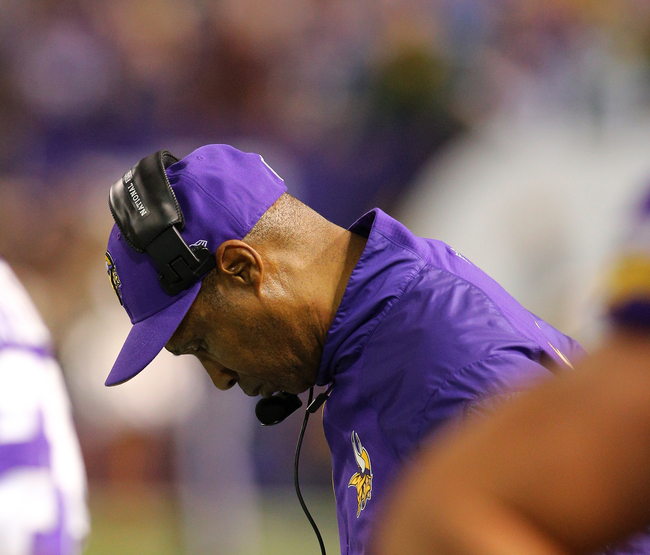 A year ago, the Minnesota Vikings were one of the talks of the league. The Purple Gang finished 10-6 and secured a wild card berth. It was a pretty good showing for a club that was 3-13 the previous season and a combined 9-23 from 2010-11.
At 1-6 and riding a three-game losing streak, there's a different type of discussion going on in the Twin Cities these days.
Head coach Leslie Frazier has gone through three different quarterbacks this season and has one win to show for it. Consider that the other three teams in the NFC North are all above .500 and that the Vikings have already lost to each of them, and even LL Cool J would be expecting a comeback.
Including playoffs, Frazier owns a 17-29 overall record with the Vikings. And last season's 10-win campaign is looking more like the exception rather than the rule for the head coach.
And given the fact that Frazier has a defensive pedigree and Minnesota has allowed at least 23 points in each of their seven games this season, there are very few positives to speak of with the Vikings.
CB Dee Milliner, New York Jets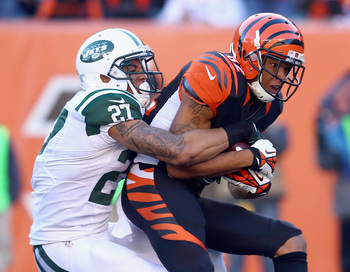 New York Jets rookie cornerback Dee Milliner was the ninth player selected in April's NFL draft. And the former University of Alabama standout wears No. 27 for this current team.
But the folks at Pro Football Focus (subscription required) have a different number for the much-maligned defender.
Unfortunately, we haven't seen a lot of "D" from Dee in 2013. He and his teammates come off a very rough afternoon against the Cincinnati Bengals as quarterback Andy Dalton riddled the New York secondary for five scores in his team's 49-9 win.
While fellow first-rounder and defensive tackle Sheldon Richardson is enjoying a stellar debut season for Rex Ryan's team, it's been a forgettable start for Milliner when he's been on the field.
And we'll see just how much he will be on the field this Sunday when his club hosts quarterback Drew Brees and the New Orleans Saints.
Head Coach Greg Schiano, Tampa Bay Buccaneers
The good news for Tampa Bay Buccaneers head coach Greg Schiano this Sunday is that he won't have to see those highly critical billboards calling for his dismissal. And the likelihood that he would be booed this weekend figures to be greatly diminished.
Of course, the Bucs travel cross-country to face the Seattle Seahawks this week. And the 12th man is far more interested in cheering for their own team and making life rough on the opposing offense than they will be with Schiano this weekend.
Losers of all seven games in 2013 and with a 1-12 record in his last 13 outings dating back to last season, it seems like it's all over but the shouting in Tampa for the once-promising head coach. A year ago, Tampa opened with six wins in their first 10 games and was firmly in the playoff race.
The team is coming off a lifeless 31-13 home loss to the Carolina Panthers, the third game in a row the Buccaneers have allowed exactly 31 points.
A loss to the Seahawks would drop the Buccaneers to 0-8 for the first time since 1985. That season, Tampa Bay finished 2-14 on their way to securing the first pick in the 1986 draft.
That's not the kind of history Schiano was hoping to make with this franchise.
Keep Reading