Hot Seat Watch for NFL Players, Coaches After NFL Week 7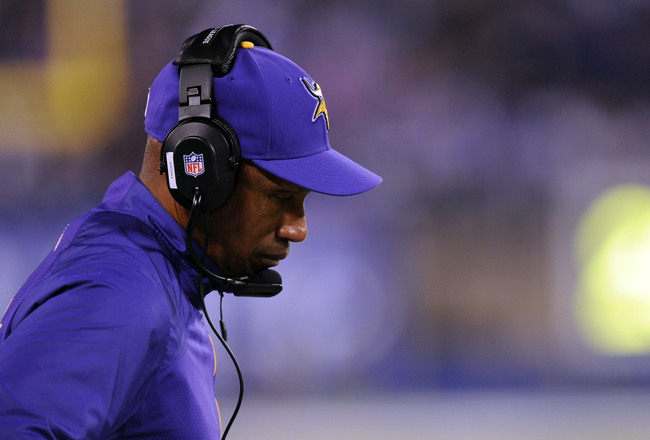 Monday night's 23-7 loss to the New York Giants was hard to watch for Minnesota Vikings head coach Leslie Frazier.
Joe Camporeale-USA TODAY Sports
Nearly halfway through the 2013 NFL season, it's time to see who may be sitting on that dreaded hot seat.
Now, there's a few ways to look at this list because not all of these charbroiled chairs are the same temperature. So let's not assume all of the players and coaches on the ensuing list should be equally concerned about their status. There will be more on that in the coming weeks.
So, submitted for your approval, here are three players and five coaches who have been a disappointment to date this season. Hence, a table for eight, please, with entries listed in alphabetical order, according to their teams.
Never fear, however. There is still time to excuse any of these selections from the group and find them much more comfortable accommodations.
RB Ray Rice, Baltimore Ravens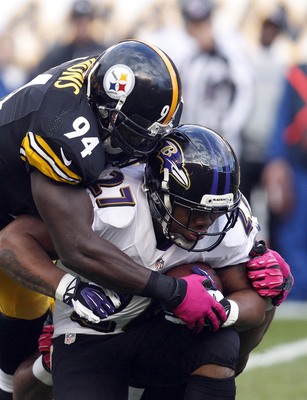 Charles LeClaire-USA TODAY Sport
Steamed Rice?
All pun intended, Baltimore Ravens running back Ray Rice has been anything but hot this season.
While quarterback Joe Flacco was throwing 11 touchdown passes and zero interceptions during the team's 2012 playoff run, the Ravens totaled 539 yards on the ground in four playoff games, averaging 134.8 yards per game.
In its first seven games this season, John Harbaugh's team has totaled 518 yards rushing for a mere average of 74.0 yards per contest.
Rice, who missed Baltimore's Week 3 game against the Houston Texans, has totaled just 242 yards rushing on 86 carries. The former Pro Bowler is only averaging 2.8 yards per carry, with his longest run for the season being just 14 yards.
Is Rice in danger of losing his starting job? It doesn't appear that way, and the Ravens' offensive line has been anything but stellar to date.
But it is an awfully slow start for one of the league's most productive running backs since 2008. Perhaps the off week will benefit Rice, who appears to be off his game this season.
Defensive Coordinator Mel Tucker, Chicago Bears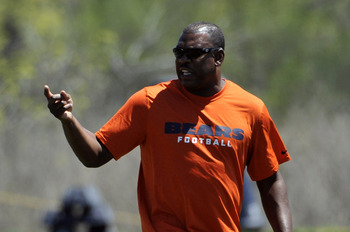 David Banks-USA TODAY Sports
While Chicago Bears head coach Marc Trestman and general manager Phil Emery concern themselves with the status of injured quarterback Jay Cutler, the Bears suffered another very significant loss on Sunday.
Outside linebacker Lance Briggs could miss up to six weeks with a shoulder injury, via Jeff Dickerson of ESPN Chicago.
But what's really hurting in Chicago these days is the play of the Bears defense. Chicago has allowed 206 points and 19 offensive touchdowns in seven games despite forcing 18 turnovers. Last season, the Bears surrendered just 277 points and 25 offensive touchdowns in 16 contests.
It's been a brutal start for defensive coordinator Mel Tucker in his first season in the Windy City. Sunday's 45-41 loss to the Washington Redskins marked the second time in four games that Chicago had allowed at least 40 points.
With Briggs now sidelined, Tucker's job just became much more difficult.
QB Brandon Weeden, Cleveland Browns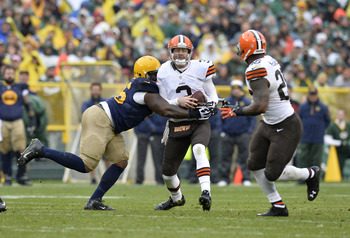 Brian Kersey/Getty Images
Less than two seasons into his NFL career, Cleveland Browns quarterback Brandon Weeden must feel like he's already 30 years old.
Actually, he is.
In 2013, Weeden has completed just 52.8 percent of his passes, throwing for five scores while serving up six interceptions. In four starts this season, Weeden has yet to win a game and his team has scored a combined 46 points in those outings.
To be fair, Weeden did make a solid relief appearance in the Browns' 37-24 win over the Buffalo Bills, passing for 197 yards and a score after starter Brian Hoyer went down.
Still, there's no relief in sight for Weeden and the Browns this week. Rob Chudzinski's club visits the 7-0 Kansas City Chiefs on Sunday. Awaiting the quarterback is a Kansas City team that has totaled 35 sacks this season.
More importantly, could Weeden be sacked by his own team?
Defensive Coordinator Jack Del Rio, Denver Broncos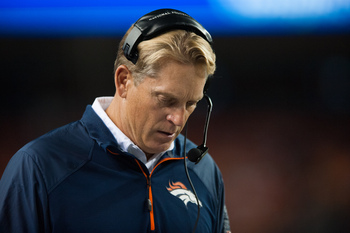 Dustin Bradford/Getty Images
Last season, the Denver Broncos hired former Jacksonville Jaguars head coach Jack Del Rio to be their defensive coordinator and all signs pointed to it being a good move.
In 2012, only the Pittsburgh Steelers gave up fewer total yards per game than the Broncos, who finished third in the league versus both the run and the pass. Denver allowed only 289 points, as the only team in the AFC to give up fewer than 300 points last season.
Then the postseason rolled around and Del Rio's unit surrendered 479 total yards, including 155 rushing yards, in a 38-35 double overtime loss to the Baltimore Ravens in the divisional playoffs.
Whether it's due to suspensions or injuries, the Denver defense has unfortunately picked up this season where it left off in January. In seven games this season, the Broncos have already allowed 197 points, including 106 points in their last three games.
Meanwhile, the Kansas City Chiefs, whom the Broncos trail by one game in the AFC West standings, have allowed 81 points in their seven games.
Is Del Rio simply to blame for Denver's defense?
Head Coach Gary Kubiak, Houston Texans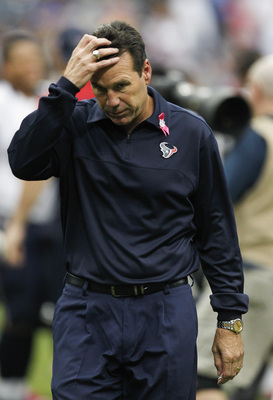 Bob Levey/Getty Images
Obviously, Houston has a problem, but is it truly all over except for the shouting for Texans head coach Gary Kubiak?
It still may be too early to tell, but given the Texans' current five-game losing streak, combined with last season's late collapse, the buzzards may be circling the city of Houston.
The Texans' 17-16 loss to the undefeated Kansas City Chiefs on Sunday was certainly a bitter pill to swallow. Quarterback Case Keenum made his first NFL start and played well, but the end result was another loss for a club that had Super Bowl aspirations in 2013.
Still, it's a "Never say never" kind of league and a 2-5 start isn't a total disaster. The Texans have two weeks before their next outing, although the loss of inside linebacker Brian Cushing for the season is a real blow.
As for Kubiak, he's been on the job since 2006 and certainly has his critics. The fact that the Texans have been bounced in the divisional playoffs two straight years means that if Houston fails to even get back to the postseason this year, it may be disastrous for Kubiak's tenure.
LT Jonathan Martin and RT Tyson Clabo, Miami Dolphins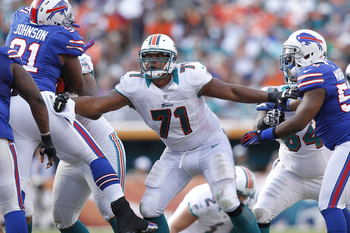 Joel Auerbach/Getty Images
Just six games into this season, Miami Dolphins quarterback Ryan Tannehill has already thrown nine touchdown passes compared to seven interceptions.
On the other hand, Tannehill has also fumbled seven times and lost four of them. That's mainly because the second-year signal-caller has already been sacked 26 times this season.
What to do? Who's to blame?
The Dolphins' bookends on the offensive line—left tackle Jonathan Martin (six sacks allowed) and right tackle Tyson Clabo (eight sacks allowed)— have combined to allow more than half of Tannehill's sacks, according to Pro Football Focus (subscription required). Clabo has allowed five sacks in the last three games, including a pair to Buffalo Bills defensive end Mario Williams in Sunday's 23-21 loss.
Help appears to be on the way, however. Veteran tackle Bryant McKinnie was dealt by the Baltimore Ravens on Monday to the Dolphins in a move first reported by Fox Sports Insider Jay Glazer.
Let's see if McKinnie, or anyone on the Ravens' offensive line, can move some opposing pass-rushers out of Tannehill's way.
Head Coach Leslie Frazier, Minnesota Vikings
I thought Halloween was on Oct. 31.
Then again, maybe I was wrong.
"Ugly" would be a kind word to describe Monday night's horror show between the Minnesota Vikings and New York Giants.
The teams combined for 463 total yards, but 206 of those were by the Vikings. Leslie Frazier's team also committed three turnovers and saw quarterback Josh Freeman complete 20 passes and miss on 33 others.
Freeman was the team's third different starting quarterback in six games this season. Minnesota is now the owner of a 1-5 record and the only club in the NFC North below .500, standing one loss away from last season's total. In 2012, Frazier's team finished 10-6 and grabbed a wild-card berth.
Speaking of the head coach, he now owns a 17-28 record with the Vikings, including last season's playoff loss to the Green Bay Packers.
Could time be running out for in the Twin Cities for Frazier?
Head Coach Greg Schiano, Tampa Bay Buccaneers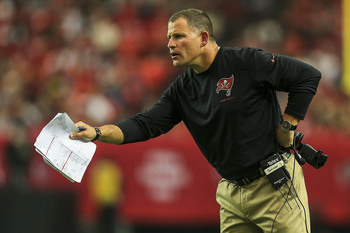 Daniel Shirey-USA TODAY Sports
On Sunday, the Tampa Bay Buccaneers visited the Falcons in Atlanta and head coach Greg Schiano had to be feeling good about his team's chances.
Why? Because although the Bucs were just 1-10 in their last 11 games dating back to last season, their lone victory was a 22-17 triumph at the Georgia Dome in the Bucs' 2012 season finale.
So, here were the Falcons, minus running back Steven Jackson and wide receivers Julio Jones and Roddy White, looking to snap out of their own three-game funk.
Final score: Falcons 31, Buccaneers 23.
Tampa's defense failed to sack quarterback Matt Ryan, who completed 20-of-26 passes for 273 yards and three scores against the supposedly improved Tampa defense.
Over the past two games, the Buccaneers have scored first, 20 points, and then a season-high 23 points. And in those games, they allowed a season-high 31 points in each instance.
And that's why Schiano finds himself on the hot seat. In no outing this season has his team played a complete game. The offense has struggled when the defense has been solid and vice versa.
Add the drama surrounding the benching and eventually parting of ways with quarterback Josh Freeman, and times continue to be tough for Schiano. And to think, he was at the helm of a 6-4 team last November.
Keep Reading