UCF vs. Louisville: Live Score and Highlights
Louisville lost its bid for an undefeated season on Friday night, coughing up a 28-7 lead and losing by three points to UCF on its home field.
Current Score: UCF 38, Louisville 35 – FINAL
Here's my post-game story on how, despite Bridgewater's fantastic performance, the defense around him cost Louisville this game.
Well. That's a wrap, folks.
Thanks for sticking around with us tonight. It was definitely one to remember.
Have fun celebrating, Orlando!
Final Thought: Obviously, Louisville will no longer be discussed as a BCS National Championship contender. As it should be.
But now, UCF takes control of its own destiny with regard to the AAC's automatic bid in a BCS bowl. It would have to lose twice to fall behind UL in the standings, since it now owns the tiebreaker.
The Cardinals' post-season prospects could not have just taken a bigger hit. And if the Knights are as "for real" as they look, it's likely Bridgewater will not be playing in another BCS bowl.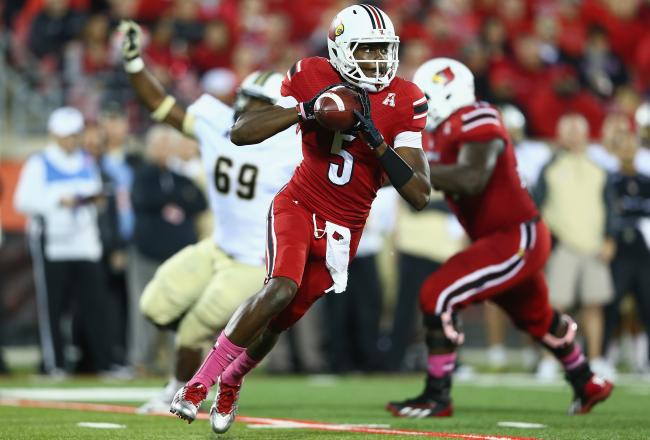 Postgame Takeaway: We always talk about quarterbacks winning or losing game. I'm not sure that happened here.
Bridgewater played a very good game, but mistakes by his teammates and a couple of freak momentum shifts meant it wasn't UL's night.
He didn't do enough to win. Blake Bortles did. That's perfectly fair. Bridgewater will not win the Heisman. That's fair too.
But he didn't "lose this game." Please don't say he did.
Here's a look at the game-winning score by UCF.
What a game.
FINAL SCORE – UCF 38, Louisville 35
There you go, folks. The biggest upset of the season.
Bridgewater's pass goes wanting and the Knights win by three.
Reminder: UL led 28-7 in the third quarter.
Five seconds on the clock. Louisville is around midfield and will need a hail mary to win.
Now it's out of Teddy's hands. All he can do is chuck up the ball and pray.
He won't be the only one in the stadium engaged in prayer.
Almost another special teams gaffe from UCF. The kickoff was INCHES away from going out of pounds but went out the end zone.
UL at the 20 yard line.
KNIGHTS TOUCHDOWN – UCF 38, Louisville 35
There are no words.
Bortles to Jeff Godfrey—who was wide open—for a 2-yard score, and with 23 seconds on the clock, UCF leads by three points.
UL has two timeouts and Teddy Bridgewater. Can it get into field goal range and pull even?
Josh Reese with another huge catch.
UCF around the five yard line. 33 seconds left.
FOOTBALL IS THE BEST.
A couple nice, vertical passes get UCF into the red zone.
Bortles looks like he's ready for this moment.
But can he finish the job?
Another costly offside for Louisville. Marcus Smith jumps on 3rd-and-4, giving UCF a free first down.
Not the first time its jumped on a big play tonight. Inexcusable.
The good news for UCF is that Louisville scored so quick they can still run the rock. This is far from over.

— David Pollack (@davidpollack47) October 19, 2013
About three minutes on the clock. There is PLENTY of time for UCF to drive down and win this game—but it needs six, not three.
Animated: Teddy Bridgewater backhand shovel pass dot favre http://t.co/dgsn9LR7Bd

— CJ Fogler (@cjzero) October 19, 2013
Follow this link for the Bridgewater flip that extended this drive and eventually led to a TD.
The stuff of legends.
CARDINALS TOUCHDOWN – Louisville 35, UCF 31
Teddy got them down there and Dominique Brown finished it off.
Another nice, pretty long TD run from Brown, who has been an unsung hero for the Cardinals tonight. He missed all of 2012 with a medical redshirt.
With the game—and in some ways the season—on the line, he and Bridgewater have made some HUGE plays.
What does Bortles have in the tank?
TEDDY FAVRE-WATER!!
On 3rd-and-5 Teddy makes a play with his legs, buys some time and throws a back-handed flip pass to Brown for the first down.
What a play.
That was pass interference.

— Ralph D. Russo (@ralphDrussoAP) October 19, 2013
The flag was late, but the UCF defender had his hands draped all over Parker.
There will be no "home-field call" controversy on that one. These aren't Notre Dame's refs, after all.
HUGE CALL
Louisville goes for it on 4th-and-5 and throws a deep out to Parker which comes up incomplete.
...but there's pass interference and the Cardinals still have a pulse. But the offense does look out of sync. Do they have what it takes to score a TD?
UCF beating the number 8 team in the nation should really help Louisville's strength of schedule

— RedditCFB (@RedditCFB) October 19, 2013
I mean, everyone was thinking it...right?
KNIGHTS FIELD GOAL – UCF 31, Louisville 28
And there it is. Louisville stops the bleeding a little bit by forcing a field goal, but UCF drains it and takes a three-point lead.
It's the first time the Cardinals have trailed all season. What does Teddy Bridgewater have in store?
.@UofLFootball is the only FBS team to NOT trail this season. #UCFvsLOU on ESPN

— ESPN CollegeFootball (@ESPNCFB) October 19, 2013
This record is in VERY big trouble. UCF is driving to take the lead and has all the momentum.
Stanback just took it into the red zone.
UL crowd is trying desperately to get up and make some noise. But it's literally like they've been deflated. It sounds nothing like it did about, say, 40 minutes ago.
UCF is at the UL 31 yard line.
Bridgewater just threw his first third-down incompletion of the game.
When it rains it pours.
Everything going wrong in Louisville. Even if it wins, people will remember what they are seeing right now—you can bank on that.
Stats through 3Q: 1st Downs: UCF 15 LOU 15 Total Yards: UCF 324 LOU 324 Pass: UCF 178 LOU 244 Rush: UCF 146 LOU 80 #UCFvsLOU onESPN

— ESPN CollegeFootball (@ESPNCFB) October 19, 2013
Who says these teams aren't even?
END OF THIRD QUARTER – Louisville 28, UCF 28
This is must-see TV. Tell your friends to turn on ESPN...pronto.
This article is
What is the duplicate article?
Why is this article offensive?
Where is this article plagiarized from?
Why is this article poorly edited?