UCLA vs. Stanford: Live Score and Highlights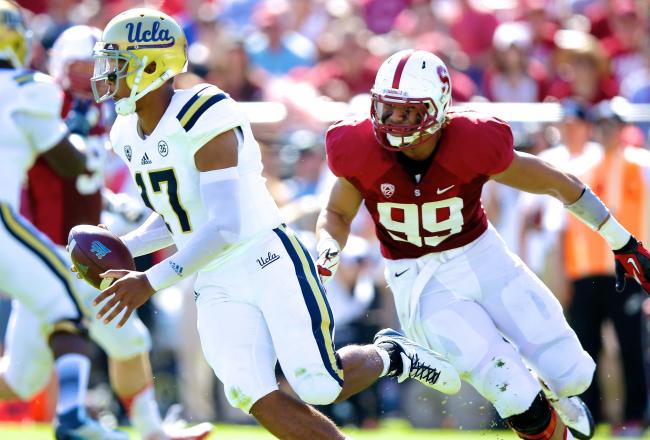 Stanford 24, UCLA 10—Final
In a game that resembled more of a Big Ten clash, UCLA watched its undefeated reign come to an end, losing to Stanford by a score of 24-10.
After a defensive stalemate in the first half, the offenses erupted in the third quarter. However, the Cardinal dominated time of possession and ran the ball doing the Bruins' throat in the fourth quarter to close out the game.
Perhaps the biggest dark horse through the first seven weeks of the college football season, UCLA has now lost to Stanford three times in the last 12 months. Trying to throw his name in the Heisman Trophy race, Bruins quarterback Brett Hundley was befuddled by the Cardinal defense, specifically Jordan Richards, who had two interceptions on the afternoon.
Stanford tailback Tyler Gaffney had a career day, running for 166 yards and two touchdowns behind a bruising offensive line. In all, the Cardinal out-gained the Bruins by 153 yards and had ten more first downs. They still control their own destiny in the Pac-12 North.
Thanks for following along throughout the afternoon for score updates, highlights and analysis.
Once again, thank you for following along this afternoon. Here is the link to my slideshow on the ten things we learned from today's game between Stanford and UCLA.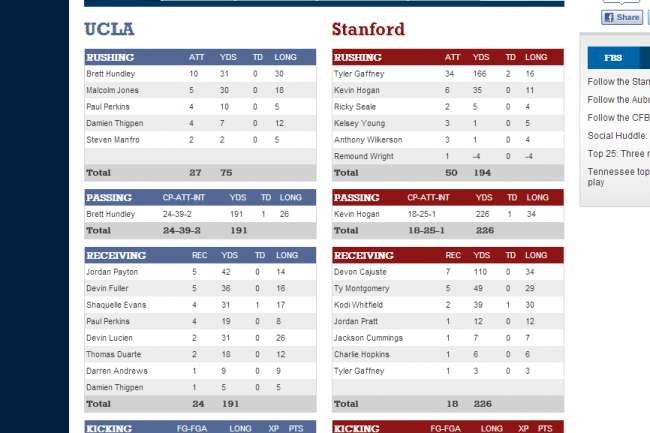 Here are the final individual stats from the skill players.
Oh, lest we forget. This.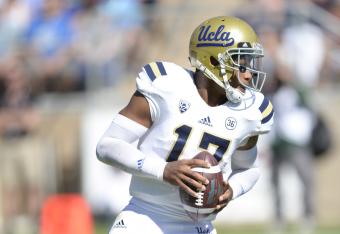 UCLA's undefeated run is over, and likely, so is Brett Hundley's run at the Heisman. He went 24-of-39 for 192 yards, one touchdown and two interceptions.
What a day for Tyler Gaffney and the Stanford offensive line. They imposed their will on UCLA down the stretch, and Gaffney had a career day, rushing for 166 yards and two scores.
Stanford's approach isn't pretty—pound the rock, trust your defense and wear out the opponent. But it works, and it worked today. A fitting end as Hundley is brought down by Trent Murphy.
Stanford 24, UCLA 10 — Final
Gaffney's nail in the coffin run.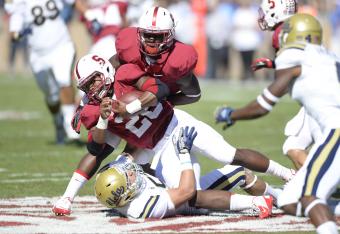 Or better yet, score a TOUCHDOWN! Gaffney now has 171 rushing yards and two touchdowns on the afternoon, and this one is pretty much in the books.
Stanford 24, UCLA 10 — 1:42 Remaining in 4th Quarter
Gaffney, just as he has all game long, just punches the UCLA front seven right in the mouth for the first down, and it looks like the Cardinal will be able to run out the clock.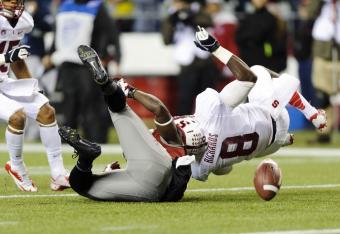 PICKED OFF! It's Richards again, intercepting Hundley at the 34-yard line! UCLA will need to start burning its timeouts.
Fair to say, after 3 up-the-middle runs, Stanford is playing to its defense. So… Brett Hundley: What you got? #UCLAvsSTAN

— ESPN Pac-12 (@ESPN_Pac12blog) October 19, 2013
Big stand by the UCLA defense. The Bruins still have all three timeouts remaining as they get the ball back with 2:57 remaining.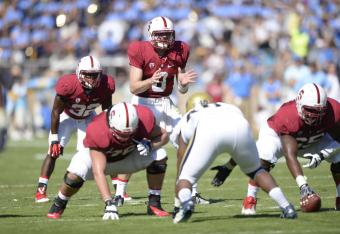 Another brutal penalty for UCLA stalls the drive. Stanford takes over with 5:24 remaining in the fourth quarter against a worn down Bruins defense, looking to put this one away.
The absence of Jordan Williamson, Stanford's starting kicker, clearly has its impact there. He has only missed one field goal this season. Starting cornerback Alex Carter is off the field as UCLA takes over.
& he misses. File that away in, "If Stanford loses…" RT @DavidMLombardi: Shaw trusts his back-up kicker Conrad Ukropina for a 46-yd FG

— ESPN Pac-12 (@ESPN_Pac12blog) October 19, 2013
Conrad Ukropina, Stanford's backup kicker, misses wide-right on a 46-yard attempt.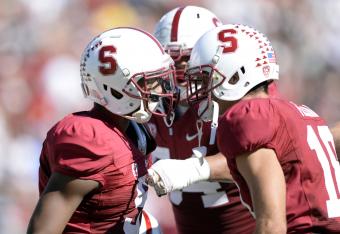 Stanford is dominating time of possession, and that's starting to have its effect on the UCLA defense. The clock ticks under eight minutes...
Cajuste was carted off to the locker room with what is officially a right knee injury, so now Stanford is giving it to its workhorse. Tyler Gaffney keeps the chains moving for the Cardinal.
Here's a look at Evans' touchdown catch that brought UCLA within seven.
Gone again is Goines for UCLA, so it goes from its second-string left tackle to its fourth-string left tackle yet again. The Bruins go three-and-out.
Having a great game, too. RT @wilnerhotline: Could be Cajuste's ankle. Either way, it went the wrong way

— ESPN Pac-12 (@ESPN_Pac12blog) October 19, 2013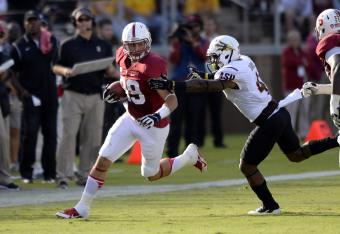 This is not good. Stanford's leading receiver Devon Cajuste is down after making a catch and getting hit low. He's in a lot of pain and this would be a huge loss for the Cardinal.
INJURY UPDATES: Both Ty Montgomery and Ben Gardner have returned to action for Stanford.
Hundley fakes the run, pulls up, and finds Shaq Evans for the TOUCHDOWN! It took over 45 minutes, but UCLA has its first touchdown of the game.
Stanford 17, UCLA 10 — 14:56 Remaining in 4th Quarter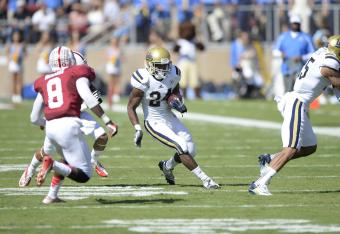 UCLA drives inside Stanford's 5-yard line as the third quarter comes to a close. Hundley looks sharp, but the Bruins still have plenty of work to do in the final 15 minutes.
Stanford 17, UCLA 3 — End of 3rd Quarter
This article is
What is the duplicate article?
Why is this article offensive?
Where is this article plagiarized from?
Why is this article poorly edited?