South Carolina vs. Tennessee: Live Score and Highlights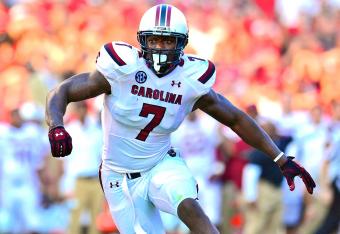 South Carolina 21, Tennessee 23—Final
The Volunteers shocked the Gamecocks in Neyland Stadium. Michael Palardy's kick to close the game out capped off a huge win for Butch Davis in his first year as head coach.
After taking the 17-7 lead into the half, it took a miracle for the Volunteers to win, but they pulled it out in the end.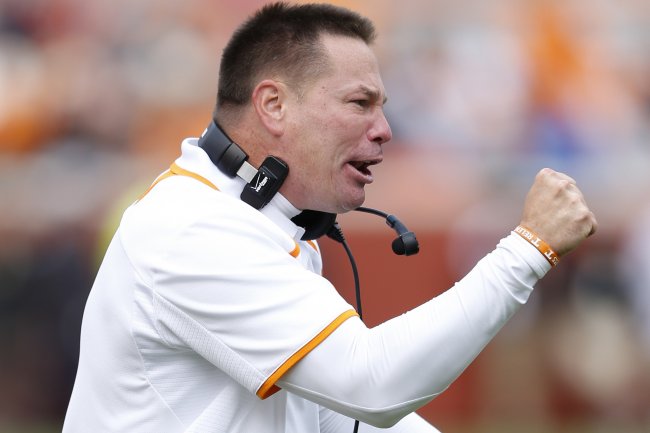 Joe Robbins/Getty Images
This game was in total Volunteer control going into the half. They let the Gamecocks back into it, but came back to win. Sometimes, it takes a game like this to cement a coach's philosphy and attitude. Butch Jones is a great coach, and this win will be that signature win for him that was needed this season.
Jadeveon Clowney had a great game despite not registering a sack. He created a ton of pressure but was unable to get home. He did continually blow up plays in the running game and looks to be just as good of a run defender as he is a pass defender.
Tennessee won with a great performance from its offensive line today. The Vols kept Justin Worley clean, allowing just one sack on the day, and the running game gained 146 yards against one of the best run defenses in the SEC.
Marquez North deserves the player of the game award today for the Volunteers, as his three catches for 102 yards all came in crucial moments for Tennessee drives. Michael Palardy's three field goals wound up being crucial, but an earlier miss was ugly to see.
This game shows exactly what the SEC will see from a Butch Davis team. They never quit. They continually bust their humps to make sure they are in the game. He's going to bring them back to prominence eventually.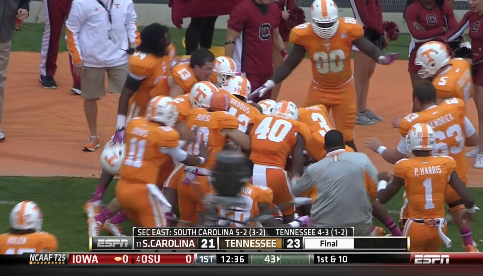 Tennessee is continuing to run the ball effectively with a trio of Marlin Lane runs to bring it down to the 2-yard line. South Carolina, of course, called a timeout after the spike to try to ice Michael Palardy on the 19-yard field goal. Palary makes the kick, and Tennessee wins!
South Carolina 21, Tennessee 23—End Game
After South Carolina finally decided to punt, Tennessee took over at its own 35-yard line with 2:48 left and no timeouts. Carolina defensive back Jimmy Legree broke up the first-down pass, and then Worley missed the second-down pass.
A brilliant one-handed catch by Marquez North brought the Vols to the Carolina 26-yard line. SC's Kelcy Quarles was hurt on the play.
What an unbelievable catch by that Tennessee receiver! Holy cow! #clutch #SCtop10 @SportsCenter

— Andrew Farr (@AnFarr11) October 19, 2013
Justin Worley-to-Pig Howard continues to be a heavily used combination for the Volunteers. After getting stopped on third down, they decided to punt it. It was a bad decision to punt it, as South Carolina can run the clock out.
Going with Mike Davis runs on first and second downs gave the Gamecocks a 3rd-and-8 from their own 20-yard line. Dylan Thompson gets stuffed before the first down marker. Steve Spurrier doesn't even know what he wants to do with multiple timeouts on 4th-and-2.
On a 3rd-and-12, Tennessee stops the Gamecocks offense. After the punt, the Volunteers take over at their own 45-yard line.
Connor Shaw looks like he's in rough shape with his knee. They were working on it on the sideline.
Connor Shaw with a left knee strain, per ESPN sideline report. Out for remainder of game.

— Paul Myerberg (@PaulMyerberg) October 19, 2013
Connor Shaw misses a pass on first down, but he looks to be hurt from a second-down sack—again, by Marlon Walls. Hopefully, Shaw is OK. Otherwise, Dylan Thompson will need to lead this Carolina offense for the rest of the day or maybe longer.
Raijon Neal opens up the drive again for Tennessee running up the middle and to the left to avoid Jadeveon Clowney, who was lined up at left end for the first time today. After a 15-yard penalty and an incomplete pass set up 3rd-and-20, Kelcy Quarles sacked Justin Worley at midfield.
Pharoh Cooper is just an excellent returner, but his teammates keep nullifying his returns with holding calls. Taking over at their own 11-yard line, the Gamecocks lose all momentum on a three-and-out in which Connor Shaw and Mike Davis combine for six yards on three plays.
And after a horrible kick by the South Carolina punter, Tennessee will take back over at the Carolina 35-yard line.
OMG...That is one of the worst punts ever! Come on Gamecocks!!

— Lee Thornton (@rleetsc) October 19, 2013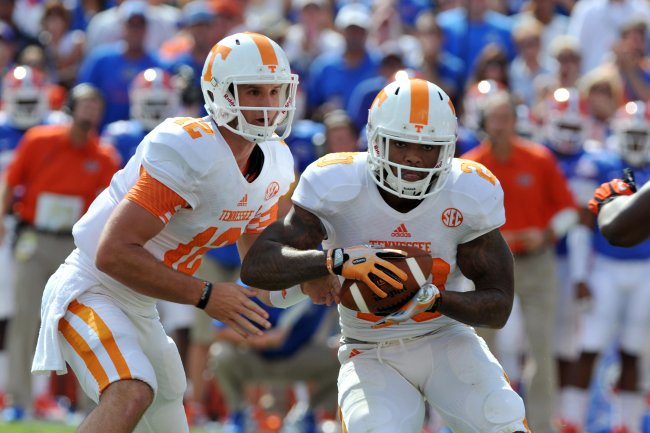 Al Messerschmidt/Getty Images
After a pair of runs show that the South Carolina defense is awake, Tennessee converts a 3rd-and-11 with an 11-yard run by Justin Worley that was supplemented with a 15-yard horse-collar tackle penalty after the play.
Worley hung Raijon Neal out to dry, and he got killed by Jimmy LeGree for a loss behind the line. Then Worley completed the ball deep to Marquez North. Then Tennessee's offense just stalls out on incomplete passes and failed runs in the red zone again.
Michael Palardy boots his second field goal through the uprights to make it a one-point game.
Tennessee 20, South Carolina 21—10:11 4th Quarter
Neyland gets some noise and Tennessee runs down Connor Shaw on third down. Big stop for the Vols. Need points on this drive.

— @GrantRamey (@GrantRamey) October 19, 2013
Opening up the quarter with a deep pass is the South Carolina Gamecock way under Steve Spurrier. USC did it again to open the fourth. After UT forces another incomplete pass, Connor Shaw gets sacked for a two-yard loss to force another punt.
A misguided return out of the end zone gave the Vols horrible field position. Then Jadeveon Clowney stuffed another run in the backfield. South Carolina forced yet another three-and-out and got the ball back at its own 45.
Mike Davis just bulldozes his way through defenses. Connor Shaw closed the quarter out with a run that is right at the first-down marker.
South Carolina 21, Tennessee 17—End 3rd Quarter
Rory Anderson finally makes a play today and hurdles a Tennessee defender to bring Carolina to the 13-yard line. A Mike Davis run to the 1-yard line sets up a goal-to-go situation. Connor Shaw capped off the drive with a QB sneak for the touchdown.
South Carolina 21, Tennessee 17—2:50 3rd Quarter
After Mike Davis got stuffed for a one-yard loss, Connor Shaw found an opening with his legs and gained 29 yards for a huge first down in Tennessee territory.
Raijon Neal gets a pair of runs for a first down to open up Tennessee's drive. A 23-yard pass to Jason Croom gives Tennessee its longest play of the day and brings the Vols deep into Carolina territory. Justin Worley has been growing as a quarterback today by making better throws than he did last week.
Michael Palardy attempted the 46-yard field goal and missed it to the left.
After Mike Davis continues to move the chains with a pair of runs, Connor Shaw missed Rory Anderson in the end zone. But on a 3rd-and-6 from the Tennessee 21-yard line, Davis took an option pitch from Shaw for the touchdown run.
South Carolina 14, Tennessee 17—9:46 3rd Quarter
Connor Shaw to Damiere Byrd gets another first down, but the Carolina offense needs to get something going if they want a legitimate shot. They continue to drop the ball or miss passes. On another 3rd-and-10 designed run by Shaw, the Volunteers stopped him.
Shaw finally brought life into the offense on 4th-and-8 with a nine-yard run for the first down at the Vols 36. Tennessee DT Daniel McCullers went down on the next play—a 7-yard Mike Davis run to the 29.
#Gamecocks will start drive from its 34. I think that's the best field position they've had all day.

— Kyle Heck (@kylerheck) October 19, 2013
Nothing better than chili and a Tennessee football game on a Saturday

— Brooke Hunley (@B_Hun01) October 19, 2013
Connor Shaw opens up the second half with a 15-yard run, and then the Vols got flagged for a hit out of bounds. Then Cameron Sutton intercepts a Shaw pass for his first one of the season. Today is by far Shaw's worst game this year.
Tennessee took over at its own 27 and went right after the Carolina defense with its running game.
However, Justin Worley couldn't convert a third-down pass, and South Carolina's defense earns another three-and-out.
Quick stat update at the half:
Carolina's Connor Shaw has completed just four of his 11 passes. However, Mike Davis is having an exceptional game, with 83 yards on his 11 runs. Damiere Byrd has been the only one making an impact in the passing game for the Gamecocks, with his 103 yards and a touchdown on three catches.
Tennessee's been much more methodical and has been able to control the ball well. Justin Worley is 11-of-17 for 57 yards and a touchdown. Raijon Neal and Marlin Lane have posted 92 yards on their combined 20 runs.
I have no doubt that my South Carolina Gamecocks can get it together against Tennessee. #Cocks down at the half need Clowney to rally!

— DICooper (@DanKnuckles) October 19, 2013
Rocky Top you'll always be home sweet home to meee, good ole Rocky Top, WOOO!, ROCKY TOP TENNESSEE!! LETS GO VOLS!

— Kelly Mallard (@K_Mallard) October 19, 2013
This article is
What is the duplicate article?
Why is this article offensive?
Where is this article plagiarized from?
Why is this article poorly edited?