The Grambling State University football team refused to play their game against Jackson State after a fallout with the administration.
ESPN's Brett McMurphy reported the news:
Grambling player told @ESPN team decided not to play Saturday's game at Jackson State

— Brett McMurphy (@McMurphyESPN) October 18, 2013
UPDATE: Wednesday, Nov. 13, at 2:05 p.m. ET
Ros Dumiao of the Clarion Ledger provides an update on Grambling:
"Jackson State will receive an undisclosed amount from the SWAC to help with the financial losses it incurred from its canceled homecoming game against Grambling State.

In addition, Grambling will be required to play at JSU each of the next three football seasons, according to a statement released by the SWAC Wednesday morning."
---End of Update---
UPDATE: Tuesday, Oct. 22, at 11:10 p.m. ET
The Associated Press (via ESPN.com) has the latest development in this situation:
Jackson State says financial losses for the university and the city of Jackson, Miss., "could be in the millions" because of Grambling's decision to forfeit Saturday's football game after its players refused to play.
---End of update---
UPDATE: Monday, Oct. 21, at 9:48 p.m. ET
The company Muscle Milk is making a large donation to the team according to ESPN's Darren Rovell:
Muscle Milk says it is sending 4,608 bottles of its product to Grambling football team, enough to get team through season

— darren rovell (@darrenrovell) October 22, 2013
Muscle Milk's donation to Grambling isn't small: Here's what 384 cases (4,608 bottles) looks like pic.twitter.com/NQrSfmWTvl

— darren rovell (@darrenrovell) October 22, 2013
---End of update---
UPDATE: Monday, Oct. 21, at 11:09 a.m. ET
From ESPN's SportsCenter Twitter account:
THIS JUST IN: Grambling State football players will return to practice Monday, after consulting with former coach Doug Williams.

— SportsCenter (@SportsCenter) October 21, 2013
---End of update---

UPDATE: Sunday, Oct. 20, at 9:35 p.m. ET
The Gramblinite (h/t LostLetterman.com) has released a few pictures of the facilities: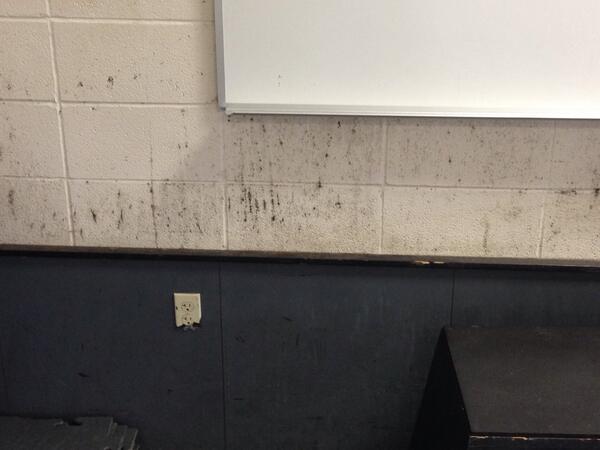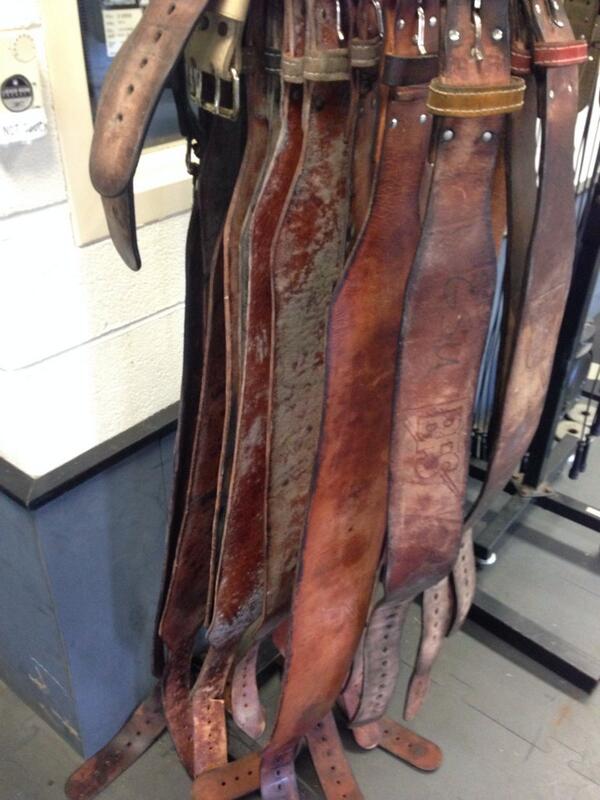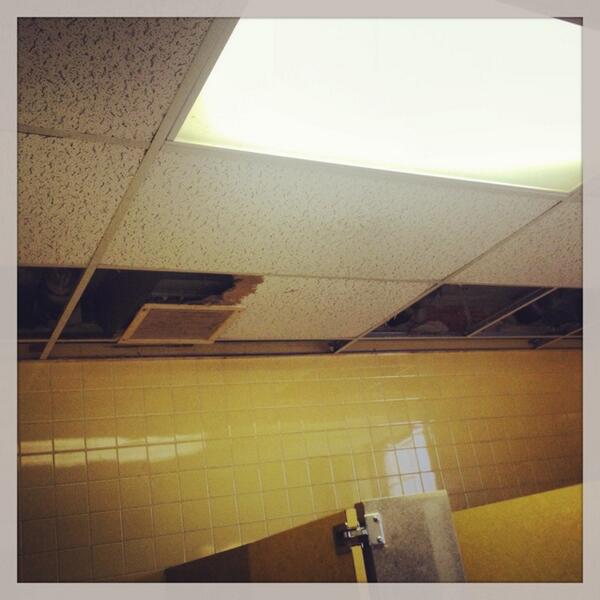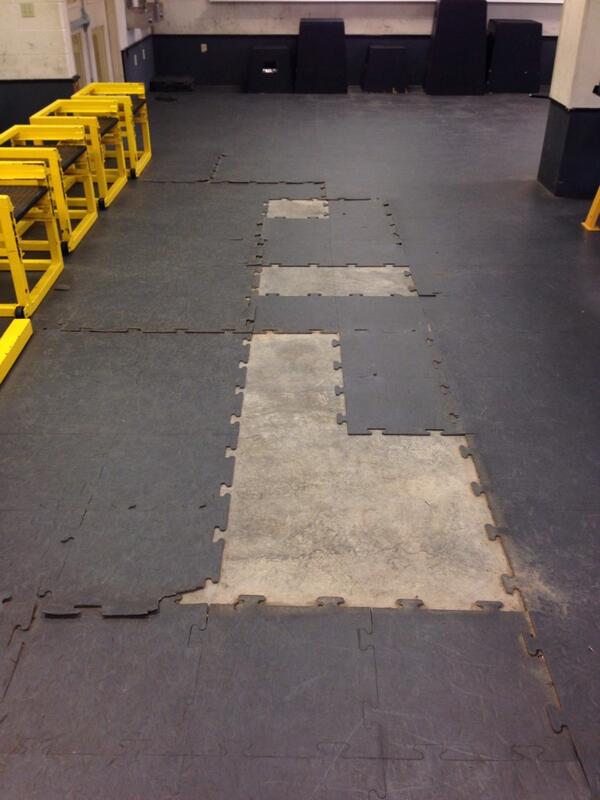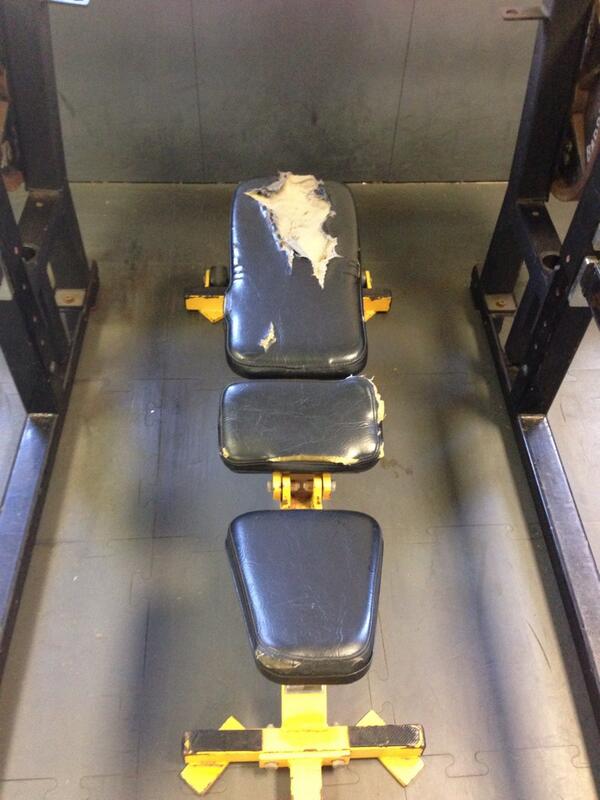 ---End of update---
UPDATE: Saturday, Oct. 19, at 12:35 p.m. ET
According to ESPN.com, Grambling's players have filed a letter of complaint with the school's administration:
The letter says "there are certain factors that are hindering us from reaching our goals" and then elaborates on many of them.

The athletic complex "is in horrible condition, and has many hazards that may contribute to our overall health," the letter says. "First, the complex is filled with mildew and mold. Mildew and mold can be seen on the ceiling, walls and floor, and are contributing to water leaks because of faltering walls and ceilings."

As has been reported before, the players say that the floor is coming up in the weight room, but the letter also asks that the university supply better detergent for uniforms.

"The uniforms are poorly cleaned and contribute to the multiple cases if staph infection," the letter reads. "Several players have been infected with staph multiple times."
---End of update---
UPDATE: Saturday, Oct. 19, at 1:16 a.m. ET
From The News-Star's Sean Isabella:
Per SWAC bylaws, Grambling will be forced to pay a $20,000 fine for Saturday's forfeit

— Sean Isabella (@ST_IsabellaTNS) October 19, 2013
---End of update---
UPDATE: Friday, Oct. 18, at 8:10 p.m. ET
ESPN's Joe Schad has the latest:
Jackson State will have a scrimmage, band show and concert in place of the Grambling State game

— Joe Schad (@schadjoe) October 19, 2013
---End of update---
Original Text
This was after The News-Star's Sean Isabella reported that the team didn't show up for its bus:
Player strike is now currently in Day 3 as Grambling team members fail to show up to bus for 3:30 departure to Jackson State

— Sean Isabella (@ST_IsabellaTNS) October 18, 2013
Let's take a look at the timeline of events that led to Saturday's game being cancelled:
Timeline of Events

| | |
| --- | --- |
| September 7 | Grambling loses 48-10 to Louisiana Monroe for their 12th loss in last 13 games. |
| September 11 | Grambling fires head coach Doug Williams after 0-2 start to season. |
| October 15 | Football team meets with university president Frank Pogue, athletic director Aaron James, head coach George Ragsdale and student government President Jordan Harvey. Team reportedly walks out in middle of meeting dissatisfied. |
| October 16 | Football team reportedly doesn't show up to practice. |
| October 17 | Football team again reportedly doesn't show to practice. |
| October 17 | George Ragsdale relieved of duties as interim head coach; defensive coordinator Dennis Winston named interim coach. |
| October 18 | Team doesn't show up for bus to game vs. Jackson St.. |
http://www.usatoday.com/story/sports/ncaaf/swac/2013/10/18/grambling-tigers-bus-jackson-state-game-boycott/3010079/
The revolt goes beyond just "football reasons" for the Tigers, who have been outscored 276-93 in their seven losses and have dropped 17 straight games to NCAA opponents.
The Gramblinite reports the team's specific demands:
REPORT: The football team wants the mold and mildew to be removed from locker room, weight room to be ventilated properly.... (cont'd)

— The Gramblinite (@TheGramblinite) October 18, 2013
(Contd) ....and they want President Pogue to be, either, fired or resign.

— The Gramblinite (@TheGramblinite) October 18, 2013
With Sports Illustrated's George Dohrmann helping shed a light, the state of the university is clearly struggling mightily.
In addition to the school's football and academic facilities being in horrendous shape, players are forced to take buses to games that are over 600 miles away, which is draining their players before they ever step foot on the field:
"It does something to your body, being on the bus that long," senior safety Naquan Smith says in the SI report. "We were kinda upset other team got a chance to fly there. It wasn't fair."

The team has also complained of missing meals on road trips.
Per Dohrmann's report, state funding for the university has dropped from $31.6 million to $13.8 million since 2007-08, and in recent years, the football program has run a deficit over $1 million.
Over 100 staff members have been laid off since 2008.
Put it all together, and players and students alike are fed up. Grambling students rallied earlier this week on campus to air their grievances about the university as a whole. They also declared that they stand by the football team.
Junior wide receiver Anthony McGhee attempted to sum up the team's stance with a couple of tweets:
Attitude reflects leadership..

— ♠ACE♠ #⃣1⃣ (@AntMcGhee1) October 18, 2013
Pogue is running gambling into the ground he is NOT for gambling he's for himself & his alma mater bama state!

— ♠ACE♠ #⃣1⃣ (@AntMcGhee1) October 18, 2013
He is referring to Grambling president Dr. Frank Pogue, who, among other things, didn't mesh well with legendary head coach Doug Williams—former Super Bowl winning quarterback and Grambling State alumnus who was fired in September.
Got text from recently-fired Doug Williams, regarding the mutiny at Grambling. He told me, "I'm proud of them boys. They took a stance."

— Jarrett Bell (@JarrettBell) October 18, 2013
Williams was replaced by George Ragsdale, who, according to USA TODAY, was referred to by one player as a "snake" and was "reassigned within the athletics department" on Thursday.
He was replaced by defensive coordinator Dennis Wilson, but it was already too late, as the players had begun boycotting meetings and practices by Tuesday.
Grambling has a rich history. Eddie Robinson, for whom the home stadium in Grambling, La., is named after, led the Tigers to 17 SWAC titles, putting them on the proverbial college football "map." He also is the NCAA record holder for most wins with 408 over 57 years at Grambling.
The school also enjoyed recent success under Williams, who led the team to a SWAC title in 2011.
But the storied university is in a dark place right now, as almost every athletic program is struggling and problems throughout the school—both concrete and otherwise—don't seem to have a solution in sight.