Who is Better: Robert Lewandowski or Olivier Giroud?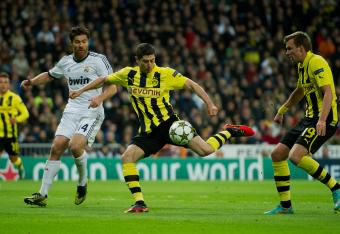 Jasper Juinen/Getty Images
Two of Europe's best strikers meet on Tuesday as Olivier Giroud and Arsenal play host to Robert Lewandowski and Borussia Dortmund in the Champions League.
The two strikers have scored a combined 15 goals for their respective clubs in this young season, each of their markedly different styles of play proving effective in its own right. But who is the better player? Below we break down the head-to-head based on the criteria of athleticism, build-up play, heading, movement, shooting, and work rate and defense.
Athleticism
Giroud stands an imposing 1.92 meters and is listed at 88 kg. In both categories he exceeds the 1.84-meter, 78-kg Lewandowski by a significant margin. On the other hand, Lewandowski has superlative pace and explosiveness.
This category goes to Lewandowski because of what he makes of his physicality. The Pole may be a little smaller, but he is an absolute menace to defenders. Powerful in both the upper and lower body, he can manhandle even the strongest of defenders. And when he can't, he usually is able to win a free kick.
Advantage: Lewandowski
Build-up Play
There are three components considered in a striker's build-up play:
Ability to hold up the ball as an outlet;
Passing outside the box; and
Creating chances.
In terms of hold-up ability, Lewandowski has an edge. His superior pace allows him to run to the ball more easily, and his technique, dribbling and quality on the ball in deep areas are a bit better than those of Giroud.
Lewandowski, who played in midfield in his first season at Dortmund, has the edge in the passing category. According to Squawka, He completes 74 percent of his passes in the Bundesliga that average at 15 meters. Giroud in the Premier League is much less accurate at 64 percent, even though his average pass is two meters shorter.
"Chances created" can be rather subjective, but assists are the most identifiable and the most significant passes that can be categorized as such.
Giroud has assisted seven goals in 41 career Premier League games. Lewandowski has recorded 24 assists in 107 Bundesliga matches. In terms of both raw assist figures and rate of assisting, Lewandowski has an edge, although it should be noted that Giroud is a better creator than his statistics may suggest.
Advantage: Lewandowski
Heading
Lewandowski is very athletic and has a large frame, but the heading category hands-down belongs to Giroud. The Frenchman is a little taller and bulkier and is much more reliant on his heading ability than Lewandowski, who scored just three of his 39 goals last season with his head.
Giroud, by contrast, put in seven from headers; he only scored 12 more with the sum of his other body parts and one more with his preferred left foot.
Advantage: Giroud
Movement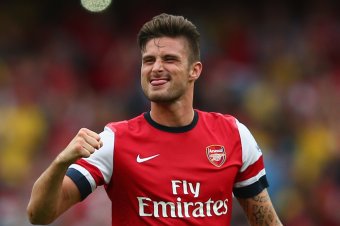 Clive Mason/Getty Images
Movement is a highly subjective and oft-overlooked criterion that is critical to how prolific a striker can be. There is something to be said for a player's ability to create his own goals, but the top goalscoring strikers are not always great on the ball; they just know how to turn it into the net.
Giroud may not have the pace of Daniel Sturridge or the technique of Robin van Persie, but the 27-year-old is a master of off-ball movement and makes himself a great target for playmakers with his runs to the near post. And that's what makes him such a great striker.
Advantage: Giroud
Shooting
Shooting is a deceptively complicated topic. Accuracy in hitting the target matters, but conversion rate is even more important. Complicating the matter further is one's ability to shoot with his weaker foot. Because the current season is young and sampling size for shots (as opposed to passes) is small and of questionable statistical significance, the two contestants will be judged based on last season's performance.
Last season, Lewandowski hit the target 55 times and missed on 27 occasions in the Bundesliga, scoring 24 goals. He hit the target with 67 percent of his shots, scoring with 29 percent of his attempts. His ambidexterity was evident in that he scored seven goals with his weaker left foot—only four fewer than with his right.
Giroud was able to take more shots, but was less accurate than Lewandowski in the 2012-13 Premier League campaign. The Frenchman missed the target 45 times, more than the 43 shots he put on goal. Eleven of these shots he put past the opposing goalkeeper; only two of these goals came with his weaker right foot. In terms of rate, he only hit the target with 49 percent of his shots, scoring with 13 percent.
Advantage: Lewandowski
Work Rate and Defense
Lewandowski wins the this category by a mile and can dedicate that victory to coach Juergen Klopp. The trainer's intense, all-out pressing tactical approach is notorious. To his credit, though, Lewandowski is a very hard worker who fits perfectly into Klopp's gegenpressing system. According to UEFA, he covered 11.2 km in BVB's recent 3-0 win over Marseille, a figure that is rather on the low side by his standards.
Giroud, by contrast, covered 10.7 km in his most recent Champions League fixture. He is by no means a stationary figure and is more industrious than most strikers in Arsenal's recent history. But Arsene Wenger's system demands less pressing from all his players, including the attackers, and as such Giroud doesn't quite match up to Lewandowski.
Advantage: Lewandowski
Verdict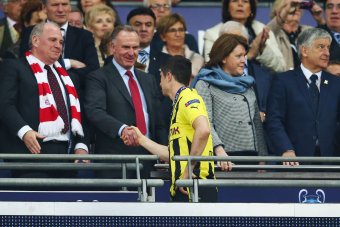 Alex Grimm/Getty Images
Lewandowski is the better striker, although Giroud on current form is not far behind. Both are excellent strikers, but the Pole has two outstanding seasons under his belt despite being two years younger and is more proven at the highest level. With due respect to Giroud, he hasn't scored four goals in a Champions League semifinal match, an accomplishment of Lewandowski's that speaks volumes of the player's quality.
This article is
What is the duplicate article?
Why is this article offensive?
Where is this article plagiarized from?
Why is this article poorly edited?