Is Player Revolt at Grambling a Sign of Things to Come in College Football?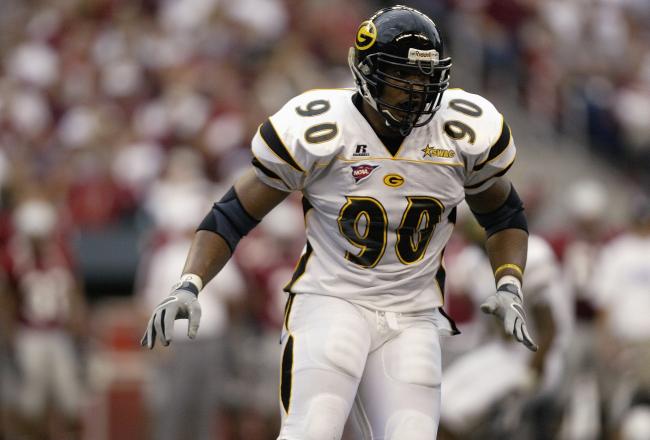 Otto Greule Jr/Getty Images
Players walking out of a meeting, boycotting practices and getting coaches fired? That was just the beginning of a week in the life of a Grambling State University football player.
Things got really serious with the announcement on Friday afternoon that Grambling players won't make the trip to take on Jackson State this weekend.
BREAKING: Members of the GSU football team have chosen NOT travel to Jackson State University for their Homecoming game tomorrow.

— The Gramblinite (@TheGramblinite) October 18, 2013
But, in the broad scope of things, could it be a sign of things to come in the world of college football?
First there was a report that Grambling players attended and then walked out of a meeting with the school's administration. This was then followed up by a walk-on player being kicked out of a weight-training session the next morning (for reportedly speaking his mind at the meeting). The team walked out of practice because of it.
On Thursday the team boycotted another practice, and word is that the interim head coach, George Ragsdale, has now been "reassigned."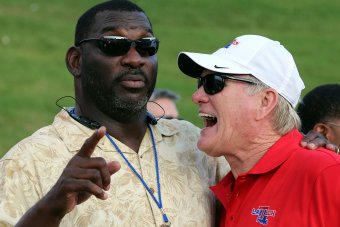 Chuck Cook-USA TODAY Sports
So, what is the crux of the matter at Grambling?
According to Matt Vines of the Shreveport Times, frustrations began when former head coach Doug Williams was fired mid-September. The players claim they weren't getting full meals while on the road and were forced to take a bus (instead of flying like opponents) to games in Kansas City and Indianapolis over the past year.
The article also hints that players aren't happy with the state of facilities at Grambling, or the way the administration treats them overall.
On the surface it seems the players are being backed into a corner and defending themselves the best way they know how. Per Vines:
"It was basically a mutiny," the source said. "(The team) rode the bus all that way (to Indianapolis), and then come back and are disrespected like that (in Tuesday's meeting)."
"(The team) is standing together because they don't know if anybody else is standing with them."
So, while there appears to be specific reasons for what is going on at Grambling, one has to wonder if this is something we may see more of at universities all over the country?
Players are getting bolder and bolder at a national level, and some ex-college football players are admitting to taking money—not to mention the Ed O'Bannon lawsuit's ever-expanding footprint.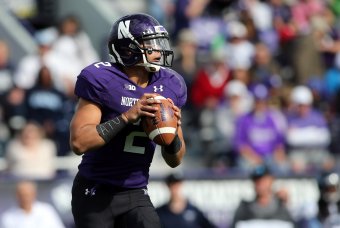 Jerry Lai-USA TODAY Sports
Earlier this year we saw players band together for the "All Players United" movement by writing A.P.U. on different parts of clothing or tape to bring to light issues they'd like to see addressed (i.e. getting paid).
Then you take a look at the National College Players Association, who helped to organize the A.P.U. movement, gaining a foothold with the players at major universities and you begin to wonder where this is all going.
The NCPA is an organization that says they are all about "advocacy" for players of college football and basketball. In reality, it acts more like a mouthpiece of a players union in waiting, than anything else.
All of it adds up to players becoming more bold in their demands on the world of college football. What happened at Grambling is perhaps a starting point in players beginning to throw their weight around to get what they want.
Is it such a stretch to think that if players don't like the facilities or meals a school is providing or don't get first-class accommodations on the road, they wouldn't rise up and "pull a Grambling," if you will?
For me it wouldn't be a surprise if players, who are becoming more organized in their efforts to get paid, stage ever bigger protests until they get things their way and their way only.
Will We See More of What's Happening at Grambling in the Future?
What we've seen in recent months in the world of college football indicates to me that we've seen the inmates starting to take over the asylum. Unless the NCAA begins to get a handle on the issues players would like to see addressed, the game we all love may be in for some really rocky times ahead.
Let's be honest, the players are beginning to realize that without their efforts the rest of what happens around college football doesn't exist. As they get more organized, things will only get ratcheted up a notch or two.
Will players go all "mutiny" at places like Alabama, Oregon or Nebraska? If they do, it will be interesting to see how the public reacts—especially considering the multi-millions of dollars members of said public have forked over for ever-expanding facilities, staff and stadiums.
Players are walking a fine line, and if this is something that begins to happen on an increasing basis, they run the risk of losing the public whose support is ever increasing as time goes on.
*Andy Coppens in the Big Ten Lead Writer. You can follow him on Twitter @ andycoppens.
This article is
What is the duplicate article?
Why is this article offensive?
Where is this article plagiarized from?
Why is this article poorly edited?