Iker Casillas Hints at 'Use Me or Lose Me' Ultimatum to Real Madrid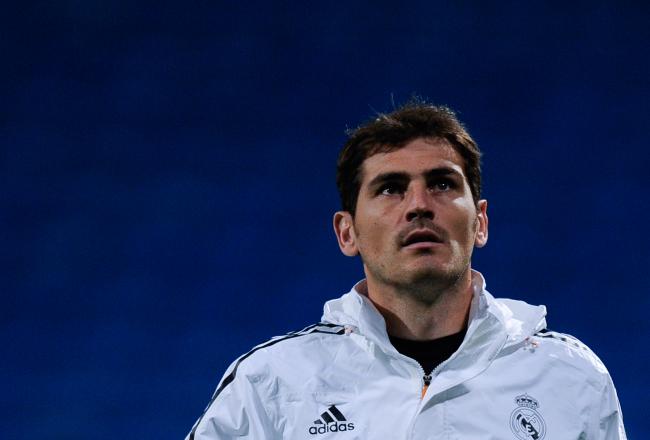 David Ramos/Getty Images
As the new season continues to evolve and Iker Casillas remains on the Real Madrid bench (for La Liga contests, at least), decision time draws ever closer for the Spanish goalkeeper.
Casillas perhaps hoped, or believed, that the departure at the end of last season of Jose Mourinho—who had continued to select Diego Lopez over Casillas as his tenure expired, even when the latter returned from injury—would see him return to his former standing as the club's undisputed No. 1.
However, Carlo Ancelotti has so far had different ideas, continuing with Lopez in the league campaign. The decision has been as much about fairness and form as anything else, with the reliable Lopez being one of the club's more impressive performers in a slightly incoherent start to the current campaign.
Casillas' future has been the subject of speculation ever since he lost the No. 1 spot. His philosophical differences with Mourinho were never a particularly well-kept secret, but he did not denigrate his teammate Lopez. Similarly, he denied that he was looking to leave the club as a result of his demotion.
As the months roll on and his position (even under a new manager) has failed to materially change, however, the 32-year-old has seemingly started to change his mind.
Speaking to local Spanish media on Thursday, Casillas gave his first indication that he could leave the club he has been with all his life in January (h/t The Guardian):
Carlos Alvarez/Getty Images

Of course I want to stay here, winning more titles with Real Madrid.

I have been here since I was a small boy but the day will come when maybe a decision will have to be made.

I have decided I want to be part of this squad for a long time but if the situation doesn't change in three months and you ask me the same question, perhaps I will answer that I am planning to leave.
Asked about the issue on Friday, Ancelotti expressed his desire to keep Casillas—but would not promise that he would be restored to undisputed No. 1 status anytime soon.
"I have not spoken to him about his departure," Ancelotti said, according to Football Espana. "He is a great goalkeeper and very professional. He helps the team even when he does not play. He is a real captain.
"I hope that he can stay for the future because he is very important to the atmosphere."

Much has been made about Casillas' need to be playing first-team football in a World Cup year, but such a line of reasoning—while logical for most ordinary players—does not necessarily hold true for him.
Casillas has been the No. 1 for all three of Spain's international tournament triumphs (two European Championships, in 2008 and 2012, and the World Cup in 2010), earning him a great deal of store credit (and a wealth of invaluable experience).
Spain's head coach, Vicente Del Bosque, has continued to pick Casillas in his squads, and he earned his 151st cap in the most recent match against Georgia.
While regular football may be something Del Bosque wants for his No. 1, it is impossible to think Casillas will not be among the three goalkeepers taken to Brazil next summer.
Playing regularly, his international rivals Victor Valdes (who started the other game of the recent international break against Belarus) and Pepe Reina both have a chance to force their way into Del Bosque's thoughts.
But, similarly, they are the two most at risk if Del Bosque decides that one of the young goalkeepers coming up—most obviously, Manchester United's David De Gea—would benefit from the experience of going to an international tournament.
Not that such a call-up for the United man appears on the horizon.
"We have three fantastic goalkeepers and any one of them can play," Del Bosque said last week of Casillas, Valdes and Reina (h/t Goal.com). "It's not a problem to decide between them. If there's a problem, it's the number of options we have."
It is club considerations, then, that should dictate Casillas' next move.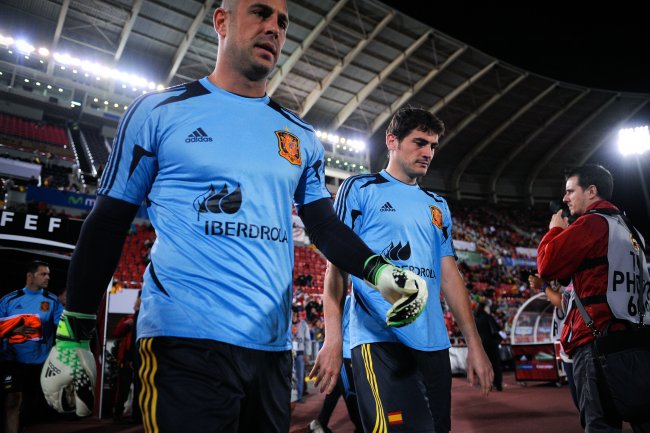 David Ramos/Getty Images
At 32, Casillas has, at a conservative estimate, at least four more years left as a top-level goalkeeper. Many modern shot-stoppers have gone on into their forties, but with Casillas famously shorter than the average player in his position, any frailties in his game (under high crosses and at set pieces, for example) might be exposed sooner than they would among his contemporaries.
Where he spends those four years is up to him. Staying at Real would appear to be his preference, but he is too respected a goalkeeper—and perhaps too proud a man—to kill the time from now until retirement sitting on the bench.
The alternative, then, would be to finish his career with a new adventure elsewhere. This is what his longtime rival at domestic and international level, Valdes, appears to be planning.
Valdes is regularly linked with AS Monaco, per Goal.com, where the payday will presumably be as welcome (if not more so) than the fresh experience in a new league and a new country.
Casillas, meanwhile, may decide that the challenge—the chance to win more trophies—is his priority. As such, there are a number of clubs around Europe that would benefit from a goalkeeper of that class.
AC Milan, Manchester City and Arsenal all could be in the market for a goalkeeper, should the concerns around their current starting options not be washed away by January.
At the club's Annual General Meeting on Thursday, Arsene Wenger indicated that purchasing established stars was something Arsenal are once again able to do, in conjunction with developing young talent.
"We will also look to buy proven quality," Wenger stated, according to the Independent.
Casillas would seem to fit that bill and would seem to be a popular potential addition at the Emirates, with Santi Cazorla telling Spanish paper AS (h/t Express): "Iker is one of the best goalkeepers in the world, he has demonstrated it and will continue to do so in the future."
Casillas' priorities are likely to be affected by his family situation, however. His long-term partner is expecting the couple's first child, complicating any big decisions in his professional life. If he were to move, however, it would seem London would be an easier transition to make than Manchester.
Then again, Milan might make even more sense. But this current AC Milan side is somewhat less impressive than those of yore.
Of course, with his girlfriend having her own career in Spanish television, staying in Spain would seem the most convenient option of all. Perhaps his most recent comments, then, are just a way of increasing the pressure on Ancelotti—trying to play the infamously nefarious media game to his own ends.
Will the Madrid media really sit silently as one of Real's greatest servants is allowed to leave? Will president Florentino Perez idly stand aside and allow such a wildly unpopular move to happen?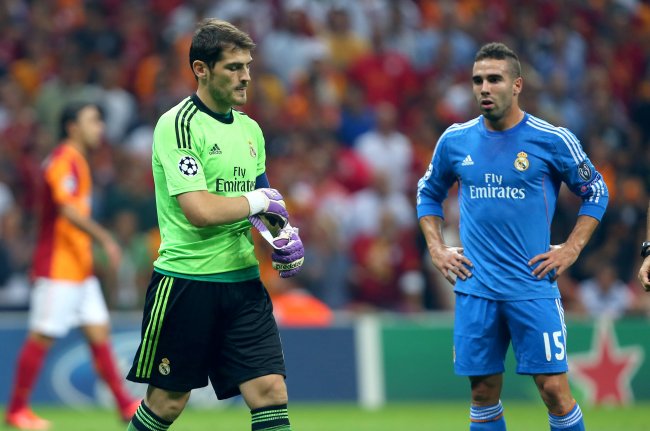 Burak Kara/Getty Images
"In September I wanted to leave and I was going to tell the president that I wanted to go, but I decided to be a part of this squad and this club for a lot longer," Casillas added this week, per BBC Sport.

"I have always wanted to stay at Real Madrid but I'd like to play and compete more. I will fight to get back into the starting 11."
What is clear, then, is Casillas has set out his stall.
He wants to end his career playing, not watching. Ideally that will be at Madrid, but if not, January may just illustrate how valued and respected he remains throughout world football.
This article is
What is the duplicate article?
Why is this article offensive?
Where is this article plagiarized from?
Why is this article poorly edited?

Real Madrid: Like this team?