Week 8 College Football Matchups That Are Too Close to Call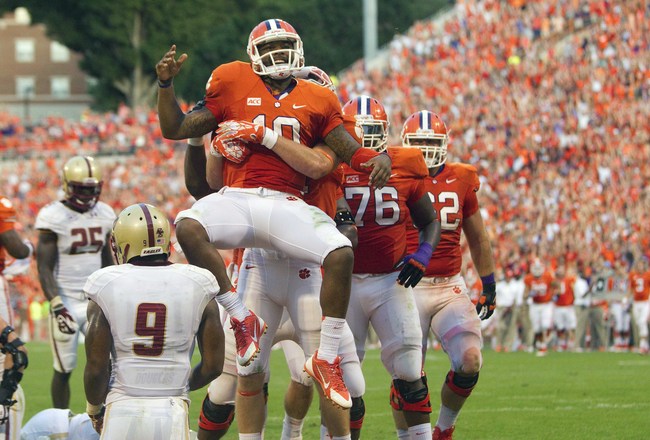 Is this the weekend the undefeated Tigers are knocked off?
Joshua S. Kelly-USA TODAY Sports
With plenty of thrilling games on tap this weekend, Week 8 features a handful of matchups that even the most stern of analysts might find too difficult to predict.
For some, it's a matchup with a rival that always tends to go down to the wire. For others, it's dealing with an equally talented foe.
Whatever the case, prepare yourself for some exciting college football matchups.
Here are five contests that stand out.
UCF (4-1) at No. 8 Louisville (6-0)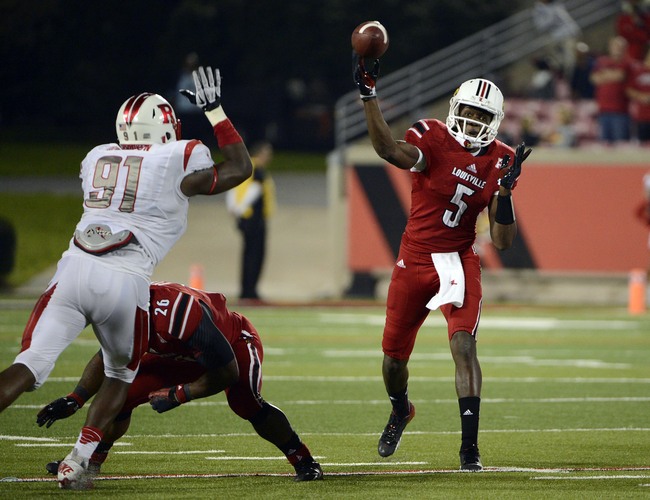 It's imperative that Bridgewater (right) gets back on track against the Knights.
Jamie Rhodes-USA TODAY Sports
When: Oct. 18, 8 p.m. ET on ESPN
Why it Will Be Close
The Cardinals are desperately trying to make a case for their inclusion in this year's BCS title game.
Following last Thursday's 24-10 win over Rutgers, those hopes took a real blow.
Unfortunately, this matchup may even be tougher. In fact, it could easily be considered Louisville's toughest test of the year.
Offensively, while the Cardinals have the better quarterback in Teddy Bridgewater (71.0 CMP%, 1,872 YDs, 2 INTs), the Knights have the better running back in Storm Johnson (87 CAR, 455 YDs, 7 TDs).
However, this matchup will likely be more of a defensive struggle than anything else.
Through six games, Louisville ranks No. 1 in scoring defense (7.3 PPGA), No. 2 in total defense (229.5 YPGA), No. 2 against the rush (68.3) and No. 4 against the pass (161.2 YPGA). Furthermore, the unit has allowed just two touchdowns on the ground and only four through the air.
On the other hand, UCF ranks No. 10 in scoring defense (16.6 PPGA), No. 32 in total defense (353.0 YPGA), No. 39 against the rush (140.2 YPGA) and No. 42 against the pass (212.8 YPGA). The team has also only conceded two scores through the air.
While it's hard to doubt Heisman-hopeful Bridgewater's passing ability, it should be noted he struggled a bit against a Scarlet Knights secondary that ranks No. 118 against the pass and gave up 15 touchdowns on the year.
This will either be the game that proves the Cardinals deserve BCS title consideration or the one that completely eliminates them from the conversation.
USC (4-2) at Notre Dame (4-2)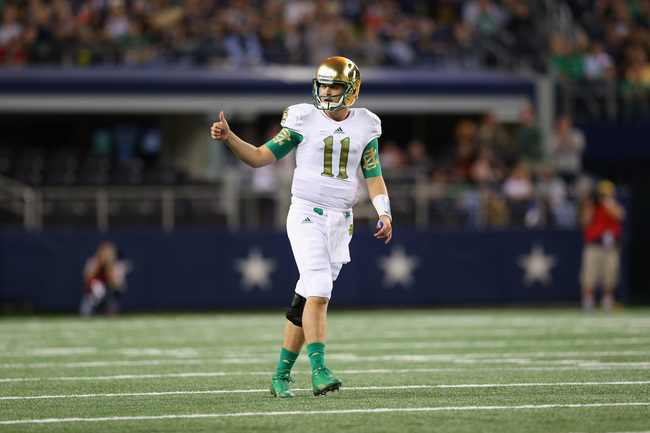 Rees needs to find some consistency for the Irish.
Ronald Martinez/Getty Images
When: Oct. 19, 7:30 p.m. ET on NBC
Why it Will Be Close
This has been a disappointing season for both these teams.
For the Trojans, the team has lost two games in embarrassing fashion, leading to the firing of head coach Lane Kiffin.
For the Irish, they've also lost two games and have a declining defense to credit for those losses.
Ironically, that's not the only similarity between both teams.
The quarterback situation has also been an issue.
USC has relied on quarterback Cody Kessler (60.4 CMP%, 1,129 YDs, 8 TDs, 4 INTs) for much of the season.
The sophomore has been largely unimpressive, registering a QBR of under 50 in four of six games.
Not to mention, who could forget the Trojans' 54-yard performance through the air during a 10-7 loss to Washington State on Sept. 7?
The situation isn't any better for Notre Dame, as Tommy Rees (51.7 CMP%, 1,494 YDs, 13 TDs, 6 INTs) has been pretty inconsistent all year. That includes throwing for three touchdowns in the Irish's win over Arizona State that followed a three-interception outing the previous week.
Both teams even share defensive issues.
For USC, it's giving up 1,120 yards and 93 points over the last two games.
For Notre Dame, it's dealing with a unit that returned seven starters yet has dropped drastically in almost every statistical category.
Quite frankly, this one will come down to who wants it more.
No. 22 Florida (4-2) at No. 14 Missouri (6-0)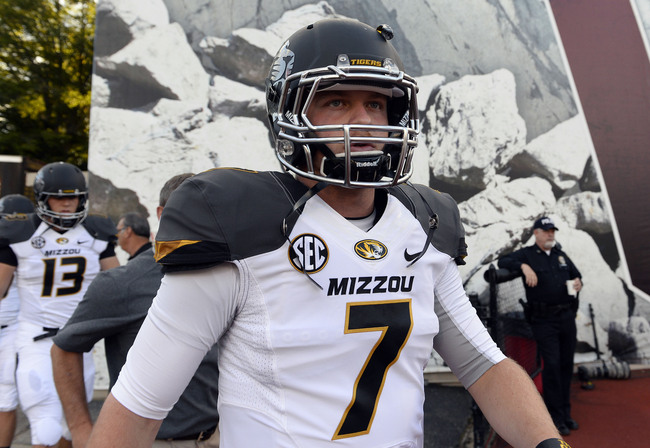 How will Mauk fare in his first career start?
Mike DiNovo-USA TODAY Sports
When: Oct. 19, 12:21 p.m. ET on ESPN3
Why it Will Be Close
The Tigers come into this game with one of the best offenses in the country.
On the other hand, the Gators boast one of the best defenses.
Entering this weekend, Missouri ranks No. 8 in scoring (45.7 PPG), No. 13 in total offense (515.7 YPG), No. 35 in passing (276.3 YPG) and No. 16 in rushing (239.3 YPG).
Meanwhile, Florida ranks No. 4 in scoring defense (13.0 PPGA), No. 3 in total defense (235.3 YPGA), No. 3 against the pass (152.0 YPGA), No. 4 against the rush (83.3 YPGA) and No. 2 in pass efficiency defense (85.5 QBR).
On Saturday, something's got to give.
For the Tigers, a difficult task got even tougher with news that starting quarterback James Franklin (67.7 CMP%, 1,577 YDs, 14 TDs, 3 INTs) will be out three to five weeks, via The Associated Press.
In his place, the team will rely on redshirt freshman Maty Mauk and all of his six career passing attempts.
Did we mention the Gators defense has yet to allow a quarterback to throw for more than 165 yards?
Sure, it'll be tough going for Mauk and the Missouri offense. However, it's not like Florida's offense has been striking fear into anyone these days.
Through six games, the team has averaged just 21.8 points per game and ranks No. 95 in total offense.
Not only should this game be close, but it will also most likely be a low-scoring affair.
No. 9 UCLA (5-0) at No. 13 Stanford (5-1)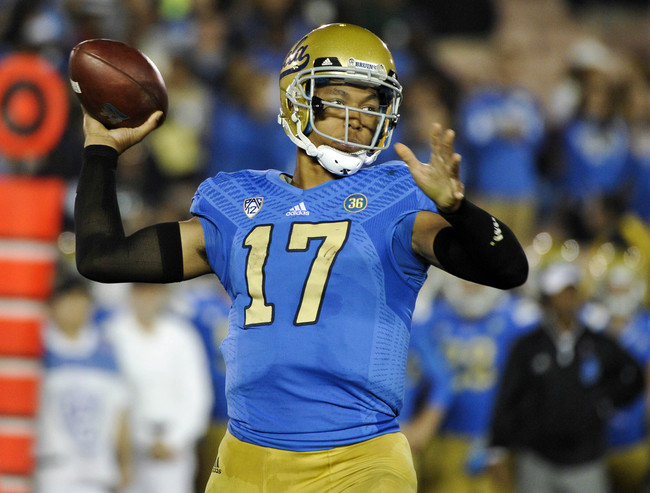 Hundley will give the Bruins a good chance of snapping their losing streak to Stanford.
Robert Hanashiro-USA TODAY Sport
When: Oct. 19, 3:30 p.m. ET on ABC
Why it Will Be Close
Last season, the Cardinal bested the Bruins twice in a matter of six days. The second time around, it was for the Pac-12 championship.
You can bet UCLA will have revenge on their minds come this weekend.
Thus far, the team has put together quite an impressive 2013 campaign. A highly-potent offense can be credited for that.
Through five games, the Bruins rank No. 7 in scoring (45.8 PPG), No. 5 in total offense 547.0 YPG), No. 18 in passing (323.6 YPG) and No. 21 in rushing (223.4 YPG). Only Oregon has a statistically better offense in the Pac-12.
On the other hand, Stanford—holders of the conference's No. 11-ranked offense—relies more on a solid defense.
The team ranks No. 36 in scoring defense (22.2 PPGA), No. 24 against the run (123.33 YPGA) and No. 48 in pass efficiency defense (121.2 QBR). Furthermore, the Cardinal have forced a turnover in 30 straight games—the nation's longest active streak.
Ironically, the last time UCLA was in the Top 10, it was coming off a victory over Stanford. But that was back in 2005; the Cardinal have won five straight in the series.
My gut wants to say the Bruins cruise. However, it's hard to pick against a Stanford team that hasn't lost consecutive games since 2009.
No. 5 Florida State (5-0) at No. 3 Clemson (6-0)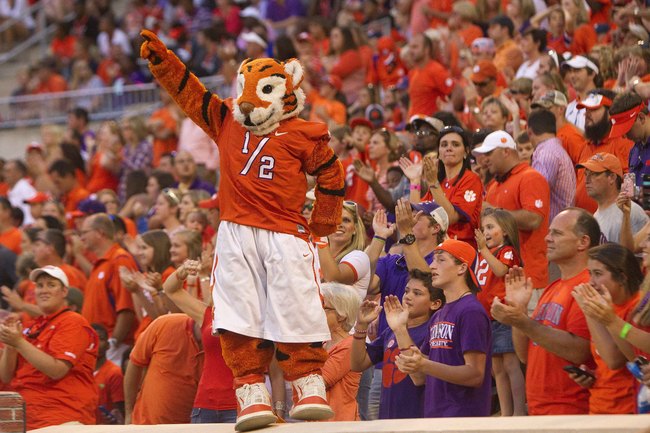 Death Valley will play host to the matchup of the week.
Joshua S. Kelly-USA TODAY Sports
When: Oct. 19, 8 p.m. ET on ABC
Why it Will Be Close
This is a matchup that will pit two of the best teams in the nation, the cream of the ACC and two of the top four candidates in the race for the Heisman Trophy. Not to mention, ESPN's College GameDay will be in attendance.
Expecting anything other than a close affair is ridiculous.
For the Seminoles, quarterback Jameis Winston has been the story for a surprisingly good offense.
The redshirt freshman has thrown for 1,441 yards, 17 touchdowns and just two interceptions on 73.2 percent passing. He's been the driving force behind an offense that puts up 539.0 total yards of offense and 53.6 points per game.
On the other side, Tigers quarterback Tajh Boyd (66.5 CMP%, 1,970 TOT YDs, 20 TDs, 2 INTs) has been quite the spectacle both through the air and on the ground. He's helped the team put up more than 40 points per game.
However, some pretty tough defenses will try to keep these two at bay.
Entering this weekend, Florida State ranks No. 3 in scoring defense (12.0 PPGA), No. 7 in total defense (276.8 YPG), No. 27 against the run (127.8 YPGA) and No. 2 against the pass (149.0 YPGA).
Clemson ranks No. 10 in scoring defense (16.2 PPGA), No. 20 in total defense (344.8 YPGA), No. 18 against the pass (186.5 YPGA) and No. 2 in sacks (24).
Sure, both defenses will be facing the best offenses they've seen all year.
However, limiting the other team to just a field goal could be the difference in what should be a high-scoring affair.
The Program's Take
B/R's very own The Program takes a shot at predicting next week's biggest college football headlines.
All stats and rankings used in this article are courtesy of NCAA.com.
For complete coverage and everything college football, you can reach Sebastian on Facebook, on Twitter and via e-mail at Sebastian.LenaBR@gmail.com
Keep Reading