Diego Sanchez Looking for Shot Against Pettis After UFC 166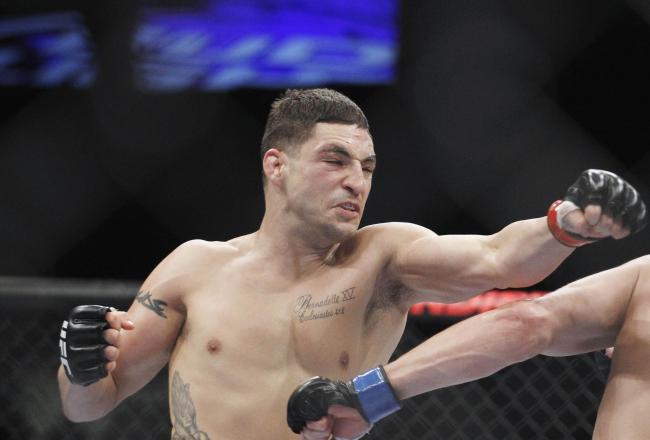 Matt Ryerson-USA TODAY Sports
UFC lightweight Diego Sanchez is set to return to the Octagon for the first time since March against possibly his toughest opponent yet, but he's already eyeing a potential title shot should he win at UFC 166 on Saturday.
In an interview with MMA Fighting's Shaun Al-Shatti, The Dream (formerly The Nightmare), said his upcoming opponent, Gilbert Melendez, is his "golden ticket" to a fight against reigning lightweight kingpin, Anthony Pettis.
I've done it before. I fought two fights in 2009 at 155. Straight to the belt. (Melendez) has never been stopped. He avenged two of his three losses. His only loss is to Benson Henderson in a split decision that I felt went his way, so in a way I'm fighting a guy who's almost untainted. And if I go in there, and I stop this guy, I think it makes a real case for a title shot.
Despite the merits of his arguments, however, his wishes are unlikely to transpire considering he's not even in the top 10 in current UFC rankings.
It's true, a win against the third-ranked Melendez is likely to catapult him up there. But considering the packed talent in the division, Sanchez, with a 3-3 record in his last six fights, has plenty to do to make a title case whether he's victorious or not Saturday.
Indeed, his record at 155 pounds looks pretty sketchy overall, especially considering he's spent most of his career at welterweight. Before this year, he last fought at the weight class in 2009 in a title fight against BJ Penn, when he was TKO'd in the fifth round.
Even in his return to the division this year, against Takanori Gomi, Sanchez's split-decision win was highly controversial in a fight many would argue should have gone to his opponent.
Melendez, on the other hand, could easily be standing as a champion had his April split-decision loss to then title-holder Ben Henderson gone his way. It's a fact that Sanchez acknowledged as he explained that El Nino makes for a much tougher opponent than Pettis.
He's (Melendez) a more well-rounded fighter than Anthony Pettis. I have a lot of respect for the champ, but I don't see him lasting long in this division. I see him eventually losing his belt and making the drop to 145 to become a multiple weight division champion. The bottom line is, guys are big. Guys are getting big. There's guys like me, I'm may be walking into the cage at 180 on Saturday night.
That may be, but for Sanchez to leapfrog into a title shot, he'll still have to contend with the likes of No. 4 ranked TJ Grant, who's been itching for his shot since he beat Gray Maynard in May.
UFC 166 takes place at the Tokyo Center in Houston, Texas and will be broadcast live on pay-per-view.
This article is
What is the duplicate article?
Why is this article offensive?
Where is this article plagiarized from?
Why is this article poorly edited?