Why Harrison Barnes as Sixth Man Is a No-Brainer Move for Golden State Warriors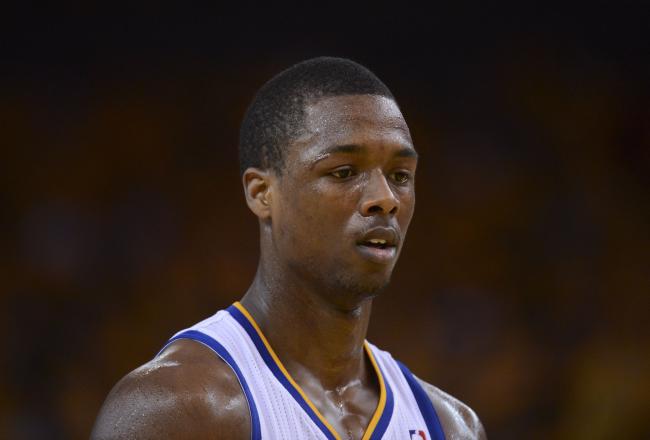 Kyle Terada-USA TODAY Sports
The writing had been on the wall for months.
Shortly after the Golden State Warriors signed versatile swingman Andre Iguodala to a four-year, $48 million contract this summer, sophomore Harrison Barnes could feel his grip on a starting spot slipping.
Most players in his position might have panicked. After all, the No. 7 pick in the 2012 draft was only months removed from a breakout postseason performance. His playoff production (16.1 points, 6.4 rebounds in 38.4 minutes a night) raised his NBA ceiling after a good-not-great regular season (9.2 points, 4.1 boards in 25.4 minutes).
Not only had the numbers increased, they'd also enjoyed a rigorous spring cleaning. His shooting percentages spiked (.444/.365/.857, up from .439/.359/.758). His efficiency soared (13.8 player efficiency rating and 111 offensive rating compared to 11.0 and 102, respectively, during the regular season).
But Barnes didn't sound any alarms over the possible demotion. He didn't openly embrace the move, but told Marcus Thompson II of the Bay Area News Group that "winning the game matters more" than starting them.
He, Iguodala and sharp-shooting guard Klay Thompson were set to battle for the two starting wing spots in Mark Jackson's opening lineup.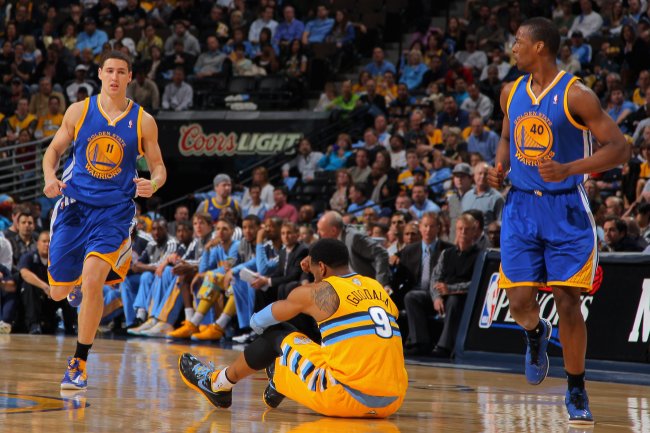 Doug Pensinger/Getty Images
But that fight appears over before it ever really started. Slowed by a nagging foot injury, he's been a limited participant or a no-show for most of the preseason.
The ailment may have ended whatever chance Barnes had to stick with the opening group. Jackson has yet to make a formal decision, but it sounds like he's made up his mind. "Unfortunately [the injury] has got to play a factor because you didn't really get to see those units together, no matter who it is," Jackson told NBA.com's Scott Howard-Cooper.
Expect to hear a mixed reaction if when Jackson announces his Barnes-less starting five.
It won't come from a lack of faith in Thompson and Iguodala. Both are two-way contributors, bringing major gifts to the franchise.
Thompson is a cold-blooded sniper (career 40.6 three-point percentage) and, in Jackon's mind (via Monte Poole of the Bay Area News Group) one half of "the greatest shooting backcourt in the history of the game."
Iguodala is a premier perimeter defender (small forwards posted a paltry 9.9 PER against him last season, via 82 games.com). He's a good enough decision maker to move Stephen Curry off the ball (career 4.9 assists per game). He's also an explosive finisher, capable of creating his own offensive chances and closing them with thunderous slams.
So, why would anyone object to putting these players alongside Curry, David Lee and Andrew Bogut in the starting group?
Because there's a feeling that this might prevent Barnes from maximizing his potential or, at the least, delay his development.
Don't let Barnes' draft position or ho-hum regular-season numbers fool you. Not that long ago, the "Black Falcon" was tabbed for guaranteed greatness.
He was the consensus No. 1 player in his 2010 high school class, a group that featured hordes of NBA players including Cleveland Cavaliers' rising superstar Kyrie Irving. Luke Winn of SI.com called him a "Kobe Bryant/Tracy McGrady-like player." Before playing a single game at North Carolina, he became the first freshman to be named an Associated Press preseason All-American since voting began in 1986.
His rookie effort was a little rocky, but his high points were eye-opening.
Clearly, he's not the type of talent you want to risk damaging. But this move to the second team will bring far more benefits than harm.
If there's one thing Warriors fans can point to as the change in Barnes from the regular season to playoff time, it was his aggression. Forced into an expanded role by David Lee's injury, Barnes turned off his safety switch and started firing at will.
The same player that frustrated scouts by not taking over games at North Carolina was suddenly demanding touches. He fired up 10 or more shots in 21 of his 81 games during the regular season (25.9 percent of the time). He had double-digit field goal attempts in all but two of the Dubs' playoff games (83.3 percent).
For Barnes, it seemed to be all about finding a comfort zone. During the regular season, he seemed hesitant to take aim alongside the starters. He turned down open shots to make sure that scorers like Curry, Lee and Thompson got their looks.
He bought into the NBA's hierarchy to an extreme, ultimately damaging degree. For someone with such a picturesque shooting stroke, there was no need to keep himself in check.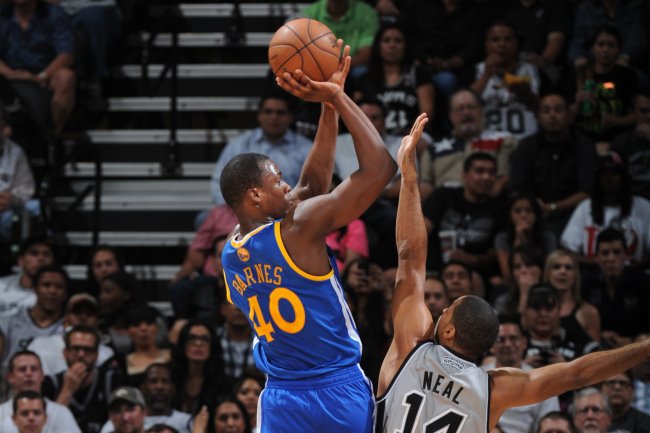 Garrett Ellwood/Getty Images
Yet, he continued to defer throughout the regular season. He still made his mark as a rugged defender and high-flying finisher, but watching him in action always left you wanting more.
A move to the second team should ensure that his postseason aggressiveness carries over to 2013-14.
Gone are ball-dominant point guard Jarrett Jack and scoring big Carl Landry. In their place are more complementary pieces: veterans Toney Douglas, Marreese Speights and Jermaine O'Neal along with rookies Nemanja Nedovic and Ognjen Kuzmic.
The Warriors should have more depth than they've had in decades. Summer league star Kent Bazemore (18.4 points per game in Sin City) faces an uphill battle for playing time. Sophomore stopper Draymond Green has no guarantees that he'll see the 13.4 minutes a night that he did last season.
Jackson has options with his reserves. But he's still searching for a focal point of his second-team attack, someone capable of leading an offense while Curry, Lee and Co. catch a breather.
Someone like Barnes.
He needs to know that he has a green light at all times, not only from coach Jackson but also from himself. He has to stop worrying about stepping on toes or matching NBA resumes; he has the physical tools to be a force if he just lets himself go.
His handles are coming along, and his mid-range game has been lethal since his Carolina days. He's not a floor-spacer like Thompson, but he's a lot closer to being that than being whatever you'd like to call Green the shooter (20.9 three-point percentage as a rookie).
That post isolation game that Barnes flashed during his run as an undersized 4 doesn't need to be lost, either. Speights is a better shooter from mid-range (47.4 percent from beyond 16 feet last season) than from in close (27.9 from three-to-10 feet). If he pulls his defender away, then Barnes can get isolation chances closer to the basket.
And it's not as if Barnes is getting banished to the bench never to return. More often than not, he'll be a member of Jackson's closing group.
Between he, Iguodala and Thompson, the Warriors can snuff out so many different types of offensive attacks. Andrew Bogut can handle any interior presence that's too big for Barnes.
Which wing combo should Jackson employ at the start of games?
As for where they stand right now, Thompson is simply a better fit with the starting group. His three-point threat balances the floor, so that players like Iguodala and Curry can cause headaches off the bounce. Or for Lee and Bogut to do work on the low block.
Barnes needs some seasoning still, and that will be hastened, not hampered, by a trip to the second team. The pressure for him to perform will increase as the talent drops around him. This is his chance to prove he can lead an offense.
At some point down the line, the Warriors will likely be forced to chose between Thompson and Barnes. With Curry, Lee and Iguodala commanding upwards of $36 million combined over each of the next three seasons—and Bogut possibly putting further strain on the team's budget—the Warriors will run out of funds long before they run out of talent.
When that day comes, I won't envy the team's decision makers. Both players have bright futures; forecasting which one's brighter is extremely difficult.
But this decision is nothing like that one will be.
Barnes belongs with the second team. This one's a no-brainer. And it didn't take a foot injury to that figure that out.
This article is
What is the duplicate article?
Why is this article offensive?
Where is this article plagiarized from?
Why is this article poorly edited?

Golden State Warriors: Like this team?