Cody Rhodes and Goldust had the week's biggest moment, so it's no surprise, then, to see their championship victory highlighted among WWE's top tweets, Instagram photos and viral videos.
Paul Heyman, WWE's king of facial recreations, overlooked managers and John "Bradshaw" Layfield's forgetfulness also gave us social media tidbits to savor as well.
On Monday's Raw, Heyman watched helplessly as CM Punk beat Curtis Axel in under five-and-a-half minutes to earn the right to choose the stipulation for Ryback vs. Punk at Hell in a Cell. Heyman's reaction that Punk would soon be deciding Ryback's fate was perfectly entertaining.
Along with being the best manager in the business today, he's also apparently a GIF-making machine.
He now finds himself forced to compete in the Hell in a Cell against Punk. The other Hell in a Cell match on the card will have Shawn Michaels donning a referee outfit.
WWE showcased Michaels in a video documenting some of the biggest Sweet Chin Musics of his career. Fans may disagree with the order (though certainly not the No. 1 selection), but it's still an awesome flashback.
Watch Michaels put boot to chin on Bret Hart, Hulk Hogan and Vince McMahon, using his trademark move to win the Royal Rumble, WWE Championship and World Heavyweight Championship.
What are the chances someone gets to experience Sweet Chin Music for themselves at Hell in a Cell? His history, which includes kicking the Charlotte Bobcats' mascot and a dude named Stan, points to a 100 percent chance of either Bryan, Orton or perhaps Triple H tasting Michaels' boot.
Xavier Woods from NXT has been in charge of a petition to rehire Big Show.
On Monday's Raw, upon hearing Woods' name, JBL wondered aloud who he was. JBL is currently the general manager of NXT, so his feigned ignorance is even more funny.
Woods shared photographic evidence that JBL knew who he was.
"@JCLayfield: As GM of @WWENXT I will deal with @XavierWoodsPhD ! Once I figure out who he is!" We've met!!! pic.twitter.com/6ZryVSvVnS

— Xavier Woods (@XavierWoodsPhD) October 15, 2013
It was Big Show, despite not being rehired (as Woods wants), who helped decide the fate of the Tag Team champions. The giant knocked out Roman Reigns and Seth Rollins, leading to the Rhodes brothers winning the titles and ending the night in celebration.
The video of their win and subsequent backstage interview with Renee Young was one of the most-watched WWE videos of the week.
To further commemorate the moment, WWE shared a shot of the new champs on its Instagram page.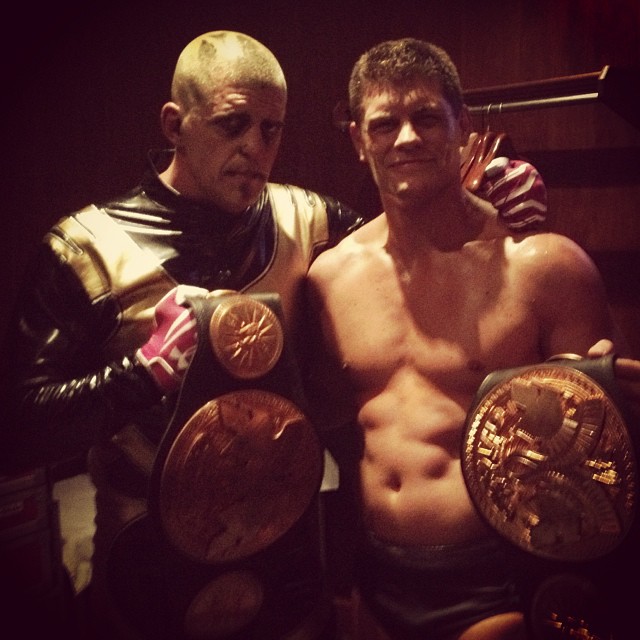 WWE also made an interesting note of how long it has been since Goldust has worn a title with the company.
After 3,934 days --- 10 years, 9 months, 8 days -- @Dustin_Rhodes1 is a @WWE Titleholder once again! #CongratsGoldust!

— WWE Universe (@WWEUniverse) October 15, 2013
While certainly not as buzz-worthy as that win, Howard Finkel's article about the most overlooked managers in history did get people talking on Twitter as well.
So rewarding to see our late friend #GaryHart get recognized by @WWE.com: http://t.co/zHuvtGj1Kq. @JRsBBQ @KevinVonErich @KayfabeComment

— Monday Night Mayhem (@FeelTheMayhem) October 18, 2013
The piece is a great read, reminding folks about guys like Red Berry and Paul Jones. The fact that Skandor Akbar and Gary Hart find themselves on this list is frustrating.
As two of the greatest managers in wrestling history, they should be in several wrestling Hall of Fames, not lumped together with the forgotten and obscure managers of the past.