Los Angeles vs. Golden State Warriors: Live Score and Analysis for Los Angeles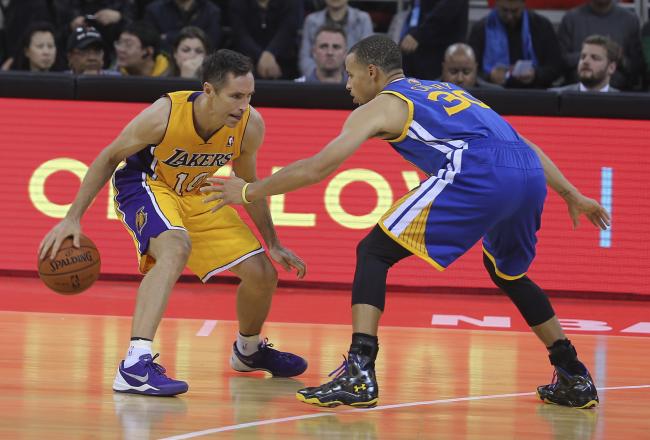 ChinaFotoPress/Getty Images
After a competitive first half, the Los Angeles Lakers fizzled out against their rivals from Oakland, with the Golden State Warriors winning comfortably, 115-89.
Golden State was powered by their three-point attack, with a variety of shooters combining for 15-26 shooting from the outside. Klay Thompson was the main culprit, going five of six beyond the arc, ultimately tallying 25 points.
The Lakers showed positive signs on offense, but their weak-side rotations were dreadful. This is a cardinal sin against a good shooting team like the Warriors, and they were punished accordingly.
Without a lockdown defender to take their opponent's weapons out of the game, the Lakers must collectively improve on this end if they want to stand any chance in a crowded Western Conference.
Pau Gasol led the way for Los Angeles with 16 points and seven rebounds in 25 minutes of play, but he ended with a plus-minus rating of -10. That stat line is perhaps the perfect summary of the Lakers night.
FINAL: Warriors 115, Lakers 89
Getting on the bus for home: pic.twitter.com/DIkyJQRfya

— Los Angeles Lakers (@Lakers) October 18, 2013
And that's all she wrote. The Lakers will be up against the Utah Jazz on Tuesday, October 22nd for their next contest. Hopefully it turns out better than this one. 'Til next time, NBA fans.
Another positive note from this morning: Kobe is looking closer and closer to returning with each passing day. Could he be back by the time the opener rolls around after all? We'll have to wait and see.
One of the few highlights from today's performance: Nick Young's work on the fast break in the first half.
D'Antoni: "This is preseason. We're pretty excited with what we can do (in regular season)."

— Los Angeles Lakers (@Lakers) October 18, 2013
Coach D'Antoni is deflecting questions in the post-game presser, giving the standard, "It's just preseason" answers. Preseason or not, this team has to be better on defense.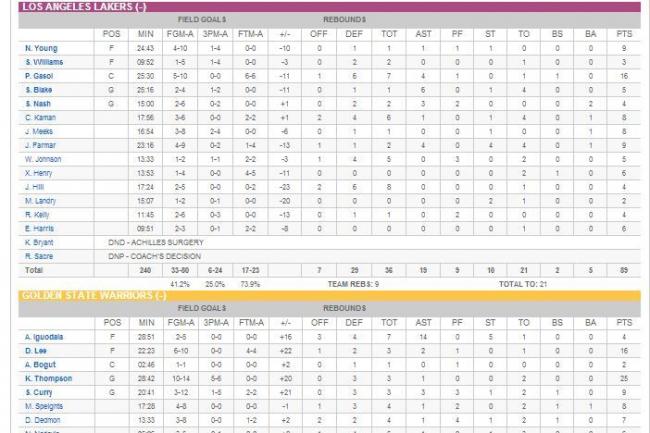 Here's the final box for the purple and gold in Shanghai.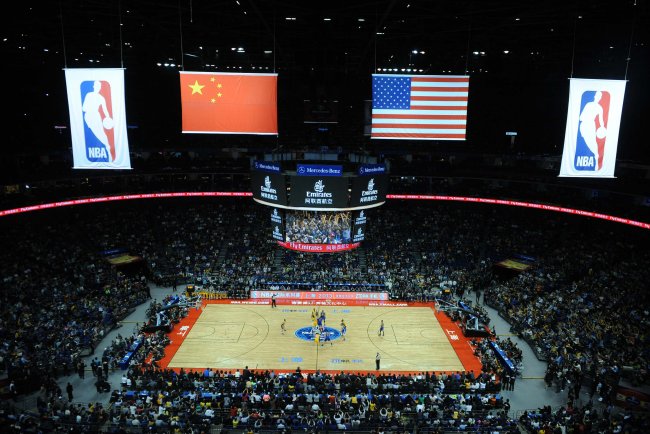 Randy Belice/Getty Images
This one has mercifully come to an end, with the Warriors dropping the Lakers, 115-89. Stick around for a wrap-up and notable performances.
FINAL: Warriors 115, Lakers 89.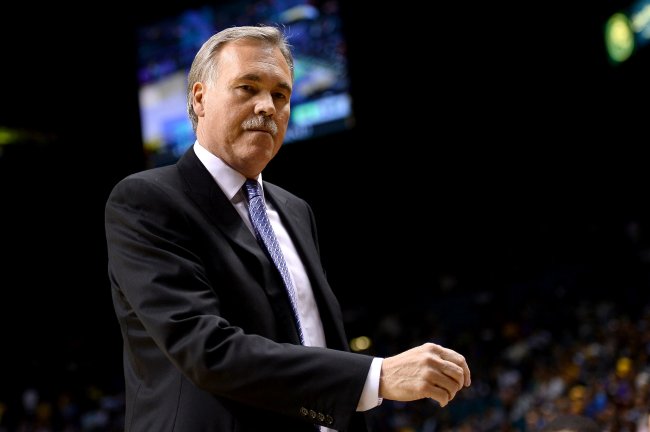 Ethan Miller/Getty Images
It's about time for a "Start the buses!" chant from the Warriors contingent, because this one is just about wrapped up. There will be no fourth-quarter rally tonight, as the Lakers starters remain on the bench in the closing minutes.
Warriors 107, Lakers 81—2:56 remaining in 4th quarter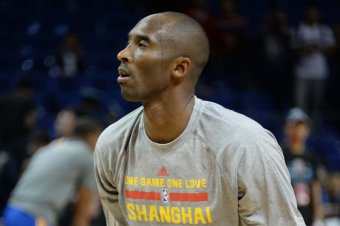 Andrew D. Bernstein/Getty Images
If Kobe's value to the Lakers wasn't clear before, this game is a great indication of how amazing this guy is on a night-to-night basis. His inhuman ability to play major minutes and eliminate the need for much of the Lakers bench to see the floor can't be understated.
Warriors 107, Lakers 79—3:38 remaining in 4th quarter
If tonight's game is any indication of where the Lakers fall in the Pacific Division hierarchy, it's going to be a long season for Lakers fans. Even the Warriors bench players are getting open looks at will. It's Golden State that looks like Showtime tonight.
Warriors 104, Lakers 75—5:35 remamining in 4th quarter
Crowd goes crazy in Shanghai as Kobe Bryant emerges from tunnel and takes a seat on Lakers bench

— Marcus Thompson (@gswscribe) October 18, 2013
This game is quickly becoming more of a pageant than a competitive contest. When the biggest rise from the crowd is a response to a player on the bench, you've got issues.
Warriors 93, Lakers 73—8:43 remaining in 4th quarter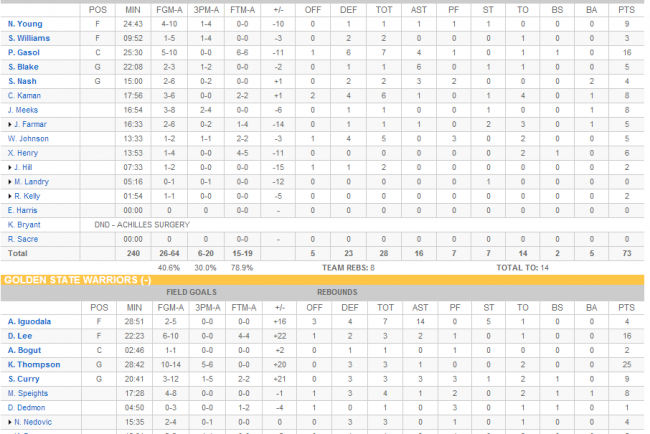 This one is getting ugly quick. Andre Iguodala is carving up the Lakers on both ends, with five steals and fourteen assists to his credit through three quarters of play. L.A. just can't continue to give up easy buckets in transition if it has any desire to win this game.
Warriors 84, Lakers 70—End of 3rd quarter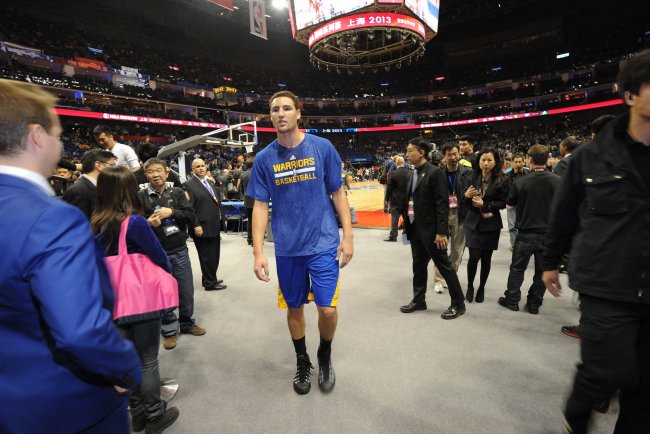 Andrew D. Bernstein/Getty Images
The Lakers weak side defense (or lack thereof) is one of the big stories of tonight's game. Golden State is getting way too many open looks from the outside. Klay Thompson is having himself a night as a result, with 25 points on 10 for 13 shooting.
Warriors 77, Lakers 68—2:06 remaining in 3rd quarter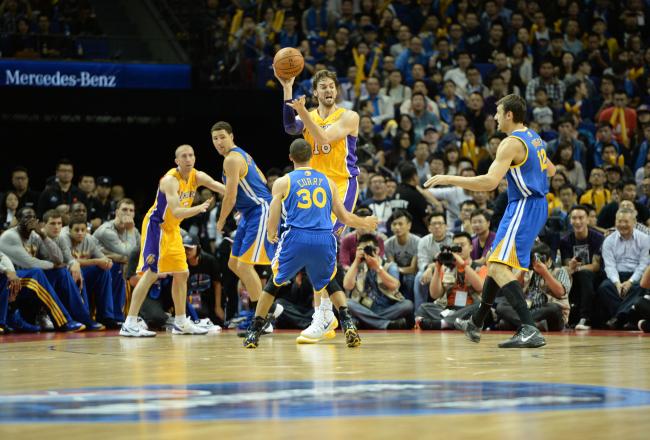 The ball movement from the Lakers is gorgeous right now. One problem: they are at a complete disadvantage on the glass. Offensive rebound leads to a put-back for the Warriors, leading to a timeout for Los Angeles.
Warriors 68, Lakers 65—5:24 remaining in 3rd quarter
Pau Gasol, three-point specialist. The big fella just dropped a bomb in Stephen Curry's face to push the Lakers out in front.
Lakers 63, Warriors 58—8:09 remaining in 3rd quarter
It's Blake-Meeks-Young-Johnson-Gasol, another new line up, to start the 3rd Q, small w/Johnson at the 4.

— Mike Trudell (@LakersReporter) October 18, 2013
Second half is now underway in Shanghai, and the Lakers are using yet another new lineup.
A man who is no stranger to success in China is sitting courtside in Shanghai. You have to wonder if he and Kobe are sharing their secrets to success on the sideline.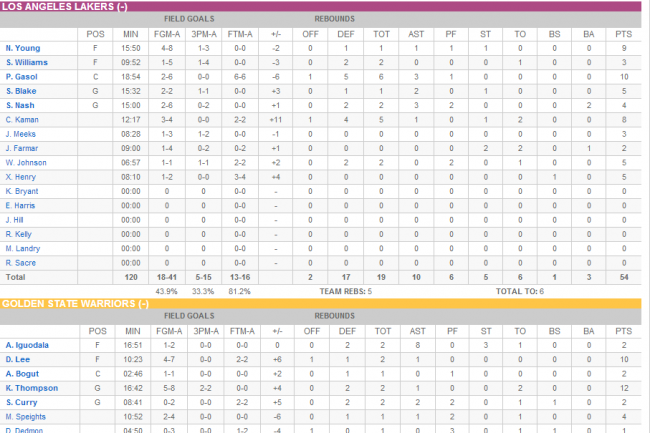 For those up early enough to watch this game, what a treat. Nick Young had a couple highlight-reel dunks in the closing minutes of the first half, and the new Laker looks at home in purple and gold.
The Lakers closed out the first half on a 10-0 run, taking the lead as we head into the break. Draymond Green leads all scorers with 14 points, and the aforementioned Young has 10 to pace the Lakers.
Look for Coach Mike D'Antoni to make some adjustments in the second half. The Lakers needs to force Golden State to finish at the rim, rather than rely on their strength from the three-point line.
Lakers 54, Warriors 52—Halftime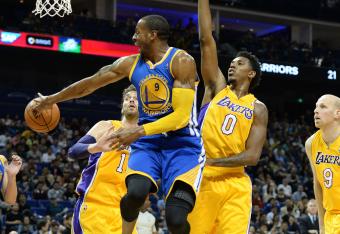 The Lakers might want to start focusing on open shooters, because Andre Iguodala is finding them at will. Eight assists for the Warriors offseason signing so far.
Warriors 52, Lakers 52—1:06 remaining in 2nd quarter
Somebody needs to get a fire extinguisher, because Draymond Green is torching the Lakers right now. He's four for four from three.
Warriors 52, Lakers 481:52 remaining in 2nd quarter
It's sad to say, but Steve Nash is just unable to get himself into the paint right now. This has to change for the Lakers to be efficient enough offensively to overcome their porous defense.
Warriors 49, Lakers 47—3:56 remaining in 2nd quarter
Johnson looked pretty good in his 7 minutes, scoring 5 points (incl. a 3) with 2 boards. Farmar had 2 steals & a triple.

— Mike Trudell (@LakersReporter) October 18, 2013
Finally living up to his status as the fourth pick in the 2010 NBA Draft?... Okay, I'll settle down.
Warriors 40, Lakers 39—7:09 remaining in the 2nd quarter
We've got ourselves a good, old-fashioned shootout folks. Lakers and Warriors are a combined nine of 16 from downtown thus far. This one has the makings of a grand finish.
Warriors 40, Lakers 37—8:22 remaining in 2nd quarter
Andrew Bogut left 2 min. into the game, and is out for the rest of the night w/a lower back strain.

— Mike Trudell (@LakersReporter) October 18, 2013
Note to the Lakers: go to the hoop. The biggest road block in the paint for Golden State will not be returning.
Lakers 35, Warriors 34—9:11 remaining in 2nd quarter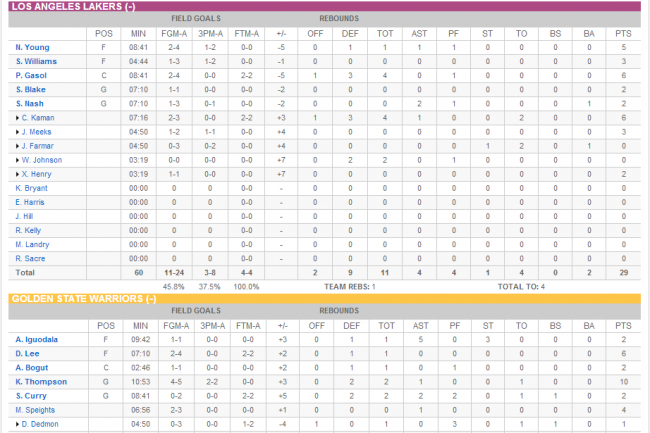 Exciting first quarter with solid production from both Pau Gasol and Chris Kaman (six points each). Will anyone find a way to get stops? Stay tuned.
Lakers 29, Warriors 27—End of 1st quarter
Something to monitor: D'Antoni is currently playing Johnson at backup 4, alongside Kaman. Small, but athletic 2nd unit.

— Mike Trudell (@LakersReporter) October 18, 2013
Interesting early lineup quirk from D'Antoni. Lakers fans will probably see a lot of this early on until Kobe Bryant returns.
This article is
What is the duplicate article?
Why is this article offensive?
Where is this article plagiarized from?
Why is this article poorly edited?

Los Angeles Lakers: Like this team?