Villa Face Uphill Task Against Spurs in Sunday's EPL Clash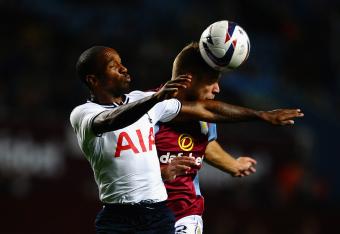 Laurence Griffiths/Getty Images
Aston Villa host Tottenham Hotspur this weekend in Sunday's one and only Premier League fixture, with both teams separated by three points; a small margin which, if taken at face value, could hoodwink the uninformed into believing that the fixture will be a tight and close affair.
However, recent history paints a different story.
Tottenham are unbeaten in their last nine league meetings with Aston Villa, which is a rather disquieting statistic in itself. Yet, perhaps more concerning for Villa fans, when taking into consideration the talent on offer to Andre Villas-Boas, is their incapacity to halt the flow of opposition goals at Villa Park.
Indeed, Paul Lambert's side have failed to keep a clean sheet in their last 14 home matches—an unfortunate record that stretches back to December 26 2012, when, coincidentally, they lost 4-0 to a Tottenham Hotspur side inspired by Welsh supremo Gareth Bale, who happened to score a second-half hat-trick.
Spurs also overwhelmed Aston Villa by the same scoreline last month, when the two sides clashed in the fourth round of the League Cup.
It would seem then, on face value, the historical pendulum of this particular fixture has already swung in Tottenham's favour.
Historical references to one side, let's take a closer look at a handful of players who could play an eminent role in Sunday's fixture and the tactical trends that may unfold based on their individual attributes, qualities and, more importantly, statistics.
Central Midfield Skirmish
First up is Tottenham Hotspur's Mousa Dembele; a creative and gifted individual who has featured in every Premier League fixture this season.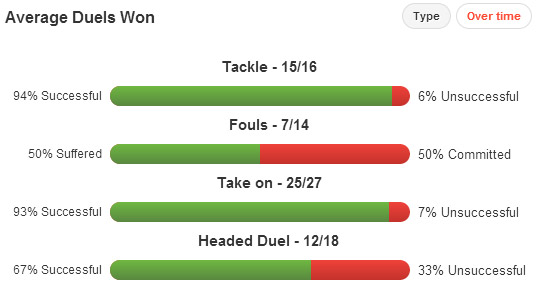 Dembele has successfully beaten his man on 25 occasions (see above)—that's more than Gabriel Agbonlahor, Andreas Weimann, Christian Benteke and Libor Kozak combined (21). With such drive and technical proficiency—a fulcrum of Spurs' attacking intent—it's going to take a capable Villa defender/midfielder to step up and halt his forward momentum.
Could Karim El Ahmadi be the answer?

Karim has made the greatest number of tackles (25) of any Villa player this season (see above), although he's also committed the most fouls (15)—highlighting a combative midfielder who likes to get stuck into a challenge or two. And while the Moroccan's industrious style could potentially see him conceding free-kicks in dangerous positions, stopping Moussa Dembele's momentum is perhaps of greater importance.
Sweeping Passes to the Flanks
Michael Dawson has attempted 79 long passes this season, with 50 proving successful—Everton's Phil Jagielka is the only outfield player in the EPL to attempt more. Furthermore, Spurs' captain has an average pass length of 22 meters (see below)—more than any active outfield player in their squad this season.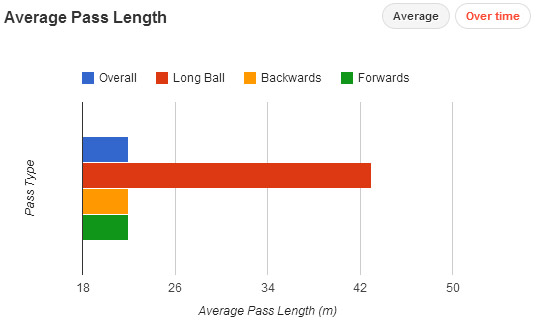 Upon greater inspection of Dawson's last three Premier League appearances, it seems that the defender routinely propels long passes towards opposite flanks and channels, for the likes of Erik Lamela, Aaron Lennon, Nacer Chadli and England's new hero, Andros Townsend.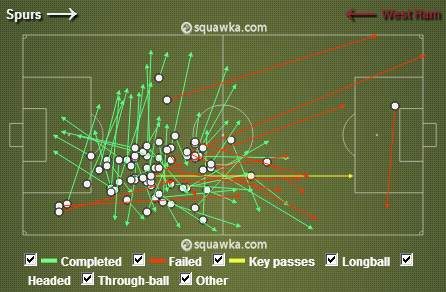 During Tottenham's recent 3-0 loss to West Ham United, Dawson attempted to change the direction of play, despatching direct passes towards the left flank (see above). Also note the one key pass (yellow) that led to a goalscoring opportunity.
The tendency can also be seen when studying their 1-1 draw against rivals Chelsea on September 28 2013.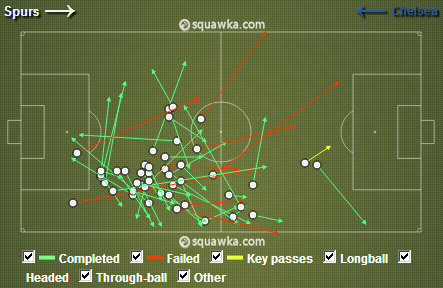 Although ultimately unsuccessful in his attempts, similar diagonal passing was aimed towards the left hand flank (see above)—a tactical ploy, one would imagine, to get Spurs' tricky wingers running at defenders at the earliest opportunity.
Going back even further to September 22, and their 1-0 victory over Cardiff City, the same trend can be seen yet again, albeit this time, Michael Dawson's long passes were aimed towards the right channel (see below).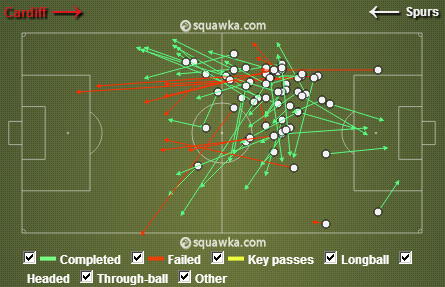 As exhaustive as the analysis may be (hopefully you've not fallen asleep), there would seem to be a pattern to Dawson's passing—something Villa's full-backs should be highly aware of.
Villa's Destroyer Could Return
According to Paul Lambert, via the BBC, Christian Benteke was "training Sunday and Monday with the national team" and was an unused substitute in Belgium's 1-1 draw with Wales on Tuesday.
Positive and encouraging news indeed, considering Benteke has won the most headed duels (45) of any player in the Premier League this season (see below)—more than Michael Dawson and Jan Vertonghen put together (40).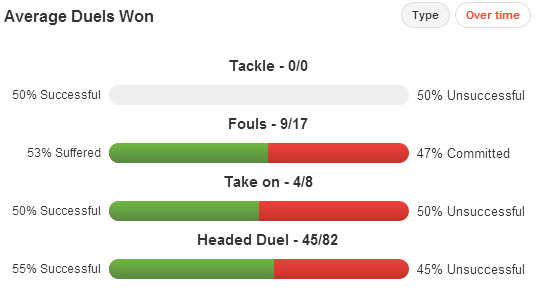 With rumours that the Belgian powerhouse could be in contention, Hugo Lloris will need to be on top of his game. France's captain has come off his line to clear the ball eight times this season in the EPL—only Joe Hart has more (10).
However, Benteke's natural game doesn't revolve around competing for through balls in the hope of skipping past the keeper and tapping the ball into an empty net. He's traditionally a target man who, as the seasons pass, will develop into a complete forward with a plethora of attacking qualities. Blossoming qualities which, at present, may struggle against Spurs' high defensive line.
High defensive lines are frequently used to restrict space, whereas target men regularly prefer to position themselves against deep-lying defensive lines, cushioning headers into the path of onrushing midfielders. Therefore Spurs' usage of a high line, coupled with Hugo Lloris' clearances, could nullify Benteke's threat somewhat, remembering that the Belgian isn't completely fit.
The history books may depict an uphill struggle for the home side, but as we know in football, anything can happen.
This article is
What is the duplicate article?
Why is this article offensive?
Where is this article plagiarized from?
Why is this article poorly edited?