The Detroit Lions will be aiming to stay atop of the NFC North when they welcome the Cincinnati Bengals to town on Sunday.
The teams are similar both schematically and talent-wise, so there will be interesting matchups all over the field. Let's check out a few of the most crucial individual battles.
Wide Receiver Calvin Johnson vs. Cornerback Leon Hall
No real introductions are needed here. The game's best receiver faces off against one of the more underrated cornerbacks in the league, as well as one of the best.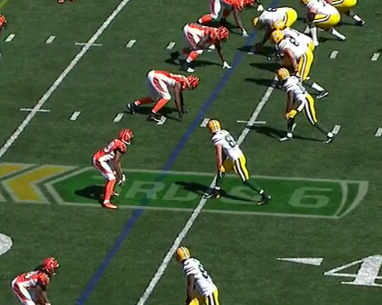 Hall has reached shutdown status this season by not allowing a single catch for 25 or more yards and only giving up one touchdown. He's also been a sure tackler, only whiffing once in 18 tries.
Now, Hall isn't going to be uniquely matched up on Johnson—that's not how the Bengals do it. But he did cover Green Bay Packers wide receiver Randall Cobb in the slot quite often, limiting him to just two catches for 18 yards.
One odd tendency I picked up on while watching him on tape against Jordy Nelson was the lack of press coverage he uses. More often than not, Hall would sit at least five yards off his receiver and react to cuts.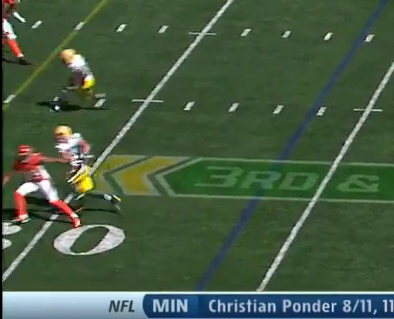 With a big receiver like Johnson, not disrupting his route early will give Johnson a chance to establish his position, making it all but impossible for the smaller Hall to make a play on the ball. As you can see in the accompanying screen shots, it didn't work with Nelson either.
It will be interesting to see if the Bengals take a different approach with Johnson. If he gets going, the Lions offense could be impossible to stop.
Guard Larry Warford vs. Defensive Tackle Geno Atkins
I could easily add the Clint Boling matchup with Ndamukong Suh, but the two headliners here deserve some praise. Both pairings are quite similar but we talk about Suh all of the time, I figured we'd offer the opposite perspective.
Make no mistake, the comparison is apt because Suh and Geno Atkins are both insanely effective in rushing the passer, ranking first and second in quarterback hurries among defensive tackles, respectively.
Yet, while Suh started out hot this season and has slowed some, Atkins is just warming up. In the last four games alone, Atkins has accumulated 11 of his 17 quarterback hurries and three sacks.
But Warford isn't a slouch and his play isn't just good "for a rookie." It's just plain good. He's posted the highest pass-blocking efficiency in the league at 99.1 percent and is the third-highest rated guard in the NFL this season.
Atkins plays with a penetrating style that should play into the the bulky (bulging?) guard's hands. Warford has shown better-than-expected lateral quickness that could stymie the surging All-Pro's pass rush.
Linebacker DeAndre Levy vs. Running Back Giovani Bernard
The marquee battle of names is Johnson vs. Hall, but the most impact might reverberate from Levy's coverage of the explosive Bernard.
Levy is having a stellar season. He has been a steady tackler who has improved his pass coverage in a league filled with constant chucking. And his four interceptions in six games have helped Detroit lock up two victories.
Giovani Bernard's Progression

| | | | |
| --- | --- | --- | --- |
| Opponent | Touches | Yards | Average |
| Chicago | 5 | 30 | 6.0 |
| Pittsburgh | 9 | 65 | 7.2 |
| Green Bay | 14 | 99 | 7.1 |
| Cleveland | 16 | 75 | 4,7 |
| New England | 15 | 69 | 4.6 |
| Buffalo | 21 | 100 | 4.8 |
ESPN.com
This week, his main coverage responsibility will be against Bernard, the exciting rookie running back. The Bengals have leaned on him more with each coming week and their faith has been rewarded with steady performances and four touchdowns.
Cincinnati doesn't do anything particularly special to get Bernard the ball. The tape shows a lot of flares, short curls, outs and screen passes.
Those aren't likely to work against Levy.
Levy's reputation as a "screen killer" is born from his outstanding instincts and better execution. He quickly recognizes bubbles or pulling linemen and hones in on the running back. As head coach Jim Schwartz explains, Levy's instant reaction gives opposing linemen no chance to make an effective block.
So there you have it. The Lions and Bengals each have the playmakers to get the job done. It's all a matter of who comes out on top in these crucial matchups.
All stats, advanced metrics and rankings are courtesy of Pro Football Focus, and require a subscription.
Brandon Alisoglu has been covering the Detroit Lions for two years. He has been published at Yahoo!, Bleacher Report, CNN and other websites. He also co-hosts a podcast called Lions Central Radio with Nick Kostora that can be found on ITunes and Stitcher. Follow him on Twitter for more football talk.