Miami Heat vs. Brooklyn Nets: Live Score and Analysis for Brooklyn Nets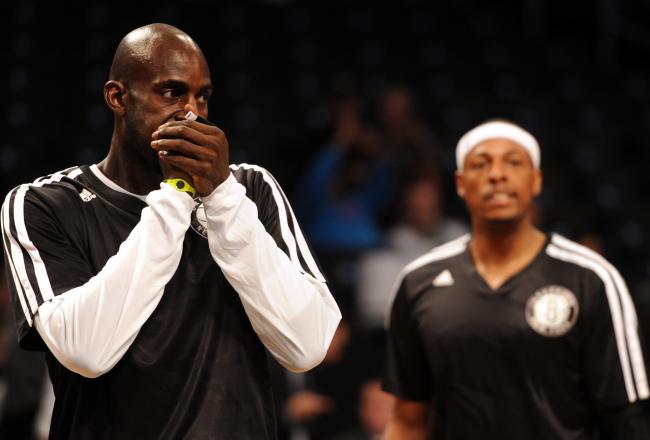 Joe Camporeale-USA TODAY Sports
In a game filled with sloppy play and turnovers from the defending champs, the Brooklyn Nets were able to notch an impressive 86-62 win Thursday night.
The game, which was preceded by Jason Kidd's jersey retirement, saw Brook Lopez chip in 14 points and grab five rebounds, while Joe Johnson notched 10 points, five rebounds and three assists.
Paul Pierce and Kevin Garnett were used sparingly, with Pierce shooting 2-of-8 and going 1-of-7 from three.
KG played just over 10 minutes, all in the first half and finished with two points and one rebound.
The win moves Brooklyn to 4-1 while the Heat fell to 3-2.
Besides LeBron James posting 16 points, five rebounds and four assists and Chris Bosh notching 16 points and nine boards no one on Miami could get anything going. The Heat shot just 32 percent for the game and 29 percent from three.
Highlights from the game's first half.
Four reasons Brooklyn beat Miami:
1. Alan Anderson. Anderson went 4-for-7 and posted 12 points, helping to create separation for Brooklyn early. If he can continue to score efficiently he should find a role as an instant offense player off the bench for the Nets.
2. Miami's turnovers. The Heat turned the ball over 16 times and failed to develop any semblance of offensive consistency or rhythm. Mario Chalmers, LeBron James and Roger Mason, Jr. each posted three turnovers and when factored in with their poor shooting it was impossible for the Heat to pull the game out.
3. Brooklyn's dominance on the glass. The Nets outrebounded Miami 53-31 and 17-11 on the offensive boards. Miles Plumlee and Andray Blatche were particularly effective, as both were able to create easy second chance opportunities and keep possessions alive for their teammates.
4. Dwyane Wade. Dwyane Wade would have given the Heat's offense another dimension, but the star 2-guard sat the game out and Miami's offense, down another playmaker and scorer, simply could not string enough points together, especially when James was not on the floor.
KG on LeBron's comments about his departure from Boston: "Tell LeBron to worry about Miami. He has nothing to do with Celtic business."

— Ken Berger (@KBergCBS) October 18, 2013
KG thinks LeBron should mind his own business.
Won the off-season; winning pre-season.

— NetsDaily.com (@NetsDaily) October 18, 2013
NetsDaily, SBNation's Brooklyn NBA blog, is feeling mighty confident right about now.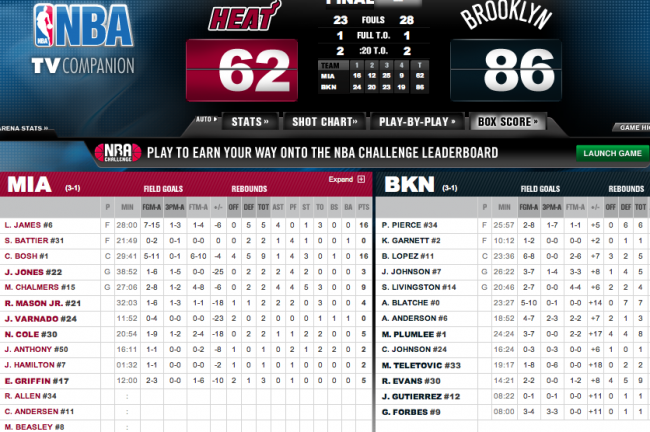 Heat 62, Nets 86 - End of fourth quarter.
One last look at the box score, brought to us by our friends at NBA.com.
The #Nets beat the #Heat (it doesn't count)

— Mike Mazzeo (@MazzESPN) October 18, 2013
Just in case Nets fans were feeling a little big in the britches, ESPN's Mike Mazzeo takes them down a peg.
Miami home to take on the Chicago Bulls on Oct. 29, while the Nets go on the road to battle the Cleveland Cavaliers on Oct. 30.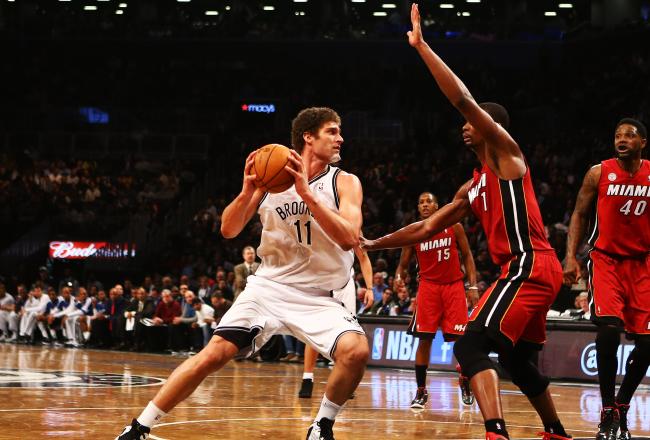 And that's the ball game! Nets win comfortably and improve to 4-1, while the Heat fall to 3-2 due to their lackluster offensive execution.
Heat 62, Nets 86 - End of fourth quarter
Heat 62, Nets 81 - 1:34 remaining in fourth quarter.
The Barclays Center crowd is beginning to thin out as the Nets jack up victory threes.

It's some tough teams in the Eastern conference this year. #NBA

— Mike Vick (@MikeVick) October 18, 2013
Philadelphia Eagles quarterback Michael Vick has some succinct thoughts on the state of the NBA's Eastern Conference.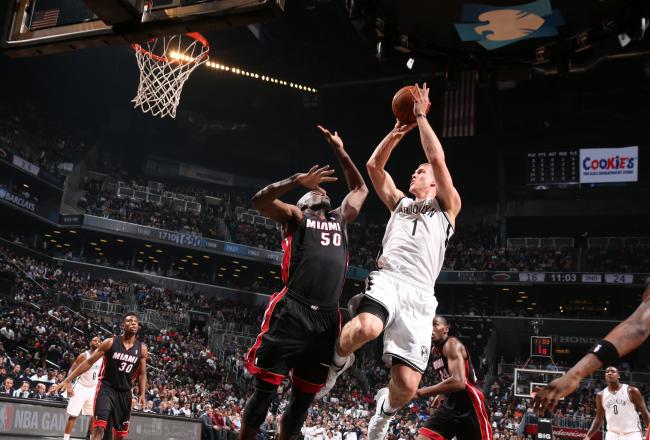 "Broooook-lyn" chants breaking out with the game firmly in hand.
Mason Plumlee has looked quite good, posting six points, seven rebounds and a big block on Jarvis Varnado.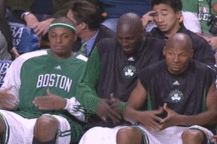 It's a celebration for two of the there former Celtics with the game effectively in hand.
Heat 58, Nets 72 - 5:51 remaining in the fourth quarter. Brook Lopez leads Brooklyn with 14 points, James and Bosh are pacing the Heat with 16 points apiece.
If you're looking for a reason to keep watching though, just look for No. 17, Eric Griffin, on Miami, who is trying to earn himself a roster spot with his athleticism and scoring ability.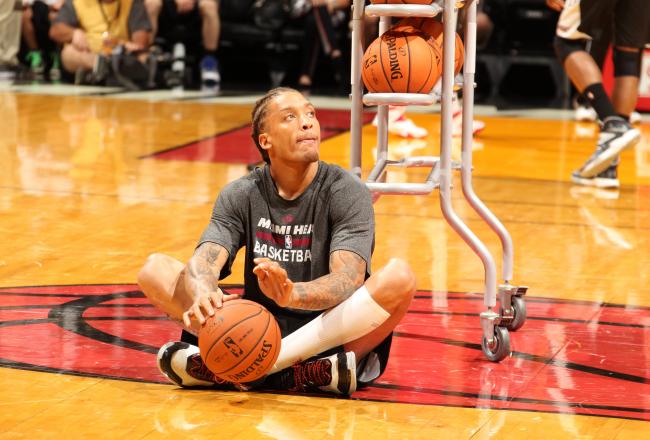 Gary Forbes makes his first appearance for Brooklyn. Still no signs of Michael Beasley for Miami, although they've cut to him plenty on the bench.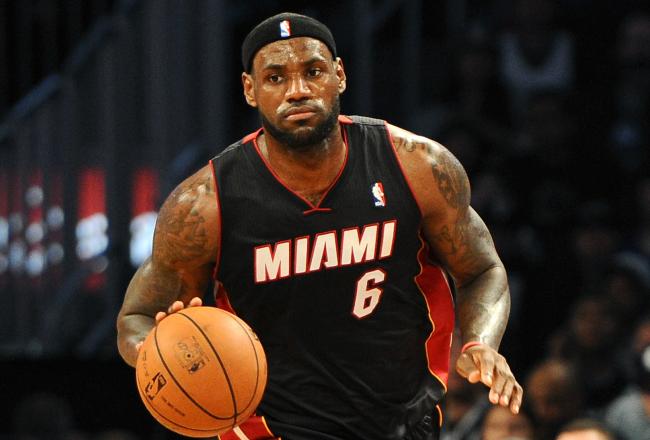 LeBron says Brooklyn fans don't have the same "hatred" as the Boston fans. Compares Celtics fans to old Detroit Pistons crowds back when they were contenders.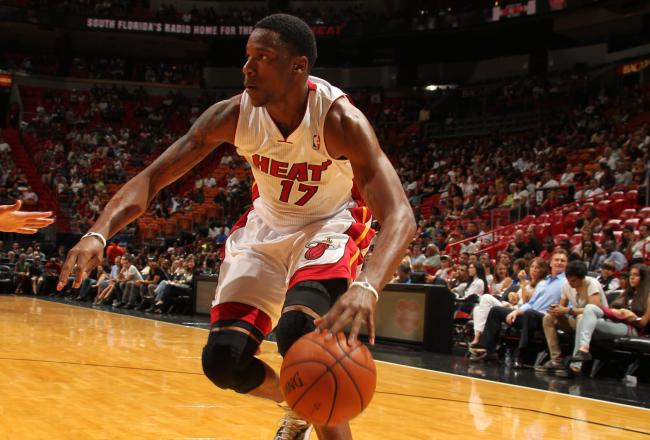 Eric Griffin is trying to make a name for himself here tonight, maybe earn a roster spot. He'll at least gain some notoriety for jumping completely over Mason Plumlee while trying to block his shot.
Heat 53, Nets 67 - 9:51 remaining in fourth quarter. The game has developed into a battle between both team's garbage time units, but at least we get to see some Reggie Evans bullyball and more ridiculous Alan Anderson jumpers.
Norris Cole, Roger Mason, Jr., James Jones, Derrick Griffin and Joel Anthony in for Miami.
Tyshawn Taylor, Alan Anderson, Miles Plumlee, Reggie Evans and Mirza Teletovic for Brooklyn.
Just in case you forgot it was the preseason and it doesn't matter.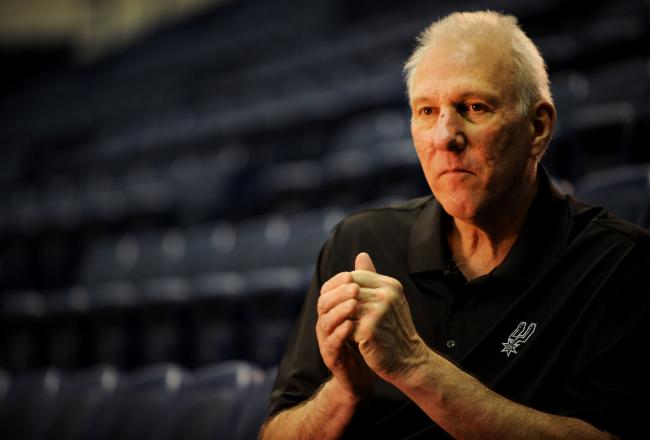 Jason Kidd says Gregg Popovich gave him a "great tip" on dealing with in-game interviews. Can't wait to hear it.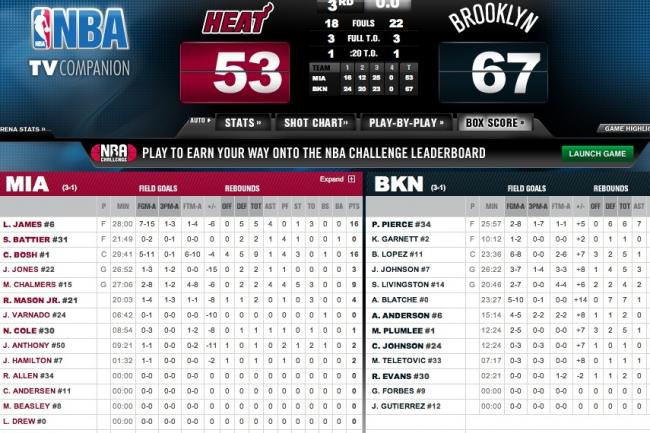 KG hasn't played in the second half, but Brooklyn is likely going to emerge victorious in a game that should feature a pretty unwatchable fourth quarter.
Heat 53, Nets 67 - End of third quarter. Paul Pierce's misses an absurd rainbow three at the horn, but Brooklyn is carrying a comfortable lead into the fourth.
With 10:12 of playing time logged Kevin Garnett was not much of an impact tonight. It is extremely unlikely he returns and his two-point, one-rebound performance didn't do a whole lot to swing the game.
Sounds like the first Brook-lyn chant of the year after that Pierce alley-oop to Blatche.

— Tim Bontemps (@TimBontemps) October 18, 2013
The Nets' faithful are beginning are feeling pretty confident after Pierce's nice feed to Blatche, per NY Post's Tim Bontemps.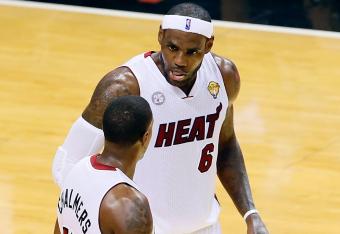 Heat 43, Nets 61 - 3:19 remaining in third quarter.
LeBron with a tremendous reverse layup off the feed from Mario Chalmers. Even when his team is trailing big LBJ is still must-watch television.
Nets GM Billy King on burgeoning Heat-Nets rivalry: "I think Paul brings a little bit of edge, KG brings a little bit of edge. I think it could develop."
This article is
What is the duplicate article?
Why is this article offensive?
Where is this article plagiarized from?
Why is this article poorly edited?

Brooklyn Nets: Like this team?