The defending national champion Louisville Cardinals took a serious blow to their hopes of a repeat with Thursday's announcement that Chane Behanan is suspended indefinitely, per ESPN. According to Rick Pitino, the suspension could end "as early as December," but the coach went on to describe Behanan's return as "possible, but not probable."
Louisville—ranked third in the initial 2013-14 coaches poll—won the 2013 title largely on the strength of its suffocating defense. If Behanan were actually to miss the entire 2013-14 season, it would mean a fundamental change in the character of that defense.
Pitino's teams have routinely relied on great full-court presses, and last year's was no exception. What did distinguish the 2012-13 Cards was how tough they were to score on in the half court after an opponent broke that press.
The pressure will be back—quick-handed Russ Smith and backcourt newcomer Chris Jones will make sure of that—but the half-court defense already took one hit when shot-blocker Gorgui Dieng left for the NBA. Now, the team's other low-post stopper (and best rebounder) will be out of action indefinitely, and the bench offers few answers.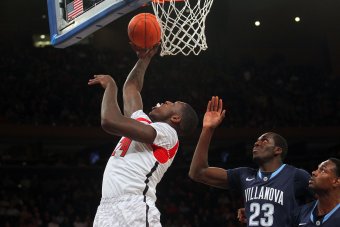 USA TODAY Sports
Montrezl Harrell will have to take over Behanan's starting spot, and he's a fine scorer but only a passable defender. Veteran center Stephan Van Treese is a big body who got some experience while Dieng was hurt last year, but he's not going to scare anybody as a defender, either.
Without Behanan's presence inside, Louisville's half-court defense won't be a weakness, but it would no longer be the game-winning weapon it was a year ago.
Even if Behanan is gone for good, Louisville has so many athletes and so much experience that it would still be a lock to challenge for a No. 1 seed. The question is whether the Cardinals could then expect to hold up against the nation's other top-tier contenders.
Looking at how Louisville would match up with the rest of the preseason Top Five, it's clear that the Cards will be the smaller team on a regular basis. Indeed, in announcing the suspension, Pitino suggested that some four-guard looks would probably come into play while his power forward is out of action.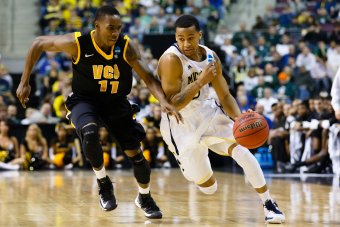 Rick Osentoski-USA TODAY Sports
That kind of extreme small-ball approach can have enormous rewards, but it's far more vulnerable to a reliable point guard than last year's more-balanced Cardinals were. A four-guard Louisville team would play more like Virginia Commonwealth, which got trounced by Michigan last March thanks to Trey Burke's ability to weather the Rams' pressure.
That said, not every elite team is equipped to attack that particular vulnerability. Towering Arizona (No. 5 in the polls) would struggle to keep up with the fleeter Cards in an up-and-down game, and second-ranked Michigan State would have to hope that mercurial point guard Keith Appling doesn't implode at the wrong time.
No. 4 Duke would provide a stiffer challenge, with experienced point guard Quinn Cook having already beaten the Cardinals' pressure during last year's Battle 4 Atlantis. The Blue Devils, though, will be playing a small lineup themselves (no likely starters over 6'8"), making the loss of Behanan's rebounding in the half court a less painful proposition.
None of those opponents would be anything like an easy win for Rick Pitino's squad, but none would be insurmountable, either.
Which team poses the biggest threat to Kentucky if Louisville doesn't have Chane Behanan?
However, if Louisville did manage to get past those potential No. 1 seeds in a putative Final Four game, the lurking 500-pound gorilla would be top-ranked Kentucky. Wildcats freshman point guard Andrew Harrison will get a taste of the Cardinals' pressure in a regular-season meeting in December, so he'd be ready for a potential NCAA tournament rematch.
In addition, Kentucky freshman Julius Randle will be one of the most dangerous scorers in the country from the power forward spot, making the loss of Behanan's defense that much more painful. Louisville also has no real answer—with or without its junior PF—for UK seven-footer Willie Cauley-Stein in the middle.
With Behanan in the lineup, Louisville's grit and experience would make a meeting with Kentucky a battle to remember. Without him, the Cardinals could still force enough turnovers to spring an upset, but they'd be decided underdogs rather than meeting the 'Cats on an equal footing.