Oregon Football: Midseason Grades for Players and Coaches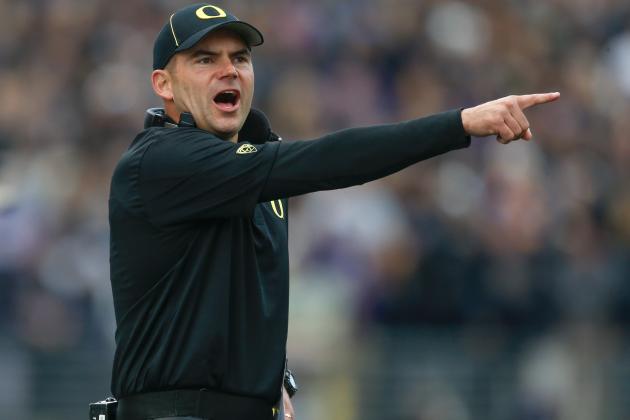 Otto Greule Jr/Getty Images
Oregon head coach Mark Helfrich
Before the Oregon Ducks' 2013 season began, it seemed the only major question was how the team would transition from Chip Kelly's regime to one led by former offensive coordinator Mark Helfrich.
Those who asked that question as well as those who used it as reasoning for why the team would regress probably feel foolish halfway through the season.
The Ducks are 6-0 and have passed every test with flying colors, including a 21-point win over a ranked Washington team in Seattle this past Saturday.
If you recall back to a much darker time known only as "the offseason", there were a lot of interesting topics to discuss pertaining to which players would develop and what the team would look like when the games started to play out.
Would Bralon Addison make a step forward? Would the line play be elite with so many quality athletes? Could the linebackers step up and fill the void left by Kiko Alonso and Michael Clay? How would De'Anthony Thomas fare as an every-down back?
There's a lot of football left and the meat of the schedule is upcoming, but many of the questions have been answered with authority.
Let's go position-by-position and hand out midseason grades for the No. 2 team in the country.
All statistics via cfbstats.com
Begin Slideshow

»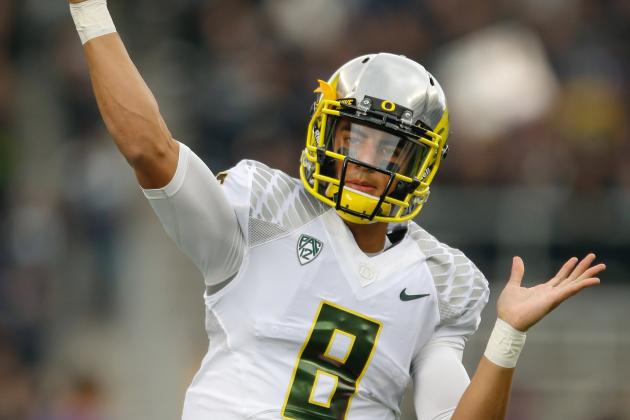 Otto Greule Jr/Getty Images
Oregon QB Marcus Mariota
What else is there to say about quarterback Marcus Mariota?
The sophomore has thrown for 17 touchdowns and run for eight more. He's rushed for 426 yards and passed for over 1,700. He's turned the ball over exactly zero times.
And he's coming off a dominant performance against one of the top defenses in the Pac-12.
If there's one knock on Mariota through six games, it's his completion percentage, which sits at just over 60 percent. Part of that can be attributed to a slow start in several games, while an equal if not larger portion falls on the hands of his receivers, who have dropped a number of passes.
But that's as nit-picky as it gets for a guy who has Heisman-like numbers and a complete command of the offense.
The backups have each had their moments in garbage time, although it's difficult to get a read on Jake Rodrigues or Jeff Lockie considering neither has played with the full playbook at his disposal.
Giving a grade for this position is a simple task, especially when you consider Mariota sits atop the quarterback depth chart on ESPN's midseason All-American list.
Grade: A+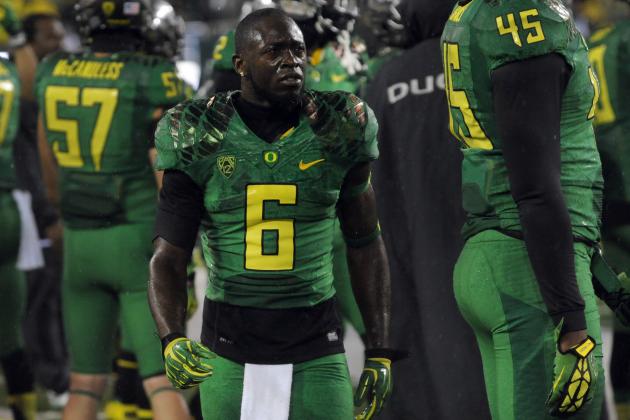 Steve Dykes/Getty Images
Oregon RB De'Anthony Thomas
Safe to say the experiment of using De'Anthony Thomas as an every-down back has worked out quite well.
In three games, the junior rushed for 338 yards and six touchdowns, providing the offense with a level of explosion in the backfield that is unmatched at the college level.
However, Thomas hurt his ankle returning the opening kickoff against Cal and since then, it's been all about Byron Marshall and Thomas Tyner.
The two were a large part of the ground efforts against Colorado and Washington which resulted in 349 and 265 yards, respectively.
Marshall is improving with each game and he looks completely confident as the go-to-guy with Thomas sidelined.
Tyner has also shown steady improvement and despite the lack of a big play since the Virginia game, he too is growing with confidence and showing flashes of his incredible speed. With the two splitting time, the Ducks haven't missed a beat.
When Thomas returns, however, it will give Oregon a three-headed monster that may force opposing coaches to consider forfeiting before the game begins.
All kidding aside, the rushing attack has been great if not spectacular. Given Mariota's recent breakout performances, I expect this unit to have a lot more opportunities to show off in the second half of the season.
Grade: A-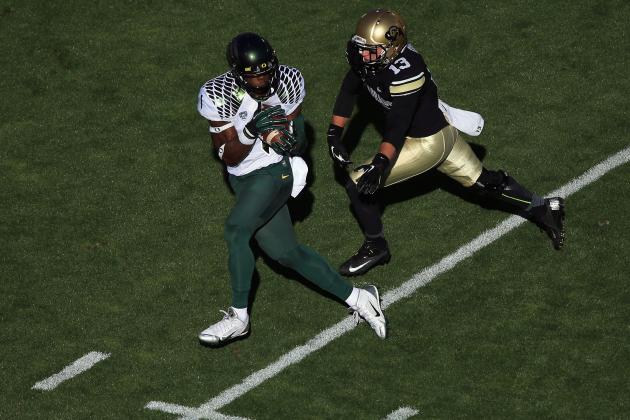 Doug Pensinger/Getty Images
Oregon WR Josh Huff
The emergence of Marcus Mariota as one of the nation's best quarterbacks (something Duck fans already knew before the season) coincides with the rise of the dynamic duo of Josh Huff and Bralon Addison at wide receiver.
Coming into the season, it was thought that if Huff could stay healthy, he would have a monster senior season. It was also thought that if Addison could take another step forward after a promising freshman season, the Ducks would have potentially their best receiving corps in a decade.
All of that has come true, as Huff and Addison have caught a combined 54 passes for 1,054 yards and 11 touchdowns.
Keanon Lowe and Daryl Hawkins have each surpassed the 100-yard mark to go along with a pair of touchdowns, too.
But the one-two of Huff and Addison forms perhaps the conference's best duo, and it forces teams to either have two incredible corners or to double one if not both guys. That has resulted in big plays downfield as well as wide open running lanes for Mariota when he gets outside the pocket.
It's hard to ask for much more from the receiver position, and it'll be interesting to see if any defense can somehow get the upper hand against the Ducks' unit.
Wide Receiver: A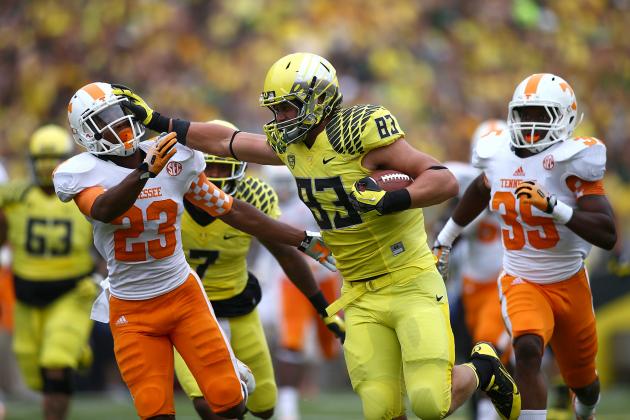 Jonathan Ferrey/Getty Images
Oregon TE Johnny Mundt
Colt Lyerla and Pharoah Brown seemed like a pretty solid one-two punch at tight end entering the 2013 season.
When Brown was sidelined with an injury, it appeared as though Johnny Mundt would get his chance to shine in the Oregon offense. What he did against Tennessee, however, was more than anyone could have hoped for.
With Lyerla out of the lineup, Mundt caught five passes for 121 yards and a pair of scores, which gave fans confidence moving forward.
We won't go into detail about Lyerla (simply because it's been hashed out over and over already), who chose to leave the team at the end of September. But it does take away some points simply because of the potential Lyerla had shown in his first two seasons. He had the ability to block with authority, make athletic grabs in the open field and even run the ball up the middle.
Without any of that, the tight end spot has disappeared just a bit aside from the game against the Volunteers. However, both Brown and Mundt have shown they can capably fill the void left by Lyerla. Whether they can become serious weapons right away, however, is another matter.
There's also the issue of Mariota having so many guys to throw the ball to. With a dynamic backfield and a deep receiving corps, the inexperience at tight end may lead to the position getting left out of the party for a little while.
Grade: B-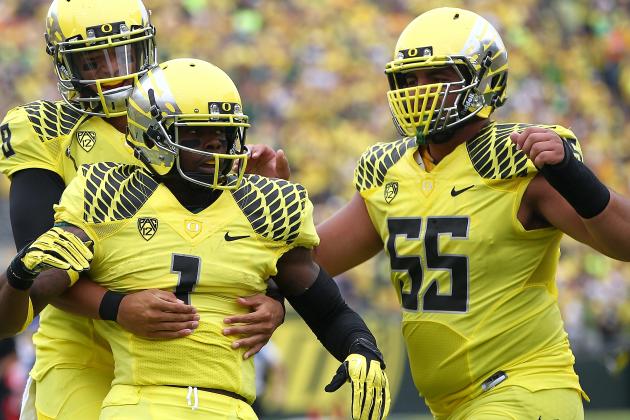 Jonathan Ferrey/Getty Images
Hroniss Grasu (right) celebrates with Josh Huff and Marcus Mariota
Remember the link to the midseason All-American team in the quarterback slide? Well, if you read through it, you'd find center Hroniss Grasu, too.
One could probably make a case for tackle Tyler Johnstone as well. All in all, the offensive line has been terrific and has shown a lot of improvement since the start of the season.
In non-conference play, the group paved the way for a brutal rushing attack, but they had lapses in protection at times that forced Mariota out of the pocket, which may have led to his lower-than-usual completion percentage.
However, Saturday's game against Washington showed how far this unit has come. Mariota had all day to throw and the rushing attack piled up 265 yards against what has so far been a pretty stout Husky front seven.
The unit is charged with diagnosing a defense before the play begins and then getting upfield to make blocks at the second level. In that regard, they have excelled.
It will be incredibly important to maintain a "win the day" mentality with national championship hopes, but the true test for the offensive line will come on the road against Stanford. The Cardinal dominated this particular matchup in 2012 and if the Ducks can hold their own this time around, it will be reflected in the final score.
Grade: A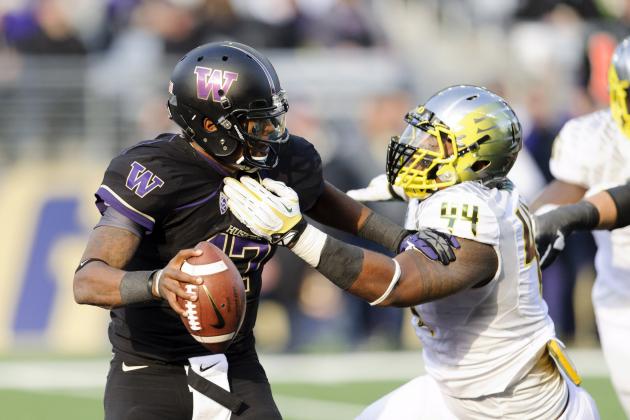 Steven Bisig-USA TODAY Sports
Oregon DE DeForest Buckner tries to bring down QB Keith Price
The biggest difference between the 2013 team and those of past seasons is the play in the trenches, and we now move from a dominant offensive line to an equally dominant defensive front.
Let's just get the negative out of the way: Washington running back Bishop Sankey rushed for 167 yards and two scores. However, over half of those yards came on two plays, and for the most part, the Ducks did a nice job of not letting Sankey consistently move the chains.
Outside of the nice performance from the Huskies' outstanding back, however, the line has been excellent. It features space-eating guys like Ricky Havili-Heimuli and Wade Keliikipi who can clog up running lanes and edge speedsters like DeForest Buckner who can get after the quarterback.
Then there's Taylor Hart, a do-everything workhorse with a pair of sacks of his own. The Ducks have 16 sacks on the season, including four against Washington.
What makes this particular unit so great is that it has speed, depth and a whole bunch of experienced veterans. The defensive line is right up there with the secondary in terms of greatness, and it's a major reason for the strong first half of the season.
Grade: A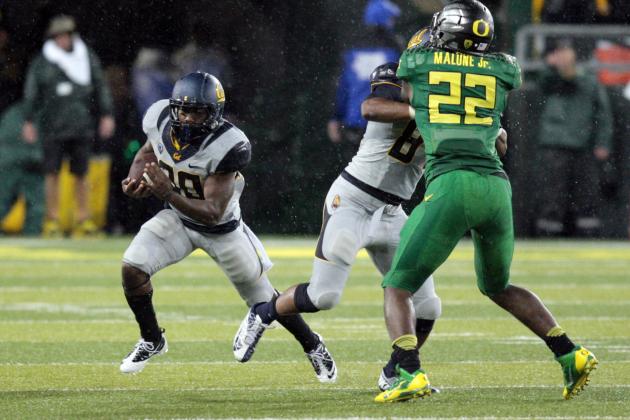 Scott Olmos-USA TODAY Sports
Oregon LB Derrick Malone
All eyes were on Derrick Malone and Rodney Hardrick at the beginning of the season as the duo had the monumental task of replacing Michael Clay and Kiko Alonso. (By the way, have you seen what Alonso is doing in the NFL? My goodness!)
So how does the unit grade out?
Against the defensive line and secondary, it is still the weak link. Of course, Chris Bosh is the weak link in Miami's big three and he's still a pretty good power forward. But enough basketball!
The point is, Oregon's linebackers have done a nice job and have succeeded in the most important area: improving week to week.
Malone is on pace for over 100 tackles and Hardrick has done a nice job of wrapping up when he gets a shot at the ball-carrier.
Tony Washington has been the all-star of the group, accounting for 29 tackles which includes 7 for losses and four-and-a-half sacks.
As long as the linebackers continue to improve and are able to hold their own against a team like Stanford, the Ducks' defense will remain elite.
Grade: B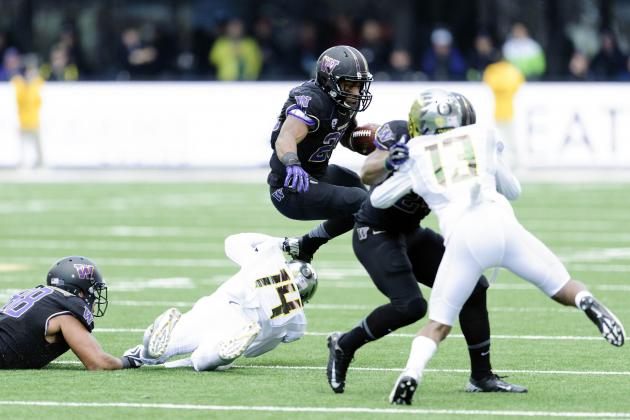 Steven Bisig-USA TODAY Sports
Oregon's secondary dominated UW
Washington head coach Steve Sarkisian called Oregon cornerback Ifo Ekpre-Olomu the "best player" his team had seen this season.
So far, the only big play against the lockdown junior was a spectacular one-handed catch by Colorado's Paul Richardson, one of the top receivers in the country.
Opposite Ekpre-Olomu is Terrance Mitchell, who has three interceptions already.
At the safety position are Avery Patterson, Brian Jackson and Erick Dargan, all of whom have played exceptionally well. Troy Hill and Dior Mathis round out the group of guys who regularly see time. Together, this group makes up one of the best secondaries in the country.
After throwing for 350 yards against Stanford, Keith Price failed to reach the 200-yard mark against the Ducks. The unit covers well, tackles well and has the experience to be unafraid even against the best receivers in the league.
Bigger tests loom and it will be interesting to see what Washington State's high-flying attack can manage on Saturday, but the secondary is a major reason why Oregon's defense is playing like it wants a place in the national title game.
Grade: A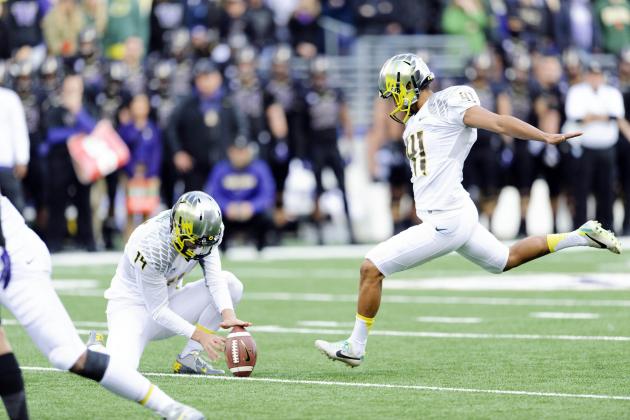 Steven Bisig-USA TODAY Sports
Oregon K Alejandro Maldonado
Unsurprisingly, the play of the special teams has failed to make headlines in the first half of the season.
That's because the Ducks rarely punt or kick field goals, and when they do, the game is never on the line (we're talking about 2013 here).
For the season, kicker Alejandro Maldonado is 3-of-4 on field goals and has averaged 41 yards per punt, both marks that should satisfy the average fan.
Freshman Matt Wogan made his only field goal attempt, and he's shown off his leg by kicking the ball through the end zone a number of times on kickoffs. But he's also had several go out of bounds, which could really end up hurting the Ducks against teams with great offenses, like UCLA.
Bralon Addison has been spectacular as a punt returner with two touchdowns, and he gives the Ducks a chance to put points on the board every time he takes the field.
Overall, the special teams play has been solid and it has done enough to keep every opponent out of reach. It will be interesting to see what happens to the kicking game if it gets put in a pressure-filled spot late in a game.
Grade: B+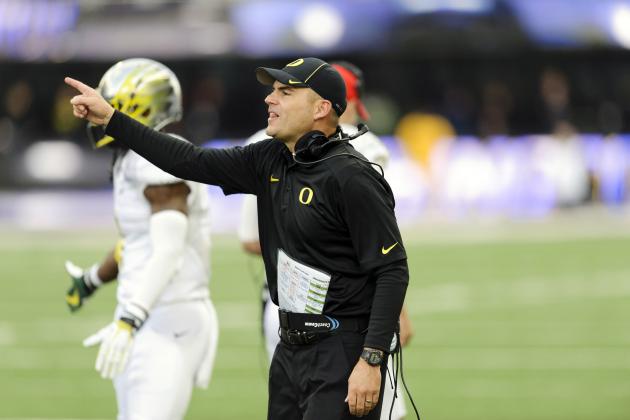 Steven Bisig-USA TODAY Sports
Oregon head coach Mark Helfrich
This slide is going to be short and sweet, because the Ducks have yet to find themselves in a tight game late in the fourth quarter, so there's really no way to negatively judge first-year head coach Mark Helfrich.
In other words, when your lowest output is 45 and your smallest margin of victory is 21 points against a ranked team on the road, well, you're doing something right.
You often hear fans complaining about play-calling or crunch-time decision making, but none of that has happened with the Ducks thus far. Again, this will be an area to watch should the Ducks get behind late in a game or need several clutch drives to pull out a victory.
For now though, Helfrich and the rest of the staff are doing a great job.
Grade: A