Nolan Ryan will be stepping down as chief executive officer of the Texas Rangers.
According to MLB Network's Paul Severino, Ryan's retirement date is set for October 31.
#Rangers: Chief Executive Officer Nolan Ryan announced his retirement, effective October 31.

— Paul Severino (@SeverinoMLB) October 17, 2013
The Rangers also broke the news on their official Twitter account.
Texas Rangers Chief Executive Officer Nolan Ryan today announced his retirement, effective October 31. pic.twitter.com/HgzVI2ojot

— Texas Rangers (@Rangers) October 17, 2013
The former ace released a statement, via CBSSports.com's Matt Snyder:
This is the right time for me to step down from my role of overseeing the Rangers organization. I am extremely proud of what this organization has accomplished. On the field, we have enjoyed great success at the major league level. The fans have supported us in record numbers the last two years and we have been able to upgrade the ballpark and enhance the in-game experience to reward that loyalty.

We have a group of talented and passionate employees who have helped make this success possible. This organization is in good hands. I am leaving with a lot of great memories from my tenure here and I know the organization will continue to thrive in the years to come.
After the statement he spoke with the media via Jeff Wilson of the Fort Worth Star-Telegram:
Nolan Ryan on changes in March: "There were some title changes. I look at it from where I am in life. That's what drove my decision."

— Jeff Wilson (@JeffWilson_FWST) October 17, 2013
#Rangers not planning to hire a replacement as CEO. "Nolan Ryan is not replaceable," says Bob Simpson.

— Jeff Wilson (@JeffWilson_FWST) October 17, 2013
Commissioner Bud Selig released a statement on Ryan via MLB's Public Relations Twitter account:
Statement from Commissioner Selig on the retirement of Nolan Ryan as CEO of the @Rangers: pic.twitter.com/C7sIOPIsrs

— MLB Public Relations (@MLB_PR) October 17, 2013
No man is more synonymous with Texas Rangers baseball than Ryan.
He spent five seasons with the organization as a player (1989-93), going 51-39 with a 3.43 ERA and 939 strikeouts. Two of his seven no-hitters came as a Rangers player, after he had turned 40 years old.
Ryan retired in 1993 as a Ranger and was eventually named to the Baseball Hall of Fame in 1999. The cap he chose to wear on his plaque was a Rangers one, and he's the only player who has entered the hall wearing a Rangers cap.
Texas also retired his number, 34, in 1996, and he is one of only two players who carries that honor, the other being Jackie Robinson.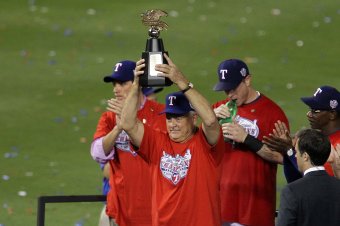 Ronald Martinez/Getty Images
Upon his retirement, he had stayed away from the franchise in any sort of professional capacity until 2008, when he was named team president. In 2010, he and Chuck Greenberg led a group that purchased the team from Tom Hicks.
Under the ownership of Ryan and Greenberg, the Rangers have experienced a revival. They won their first American League pennant, in 2010, and followed that up with a second consecutive trip to the World Series in 2011.
Though they weren't able to earn a championship in either appearance, there's no doubt Ryan has made an impact in turning the Rangers around.