Serie A Round 8: Key Battles for This Weekend's Two Big Matches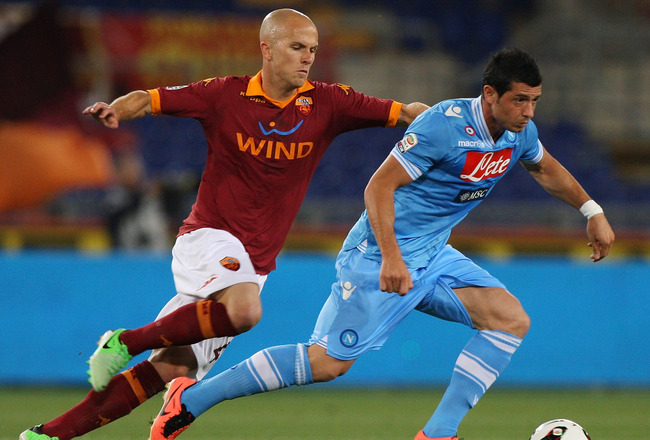 Michael Bradley battles during his Roma team's match against Napoli last May.
Paolo Bruno/Getty Images
Serie A fans will be in for a treat when the league's eighth round of games begins on Friday. Two pairs of top-six teams will clash in matches that could swing momentum at the top of the table.
At the Stadio Olimpico in Rome, the first true top-of-the-table clash of the year will pit Roma and Napoli against each other. Separated by a scant two points, a Napoli win would claw them into first place—while a Roma victory would open an important early gap between the two clubs.
To the north, sixth-placed Fiorentina will welcome two-time defending champions Juventus in an intriguing battle of wits between the league's top young managers.
The Bianconeri are level on points with Napoli but third on goal difference, and should Friday's game end in a draw the champions could emerge from the weekend with a share of the league lead. La Viola, meanwhile, could see themselves get leapfrogged by two other teams if they fall. Already seven points behind in the race for a Champions League place, a loss could end those hopes before they've begun.
So what will these important matches hinge on? Let's focus on three major individual battles from each one to get a better picture of what will decide who comes out on top this weekend.
Daniele De Rossi vs. Marek Hamsik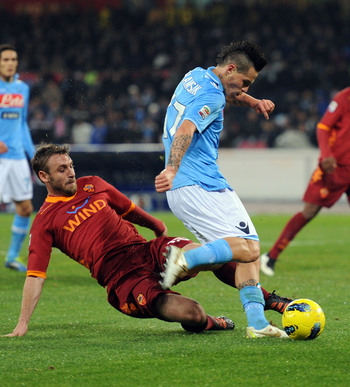 Daniele De Rossi challenges Marek Hamsik in a 2011 matchup.
Giuseppe Bellini/Getty Images
Marek Hamsik has been the driving force for Napoli this season. The only remaining member of the trio known as the Three Tenors, Hamsik scored braces in each of the season's first two games and has a team-leading total of five this season.
After leading the league in assists last season with 14, Hamsik has taken up the slack from the departure of Edinson Cavani and has linked up well so far with his replacement, Gonzalo Higuain. He is the motor that makes the team's attack run, averaging 2.2 key passes per game as well as firing 2.3 shots per match.
The task of stopping the Slovenian midfielder will fall to Roma mainstay Daniele De Rossi.
The Italy international is often tasked with being the defensive enforcer in midfield, and Hamsik will likely be his prime target on Friday.
While he isn't making as many tackles as he often does—an average of 1.1 so far in seven starts—he's intercepting an impressive 3.3 passes per game and has even cut down on his fouls.
Expect Kevin Strootman and Miralem Pjanic to take offensive playmaking duties to free De Rossi to focus on defending Hamsik in the hopes of disabling Napoli's attack.
Mehdi Benatia vs. Gonzalo Higuain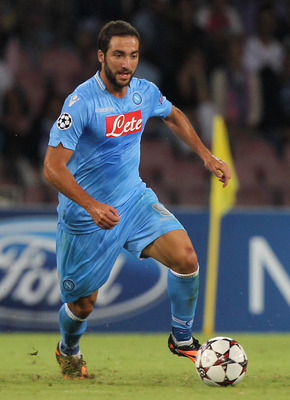 Paolo Bruno/Getty Images
Roma's Mehdi Benatia has been one of the best defenders in the Serie A this season. He's averaged 2.4 tackles and 2.7 interceptions this season while starting all seven of Roma's games.
WhoScored.com ranks him as the team's second-best player this season after Francesco Totti and has given him two Man of the Match awards in the last three games. The summer signing from Udinese is making Roma fans forget about the sale of Marquinhos to PSG.
He'll be facing down a potent attack led by Napoli's prized summer signing, Gonzalo Higuain. The Argentine striker hasn't played since September 28 due to a minor injury, but Football-Italia reports that Rafael Benitez has included him in his squad for the match.
The club missed him badly in its 2-0 Champions League defeat at Arsenal earlier this month. Goran Pandev turned in Man of the Match performances in the team's last two league games but was severely lacking at the Emirates. Having Higuain back is Napoli's best chance to crack a defense that has given up a single goal over seven games.
While he might not be 100 percent, Higuain is a huge upgrade over Pandev. If he can penetrate Roma's stout defense, the Partenopei stand a better shot at victory.
Gervinho vs. Pablo Armero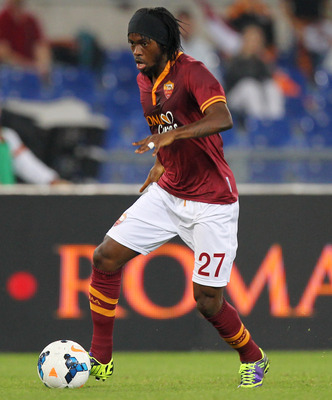 Paolo Bruno/Getty Images
After two ineffective years at Arsenal, Gervinho was reunited this summer to his former Lille coach Rudi Garcia. The Roma manager put the Ivorian back on the left wing and has reaped the results.
He has played in all seven matches this year, starting five times. The payoff: three goals, an assist and a Man of the Match performance in Roma's 3-0 thrashing of Inter two weeks ago.
His marauding down the left might be a problem for Napoli. The full-back position has been a potential weakness for Napoli this season.
Rafael Benitez inherited a roster ideal for Walter Mazzari's 3-5-2 system, and that left him with a tough choice at full-back. Incumbents Christian Maggio and Juan Zuniga are attacking wing-backs who aren't as proficient in defense. Maggio has increasingly seen playing time on the right go to Giandomenico Mesto, and Zuniga has split time with fellow Colombian Pablo Armero.
Zuniga has gotten the lion's share of the playing time, but injury has left him off Friday's squad, meaning it will likely be Armero who must contend with Gervinho on the left.
Armero's three league starts this year have all come against the lesser competition of Atalanta, Sassuolo and Livorno, and he hasn't played at all in the Champions League. He'll have to come up big against much better competition if Napoli is to contain Gervinho and lock down Roma's attack.
Giuseppe Rossi vs. Giorgio Chiellini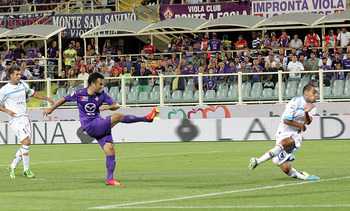 Giuseppe Rossi in action against Cagliari earlier this season.
Gabriele Maltinti/Getty Images
Giuseppe Rossi is on an epic roll. He's scored five times in the league and once in European play since his return from serious knee injuries he suffered two years ago.
The partnership between Rossi and summer signing Mario Gomez looked like a freight train in the first three matches of the year. The German is on the sidelines with an injury, but Rossi has kept up his end of the bargain and continued to score.
The fact that only one of the pair will be on the field is a blessing for Juve. Their defense—one of Europe's best over the last two seasons—has been uncharacteristically shaky.
The Bianconeri have conceded the first goal in six of their last seven matches, forcing the champions to work from a hole.
The entire back three has been struggling with injuries and inconsistency, but one of the biggest concerns has been Giorgio Chiellini. His statistics are good—3.3 tackles and 2.3 interceptions per match—but he's switched off on several occasions and has been somewhat uneven over the course of the season.
He will have to be at the top of his game in order to lead his defense to victory.
Gonzalo Rodriguez vs. Fernando Llorente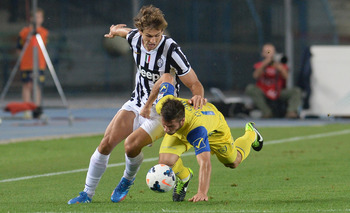 Fernando Llorente battles against Chievo.
Dino Panato/Getty Images
Antonio Conte may be longing for the forward logjam he had during the summer going into Sunday. Mirko Vucinic and Fabio Quagliarella have been ruled out with injury, leaving him with only three healthy forwards.
Starting Carlos Tevez is a given. The question will be who will partner with him. The options are Sebastian Giovinco and Fernando Llorente.
Llorente is probably the favorite to start. Tevez and Giovinco play very similar games and playing them together would deprive Juve of a true target man.
The Spaniard has been the subject of a bevy of transfer rumors after featuring in only four of Juve's league games this season. In spite of this, Llorente brought an entirely new energy to the team when he was inserted onto the team's Champions League match against Galatasaray on Oct. 2. The dream pairing of Llorente and Tevez may finally become a reality on Sunday.
The defense tasked with stopping whichever pair the champions put on the field will be led by Stefan Savic and Gonzalo Rodriguez. The latter has been the leader of La Viola defense, averaging 1.9 tackles and 2.2 interceptions per game during all competitions.
Juve's front line is thin, and if Rodriguez and co. can shut that line off, the Bianconeri would be forced to commit their midfielders in an effort to score. While those midfielders all have a deadly scoring touch, it could open Juve up to fast counterattacks, something that the team's shaky defense has had trouble dealing with this season.
Borja Valero vs. Andrea Pirlo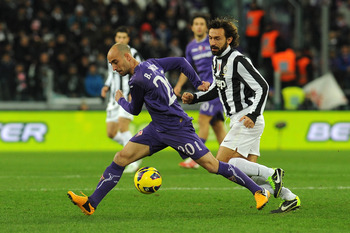 Pirlo and Valero battling in February.
Valerio Pennicino/Getty Images
The midfield is where battles are lost and won, and this game will pit two of the best midfielders against each other in Andrea Pirlo and Borja Valero.
Arriving when La Viola pillaged a relegated Villarreal side last year, Valero's excellent passing was key to Vincenzo Montella's system. Fiorentina played some of the best-looking soccer in the league last year, and Valero was one of the main reasons why.
There's no mystery to the key to Juventus' two consecutive title wins. Pirlo has proved over the last two seasons that reports of his demise were greatly exaggerated. From his traditional deep-lying position, his pinpoint passes carved up defenses and led Juve to victory.
Pirlo hasn't been performing as well thus far, mostly because teams have been throwing people at him in order to deprive him of the room to operate. With Fiorentina likely missing David Pizzaro due to injury, Valero will have to be on his game both offensively and defensively if he is to win the midfield battle for his club.
Whoever comes on top in this battle may swing the balance of power in the match to his team's favor.
Keep Reading