St. Louis Cardinals Fans Are Still Making Horrible Fan Music Videos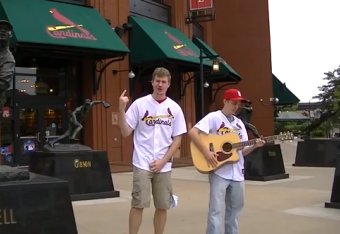 Photo Credit: YouTube

You can have Cardinal Way.
Deadspin spotted the following fan-made music video that would cause even Joe Kelly to rip off his glasses and gouge out his eyes—or at the very least cover his ears.
The song is entitled "The Chase is On," and it's worse than Jon Jay trying to field fly balls in center field. The scant information we have on the video is found on the YouTube description—a very brash one at that, because the producers consider this the "official Cardinals Playoff Song for 2013."
How bad is this video? Well, I can only assume this was created by The Onion, SportsPickle or some other satirical website trying to make a funny. Or I might offer that this was made by fans of a rival NL team attempting to derail the smooth journey of one of baseball's classier franchises.
What I will not accept is that this was made by actual Cardinals fans with actual beliefs that this was anything more than awful. Thankfully, the end of the song comes and the poor singer is put out of his apparent misery.
Don't go anywhere, because there is so much more.
It may not be screaming in the key of whining, but NESN spotted the following music video posted to YouTube on Oct. 4, 2012, touting the Cardinals as World Series bound. As we know, they fell short, losing to the Giants in the NLCS last season.
Before you click, know that it's a parody song based on Taylor Swift's "We Are Never Ever Getting Back Together."
You have been warned.
So what we have here is the very real threat of Cardinals fans producing these fan videos on an annual basis. If that weren't a reason to hope for a downward spiral for the franchise, I don't know what is.
Now before you say things could be worse, they are.
It seems there is an entire bevy of these marvels bumping around the Internet. Riverfront Times rounded up eight gems back in 2012.
Of those, we rather enjoyed this love rap of sorts for the famed Rally Squirrel, but the one below really takes the delicious cake.
Yes, those are our buddies from the top of this article, reminding us it's playoff time with a song aptly titled "It's Playoff Time" from last year.
You can find more of their masterpieces over at their YouTube channel, Akoostik Sessions, including a "Freestyle Bigfoot Song." Now I know how the rest of my day will be spent.
In conclusion, we could request that Cardinals fans cease making anthems, but we know such things are futile. You keep doing you, Cardinals fans, and we will be over here wincing from the results.
Let's all sing together on Twitter:
This article is
What is the duplicate article?
Why is this article offensive?
Where is this article plagiarized from?
Why is this article poorly edited?