Tom Brady is on pace for, arguably, the worst statistical season of his illustrious, Hall of Fame career, but it very well may go down as the most unique, MVP-worthy campaign the elite quarterback has ever put together.
The 2007 season was just unfair.
Brady had Randy Moss, one of the most prolific deep threats in league history, on the outside and no one knew about Wes Welker yet.
The result?
Brady effortlessly threw for 4,806 yards with a record 50 touchdowns at a career-high 68.9 completion percentage and tossed only eight interceptions in 578 attempts.
The Patriots completed an undefeated regular season. Oh, and Brady won the MVP. It was a no-brainer.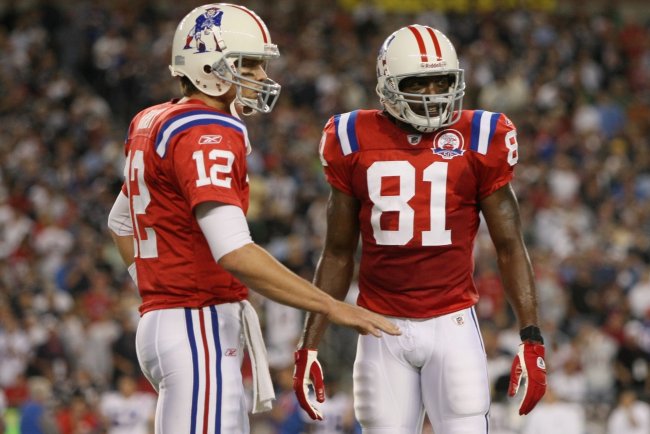 Jim Rogash/Getty Images
Although 2010 wasn't as epic, he did finish the year with 36 touchdowns and four interceptions, which equated to a more impressive touchdown-to-interception ratio than the historical 2007 campaign.
Brady completed nearly 66 percent of his passes and led the NFL with a 111.0 quarterback rating.
He became the first ever unanimous MVP.
This year hasn't paralleled the masterful 2010 and certainly hasn't been anything like the ultra-efficient 2007.
Here's a look at Brady's stat line through six games:
Tom Brady's 2013 Statistics and Current Pace
Completions
Attempts
Completion Percentage
Yards
TDs
INTs
Current Stats
136
239
56.9
1,480
8
4
Pace
363
637
56.9
3,947
21
11
ESPN
Those stats aren't MVP-worthy. Not even close.
But the negative impact Brady's offensive weapons have had on him can't be overstated.
According to Pro Football Focus (subscription required), Patriots pass-catchers have combined for 24 drops on the season, tied for the most in the NFL.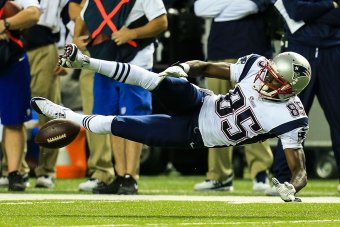 Daniel Shirey-USA TODAY Sports
That means a whopping 10 percent of Brady's attempts have resulted in a drop by a receiver, tight end or running back.
Who knows how much better his statistics and New England's general offensive consistency would be if, say, half of those 24 drops were completions?
Over the past few years, a specific movement within the football analysis realm has made its way into highly visible columns on popular websites. It's also been an tweeted by well-respected football minds with thousands of devoted followers.
Bleacher Report NFL Writer Aaron Nagler's PSA can explain:
Wins and losses are not a quarterback stat. This has been a Public Service Announcement.

— Aaron Nagler (@Aaron_Nagler) March 21, 2013
The venerable Mike Tanier touched on this "movement"—albeit indirectly—in a column he wrote prior to the start of the 2013 season that featured a section about the interconnectivity of the game of football.
Heck, he even used Brady as an example:"The interconnectivity can lead to analysis paralysis. You hear it all the time in circular arguments. Tom Brady will be nothing without his receivers! His receivers will be nothing without Brady!"
Tanier's astute point lends credence to the analytical movement regarding why quarterbacks shouldn't be judged on team wins and losses.
It's true.
Football is a team game; therefore, the team, not one individual player, should be judged by wins and losses.
Rarely do we hear the win-loss record of a running back, defensive end or safety. We almost only hear about a quarterback's win-loss record, and that's short-sighted.
However, the "wins and losses are not a quarterback stat" crusade isn't cut and dry.
Tweets like this one throw a wrench in the logic behind the idea:
This guy knows what's important - quarterbacks. You don't win without a great quarterback. Most vital position in sports.

— Vic Lombardi (@VicLombardi) December 10, 2012
So does this article written in The Los Angeles Times by Hall of Fame quarterback and ESPN analyst Steve Young titled: "Quarterback is the most important position in football."
If there's one philosophy or general football theory every does agree on, it's that quarterback is indeed the most important position in the game.
Therefore, quite simply, wins and losses can't be totally disregarded when judging them.
It's no coincidence that the overwhelming majority of the great quarterbacks of all time played on good teams.
The best quarterback to take the snaps on consistently bad teams is, um, Vinny Testaverde? Archie Manning? Dave Krieg?
Eh.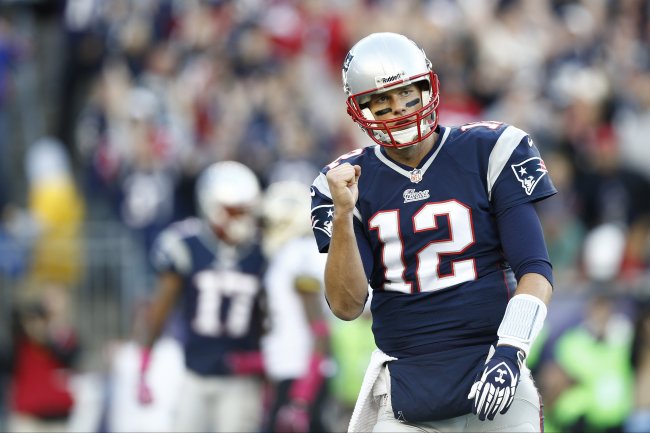 Mark L. Baer-USA TODAY Sports
This is all relevant to Brady, because his team is, somewhat magically, 5-1 despite all the roster turnover and injuries.
His top five pass-catchers from a season ago are gone. He's been throwing to Kenbrell Thompkins, Aaron Dobson, Julian Edelman and, for two-and-a-half games, Danny Amendola.
Sure, the Patriots defense has taken a major step forward in 2013.
This is how it compares to last year's unit:
Comparing the Patriots' Defense (2012 vs. 2013)

| | | | |
| --- | --- | --- | --- |
| | Yards Per Drive | Points Per Drive | TDs Per Drive |
| 2012 | 31.97 (21) | 1.72 (12) | .199 (16) |
| 2013 | 27.79 (9) | 1.20 (2) | .120 (3) |
Football Outsiders
It's been integral in the rusty New England team making it through the first month-and-a-half with only one loss.
But we can't dismiss Brady's efforts in a less-than-stellar situation. While his numbers are down almost across the board in 2013, his team is, well, winning, with probably the least intimidating cast of characters the Patriots have ever had assembled around Brady.
Should Tom Brady be an MVP candidate right now?
In the end, Brady won't win the MVP.
He's been far from perfect.
Peyton Manning's numbers have been astronomical—he's the front-runner, and right now, deserves the MVP much more than anyone else in the NFL.
Then again, just because Tom Brady isn't completing passes as often as usual, on pace for 5,000 yards, 35 touchdowns and a single-digit interception total doesn't mean he's not at least worthy of some MVP consideration through six weeks.