Thursday Night Football Schedule 2013: Complete Breakdown of Remaining Slate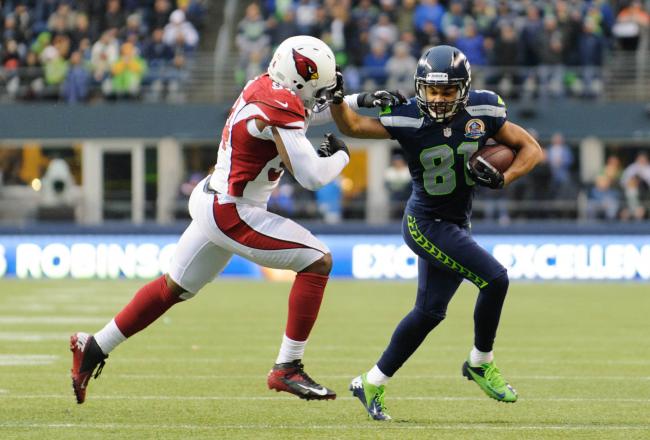 Steven Bisig-USA TODAY Sports
The NFL's Thursday Night Football series isn't the most popular collection of games on the schedule by any stretch of the imagination, but it does give football fans a chance to catch a game in the middle of the week.
The format has already been in the spotlight this week. Matthew Futterman and Shalini Ramachandran of the Wall Street Journal (paywall) reported on Tuesday that the league was considering an expansion of its Thursday night coverage that might include doubleheaders.
NFL public relations worker Brian McCarthy quickly dispelled that rumor:
Wondering where the idea of Thursday night doubleheaders came from? So are we. We have not considered this

— Brian McCarthy (@NFLprguy) October 16, 2013
For better or worse, though, the NFL will still feature games on Thursday for the foreseeable future.
This Thursday night, the NFC West showdown between the Seattle Seahawks and Arizona Cardinals will mark the midway point of the coverage of NFL games being broadcast on Thursdays.
Eight more contests are still on the docket in 2013, and several of those matchups will have playoff implications in both conferences. Thursday night might not be a traditional night for football, but the NFL is making sure these games matter.
Starting with Seattle-Arizona and moving through mid-December with San Diego-Denver, we'll take a look at the remaining Thursday night games and highlight a few notable matchups to pay attention to below.
Remaining 2013 Thursday Night Football Schedule

| | | | | |
| --- | --- | --- | --- | --- |
| Date | Away Team | Home Team | Time (ET) | Network |
| Oct. 17 | Seattle Seahawks | Arizona Cardinals | 8:25 p.m. | NFL |
| Oct. 24 | Carolina Panthers | Tampa Bay Buccaneers | 8:25 p.m. | NFL |
| Oct. 31 | Cincinnati Bengals | Miami Dolphins | 8:25 p.m. | NFL |
| Nov. 7 | Washington Redskins | Minnesota Vikings | 8:25 p.m. | NFL |
| Nov. 14 | Indianapolis Colts | Tennessee Titans | 8:25 p.m. | NFL |
| Nov. 21 | New Orleans Saints | Atlanta Falcons | 8:25 p.m. | NFL |
| Dec. 5 | Houston Texans | Jacksonville Jaguars | 8:25 p.m. | NFL |
| Dec. 12 | San Diego Chargers | Denver Broncos | 8:25 p.m. | NFL |
NFL.com
TNF schedule via NFL.com.
Seattle Seahawks vs. Arizona Cardinals (Oct. 17 at 8:25 p.m. ET)
Seattle (5-1) has a comfortable lead in the NFC West, but Arizona (3-3) is just two games off the pace and can make significant strides toward being a legitimate contender with a win in this matchup.
While the Seahawks are the NFL's second-best defense by the numbers and also boast the league's second-best rushing attack on offense, it's easy to throw out the stats in a game where you have to go on the road and face a divisional opponent.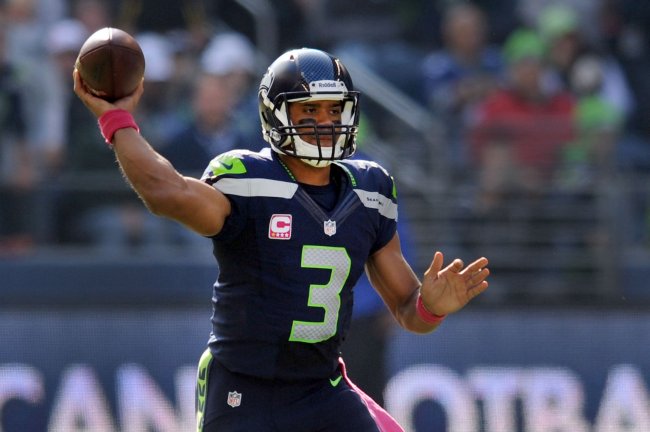 Steve Dykes/Getty Images
Arizona will be looking for payback after Seattle trounced the Cards, 58-0, late last season.. Bruce Arians will be tasked with helping fans forget about that utter embarrassment despite having just three days to prepare for a current Super Bowl contender.
Before the blowout Seattle win, Arizona had won the previous two games in the series.
The Cardinals will need to conjure up some of that magic to pull off the upset Thursday night, and you can bet Carson Palmer having a turnover-free game will do wonders in accomplishing that task.
If Seattle forces two turnovers or scores points on special teams, it could be a blowout in the desert. If not, an underrated Arizona defense and the mystique of this divisional rivalry will keep things close into the fourth quarter.
Either way, Seattle wins.
Indianapolis Colts vs. Tennessee Titans (Nov. 14 at 8:25 p.m. ET)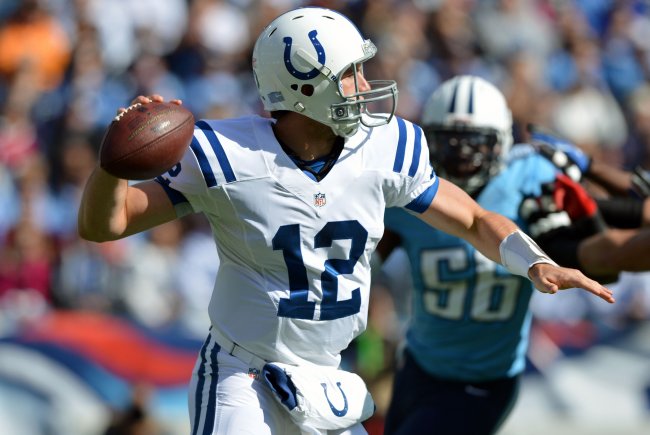 Don McPeak-USA TODAY Sports
We're still a month away from this divisional matchup, and a lot can happen in that time frame, but the Titans and Colts could be battling for the AFC South lead when this game takes place.
Tennessee will face the Jacksonville Jaguars the Sunday before the short-week game, while Indy will take on the St. Louis Rams the same weekend. Regardless of opponent, fatigue could very well play a huge role in the outcome of this game.
The Colts have won three straight games in the series and eight of the last nine contests, but Tennessee has played one of the toughest schedules in the NFL this season and has still managed to post a .500 record through six games.
In losses to Kansas City and Seattle the last two weeks, the Titans had (good) chances to win both games.
Indianapolis is currently reeling after a loss to San Diego and must deal with the emotional return of Peyton Manning in Week 7, but there's no reason to think the Colts won't still be at or near the top of the division by the time this game arrives.
Colts-Titans was once one of the best two-game matchups in the NFL during the Manning-Steve McNair era, and it looks as if Andrew Luck and Jake Locker will be able to carry headlines for years to come. The latest installment will take place on Thursday Night Football.
New Orleans Saints vs. Atlanta Falcons (Nov. 21 at 8:25 p.m. ET)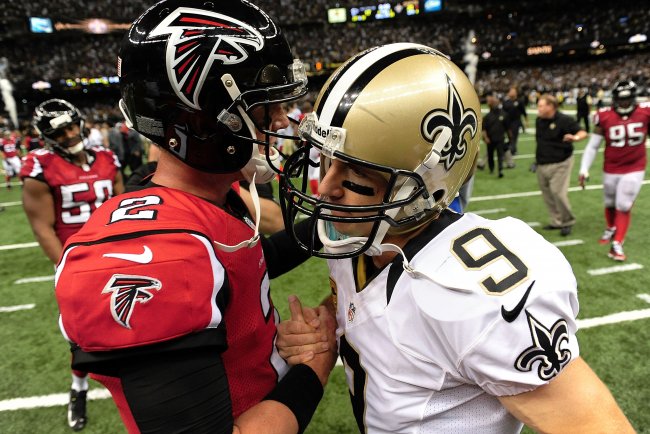 Stacy Revere/Getty Images
Saints-Falcons is the premier matchup in the NFC South, but one team is rising (New Orleans) up the ladder this year while the other (Atlanta) has been a sinking ship.
That said, these two franchises have been two of the best in the NFL over the past few years. This tweet from NFL reporter Russell S. Baxter does most of the talking for that claim:
Best W-L rec. #NFL since 2010 (thru Wk 6, 2013): #Patriots (44-10), #Packers (39-14), #Falcons (37-16), #Ravens (37-17), #Saints (36-18)

— Russell S. Baxter (@BaxFootballGuru) October 16, 2013
Exactly a week before Thanksgiving, the two rivals will square off again.
New Orleans got the best of Atlanta during the first game between these two teams this year, using a 357-yard, two-touchdown performance from Drew Brees to pick up a 23-17 win at home.
Atlanta will look for revenge at the Georgia Dome in Round 2, but only time—and injury news on players like Steven Jackson, Roddy White and Akeem Dent—will tell if the Falcons are still battling for a playoff spot in this matchup.
Whether they are or not is irrelevant—New Orleans and Atlanta usually give each other a good game. This Thursday night game in late November should be no exception.
Remember: You can catch Thursday Night Football on NFL Network eight more times this year, starting with Seattle and Arizona. Kickoff is this Thursday at 8:25 p.m. ET on NFL Network from the University of Phoenix Stadium.
Follow B/R's Ethan Grant on Twitter.
This article is
What is the duplicate article?
Why is this article offensive?
Where is this article plagiarized from?
Why is this article poorly edited?