At the Hell in a Cell pay-per-view on October 27, WWE has the chance to rebuild the fading credibility of the World Heavyweight Championship by giving it to John Cena.
Such a move makes total and absolute sense.
First of all, Hell in a Cell is Cena's big return after two months on the shelf due to a torn triceps. The show is being specifically built around him.
So, he strongly needs a resounding victory—and title win—over Alberto Del Rio to make sure his heavily hyped comeback starts with a bang.
But the main reason for a Cena World Heavyweight Championship reign is that it would rocket the struggling title back to prominence.
Alas, the last two years haven't been kind to the belt. Which is putting it mildly.
Oh, it was never truly equal to the WWE title, but at least in 2008 and 2009 it had some prestige and importance, and you had highly regarded wrestlers like Dave Batista, Edge and The Undertaker fighting for it.
Fast forward to 2013 though, and, under the care of dull midcarder Del Rio, the title has become almost laughably marginalized.
No one in WWE seems to take the belt seriously anymore.
Del Rio's segments are treated as unimportant and throwaways on Raw and SmackDown; his feuds are barely hyped. Did anyone really care that he took on Rob Van Dam at Battleground? Of course not. The bout came off as an opening match at best.
So how horrible is Del Rio's current World Heavyweight Championship reign?
The guy has even lost clean to non-wrestler Ricardo Rodriguez a few weeks ago on Raw (OK, he got his revenge and beat him up afterward, but still, this was unacceptable.)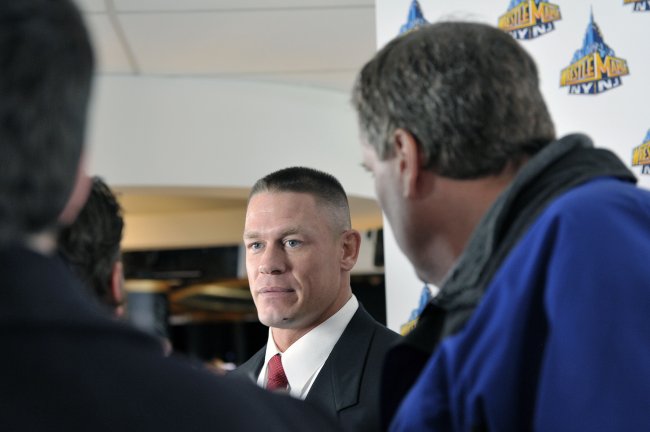 Michael N. Todaro/Getty Images
At this point the belt is little more than a glorified Intercontinental Championship.
But this could all change at Hell in a Cell if Cena wins.
As the company's biggest full-time star, Cena may be the only one on the roster who can return the belt to its former glory. That's how much star power he really has right now.
He has the title, therefore the title becomes a bigger deal. It's truly that simple.
Even a short reign with it—a couple of months or so—will still help re-establish its validity and make up for the colossal damage Del Rio has done.
Who should win at Hell in a Cell?
OK, so some could point out that Cena is returning from serious surgery—it doesn't help that he's coming back absurdly early—and putting the championship on him right now would be a mistake.
It's too much pressure. He shouldn't rush back to working a full schedule. What if he wins at Hell in a Cell, gets hurt again and leaves the title in, to borrow that dreadful Triple H word, abeyance?
There are decent arguments, sure. But WWE shouldn't let what "might" happen get in the way of their once chance to rebuild the World Heavyweight Championship.
At Hell in a Cell, WWE has the opportunity to undo a lot of damage and revive the faltering title. It would be such a pity if they screwed it up and went with some lame DQ ending and had Del Rio retain.
That's the last thing the title needs.