Last season, Arsenal's AGM was a feisty affair. Shareholders stormed the microphone to demand answers from a beleaguered board. The likes of Peter Hill-Wood, Ivan Gazidis and Stan Kroenke were heckled from the floor and even accused by one shareholder of "ruining the club."
A year on, the landscape has dramatically shifted.
At today's AGM, the atmosphere was noticeably more amicable. Arsenal recently smashed their transfer record, are top of the Premier League and even had a new chairman presiding over proceedings: Sir Chips Keswick has succeeded Hill-Wood as the club's custodian-in-chief. The tension, trials and tribulation of last season were all but forgotten.
Arsene Wenger alluded to past problems in his annual address. He told the congregation, as reported by Arsenal.com:
Last season did not start in the best way, because we lost Robin van Persie and that created a lot of unrest and scepticism around the team, we were a bit destabilised.

We had two huge disappointments in the cups, it was the first time in 17 years that we went out against lower division teams, but in the Premier League, we stabilised the results and we finished in a very strong way. If you put the end of the season onwards from March up until today, we lost just one game in 26 or 27.
Arsenal's fantastic form has certainly done plenty to calm an easily irritated fanbase. Chief executive Ivan Gazidis even took the opportunity to make a joke at the expense of neighbours Tottenham Hotspur, stating that Gareth Bale had left to join "one of our [Arsenal's] rivals."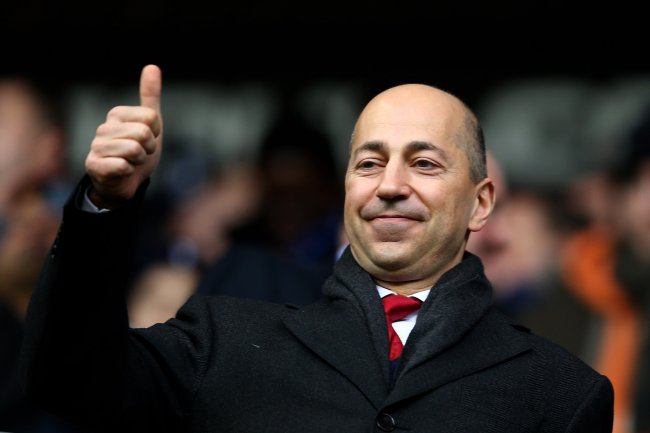 Paul Gilham/Getty Images
Arsenal also carefully managed this AGM to prevent an insurgence. In the past, questions have been asked out loud by shareholders. This time, they were projected on to a big screen, preventing any potential confrontation.
Similarly, all questions from the floor were directed at Sir Chips Keswick, shielding Stan Kroenke from supporters' queries.
However, Kroenke was in attendance, and it was reassuring for Arsenal fans to hear that the board currently have no plans to withdraw dividends from the club. Kroenke's speech did nothing to disturb the sunny mood. He told the crowd:
None of us up here [on the board], fans, players, or Arsene [Wenger] are happy until we have won championships and trophies. We have said that over and over again and are committed to that.

Also, when you try to build towards that, it is very important for the Club to be successful commercially, and we are very pleased with the progress we have made in that area.
Perhaps surprisingly, there was no discussion of the possibility of a new contract for Arsene Wenger. However, it's impossible to doubt the Frenchman's commitment to bringing Arsenal success. Summing up, Wenger said:
When we get all of our players back, then at the moment I am confident we have a very big part to play in this league. I am confident that at the end of May, we will be happy.
If Arsene Wenger is right, then next season's AGM could be an even friendlier occasion.
James McNicholas is Bleacher Report's lead Arsenal correspondent and will be following the club from a London base throughout the 2013/14 season. Follow him on Twitter here.