Peyton Manning is as mature off the field as he is sharp on it. Indianapolis Colts owner Jim Irsay—who is never one to shy away from attention or controversy—made comments this week to Jarrett Bell of USA Today that some found inflammatory and disrespectful towards his former franchise quarterback.
Essentially, Irsay expressed regret for his team only capturing one Super Bowl ring in Manning's 12 years with the organization.
Joey Foley/Getty Images
Instead of joining his current head coach John Fox in admonishing Irsay in some way, per Lindsay H. Jones of USA Today, Manning took the high road. Per ESPN.com's Jeff Legwold, the future Hall of Famer said, "I don't have any answer for you on that or any comment on any of that.''
Even with that obvious attempt to avoid a back-and-forth exchange with Irsay in the media, don't think for a minute that Manning doesn't want to smash it in his former boss' face. On Sunday night in the obvious marquee game of the Week 7 schedule in the NFL, he'll have his chance. The undefeated Denver Broncos travel to Indianapolis to take on the 4-2 Indianapolis Colts.
There are so many story lines in this one, it could be an episode of WWE Monday Night Raw. The Irsay-Manning Cold War is one angle, while the Manning versus Andrew Luck segment is another. Oh by the way, this also happens to be a matchup of two of the best teams in the AFC. It doesn't get much bigger than this when it comes to a near midseason matchup.
With all that said, who wins?
It is hard to imagine this game being anything besides a shootout. The Broncos have surrendered the most passing yards of any team in the NFL at 2,026. Part of that is because they've been far ahead in most of their games this season, but that's not the case in every one of their tilts.
Before the Dallas Cowboys' Tony Romo threw the ill-fated interception that caused his team the game in Week 5 against the Broncos, he had thrown for 506 yards and five scores. Luck should find some success against the Denver defense.
While the Colts' pass defense has been among the best in the NFL—it is ranked fifth in the league—the run defense has been at the other end of the spectrum. Only the Jacksonville Jaguars have allowed more yardage on the ground.
What gives in this scenario?
Ultimately, the Colts inability to stop the run and Manning's experience will be the difference in this game. Expect it to be high scoring and look for a key turnover to sway momentum late.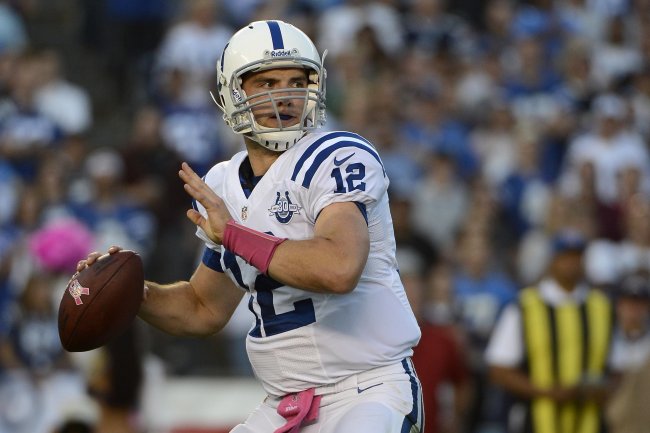 Donald Miralle/Getty Images
In this scenario, Luck is more apt to serve one up for the opponent than Manning is. Luck has tossed three picks in 186 attempts this season; Manning only has two in 240. Peyton will have his revenge, but he still won't comment on how good it feels to beat Irsay.
Prediction: Broncos 38, Colts 28
Here's a look at two other marquee games on the schedule, plus predictions on every game on the Week 7 schedule.
Baltimore Ravens at Pittsburgh Steelers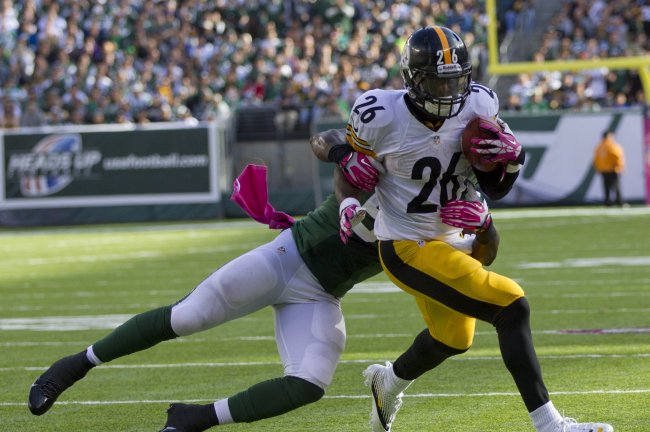 Mitchell Leff/Getty Images
This game usually has dual meaning at the top of the AFC North standings, but in 2013, the Ravens are the only team in contention at the moment. That said, a win by the Steelers would leave them just a half-game behind the Ravens in the standings. With a loss by the Cincinnati Bengals against the Detroit Lions, Pittsburgh could find themselves just 1.5 games out of first place.
That isn't a bad place to be after starting the season 0-4.
Who wins Steelers-Ravens?
The Steelers got their first win in Week 6 against the New York Jets, can they keep it going against their bitter rivals? Yes, and their chances begin and end with the running game. Against the Jets, the Steelers got back to running the football on a consistent basis. The team is ranked just 31st in the NFL averaging 61 yards per game, but that number should rise soon.
Rookie Le'veon Bell ran the ball 16 times for 34 yards and the Steelers rushed 26 times for 73 yards overall. Those numbers aren't going to set any records, but the 26 rushes and 24 pass attempts represent balance in play calling the team hadn't had all season.
This was the first game this season the Steelers rush attempts were higher than their pass attempts. Ben Roethlisberger is one of the better quarterbacks in the NFL, but the Steelers are at their best when the run game sets the tone and their defense is flying around the field. That's exactly what we saw from the defense against the Jets. It sacked Geno Smith three times and picked him off twice.
Riding that momentum, Pittsburgh will defend its home turf against an inconsistent Ravens bunch.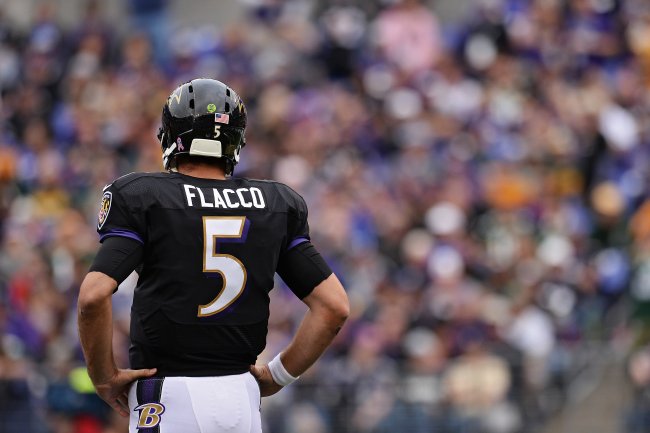 Patrick Smith/Getty Images
Joe Flacco has thrown eight interceptions to only seven touchdown passes this season, and the Ravens have also struggled to find success on the ground. The team is averaging a combined 2.7 yards rushing. Playing a Steelers team on the road rejuvenated by their first win of the season will be too big of a task for the Ravens. Pittsburgh will win an ugly, low-scoring affair.
Prediction: Steelers 17, Ravens 7
Dallas Cowboys at Philadelphia Eagles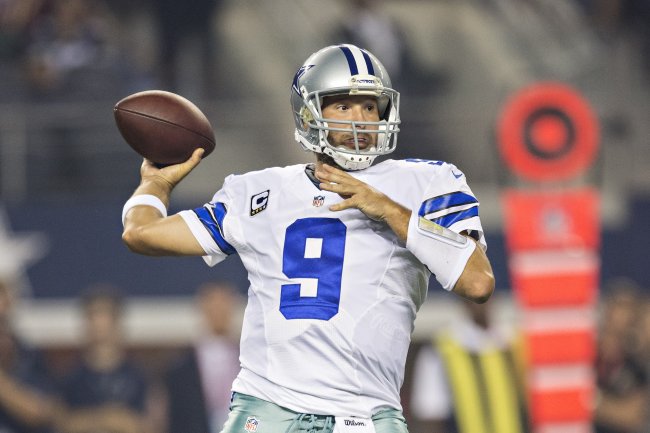 Wesley Hitt/Getty Images
Though both teams have had their issues this season, this game is a battle for first place in the NFC East. With Michael Vick "limited" at practice on Wednesday, per Alex Smith of PhiladelphiaEagles.com, because of a hamstring injury, some of the star power may be lacking, but not necessarily the effectiveness.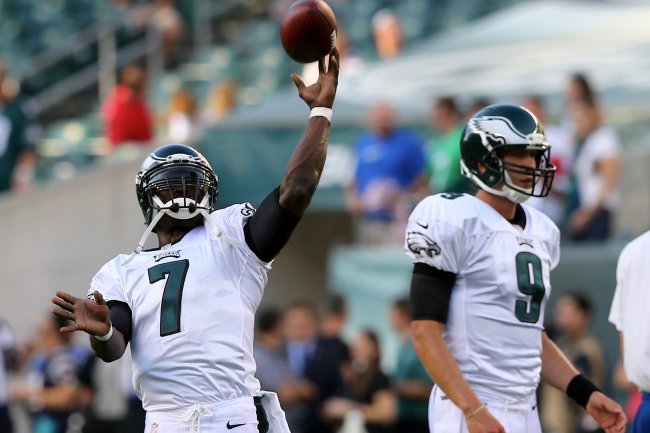 Elsa/Getty Images
Nick Foles has stepped in and played well in Vick's absence. He led the team to a win over the Tampa Bay Buccaneers in Week 6. For the season, he's tossed six touchdown passes and no interceptions. If he guides the team to a win over the Cowboys, it will be all the more difficult to insert Vick back into the lineup when he returns.
Knocking off the Cowboys is much easier said than done, though. Despite the fact that Romo and Co. are just 3-3, fans have to look at their losses to put their season in the proper perspective.
Two of their three defeats have come at the hands of the only two remaining undefeated teams in the league, the Broncos and Kansas City Chiefs. The Cowboys lost those two games by a combined four points.
Despite the ridicule he's received for the pick that cost his team the game against the Broncos, Romo has been spectacular this season. He's already thrown for 1,693 yards, 14 touchdowns and just three interceptions. The Cowboys offense has scored at least 21 points in all but one game this season.
The Eagles offense has been explosive as well ranking fourth in the league in points scored with a defense that ranks 29th in points allowed.
Dallas hasn't exactly been the 1985 Chicago Bears on that side of the ball, but its defense has at least shown the ability to contain some of the teams it has faced. Their No. 21 ranking in points allowed is a product of two games: the 51 it allowed to Peyton Manning and Denver and the 31 it surrendered to Eli Manning in Week 1.
In any case, fans have to trust the Cowboys defense to get stops over the Eagles. In this game, that is what it will come down to.
Prediction: Cowboys 42, Eagles 35
Here are the predictions for every game on the Week 7 schedule.
Week 7 of NFL Schedule

| | | | |
| --- | --- | --- | --- |
| Thursday, Oct. 17 | Time (ET) | TV | Prediction |
| Seattle at Arizona | 8:25 PM | NFL Network | Seattle |
| Sunday, Oct 20 | Time (ET) | TV | Prediction |
| Tampa Bay at Atlanta | 1:00 PM | FOX | Atlanta |
| Cincinnati at Detroit | 1:00 PM | CBS | Cincinnati |
| Buffalo at Miami | 1:00 PM | CBS | Miami |
| New England at NY Jets | 1:00 PM | CBS | New England |
| Dallas at Philadelphia | 1:00 PM | FOX | Dallas |
| Chicago at Washington | 1:00 PM | FOX | Chicago |
| St. Louis at Carolina | 1:00 PM | FOX | Carolina |
| San Diego at Jacksonville | 1:00 PM | CBS | San Diego |
| San Francisco at Tennessee | 4:05 PM | FOX | San Francisco |
| Cleveland at Green Bay | 4:25 PM | CBS | Green Bay |
| Houston at Kansas City | 4:25 PM | CBS | Kansas City |
| Baltimore at Pittsburgh | 4:25 PM | CBS | Pittsburgh |
| Denver at Indianapolis | 8:30 PM | NBC | Denver |
| Monday, Oct. 21 | Time (ET) | TV | Prediction |
| Minnesota at NY Giants | 8:30 PM | ESPN | N.Y. Giants |
ESPN for Schedule
All stats per Pro-Football Reference.com.
Follow me for musings on sports and sports video games.