World Cup 2014 Power Rankings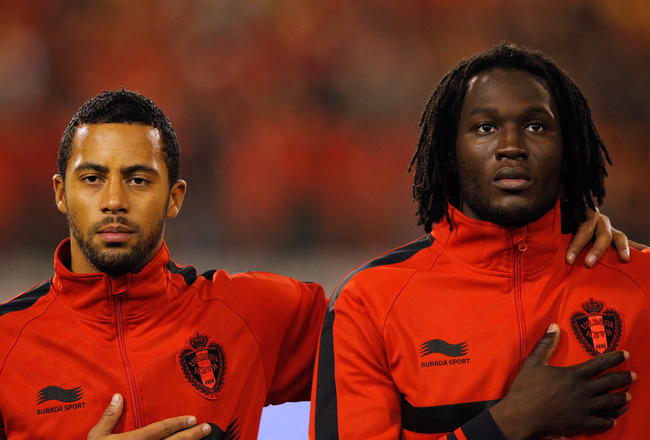 Dean Mouhtaropoulos/Getty Images
With 21 nations now qualified for the 2014 World Cup, next summer's Brazilian bash is beginning to take shape, and the teams heading there are all in varying form.
Looking at those teams that have already booked their flights to Rio next year, the tournament's top 10 have been ranked according to current form.
For the sake of consistency, friendlies have not been taken into account because results in these matches can often be unpredictable and not necessarily indicative of a team's strength.
Context also plays little relevance, meaning that if a team decides to rest players because of the fixture ahead, a loss means the exact same thing as it would if they were at full strength.
Also, the quality of opposition is taken into account and teams are judged on the difficulty of their qualifying group, with more recent results playing a particular significance.
Brazil are not included because they are the host nation and therefore haven't had the same environment to prove themselves in recent months.
Honourable Mentions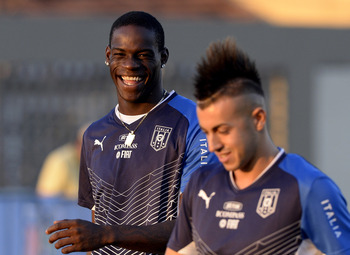 Claudio Villa/Getty Images
Italy
The 2006 World Cup winners may have sealed their place at next summer's competition early but have still been in patchy form of late, winning just two of their last five encounters.
Granted, some of those fixtures involved came at the Confederations Cup, where the Azzurri actually showed themselves to be capable of great play, drawing against the likes of Spain and Uruguay.
Still, Cesare Prandelli's side have lacked a certain flair in attack and haven't won a game by a margin of more than one goal since May, when they beat San Marino, 4-0.
Argentina
Another shock omission from the top-10 World Cup teams?
Perhaps, but Argentina's drop-off in form in the later stages of their CONMEBOL qualification also hasn't done their ranking any good.
Alejandro Sabella's men finished off their qualifying stage with a 3-2 loss at Uruguay, not too long after they drew three games on the bounce against Bolivia, Colombia and Ecuador.
Wins over Paraguay and Peru might paper over the cracks slightly, but at least the forces of Lionel Messi and Gonzalo Higuain have been as effective as ever in attack.
United States
Having lost just one of their last 15 competitive matches, it may seem unfair that the USMNT miss out on a ranking, but the poorer standard of CONCACAF competition means that the side haven't been tested against strong opposition too much of late.
A loss at Costa Rica has been the side's only defeat in their last five matches, but Jurgen Klinsmann can hope for an even better showing than his side gave in South Africa almost four years ago when they travel south next summer.
10. Bosnia and Herzegovina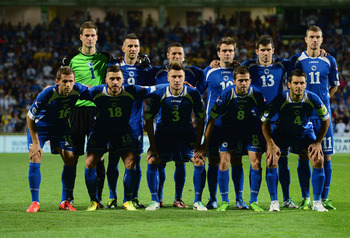 Jamie McDonald/Getty Images
Surprisingly strong throughout the course of their Group G qualification run, Bosnia and Herzegovina recently cemented their spot in what will be the country's maiden World Cup.
Having lost just once since June 2012, Safet Susic's side have been on a tremendous rise over the last two years or so but can be slightly thankful at being handed one of the easier group stage draws.
Leaning largely on the attacking assets of Edin Dzeko and Vedad Ibisevic, Bosnia and Herzegovina have scored an impressive 30 goals in qualification and boast several results of five goals or more in their favour.
Recent Results
Oct. 15 - Lithuania 0-1 Bosnia and Herzegovina
Oct. 11 - Bosnia and Herzegovina 4-1 Liechtenstein
Sept. 10 - Slovakia 1-2 Bosnia and Herzegovina
Sept. 6 - Bosnia and Herzegovina 0-1 Slovakia
June 7 - Latvia 0-5 Bosnia and Herzegovina
9. Russia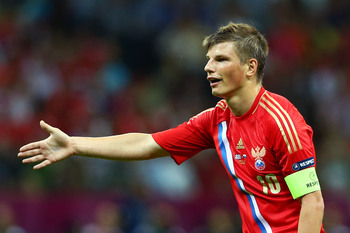 Shaun Botterill/Getty Images
Just edging Portugal for the top spot in UEFA qualifying's Group F, Russia succeeded in seeing off one of the sides whom many will have thought would have been a stronger contender in recent months.
Fabio Capello has guided the Russians well since taking charge of the team, and his side were able to ease their way to Rio despite dropping two points at Azerbaijan on the final day of group matches.
In their last five games, the likes of Aleksandr Kokorin and Aleksandr Kerzhakov have led the attacking line with confidence, helping Russia score three goals or more in each of their last three wins, the only blip of late being a loss in Northern Ireland.
Recent Results
Oct. 15 - Azerbaijan 1-1 Russia
Oct. 11 - Luxembourg 0-4 Russia
Sept. 10 - Russia 3-1 Israel
Sept. 6 - Russia 4-1 Luxembourg
Aug. 14 - Northern Ireland 1-0 Russia
8. Colombia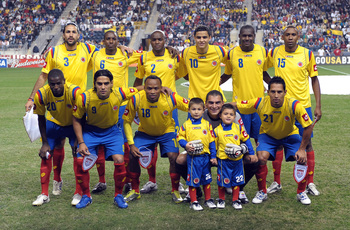 Drew Hallowell/Getty Images
One of the rising powers in football and a dark horse to perhaps take home winning honours in South America next summer, Colombia continue to enjoy an upwards trajectory in the rankings.
Relying mainly on a select few to make the difference for him in front of goal, it's vital that head coach Jose Pekerman maintain a fit squad, however, as one might mistake first-team strength and a serious surge of young talent for squad depth.
The Colombians have failed to score in only three matches this year, one of which came in a 2-0 loss to Uruguay not so long ago.
Along with that result, the side have won three and drawn another in their last five outings, making for a 60 percent winning record in recent matches.
Recent Results
Oct. 15 - Paraguay 1-2 Colombia
Oct. 11 - Colombia 3-3 Chile
Sept. 10 - Uruguay 2-0 Colombia
Sept. 6 - Colombia 1-0 Ecuador
June 11 - Colombia 2-0 Peru
7. Switzerland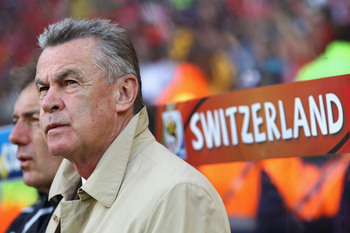 Martin Rose/Getty Images
The biggest surprise to have been granted a seeded spot for the World Cup is without a doubt Switzerland, which stormed their way to Group E qualification by a margin of seven points.
Admittedly, Ottmar Hitzfeld could have been dealt a harsher hand in terms of his pool, but the Swiss have still been in terrific form over the course of 2013—never mind just lately.
Winning four of their last five competitive games and drawing the other, Switzerland are enjoying an unbeaten calendar year in their qualifying run.
With nine goals in their last four games and from six different scorers, it may not be absurd to think the Swiss are as worthy of their seed as some would suggest otherwise.
Recent Results
Oct. 15 - Switzerland 1-0 Slovenia
Oct. 11 - Albania 1-2 Switzerland
Sept. 10 - Norway 0-2 Switzerland
Sept. 6 - Switzerland 4-4 Iceland
June 8 - Switzerland 1-0 Cyprus
6. England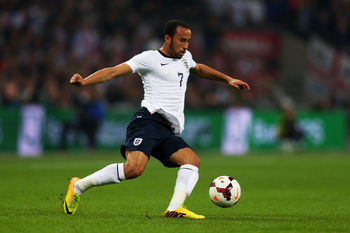 Paul Gilham/Getty Images
With the contributions of shooting star Andros Townsend, England have managed to triumph in their most recent fixtures against Montenegro and Poland, proving to a lot of critics that the Three Lions are indeed capable of attractive football.
For some time, the Home Nation has struggled massively with the ghosts and the demons of what's happened in the past, struggling to look forward when it comes time for major tournaments.
However, after going through their World Cup qualification unbeaten, winning six and drawing four, Roy Hodgson's side may now be able to put those failings behind them.
Three wins and two draws in their last five competitive outings speaks well of a side that, up until recently, has lacked a certain winning mentality but earned its results all the same.
Recent Results
Oct. 15 - England 2-0 Poland
Oct. 11 - England 4-1 Montenegro
Sept. 10 - Ukraine 0-0 England
Sept. 6 - England 4-0 Moldova
March 26 - Montenegro 1-1 England
5. Belgium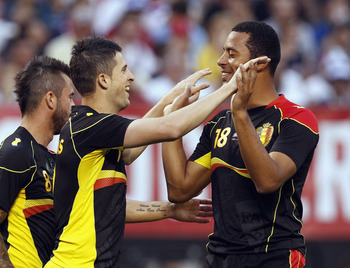 Matt Sullivan/Getty Images
For two years or more now, Belgium have been teed up as "the next big thing," the hipster's international team of choice, and it's coming to that time when they must start proving certain plaudits right.
With a factory line of current and up-and-coming talent in his midst, Marc Wilmots has a vast selection of talents to choose from, giving him a team conundrum that any manager would be envious of.
Assuring themselves of a World Cup berth early on, the desire to win may have petered off slightly towards the last leg of Belgium's qualification campaign, their last result being a 1-1 draw at home against Wales.
Irrespective of that result, however, the emerging nation have looked like an incredibly unified outfit and one that will certainly have some questions to ask in Rio.
Recent Results
Oct. 15 - Belgium 1-1 Wales
Oct. 11 - Croatia 1-2 Belgium
Sept. 6 - Scotland 0-2 Belgium
June 7 - Belgium 2-1 Serbia
March 26 - Belgium 1-0 Macedonia
4. Spain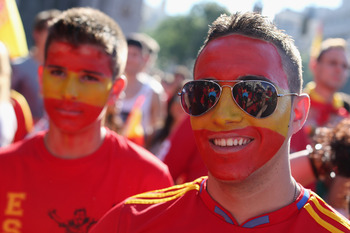 Oli Scarff/Getty Images
As the 3-0 scoreline might have suggested, Spain's Confederation Cup final loss to Brazil was a firm statement of intent from the South America hosts and a wake-up call for the reigning World Cup champions.
Spain's only competitive loss of the year, Vicente del Bosque's side perhaps needed the rousing result to remind them that winning back-to-back world titles will be anything but simple.
Since then, La Roja haven't dropped a point in World Cup qualification, although it's perhaps important to say that their two fixtures against France came earlier in the campaign.
Still, the Spanish managed to beat Les Bleus to the elusive automatic qualification spot from Group I, albeit never really looking too dominant, scoring three goals or more on just two occasions this year.
Recent Results
Oct. 15 - Spain 2-0 Georgia
Oct. 11 - Spain 2-1 Belarus
Sept. 6 - Finland 0-2 Spain
June 30 - Brazil 3-0 Spain
June 27 - Spain 0-0 Italy (7-6 pens AET)
3. Netherlands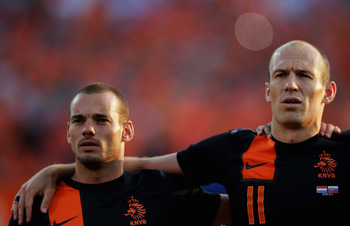 Dean Mouhtaropoulos/Getty Images
Renowned as being international chokers when it comes to the biggest stages of all, Netherlands will again look to break their World Cup curse after an impressive qualification run.
Tying up their spot in Rio early, the Dutch capped off their run to Rio in style, scoring 10 goals in their last two games—eight of which came against Hungary.
With a star-studded attack pushed on by a thriving midfield, the Oranje will look to seal the defensive gaps in their squad that were so evident at Euro 2012 but have looked very good in that pursuit over the course of recent months.
Accounting for competitive matches, Louis van Gaal's side have conceded just three goals this year.
Recent Results
Oct. 15 - Turkey 0-2 Netherlands
Oct. 11 - Netherlands 8-1 Hungary
Sept. 10 - Andorra 0-2 Netherlands
Sept. 6 - Estonia 2-2 Netherlands
March 26 - Netherlands 4-0 Romania
2. Chile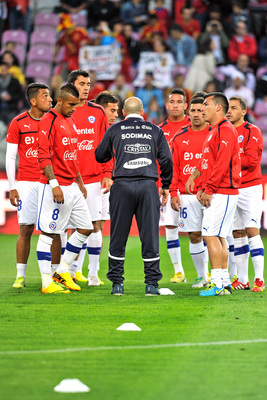 Harold Cunningham/Getty Images
In March of this year, it was almost unthinkable that Chile would storm back to claim one of CONMEBOL's automatic qualification spots given the form that they were in.
However, storm back they did, and after winning five and drawing one of their last six matches, South America's version of La Roja seem to have found their groove at the ideal moment.
With Alexis Sanchez in fine scoring form and the likes of Gary Medel and Arturo Vidal shoring things up in midfield, Jorge Sampaoli and his men can be confident on their way to Brazil.
Particularly encouraging of late was a 3-3 draw in Colombia, not to mention a 2-0 win over Uruguay which has helped Chile claim 16 of their last possible 18 qualifying points.
Recent Results
Oct. 15 - Chile 2-1 Ecuador
Oct. 11 - Colombia 3-3 Chile
Sept. 6 - Chile 3-0 Venezuela
June 11 - Chile 3-1 Bolivia
June 7 - Paraguay 1-2 Chile
1. Germany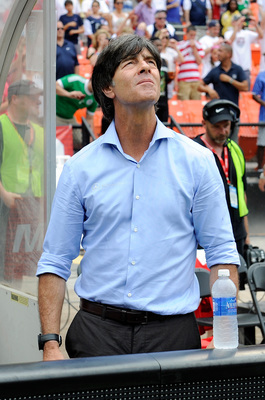 Greg Fiume/Getty Images
Once again, Germany make their way to a major international tournament as one of the favourites to take home winning honours.
Joachim Loew's outfit are the only team included to have won all five of their last five matches, so recent form is by no means an issue for Die Mannschaft.
Offensively, Germany have been nothing short of a revelation, a throwback to the German sides of decades past.
Not since September 2012 have Loew's men failed to score at least three goals in a competitive fixture, with 18 netted in their last five qualification matches.
The rest of Group C didn't quite stand a chance in toppling the three-time World Cup champions, although Sweden did give Loew a scare or two along the way.
In any case, the Germans will once again head to foreign shores with a calm mindset about them, recent form doing all the talking needed.
Recent Results
Oct. 15 - Sweden 3-5 Germany
Oct. 11 - Germany 3-0 Republic of Ireland
Sept. 10 - Faroe Islands 0-3 Germany
Sept. 6 - Germany 3-0 Austria
March 26 - Germany 4-1 Kazakhstan
You can follow me on Twitter:
Keep Reading